You guys. This apricot jam is *awesome*. It's sweetened with just a little bit of honey and the apricot flavor kind of punches you in the face. It's… perfect. Just throw a ton of apricots in a pot along with 3 tablespoons of honey and some lemon juice and half an hour later you've got the best apricot jam ever.
I'm just sad that I don't have anyone to share it with. Last week, Mr. Texanerin moved to another city for two months for work. But in the first week of his absence, I got to meet two food bloggers! First, there was Natasha from Butter Baking, who was in Berlin for a few days and we got together to bake. We baked these, this Biscoff pie, and these Biscoff stuffed white chocolate cookies, which are the best white chocolate cookies I've ever had. Nutritionally a disaster, but that's okay.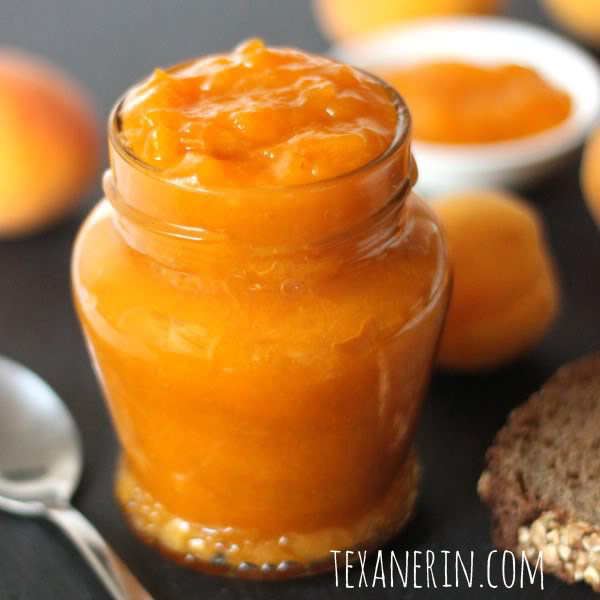 Natasha brought her lovely friend Marcin along with her. The two of them made the best baking partners ever, and I've had quite a few (but I want more – you food bloggers out there gotta come to Germany!) In the first 10 minutes, I had fed them with three types of spread, without any bread, and only spread. I felt like a total dork once I realized it. Homemade peanut butter, apricot jam, and Biscoff. Natasha was really into the Biscoff, but Marcin said he preferred the apricot jam, which Natasha had described as tasting like straight up apricots. I don't know if she meant that in a complimentary way, but I took it as a positive thing. I want to consume my sugar through cookies and brownies, not smashed up cooked fruit. Anyway, the point is that someone other than me prefers this over Biscoff. Woohoo!
I still can't understand why people need so much sugar in their jam. Maybe I have exceptionally sweet apricots, but I don't think that's it. Or maybe my tastebuds have changed. I don't know. This uses a pound and a half of apricots and 3 tablespoons of honey and it was plenty sweet for me. I hope you all will enjoy it!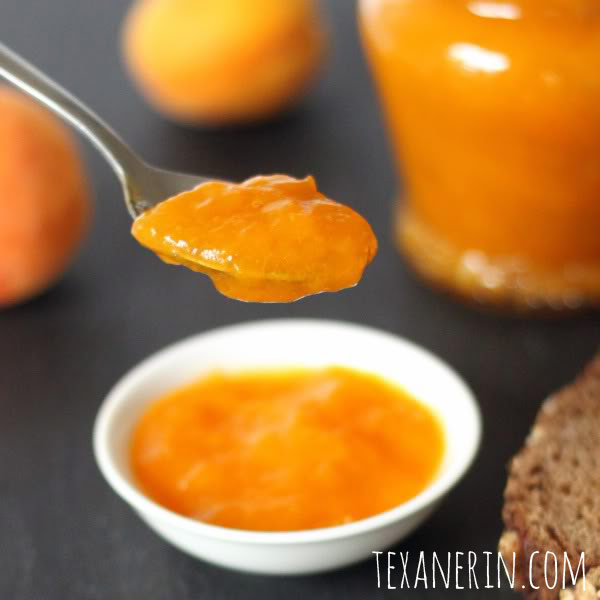 ❀
Honey Sweetened Apricot Jam
Prep Time:
Cook Time:
Ready in:
Yield:

1 1/2 cups
Ingredients
675 grams / 24 ounces apricots (it was 623 grams after taking out the pits)
3 tablespoons (60 grams) honey
1 tablespoon lemon juice
Directions
Wash and pat the apricots dry. Take out the pits and quarter the apricots, but don't peel them. It'll break down completely and add pectin to the jam.
Combine the apricots, honey and lemon juice in a medium or large pot and cook over medium high, stirring occasionally, until the mixture thickens. For me, this was about 25 - 30 minutes, but it'll differ depending on your apricots.
To test, put some of the jam on a clean spoon and then put the spoon on a plate in the freezer. Let it sit in there for five minutes and then take it out. If the jam doesn't fall easily off the spoon when you turn it to the side, it's ready and you can take the pot off the heat. If it does pour off easily, continue cooking for another 5 minutes and try the test again.
Let cool and then pour into jars and store in the fridge. Yields about 1 1/2 cup jam. Could be more or less depending on exactly how long you cook the apricots.
I kept mine in the fridge for 1 1/2 weeks before using it all up and had no problem with it going bad.