Strawberries and strawberry jam are sandwiched between a buttery streusel-like mixture in these 100% whole grain strawberry oat bars! With a vegan and dairy-free option. Can also be made with all-purpose flour.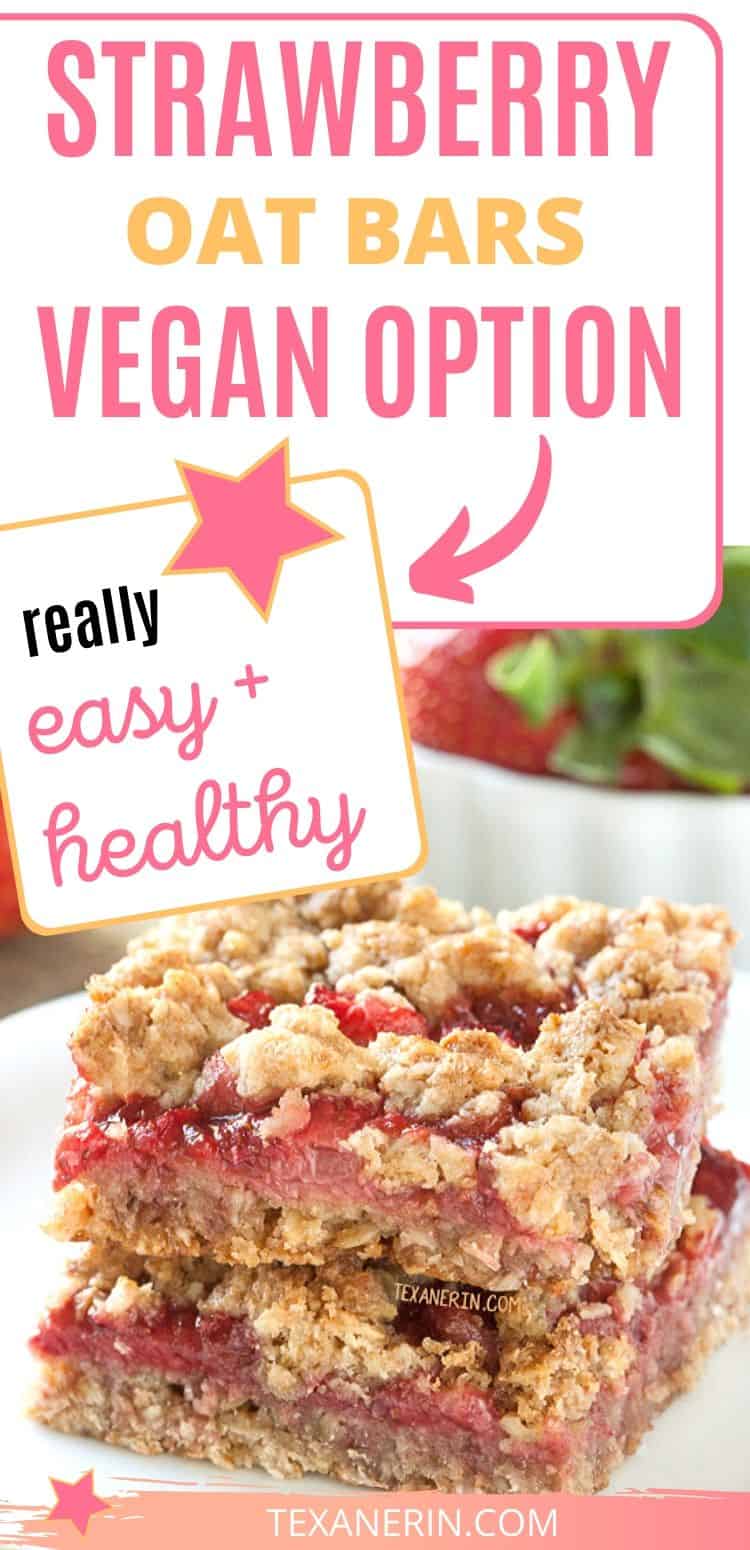 April 2015 update: I tested these with coconut oil to make them vegan and dairy-free! I've also made a chocolate raspberry oat bar version if that's more your speed. :)
I'm not normally a fan of cooked strawberries but it definitely works in these bars! And I like that you can actually taste the butter in the crust and topping. There is quite a bit of butter but I don't recommend reducing it as it'd change the consistency of the topping and possibly make it quite crumbly.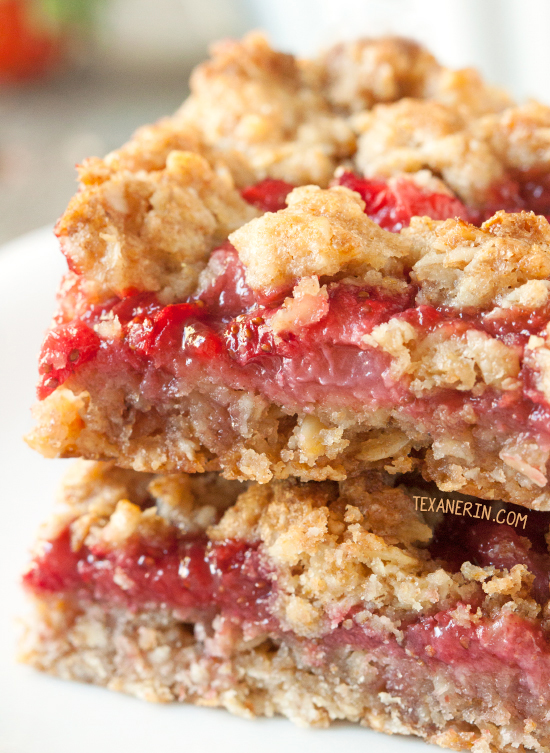 One thing I've noticed lately is that butter and coconut oil are not interchangeable in recipes with crumble or streusel-like toppings. I'm sure this isn't always the case but I did an experiment with some other oat bars. I made the exact same recipe but used butter for one batch and coconut oil in the other.
The streusel-like oat topping in the coconut oil version flattened like a pancake while the topping in the butter version held it's shape. The crust (which was the same stuff as the topping) was also a little oily. In the next batch, I tried reducing the coconut oil a little and it worked! So that's why you see different amounts of butter and coconut oil called for in this recipe.
I really recommend using a thicker type of jam. Using thin and runny jelly might result in a soggy crust. Here's a super easy recipe for homemade strawberry jam. There's no pectin involved and it just uses a little honey as the sweetener! Just mix a few ingredients together in a pot and let it cook.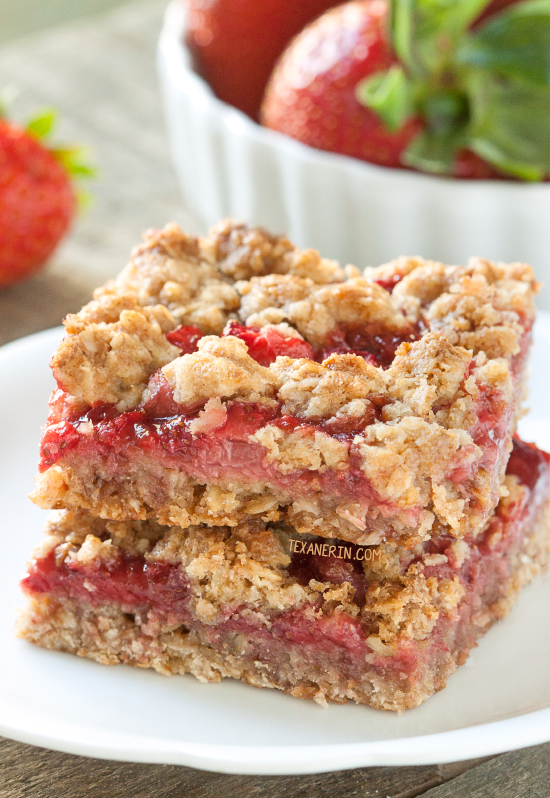 I wanted to make these strawberry oat bars because I had some terrible flavorless strawberries I wanted to use up. But you could still tell in the bars that I had used bad strawberries. So if you want the filling to taste good, use good strawberries. This might seem obvious but I thought that the strawberry jam might help with the taste issue.
If strawberries aren't your thing, I bet these would oat bars would be great with blueberries! Or any other berry that tickles your fancy.
❀
100% Whole Grain Strawberry Oat Bars (vegan, dairy-free options)
Prep Time:
Cook Time:
Ready in:
Yield:

16 bars
Ingredients
1 1/2 cups (150 grams) rolled oats
3/4 cup (94 grams) white whole wheat flour or all-purpose flour
1/2 cup (100 grams) brown sugar or raw sugar
2 teaspoons lemon zest
1/4 teaspoon baking powder
1/4 teaspoon salt
3/4 cup (169 grams) unsalted butter, cold OR 2/3 cup (150 grams) room temperature (should be like softened butter) coconut oil for a vegan / dairy-free version
2 1/2 cups strawberries (about 12-15 medium strawberries - 353 grams without the stems), chopped into 1/4" chunks
7 tablespoons (125 grams) strawberry jam
1/2 teaspoon vanilla extract
Directions
Preheat the oven to 375°F (190°C) and line an 8"x8" baking pan with parchment paper.
In a large mixing bowl, mix together the oats, flour, sugar, zest, baking powder and salt.
Cut in the butter or coconut oil using a pastry blender, two knives or your fingers, and mix until the dough comes together. The dough should not be very crumbly, but should stick together.
Gently press two thirds of it onto the bottom of the prepared baking pan.
Bake for 10-13 minutes or until the edges just start to turn brown.
Meanwhile, prepare the filling. In a medium bowl, mix together the sliced strawberries, jam and vanilla.
Spread this mixture over the baked crust and then evenly sprinkle the remaining oat mixture over the strawberry filling.
Bake for another 25-30 minutes or until the top has lightly browned and the filling is bubbly.
Let the bars cool completely and then refrigerate for 2 hours before cutting.
Store any leftovers in the refrigerator for up to 4 days. These can also be frozen.