Wondering how to make strawberry jam? All you need to do is boil a few ingredients you probably already have! This easy, pectin-free and lower in sugar homemade strawberry jam can also be sweetened naturally and is paleo and vegan. With a how-to recipe video.
Every year after going strawberry picking, we come home and I immediately get started making this amazing strawberry jam recipe. It's so simple and is a great way to use up a few pounds of strawberries.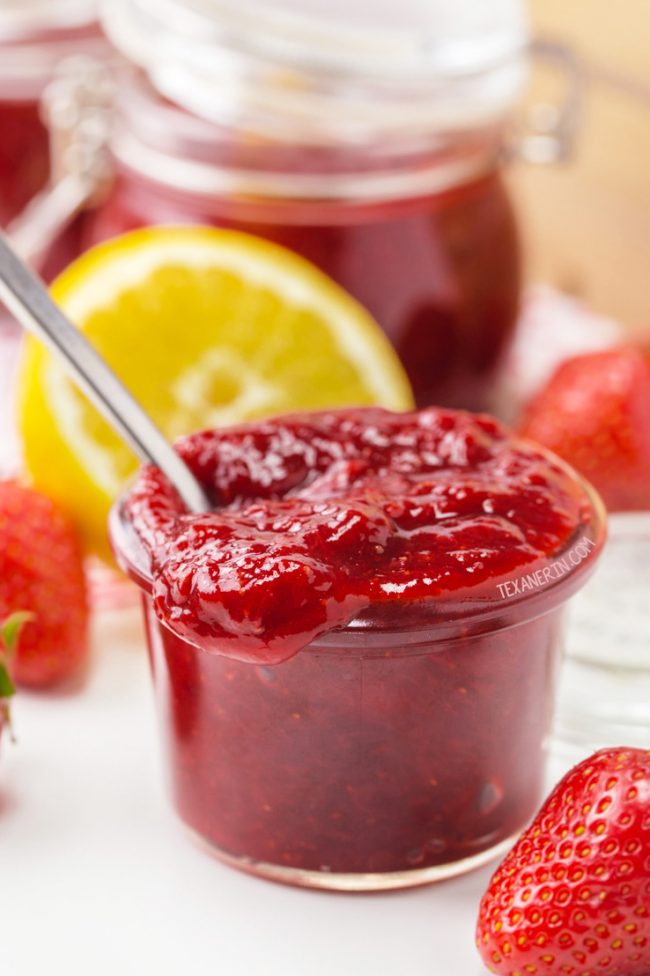 Not a fan of strawberries? Then try my honey-sweetened apricot jam! Everything I say in this post is valid for that recipe. Meaning you can also make it with maple syrup, it's pectin-free, etc.
You can also use other types of berries or stone fruit but you'll almost definitely have to increase the sweetener – especially for fruit that's not too sweet, like raspberries or apricots.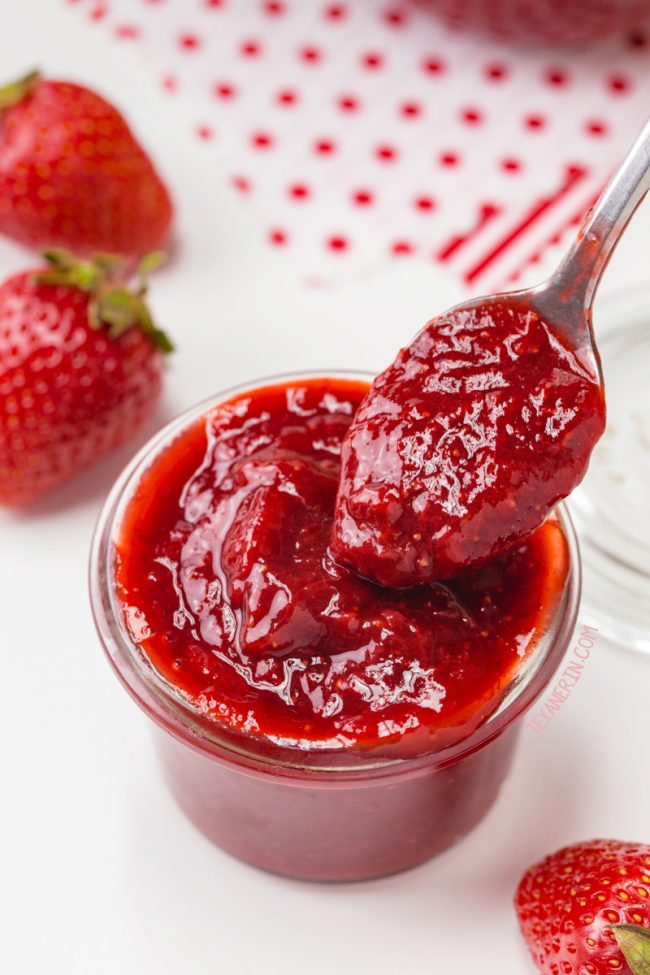 Unlike most of the other strawberry jam recipes I've seen, this one doesn't have an absurd amount of sugar. It's really very little!
But keep in mind that if you don't use sweet and flavorful strawberries, your jam isn't going to be very good. I've tried this recipe with frozen strawberries, which were lacking in both taste and sweetness, and the result was almost bitter.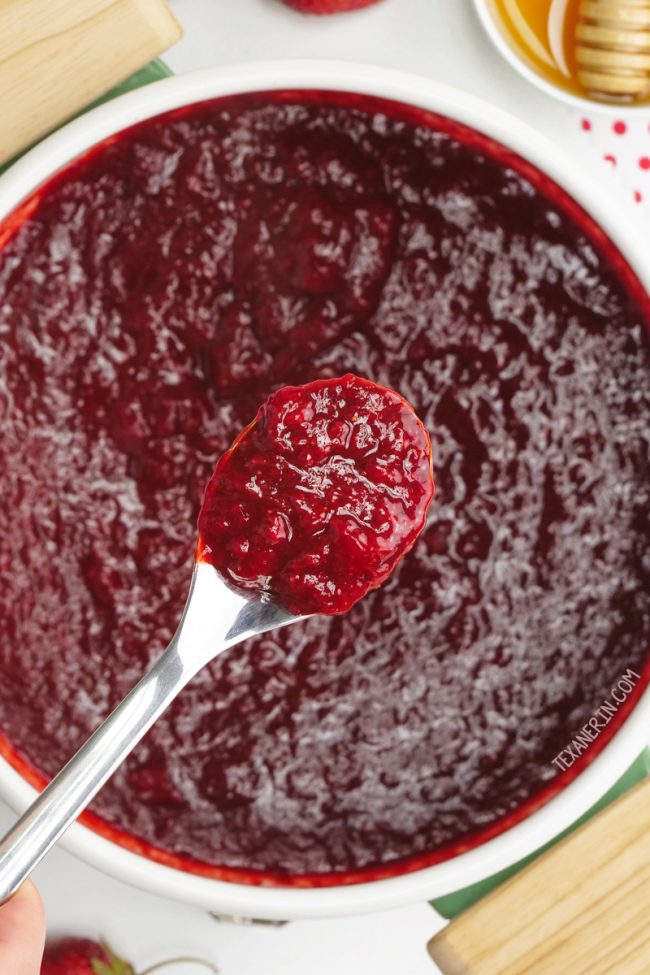 For two pounds of strawberries, there's only 1/4 cup of sweetener called for so you need to use naturally sweet strawberries or add more sweetener. Other recipes use 2 pounds of strawberries and up to FOUR cups of granulated sugar!
It makes me wonder if I'm crazy and I don't know what strawberry jam is supposed to taste like. But I promise you, this is delicious! As long as you use sweet berries. ;)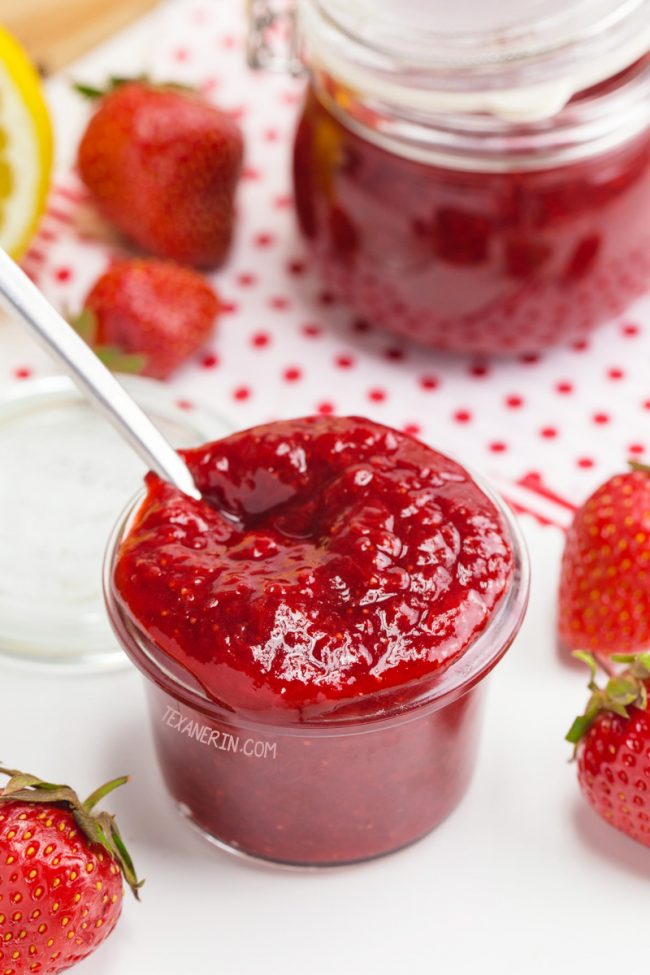 I usually use honey to sweeten this strawberry jam (it's also great in this Rose Jelly), but for a vegan version, you can use maple syrup. I recommend using the lighter Grade A variety instead of a darker, more maple-y type so that the maple flavor doesn't overshadow the strawberries.
By the way, this strawberry jam would be great on these vegan and gluten-free strawberry chocolate scones!
If you're worried that this homemade strawberry jam won't taste as good as a granulated sugar-sweetened recipe (you can also use granulated sugar in this recipe, if you prefer!) – don't be! When you mix everything together, you can taste the honey or maple. After a few minutes of boiling, all you can taste is strawberries with a lemony zing.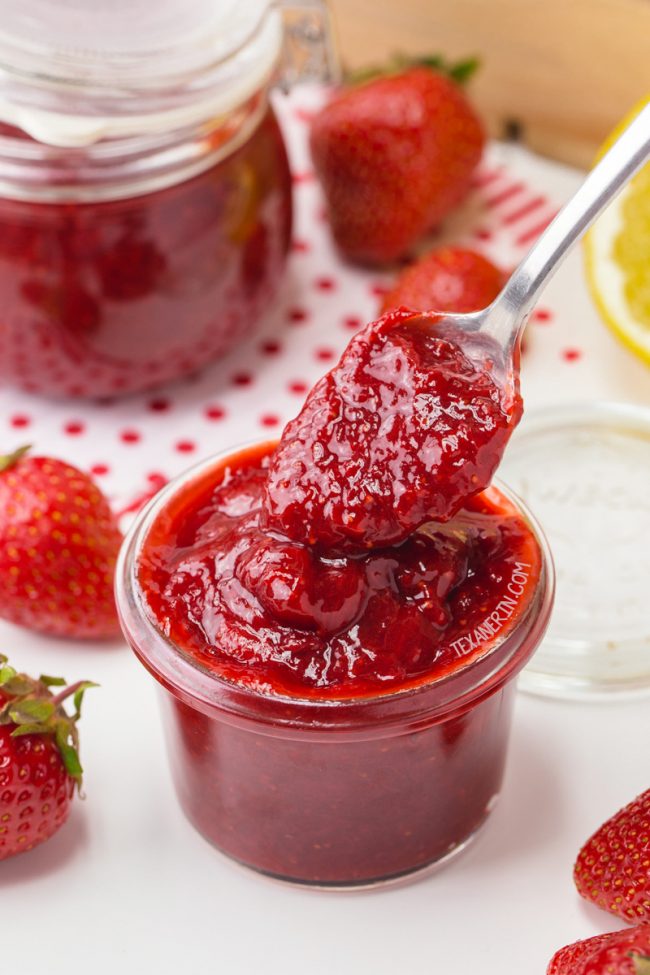 And don't leave out the lemon juice! It's necessary due to the lack of pectin. Or at least that's what I've read.
Whatever I don't eat after about a week, I freeze in 1/4 or 1/2 cup portions and use in recipes like these strawberry white chocolate cheesecake bars and strawberry oat bars. I think this jam would also be great in this gluten free pop tarts recipe!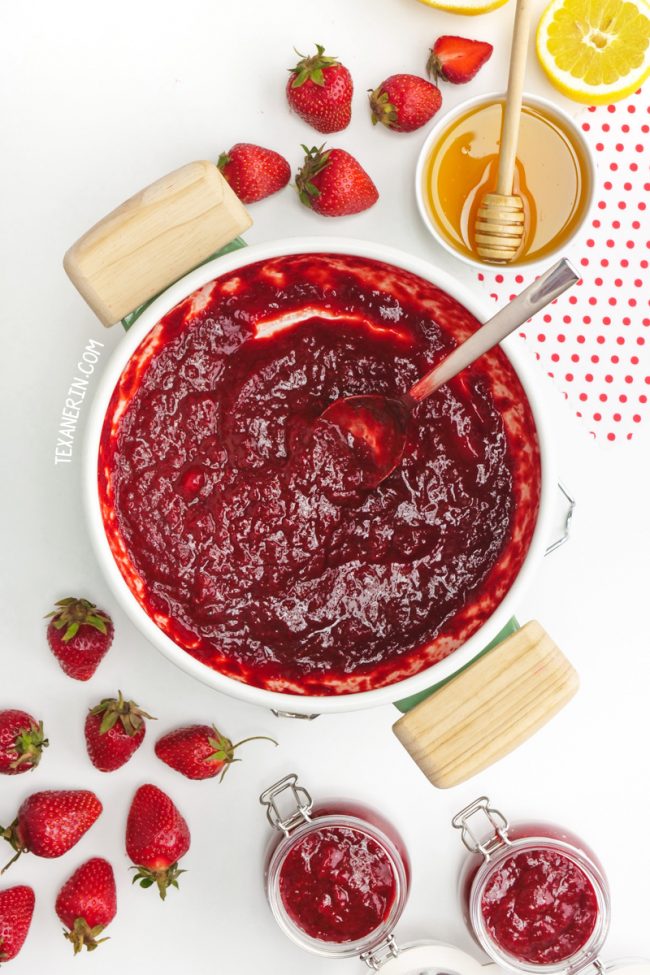 Questions about how to make strawberry jam?
Can I use another type of sweetener? I don't think the slightly caramel-like taste of coconut sugar would blend so nicely with the strawberries and lemon. Brown rice syrup (for a non-paleo version) would be great. I think dates or date syrup would be odd. And I unfortunately have no clue when it comes to low-carb sweeteners.

Can I use another type of juice / zest? I think any citrus juice + zest would be great!

Can I use another type of fruit? Another type of berry or stone fruit should work just fine. But you'll likely need to increase the amount of sweetener quite a bit, unless you're using something that's really sweet, like peaches. I actually have made spiced peach jam using this recipe, and still had to increase the honey to 1/3 cup.

Can this homemade strawberry jam recipe be canned? I have to admit that I don't know a thing about canning. Here's a step-by-step guide on canning that might be of some help to you!

I didn't use sweet berries and now my jam isn't sweet enough. Can I add more sweetener now? I haven't actually tried this but I'm pretty sure it'd be ok.

Can I use frozen strawberries? Definitely! As long as they're actually tasty + sweet. I make this all the time using berries I froze after berry picking. I've also made it using store-bought frozen strawberries (that weren't any good to begin with) and it was awful.

❀

Homemade Strawberry Jam (naturally paleo and vegan)

Prep Time:
Cook Time:
Ready in:
Yield:

A 600ml (20oz) jar

Ingredients

2 pounds (907 grams) (~6 1/2 cups smashed) rinsed, hulled really sweet strawberries
1/4 cup (80 grams) honey or Grade A maple syrup for a vegan version (1/3 cup or 67 grams granulated sugar for a non-paleo version also works but you'll need less cooking time)
1 tablespoon lemon zest
1/4 cup (60 milliliters) freshly squeezed lemon juice

Directions

Place the strawberries in a large pot and crush with the bottom of a glass. Add the sweetener, lemon zest and lemon juice and heat over medium high.
Boil, stirring every now and then, until the mixture thickens. With my really soft and juicy strawberries, this took about 45 minutes. It could take more or less time depending on your strawberries.
To test, put some of the jam on a clean spoon and then put the spoon on a plate in the freezer. Let it sit in there for five minutes and then take it out. If the jam doesn't fall easily off the spoon when you turn it to the side, it's ready and you can take the pot off the heat. If it does pour off easily, continue cooking for another 5 minutes and try the test again.
Let cool and then pour into jars and store in the fridge and for up 1 week. Freezes great.