These soft and chewy lemon curd thumbprint are grain-free, gluten-free and are almost guaranteed to turn that frown upside down. Seriously.
Up until a few days ago, I hadn't realized that the Super Bowl was this weekend. People have been posting Super Bowl food for weeks so I just kind of forgot. It's really easy to do if you don't care about football and don't live in the US! So. Sorry for the lack of party food. If you're going to a party tomorrow, you can be different and bring bright and cheery lemon cookies! :D I posted these gluten-free lemon thumbprint cookies on My Baking Addiction earlier in the week and figured I couldn't wait any longer to share them with you over here.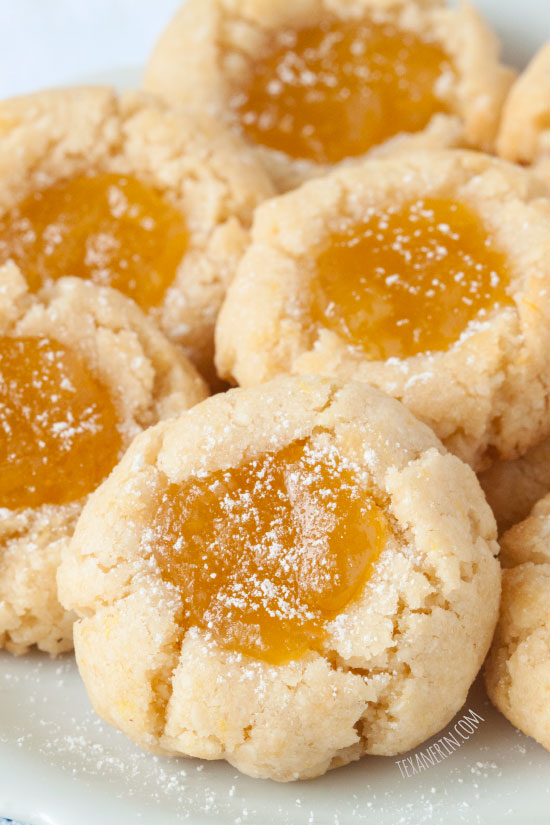 These cookies are totally worthy of making for a special occasion. Let's take my mother-in-law as an example. She raves about most things that she tries of mine and even has to call over here just to say how much she liked my latest treat. But she has never once asked for a recipe. Never! But it's because she never ever bakes. But these cookies were enough to inspire her to change that! Not only is she planning on making these lemon thumbprint cookies, but she's going to make the lemon curd to go with it. It's shocking.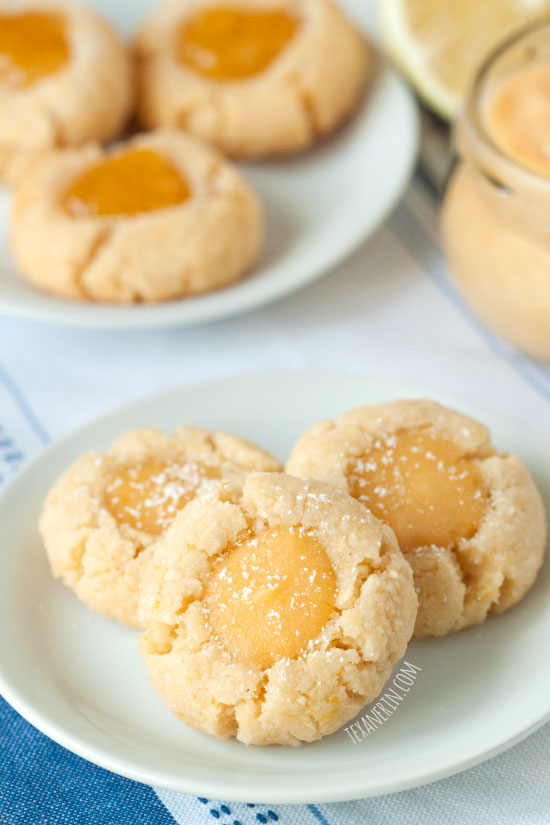 The cookies in the middle picture were made with my homemade lemon curd. The other ones were made with store bought curd that looked strangely translucent. I wanted to see if homemade curd and store bought curd bake up the same and they did. I'm also guessing that jam would work well in these if they're just too lemony for your taste.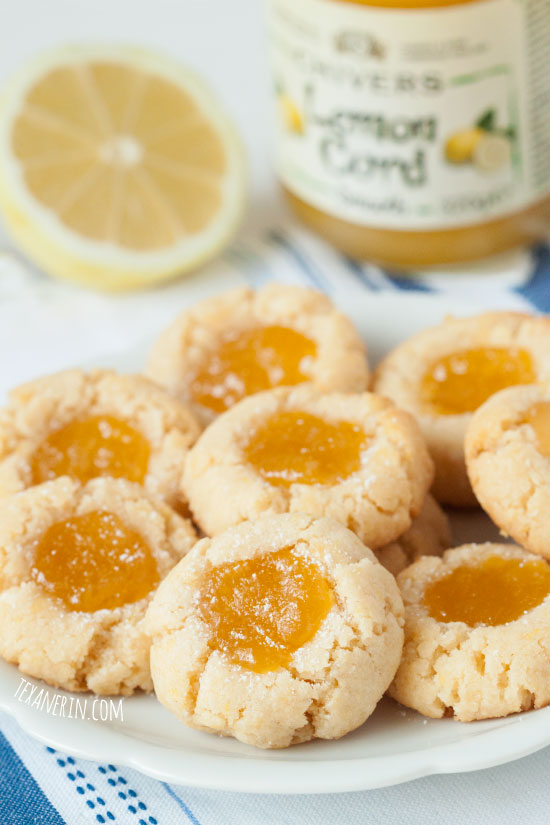 I've also tried them a few times with coconut oil in hopes of making a dairy-free version but they came out too oily. I'll keep playing around with the recipe but if you try it out, let us know in the comments how much coconut oil you used!
What's kind of funny / sad is that this recipe was an attempt at grain-free shortbread. I was so off but who needs that when you could have soft and chewy?
I hope you'll enjoy these lemon thumbprint cookies!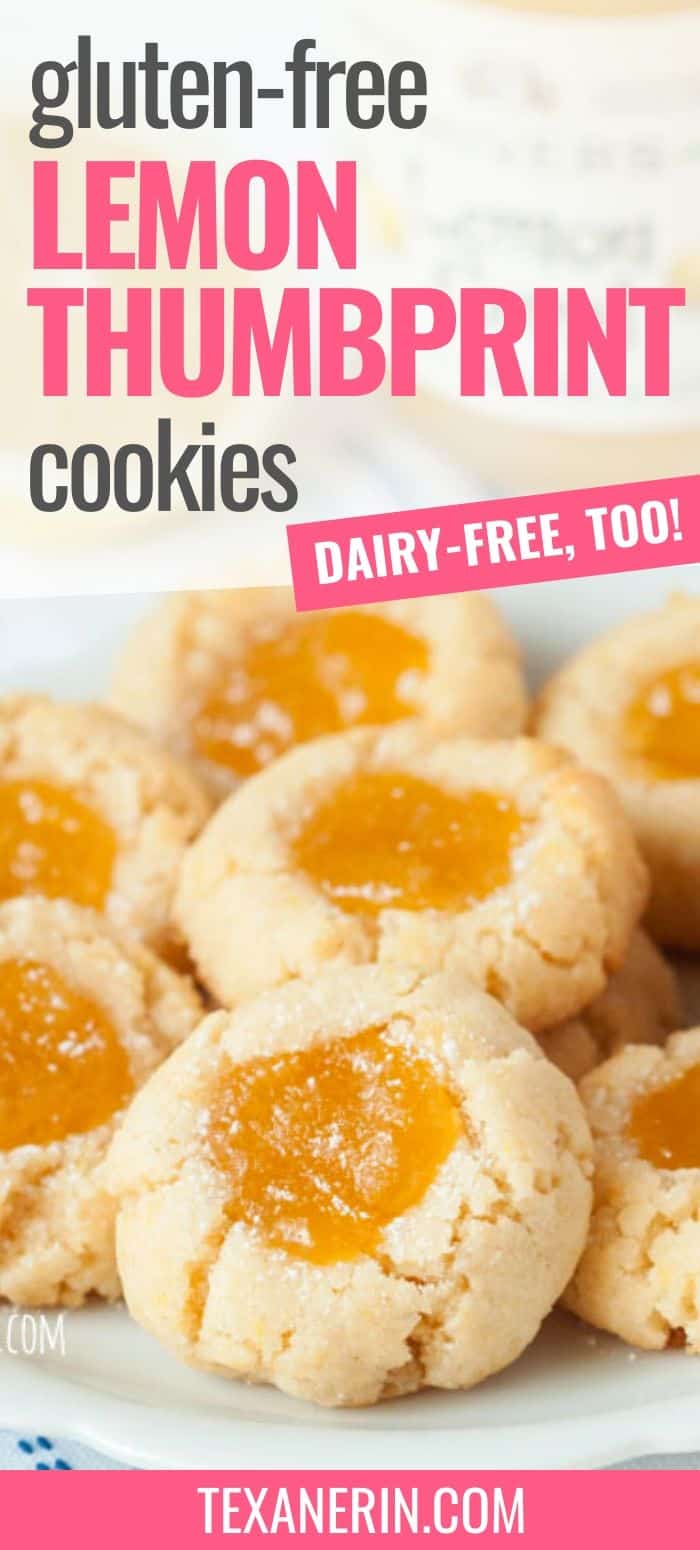 ❀
Grain-free Lemon Curd Thumbprint Cookies
Prep Time:
Cook Time:
Ready in:
Yield:

32 cookies
Ingredients
2 cups (200 grams) blanched almond flour
1/4 cup (33 grams) coconut flour
1/2 cup (100 grams) granulated sugar or raw sugar (if using raw, use one that's not so dark colored)
1 teaspoon baking powder1
1/8 teaspoon salt
1/2 cup (113 grams) unsalted butter, melted and cooled slightly
1 large egg, room temperature
1 tablespoon lemon zest (from 1 lemon)
1 teaspoon lemon extract
1/3 cup (80 milliliters) lemon curd2
powdered sugar, optional
Directions
In a medium mixing bowl, stir together the almond flour, coconut flour, sugar, baking powder and salt. Set aside.
In another medium mixing bowl, stir together the melted butter, egg, lemon zest, and lemon extract.
Add the dry mixture to the wet and stir just until combined. The dough will feel quite wet. Let it sit for 10 minutes to allow the coconut flour to absorb the liquid while the oven preheats.
Preheat the oven to 350 degrees F and line a cookie sheet with a piece of parchment paper.
Roll the dough into 1" balls and place 2" apart on the prepared cookie sheet. The dough will feel quite greasy.
Bake the cookies for 6 minutes and remove from the oven.
Using the rounded part of a 1/2 teaspoon measuring spoon, make an indentation about 3/4 of the way down into each cookie.
Fill each indentation with 1/2 teaspoon of lemon curd. Be sure not to overfill them.
Return the pan to the oven and bake for another 5-7 minutes or until the cookies feel like they have a firm outer layer. The cookies shouldn't brown around the edges - just on the bottom.
Let the cookies, which will be very soft at this point, cool for 5 minutes on the baking sheet and then remove to a wire rack to cool completely. The parchment paper may be a little greasy, but the cookies will not be.
Refrigerate in an airtight container for up to 4 days. Dust with powdered sugar before serving, if desired.
Notes
If you need these to be grain-free and not just gluten-free, use 1/2 teaspoon cream of tartar and 1/4 tsp of baking soda instead of 1 teaspoon baking powder.
I've never seen lemon curd containing gluten but if you eat gluten-free, please check the ingredients label on your jar to ensure that your lemon curd doesn't have gluten.
Source: My recipe on My Baking Addiction gluten-free lemon thumbprint cookies