These keto lemon cookies are a quick, easy, puckery treat that is perfect for spring! They have a great soft texture and aren't at all eggy (because there are no eggs – they're actually vegan!). One of my favorite low-carb cookies. Only 2.82 grams carbs per cookie, including the icing.
These lemon cookies are the low-carb version of my gluten-free lemon cookies. All I had to change was the sweetener because they already use almond flour and coconut flour.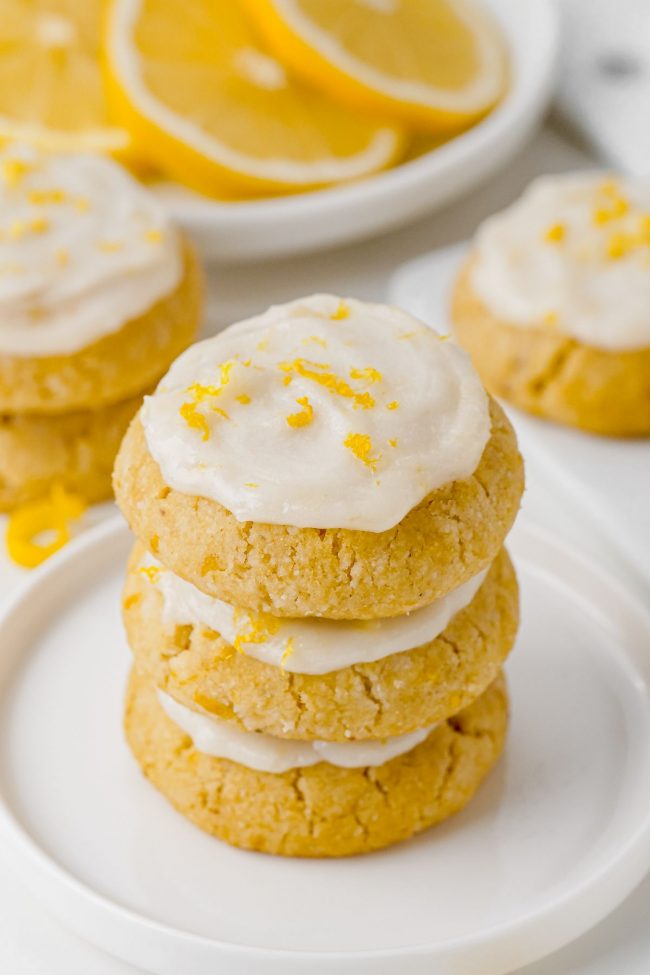 The ingredients
Refined coconut oil (or butter if you're not vegan/dairy-free)
Xylitol, erythritol, stevia blend (recipe below)
Lemon zest
Lemon extract
Almond flour
Coconut flour
Baking soda
If you want to make the icing, you'll also need coconut butter + lemon juice.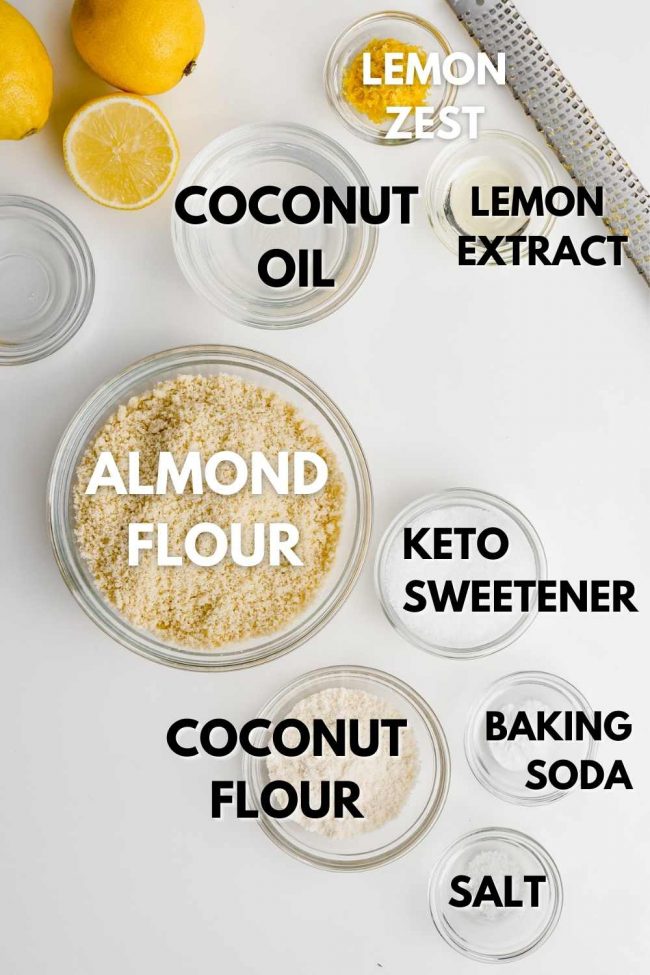 The icing
I like the cookies without the icing. But I love them with the icing!
I know coconut butter isn't really a super common ingredient, but it's worth buying or making yourself. If you don't want to use coconut butter, then you'll have to find another icing recipe because there's no sub for coconut butter.
Coconut butter is ground-up coconut meat. Coconut oil or regular butter will not work.
It's really easy to make it yourself! You just need shredded coconut and a food processor or high-speed blender. Here's How to Make Coconut Butter. Then you can use it to make these amazing Keto Macaroons!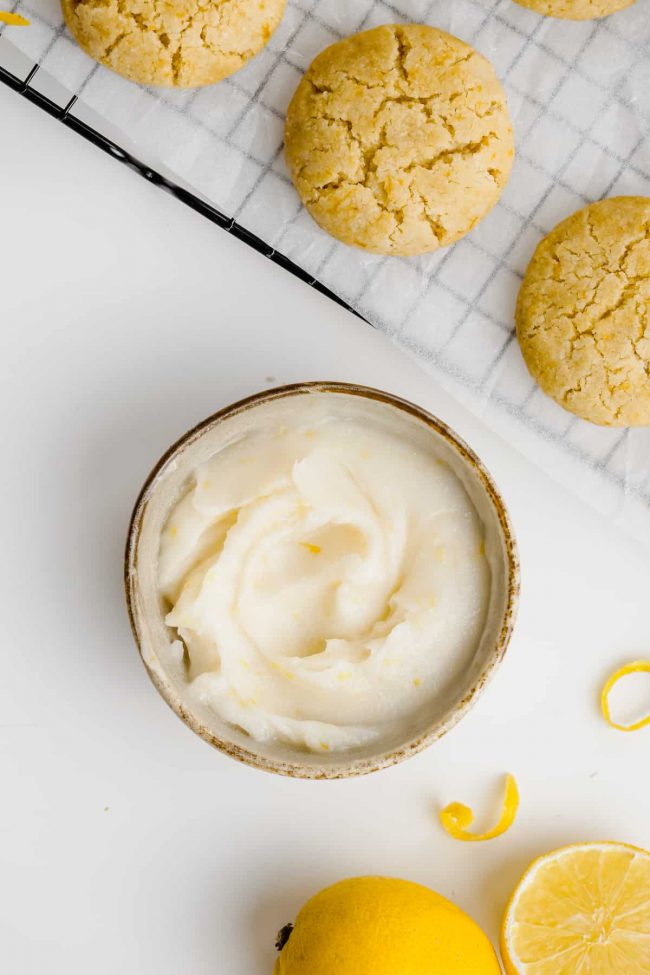 I like this icing recipe with coconut butter because it's a little thicker than your normal lemon cookie icing. If you've got another recipe you like that just uses powdered keto sweetener, lemon juice and zest, I'm sure that'd be great on these cookies!
The coconut butter does add a little coconut taste, so if you're a coconut hater, definitely look for a different icing.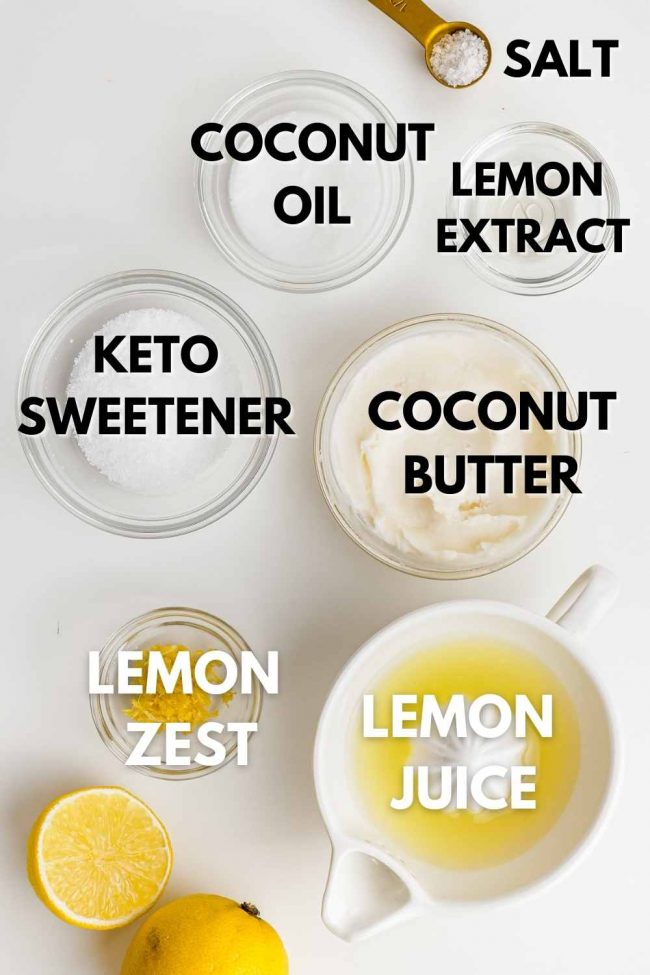 The sweetener
I used the same mix of keto sweeteners as in all of my other keto recipes. It's a blend of xylitol, erythritol and stevia powder. If you've got Gentle Sweet, you can use that! (more on that below)
It's the only keto sweetener that I haven't thought tasted absolutely terrible. And not only that, but I actually love it in the recipes I've posted with it so far!
My recipes are tested to use the perfect amount of sweetener. Sometimes I get comments like, "Those measurements are stupid." Sometimes a recipe just needs a tablespoon or teaspoon more or less than the usual cup measurements. 🤷‍♀️ Especially with keto baking!
Unfortunately, when using a blend of three sweeteners, like in this recipe, the measurements get a bit cumbersome – if you don't have a scale.
These lemon cookies need 3 tablespoons + 1 teaspoon of the sweetener blend for the cookie dough and 1 tablespoon + 1 teaspoon for the icing.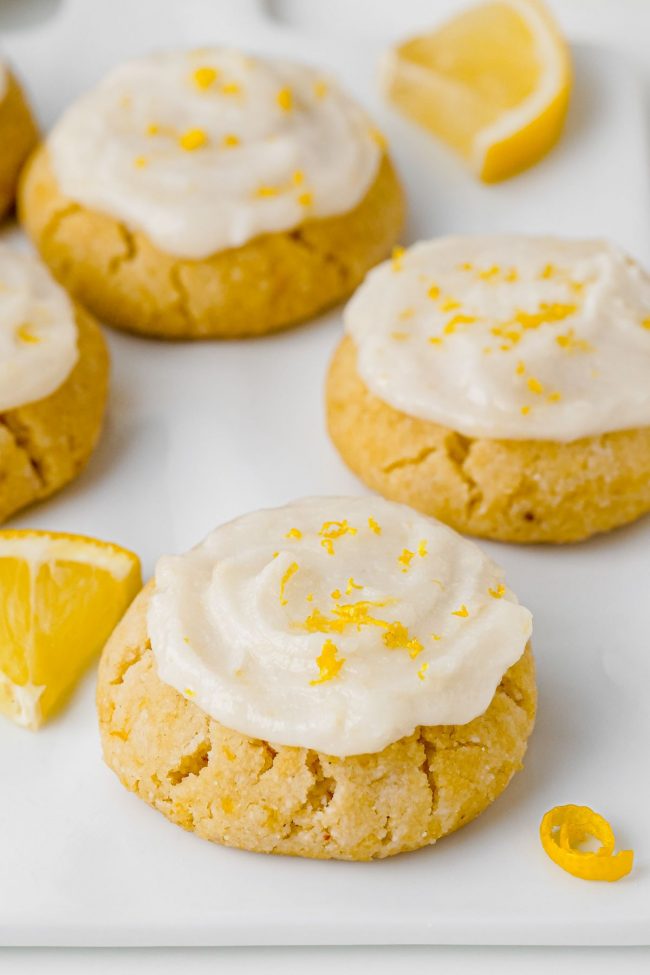 For the cookie dough, that comes to:
25 grams xylitol (2 tablespoons)
18 grams erythritol (about 1 tablespoon + 1 teaspoon)
1/16 teaspoon + 1/32 teaspoon stevia powder. You actually need .108 teaspoon and 1/16 teaspoon + 1/32 teaspoon is "just" .09375. So, it's not exact!
And then you need to measure out everything for the icing. It's a lot quicker and easier to just mix together a big batch of the sweetener blend and use 3 tablespoons + 1 teaspoon than to measure out the exact amount of the individual sweeteners.
Gentle Sweet option
If you have the sweetener called Gentle Sweet from Trim Healthy Mama, that also works here! That blend uses the same three sweeteners and tastes very similar. You'd need the same exact amounts as the homemade blend.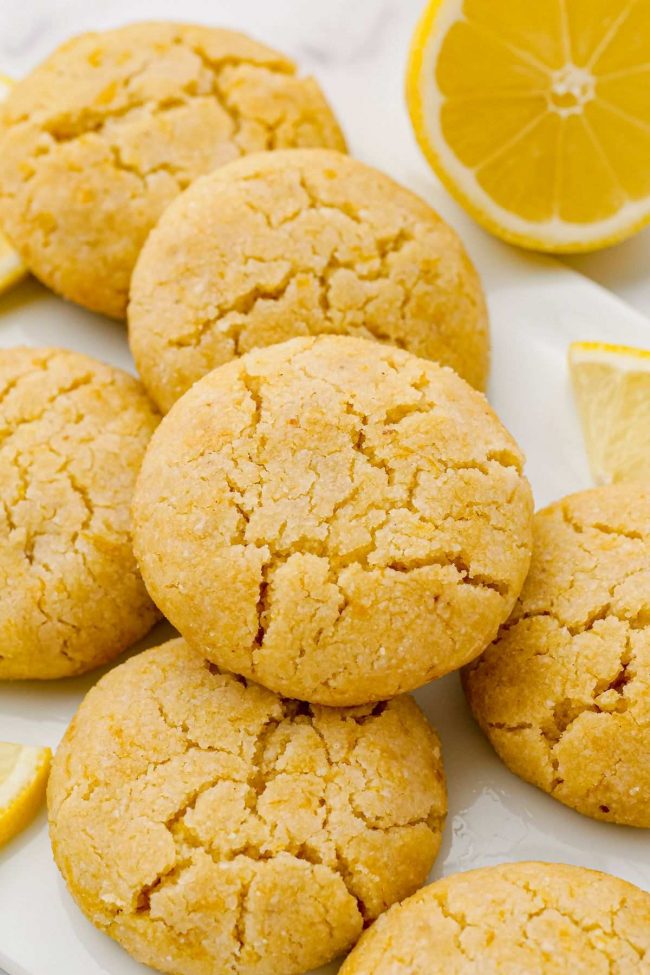 To make a big batch of this sweetener
I love having a big batch of this ready so I can grab it whenever I need a quick, keto dessert.
1 pound (453 grams) xylitol = 2 1/4 cups
12 ounces (340 grams) erythritol = 1 1/2 cups + 3 tablespoons
2 teaspoons pure stevia powder
Once you have that mixed up, then you can make these other delicious low-carb recipes:
This sweetener isn't a 1:1 sub for granulated sugar. When I use this blend, I use about half the amount of granulated sugar called for, or maybe up to 2/3. It depends on the recipe.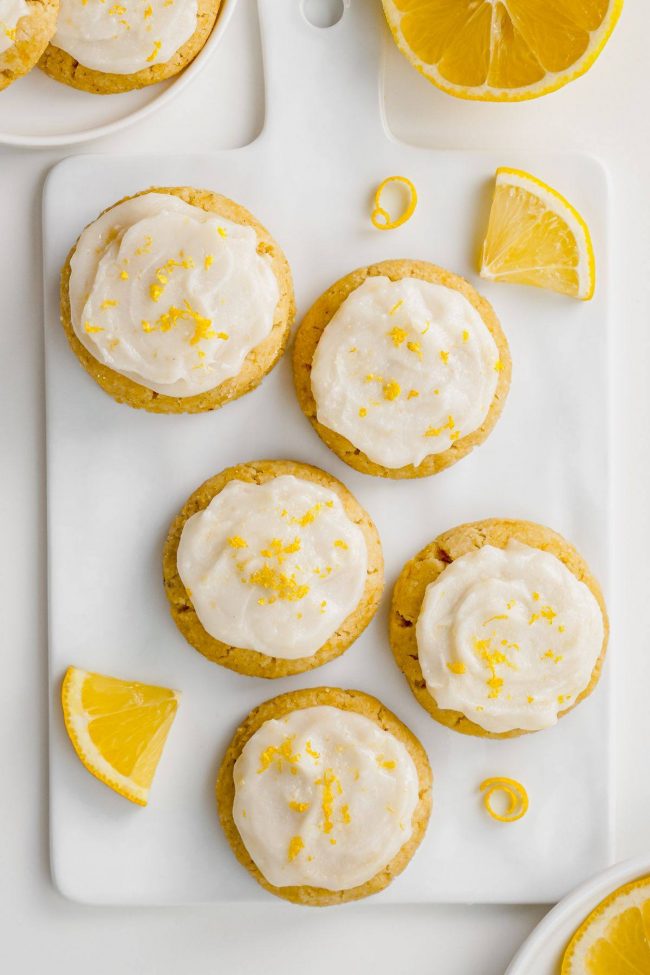 A really great reason to use a scale
I tested the measurements using measuring spoons a ton of times for this recipe. Even when using the same spoons and a knife to level them out, the results were somehow a little different each time. And when I used tablespoons from different companies, the differences were as big as 33%!
1 tablespoon of sweetener weighed 15 grams with one of my tablespoons but another weighed 10 grams. Both were marked as 15ml.
It doesn't make sense, but I did it multiple times, and my scale was calibrated properly. So please, get a scale if you don't have one!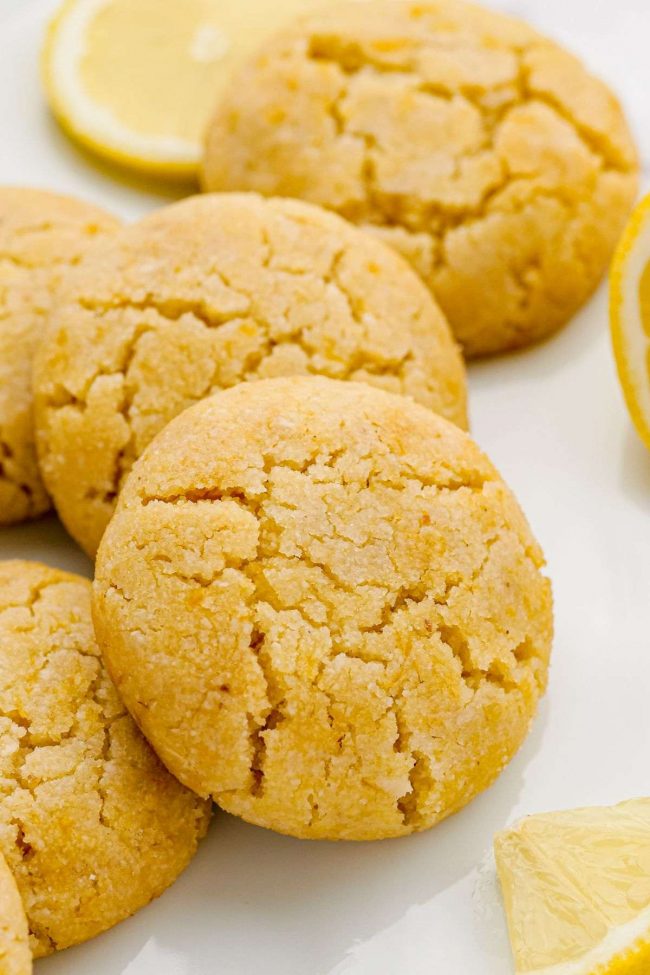 Coconut flour sub?
This recipe calls for just 2 tablespoons of coconut flour, but you can't just omit it. And unfortunately, there's no substitute for it.
So I'm afraid you really need to stick to the coconut flour. But if you're keto, I'm guessing you almost definitely already have it. And if you don't, you should get some.
Then you can make these Coconut Flour Cookies, which are my very favorite cookies on the blog. They also have a keto option!
I've got 60+ coconut flour recipes, but most of them aren't low-carb. These Keto Cheese Crackers are not to be missed, though! Super addictive little suckers, they are.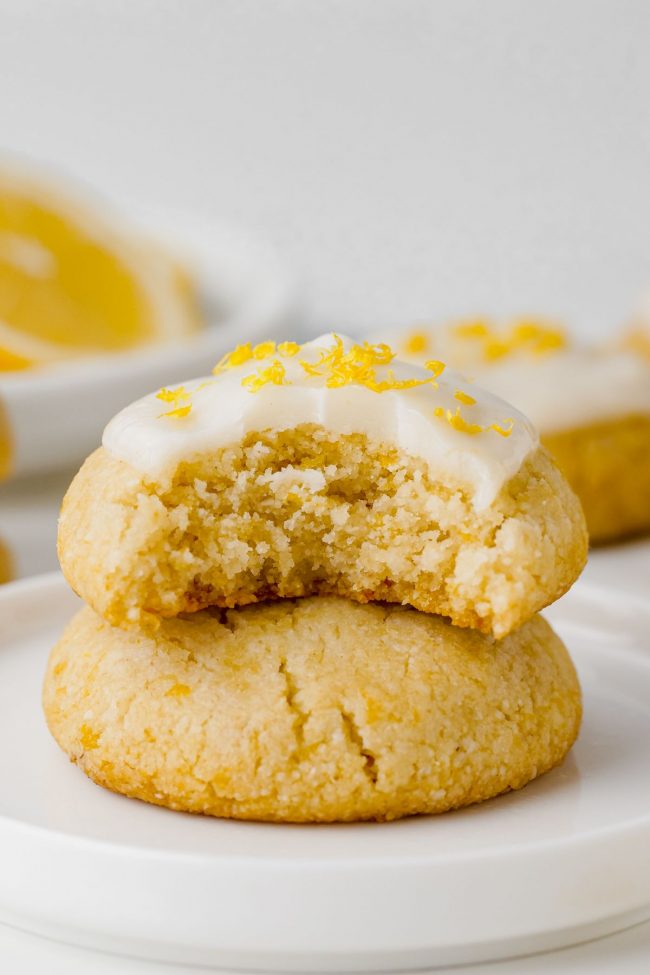 Substitution questions about these keto lemon cookies?
Can I use something instead of coconut oil in the cookie dough?

If you're not vegan and can have dairy, I think butter, vegan butter or ghee would work.

Can I use something instead of the mix of sweeteners?

This is the only sweetener I've tried in this recipe. The original paleo recipe uses 1/3 cup of maple syrup for the cookie dough.

Instead of the 5.33 tablespoons of maple, I used 3.33 tablespoons of the sweetener mix, as it's sweeter than granulated sugar and maple syrup. So if you want to use a different granulated keto sweetener, keep that difference in mind.

The original recipe also doesn't call for 4 teaspoons of water as this recipe does. That 4 teaspoons of water is to make up for the lost liquid in the maple syrup.

If you want to use a liquid keto "maple syrup," then use 1/3 cup (assuming that it's as sweet as maple syrup) and omit the 4 teaspoons of water. I can't guarantee that that syrup would taste good in these cookies, though! I've had nothing but awful experiences with it.

Do I have to use blanched almond flour?

You can use almond meal if you don't mind the little bits of almond skin in your cookies. Hazelnut meal would also probably work but I think that's a weird flavor combination with the lemon. And if you're wondering what else to make with almond flour, check out these awesome Keto Cheesecake Cookies!

Can I use something instead of coconut flour?

Unfortunately not. There's not a good sub for coconut flour as it absorbs so much more liquid than other flours.

Can I use something instead of coconut butter in the frosting?

Nope! Unfortunately, there's no sub for it.
Nutritional info
The following information is provided as a courtesy and is an estimate only. I'm not a nutritionist nor a dietician. This information comes from online calculators. Although I do everything to attempt to provide accurate nutritional information, these figures are only estimates. Be aware that varying factors such as product types or brands used can change nutritional information in any recipe.
Here's the label for the cookies, including the icing. Net carbs = 2.82 grams per cookie. Net carbs = total carbs – fiber – sugar alcohols. There are 5.91 grams of sugar alcohol per cookie, and that's how I came up with that number.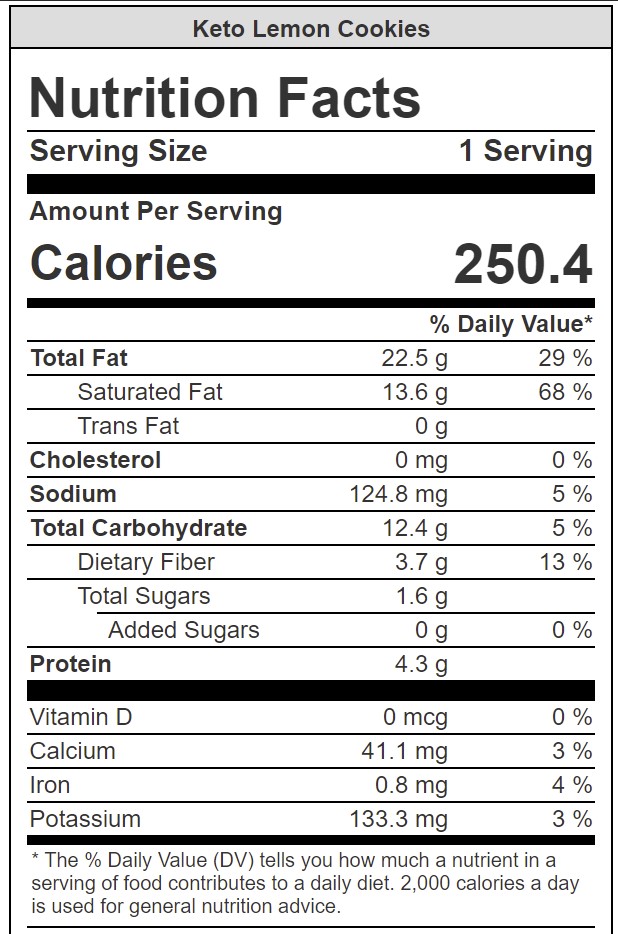 I hope you'll enjoy the cookies! If you make this recipe, I'd love to see pictures of your creations on Instagram, Facebook and Twitter! Please hashtag them #texanerin so I can find them. :) Also be sure to follow me on Pinterest for more healthy recipes.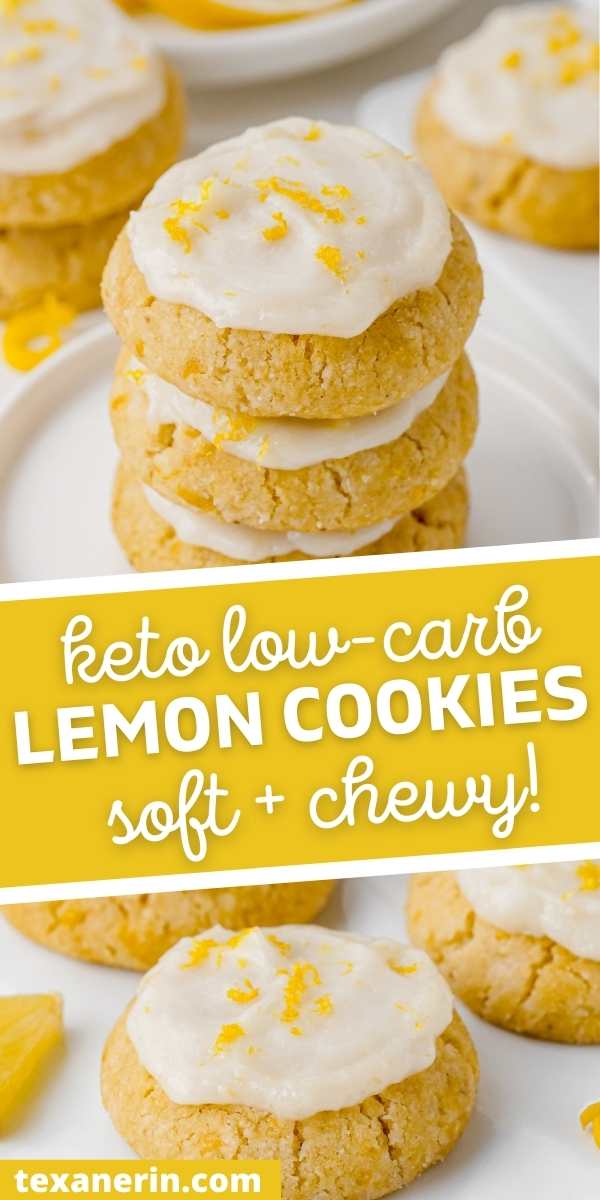 ❀
Keto Lemon Cookies
Prep Time:
Cook Time:
Ready in:
Yield:

8 cookies
Ingredients
1/4 cup (56 grams) refined coconut oil, melted (or butter for non-vegan/dairy-free)
3 tablespoons + 1 teaspoon (43 grams) xylitol, erythritol, stevia blend listed below or Gentle Sweet1
4 teaspoons water
1 tablespoon lemon zest
1 1/2 teaspoons lemon extract
1 1/3 cups (133 grams) almond flour
2 tablespoons (17 grams) coconut flour, sifted if lumpy
1/2 teaspoon baking soda
1/8 teaspoon salt

For the icing:

1/4 cup (63 grams) coconut butter (NOT coconut oil!), softened but not melted
1 tablespoon + 1 teaspoon (17 grams) xylitol, erythritol, stevia blend listed below or Gentle Sweet2
1 tablespoon (14 grams) refined coconut oil, softened but not melted (or butter for non-vegan/dairy-free)
2 tablespoons + 1 teaspoon lemon juice
1 teaspoon (or more) lemon zest
1/8 - 1/2 teaspoon lemon extract (the amount will depend on your brand of extract and how lemony you want them)
pinch of salt
Directions
Preheat the oven to 350°F (176°C) and line a baking sheet with a piece of parchment paper.
In a large mixing bowl, mix together the coconut oil, sweetener, lemon zest and lemon extract. Add the almond flour, coconut flour, baking soda and salt.
Roll into eight 36-gram balls. Place 3" apart on the prepared baking sheet and press the balls down slightly with your palm.
Bake 12 minutes or until the cookies have lightly browned. The cookies will crackle a little.
The cookies will still be very soft when you remove them from the oven. Let them cool on the pan completely. They're quite cakey out of the oven and have a better texture after sitting for maybe 2-3 hours.
Prepare the frosting. Combine all of the ingredients in a high-powered blender and blend for about 20 seconds at medium or until totally smooth. Don't blend too long or it'll melt. You can also mix this by hand with a large silicon spatula if your coconut butter and oil are soft enough. Spread a heaping tablespoon over each cookie.
Refrigerate iced cookies in an airtight container for up to 5 days. Uniced cookies can be kept in an airtight container at room temperature for about 5 days. Iced and uniced cookies can be frozen for up to 3 months.
Notes
The sweeteners I used were 100% xylitol, 100% erythritol and 100% stevia powder. I highly recommend that you make a big batch of this sweetener blend, rather than dealing with crazy measurements. For that, you need:

– 1 pound (453 grams) xylitol = 2 1/4 cups
– 12 ounces (340 grams) erythritol = 1 1/2 cups + 3 tablespoons
– 2 teaspoons pure stevia powder

If you don't have a scale, here are the extract gram measurements and approximate measuring spoon measurements you need for sweetener for the cookie dough:

– 25 grams (2 tablespoons) xylitol
– 18 grams (about 1 tablespoon + 1 teaspoon) erythritol
– 1/16 teaspoon + 1/32 teaspoon stevia powder. You actually need .108 teaspoon and 1/16 teaspoon + 1/32 teaspoon is "just" .09375. So, it's not exact! Stevia powder is powerful stuff so that difference could have an effect on this recipe.


For sweetener for the icing, you need:

– 10 grams (2 1/3 teaspoons) xylitol
– 7 grams (1 3/4 teaspoons) erythritol
– 1/50 teaspoon stevia (yes, that's an absurd measurement, which is why I recommend making up a big batch!)