These maple cheesecakes have a grain-free pecan crust but can also be made with graham crackers for a whole grain, gluten-free or traditional graham cracker crust!
This is the second year I almost didn't post this recipe because of the pictures. I absolutely hate these pictures. And I didn't like the pictures that I took last year. I just can't photograph these things!
These mini maple cheesecakes also aren't the prettiest cheesecakes out there. I didn't pay attention to my own directions and didn't remove the liners before refrigerating them. So now you can see what happens if you take them off after chilling! It leaves their edges looking a little jagged.
I also took the hardly cooled and still very soft cheesecakes and put them in a tupperware container that was too small to fit them all nicely. So they kind of got smushed. I can't guarantee it but I'm pretty sure yours will come out looking much better!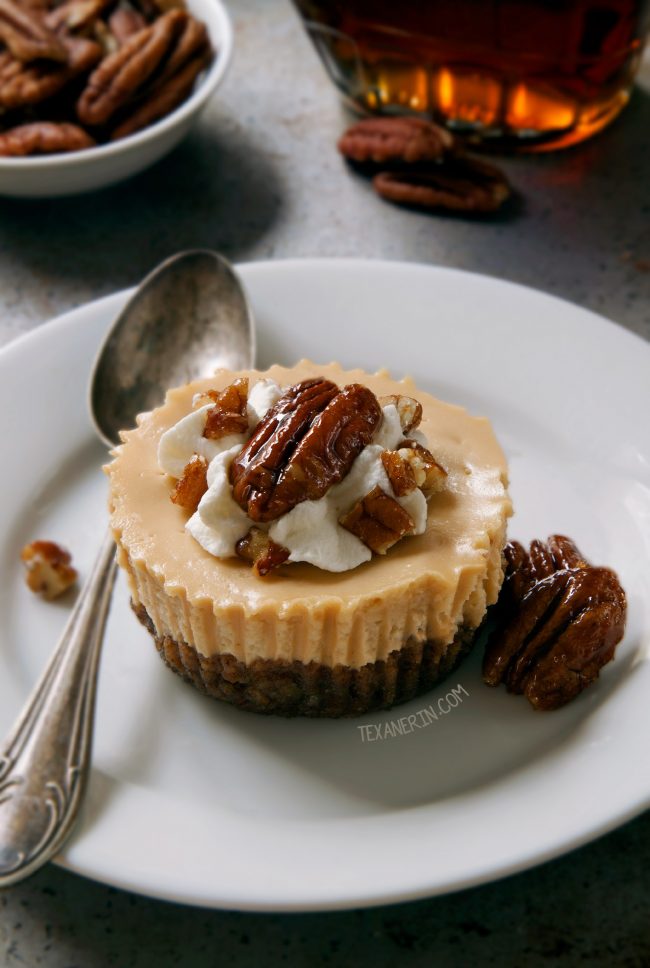 I used a scaled down version of the crust in my mini caramel pecan tarts recipe. In those, you bake the crust and then pour the caramel pecans over it. It yields a wonderful, graham cracker-like crust.
With these, you're pouring a very wet mixture over the baked crusts and putting them back in the oven for 30 minutes. So the crusts aren't nearly as crisp but I think they fit the cheesecake perfectly!
I'm guessing I haven't convinced anyone to make these but you should really give them a try! As long as you follow directions and don't have to take pictures of them, you'll be good. :)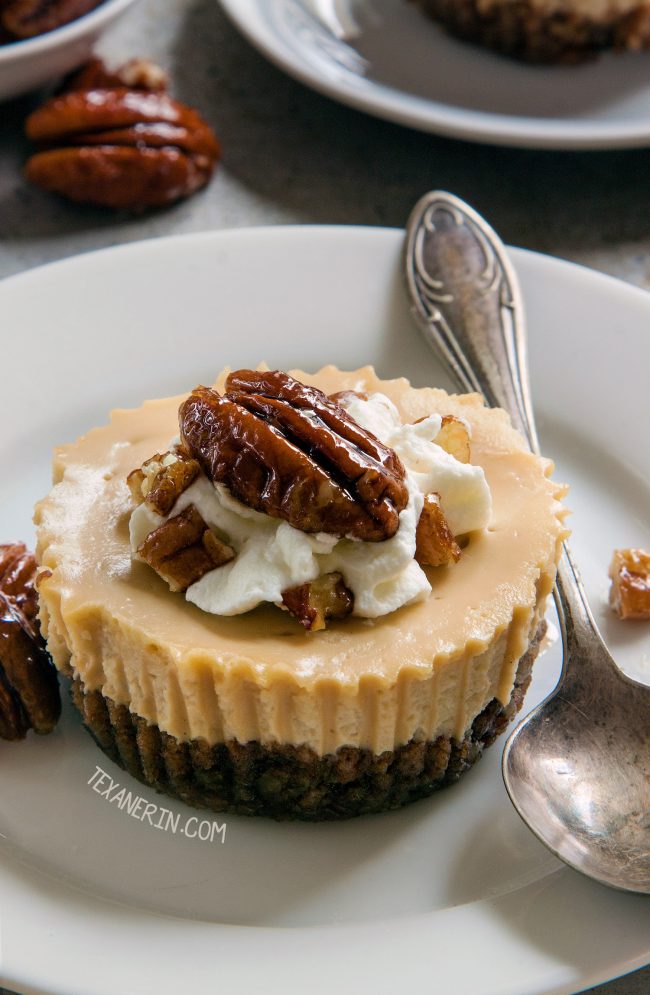 If you don't want to use this grain-free crust, you can use a graham cracker crust (you can find the recipe for that below the instructions). You can of course use regular, gluten-free or whole wheat graham crackers.
Make sure to use a darker maple syrup to get a nice maple flavor in these cheesecakes! The new grading system and the American vs. Canadian system makes it so confusing. Just don't use the lightest stuff! You want what was formerly called Grade B. I link to some syrups I recommend in the recipe.
If you don't have the darker stuff (or maybe even if you do!), you may want to add some maple extract for even more maple flavor. Add 1/4 teaspoon before you mix in the eggs, taste, and add more 1/4 teaspoon at a time until it's mapley enough for you. :)
❀
Maple Cheesecakes with Pecan Crust (grain-free, gluten-free, whole grain, traditional options)
Prep Time:
Cook Time:
Ready in:
Yield:

12 cheesecakes
Please see the notes below for the graham cracker crust!
Ingredients
For the crust1:

3/4 cup + 3 tablespoons (94 grams) almond flour
3/4 cup (83 grams) pecans
1 tablespoon (9 grams) coconut flour
3 tablespoons (42 grams) unsalted butter
3 tablespoons (34 grams) very packed coconut sugar or brown sugar
1 1/2 teaspoons ground cinnamon
1/8 teaspoon salt

For the filling:

1 pound (450 grams or two 8-ounce packages) cream cheese, room temperature2
2/3 cup (158 milliliters) maple syrup (I recommend Grade A Dark Color, formerly Grade B, like this or this for the most maple taste)
2 teaspoons vanilla extract (instead of all vanilla extract, you could also use 1/4-1/2 teaspoon maple extract, if desired)
pinch of salt
2 large eggs (50 grams each, out of shell), room temperature

For the topping:

1/2 cup whipping cream (beaten until stiff peaks form)
about 1/3 batch of healthier maple candied walnuts but made with pecans
Directions
Preheat the oven to 375°F (190°C). Line a muffin pan with 12 muffin liners.
Prepare the crust. Place all the crust ingredients in the bowl of a food processor fitted with the S-blade and pulse for 15 seconds or until there are no large chunks of nuts left. The nuts should be 1/8" or smaller in size.
Firmly press about 5 teaspoons (23 grams) of the crust mixture onto the bottom of the each liner. Try to press it in the nooks and crannies of the muffin liner.
Bake for 8-10 minutes or until lightly browned. Let cool for at least 15 minutes while preparing the rest of the recipe. Don't skimp on the cooling time or the crusts will be soggy (they won't be crisp after baking, but they shouldn't be soggy).
Lower the temperature to 275 °F (135 °C). Using an electric hand mixer or a stand mixer fitted with the beater attachment, beat the cream cheese and maple syrup at medium speed until light and creamy. Add the vanilla and salt and beat until combined. Beat in the eggs on low, one at a time, and just until well incorporated. Do not over mix!
Fill each liner all the way full with the batter and bake for 30 minutes or until the centers of the cheesecakes jiggle just slightly when the pan is tapped.
Let cool in the pan for about 1 1/2 hours and then remove the paper liners from the cheesecakes.
Refrigerate for up to 4 days. Top with whipped cream and candied pecans right before serving. The pecans will start to "melt" if left on the whipped cream too long before serving.
Notes
For a graham cracker crust, use:
– 1 cup graham cracker crumbs (you can use whole wheat, gluten-free, or regular graham crackers)
– 3 tablespoons granulated sugar
– 3 tablespoons (42 grams) unsalted butter, melted
– pinch of salt

Mix together until combined and use about 4 teaspoons of mixture per liner. Bake at 325 °F (163 °C) for about 6-8 minutes or until they no longer appear wet on the surface. Let cool for 15 minutes before filling with the cheesecake batter.


If you live outside of North America and have the kind of cream cheese that's meant for toast (that comes in a little plastic tub) rather than American style brick cream cheese, then get 600 grams of cream cheese, place it in the center of a cheesecloth, and wring out the liquid until you have 450 grams of cream cheese left.
As an Amazon Associate, I earn from qualifying purchases. For more info, see my disclosure.