These healthier maple candied walnuts couldn't be easier! They only take 2 ingredients and 5 minutes.
I've said this several times in the past but I don't like nuts – unless you candy them! I've made maple cinnamon candied almonds before, which are diabolically addictive, but they're a tiny bit more complicated than these. You just need walnuts and maple syrup for these maple candied walnuts. You heat them together in the pan and that's it.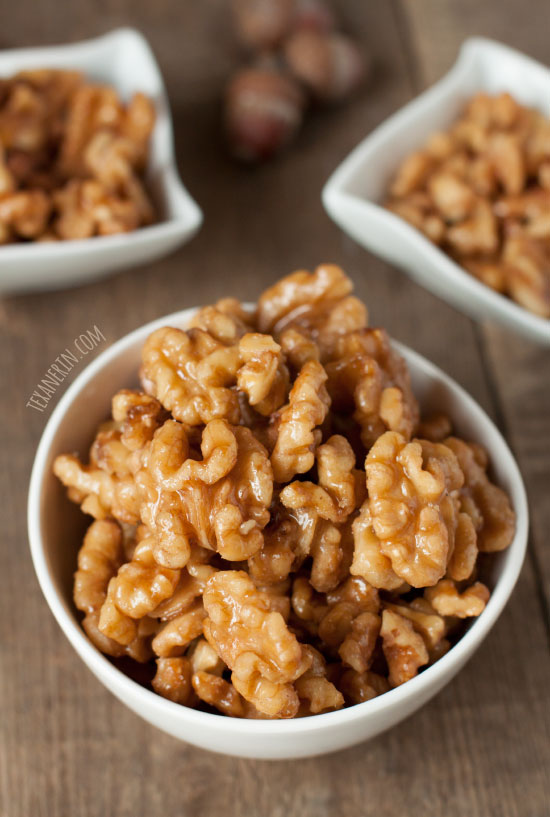 If you want to get all fancy, some vanilla is a nice addition. So is salt. Being the salt addict I am, I added a fourth teaspoon of salt. I also tried them with pumpkin pie spice, thinking that I'd created the best candied nuts ever, but those just tasted weird. They tasted less strange with just cinnamon, but I oddly preferred them without. One time, I toasted the walnuts first, thinking that the final product would even be yummier but they just tasted too roasted after the candying process.
Are you enjoying the acorns in the background? Mr. Texanerin was so frustrated that I didn't go out and gather fall props like leaves, acorns, and chestnuts that he went out and gathered them himself and came back with a little bag full of stuff I was to use in my pictures. He so wanted me to use them that he styled these pictures himself. I don't know why, but he seems to be wanting to take a more active role in the blog as of late. Fine with me. Perhaps I can coax him into making another Even He Can Do It post. :D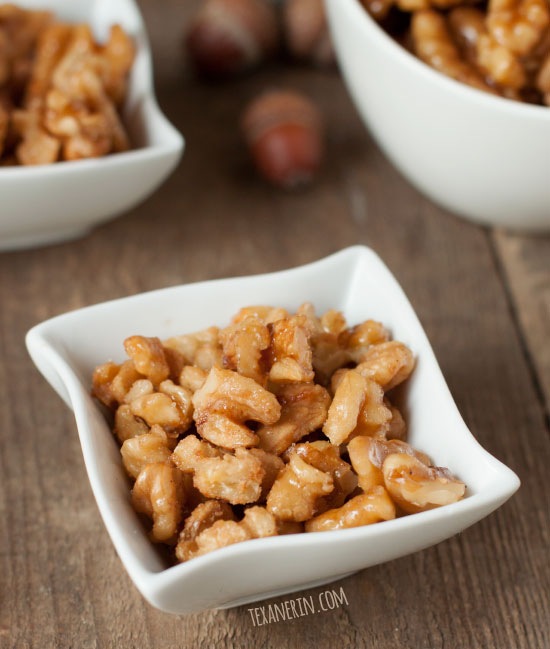 I made these candied walnuts as a topping for a cake that I'll be posting on Tuesday. To maximize the amount of maple syrup covering, it's important to chop the nuts first (leaving behind any dusty remains) and then candy them. If you candy them first and then chop, you'll have a lot of exposed walnuts and not enough coating.
I've only tried this method with walnuts but I imagine it'd work with other types of nuts – but I'm not positive. If you try it out, let us know in the comments! Do note that it makes a thin coating. It's not like other candied walnuts where you have a thick sugary coating. Those are definitely nice but not what I was going for here. I was going for healthy, or at least healthier (though they don't taste healthy!) Sugar is sugar is sugar but I'll take these over the traditional version any day. Feel free to use more maple syrup or fewer nuts if you want them more sugary!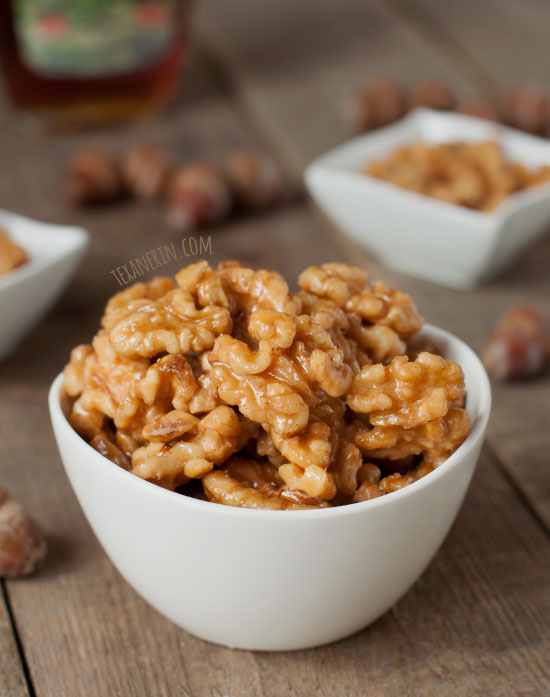 Here are some ideas on what to do with them, although I doubt most of these will nuts will get past the snacking stage. ;)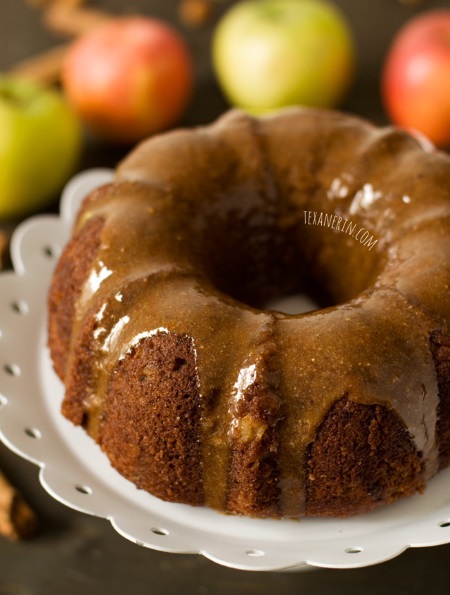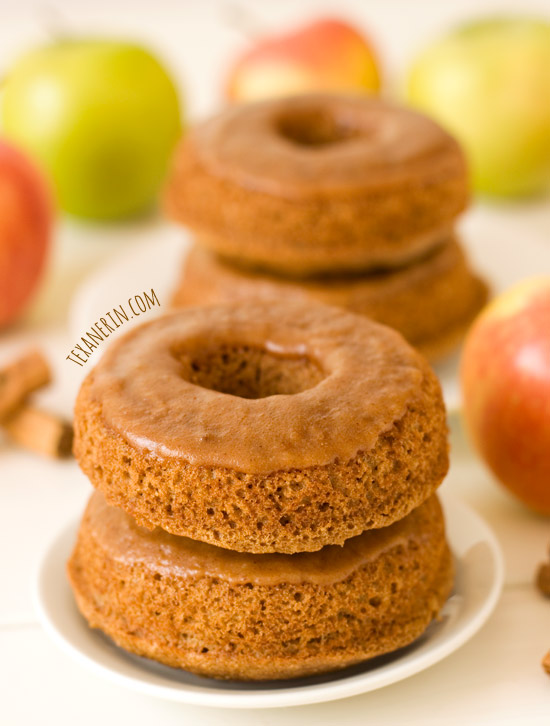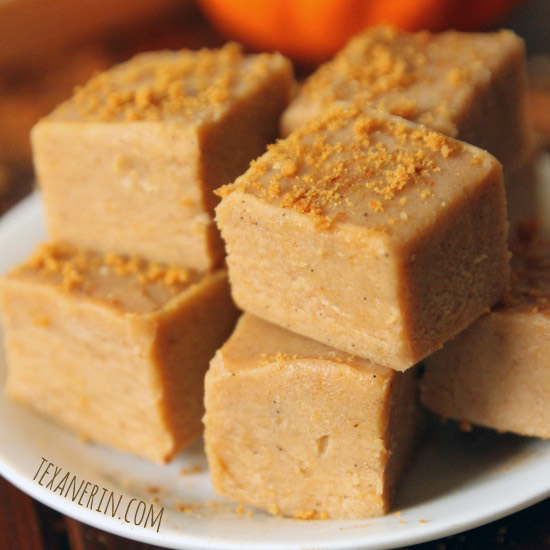 ❀
Healthier Maple Candied Walnuts
Prep Time:
Cook Time:
Ready in:
Yield:

1 1/2 cups
Ingredients
1 1/2 cups (165 grams) walnuts1
1/4 cup (60ml) maple syrup
1 teaspoon vanilla extract, optional
1/8 teaspoon salt (plus up to 1/8 teaspoon more)
Directions
Get out a Silpat or a piece of parchment or wax paper.
Preheat a non-stick pan over medium-high heat. It's important to preheat it first so that the maple syrup caramelizes properly.
Add the walnuts, maple syrup, vanilla and 1/8 teaspoon salt to the pan.
Stirring almost constantly, cook for 2-5 minutes or until the syrup has caramelized. There should be no liquid left in the pan. The maple syrup coating will seem soft but will harden as it cools.
Spoon the walnuts evenly onto the Silpat and spread. Test one now (making sure that the maple coating isn't so hot that you burn your tongue!) and if it's not salty enough, add more salt. If you don't want the nuts to be clumped together after cooling, make sure to separate them now.
These harden within about 20-30 minutes but let them cool for about 2 hours before placing them in an airtight container. When not kept in an airtight container, they start to get a little sweaty. Can be kept at room temperature for several weeks.
Notes
If you want to use these as a topping for a cake, cupcakes, etc., chop the nuts before candying.