These grain-free, gluten-free and 100% whole grain mint chocolate brownies are ultra fudgy, minty, and easy to make!
For my most recent post on My Baking Addiction, I made these gluten-free mint chocolate chip brownies. Posting a grain-free recipe that's also 100% whole grain was actually a first for me. I often post recipes with oats or oat flour that are gluten-free and whole grain, but when I do grain-free baking, I normally use nut flours.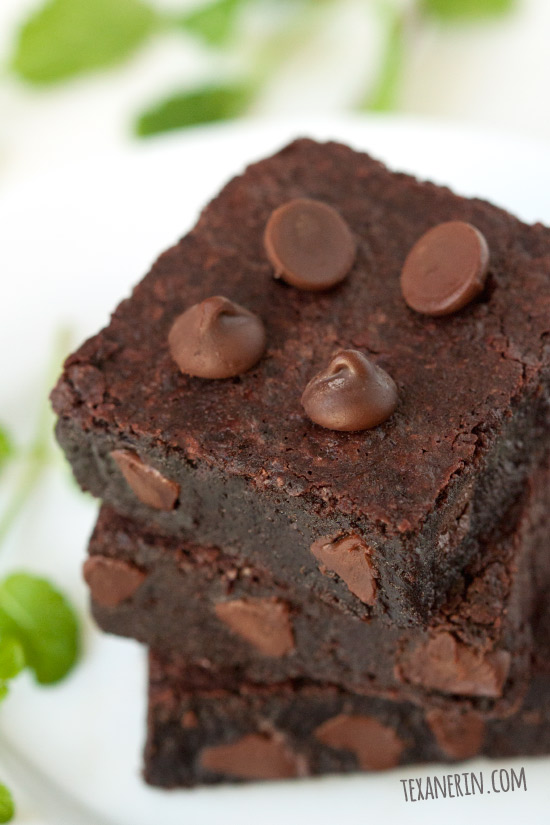 Buckwheat was one of the flours I used in the book and I experimented with it in so many heavily spiced things like carrot cake, spice cake, and gingerbread. My thinking was that a few tablespoons of spices could make me like buckwheat but I was wrong.
The only thing that worked for me was cocoa powder. Toss in some cocoa powder and the buckwheat taste is totally undetectable! If you've never had buckwheat before, it tastes like dirt. Other pages describe it as "earthy" but I believe that's just their polite way of saying, "Steer clear! This stuff tastes like dirt!" ;)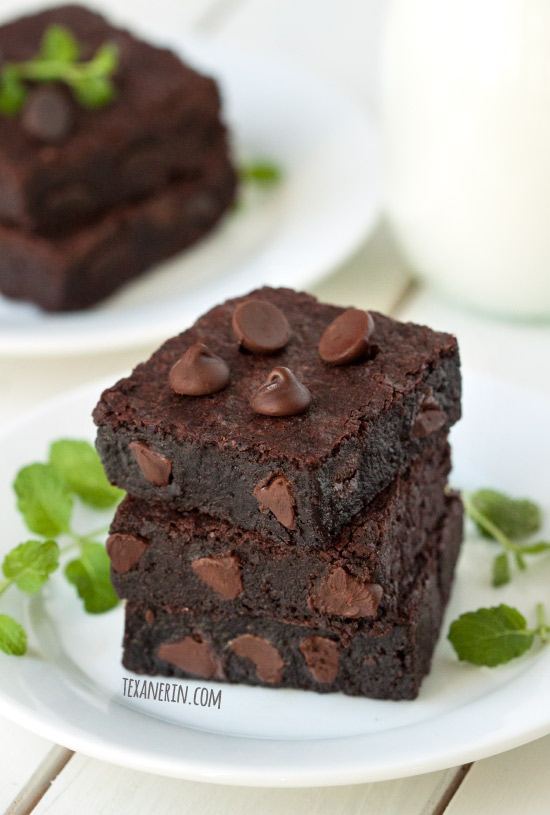 So how are these brownies grain-free and 100% whole grain? It seems paradoxical. It turns out that buckwheat isn't actually a grain at all, but a seed that's finely ground like flour. Please read the buckwheat section on my Ingredients page for more info, if you're interested. :)
Of the gluten-free ancient grains I used in the book (quinoa flour, teff, and buckwheat), this one was definitely my favorite because you can use it almost like whole wheat flour. By the way, I've made this recipe with whole wheat flour several times and it works! So there's no need to go out and buy buckwheat, unless you want to try something new.
These mint chocolate brownies are super fudgy as long as you don't overbake them, which is easy if you're on the cautious side. There's really no good way to test them other than digging into one of the corners, which I always do anyway once I pull a tray of brownies out of the oven. ;) The toothpick testing method just doesn't work here.
Feeling in more of a cookie mood? I highly suggest making these mint chocolate cookies! There's a secret ingredient in there, too (and it's not beans!)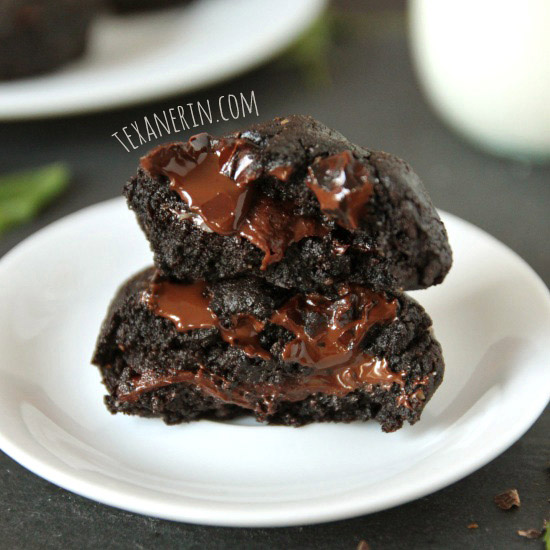 ❀
Grain-free Mint Chocolate Cookies
Prep Time:
Cook Time:
Ready in:
Yield:

16 brownies
Ingredients
1 cup (125 grams) whole grain buckwheat flour or whole wheat flour1
3/4 cup (86 grams) Dutch-process cocoa powder, sifted if lumpy
1/4 teaspoon salt
3/4 cup + 1 tablespoon (182 grams) unsalted butter or coconut oil, melted and cooled slightly2
1 1/2 cups (300 grams) granulated sugar, raw sugar or coconut sugar
1 teaspoon vanilla extract
2 teaspoons peppermint extract
3 large eggs, room temperature
1 1/4 cups semi-sweet chocolate chips or other add-ins (use dairy-free chocolate chips, if necessary)
Directions
Preheat the oven to 350 °F (175 °C) and line an 8"×8" (20cmx20cm) pan with parchment paper.
In a medium mixing bowl, stir together the flour, cocoa powder, and salt. Set aside.
In a large mixing bowl, stir together the melted butter or coconut oil, sugar, and vanilla and peppermint extracts. Once combined, add the eggs one at a time, and stir just until combined.
Add the dry mixture to the wet and stir just until almost no streaks of flour remain. Do not overmix! Fold in 1 cup chocolate chips.
Pour the batter into the prepared pan and bake for 16-20 minutes or until the brownies have formed a thin crust and appear set in the middle. A toothpick inserted into the center or sides will come out wet. The brownies will continue to bake as they sit in the pan and will firm up as they cool.
Sprinkle 1/4 cup additional chocolate chips on top, if desired.
Let cool completely and then cover and store at room temperature for up to 4 days.
Notes
You must use buckwheat and not whole wheat for a grain-free / gluten-free version.
For a dairy-free version, use coconut oil. I prefer to use refined coconut oil, which has no coconut taste or smell. If you use unrefined coconut oil, these will likely have some coconut flavor to them.
Source – My post on My Baking Addiction: Gluten-free mint chocolate chip brownies