These healthier raspberry truffles only have four ingredients and are vegan, dairy-free, paleo-friendly and naturally grain-free and gluten-free.
I've been wanting to make healthier truffles for a while now. I don't mind a little cream but I know a lot of you are dairy-free or vegan and I wanted to post something fun and easy for Valentine's Day that everyone could make. So I started off with using coconut milk and chocolate, but the taste and texture both seemed off to me. Then I remembered my Nutella fudge, which is made with avocado, and this is the result. Nothing but chocolate, avocado, and liqueur here!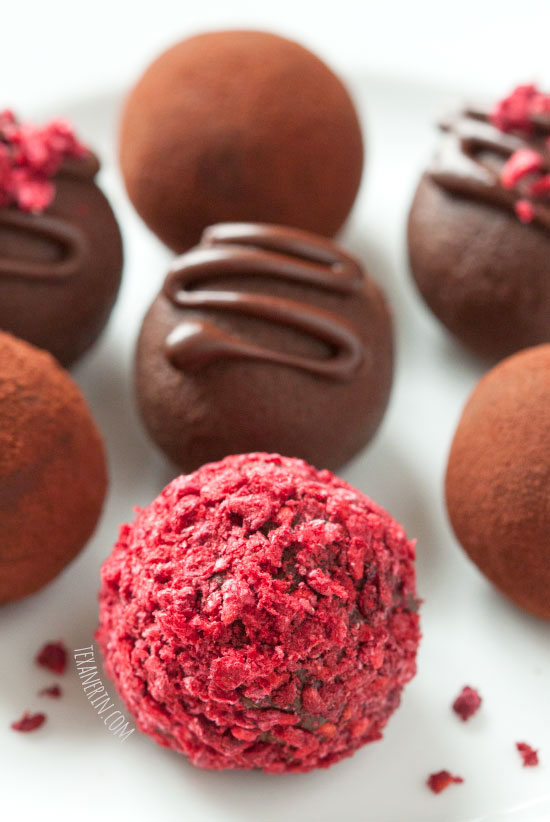 The texture is like whipped ganache and melts in your mouth. And even more importantly – they taste so, so good. You really can't detect the avocado at all! I added 2 tablespoons of raspberry liqueur to give the truffles more of a raspberry flavor. If you don't have it or don't want to make raspberry truffles, you could use any type of liqueur or alcohol you want. The raspberry liqueur adds a hint of raspberry, but if you use rum or another type of strong alcohol, it'll likely be a lot more than subtle.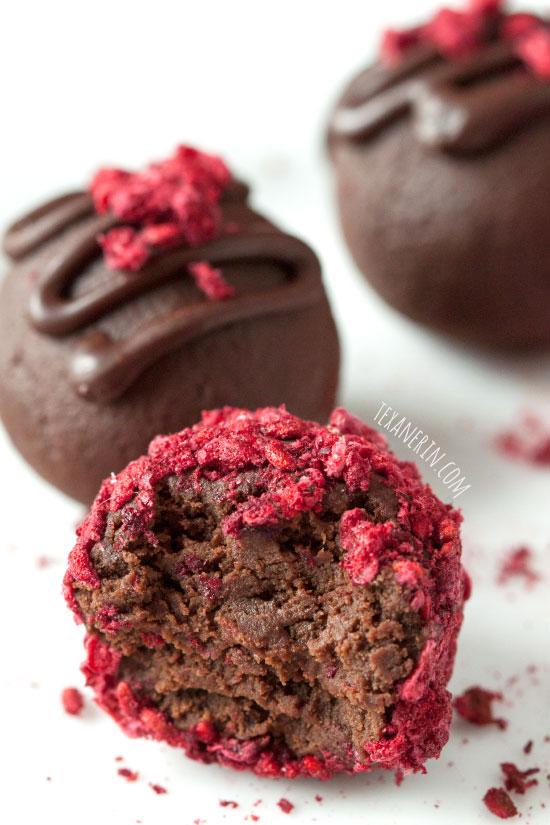 You'll probably only want to start off with 1 tablespoon and add more to taste. If you don't want to use any alcohol at all, I'm guessing you could use 2 teaspoons of vanilla and omit the rest of the liquid but since I haven't tried it, you'll have to experiment with that yourself. :)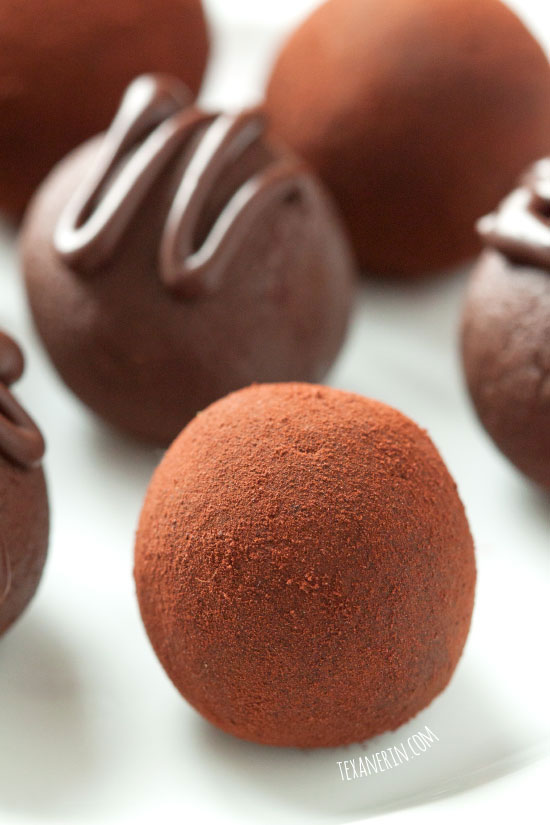 I made these yesterday and was expecting them to taste a little funky today (because of the avocado) but they taste exactly the same. The cocoa powder coating is almost no longer existent, so if that's how you want to decorate them, roll them in cocoa powder only up to about half a day before serving. But I highly recommend making the version rolled in freeze-dried raspberries. They add an amazing pop of taste and color and really make the truffles so much more interesting! The raspberries don't stay crisp once rolled in truffles but they don't get soggy, chewy or anything unpleasant.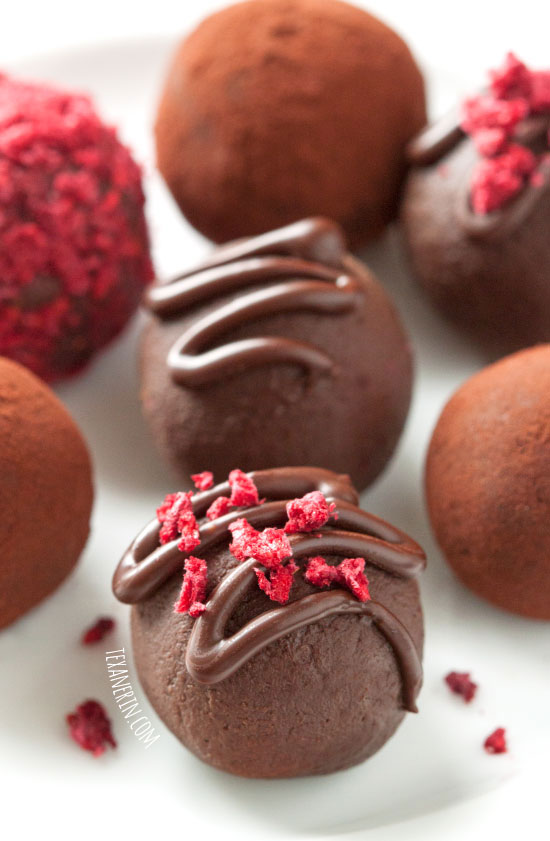 If you're looking for something healthy or healthy-ish for Valentine's Day, this is all you're going to get from me. My next post will be an insanely decadent nutritional disaster. ;) Enjoy! Also, check out these Double Thumbprint Heart Cookies for another healthier Valentine's Day dessert. This Gluten Free Vegan Red Velvet Bundt Cake also looks fantastic!
❀
Healthier Raspberry Truffles (paleo, vegan options)
Prep Time:
Cook Time:
Ready in:
Yield:

20 truffles
Ingredients
80 grams avocado flesh (about 1/2 avocado)
6 ounces (170 grams / 1 cup) chocolate semi-sweet chips or chocolate chopped (use paleo / vegan, if desired), melted
pinch of salt
2 tablespoons raspberry liqueur (or another liquor of choice or a mix of vanilla and liquor)
Directions
In a medium mixing bowl, mash the avocado flesh with the bottom of a drinking glass or with an immersion blender.
Add the melted chocolate and pinch of salt and stir. If there are any chunks of avocado, use a silicone spatula to smooth them out.
Add the raspberry liqueur and stir. It will almost immediately start firming up.
Once everything is well combined (and no chunks of avocado remain), place the bowl in the refrigerator for 20-45 minutes or until firm enough to roll into balls. The mixture shouldn't be sticky after refrigerating.
Crush the freeze-dried raspberries with your fingers and place on a small plate.
Form 3/4" balls of the truffle mixture and roll in the crushed raspberries.
Can be eaten immediately or refrigerated for 1 day in an airtight container. They can also be frozen.
Notes
To make these truffles paleo-friendly, use dark dairy-free chocolate and omit the alcohol. To make them vegan or dairy-free, make sure you use appropriate chocolate.