These paleo chocolate marshmallows are simpler than you'd think! You probably even already have the ingredients in your pantry.
When I was taking the pictures for this paleo vegan hot chocolate, I realized that some marshmallows were really needed.
If you've never had homemade marshmallows, you're in for a treat! They are nothing like store-bought. I actually hated marshmallows until I tried the homemade ones a few years ago.
Even if you like store-bought marshmallows, I'm pretty sure you'll like these more. And you can feel good about eating them as there's nothing funky in them! No corn syrup or refined sugar – just honey.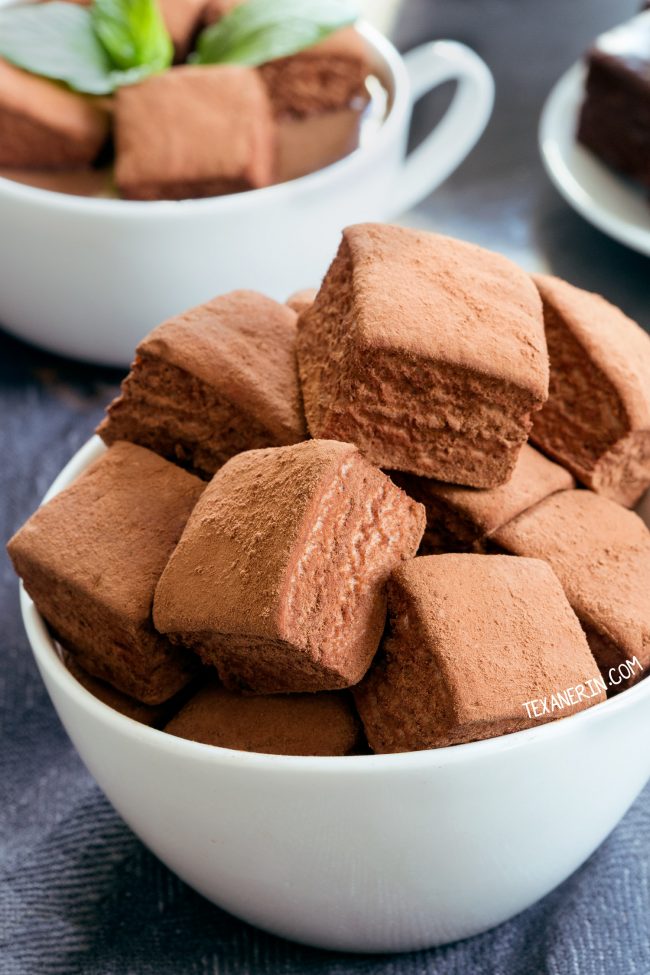 This recipe is adapted from these rustic homemade marshmallows on Urban Poser. I used less honey, more gelatin, and some cocoa powder to turn them into chocolate marshmallows. She has all kinds of tips, troubleshooting advice and a how-to video over there so definitely be sure to check out that post.
If you want regular marshmallows, just omit the final step of the mixing process, which is to add the cocoa powder. You could also do half and half!
Pour half of the marshmallow creme into a prepared pan and then add the cocoa powder to the remaining creme in the mixing bowl. Pour that into another pan.
The original recipe calls for an 8×8 pan, which yields super tall marshmallows. Since I wanted these specifically for hot chocolate, I used a 9×13 and thought that they come out the perfect size.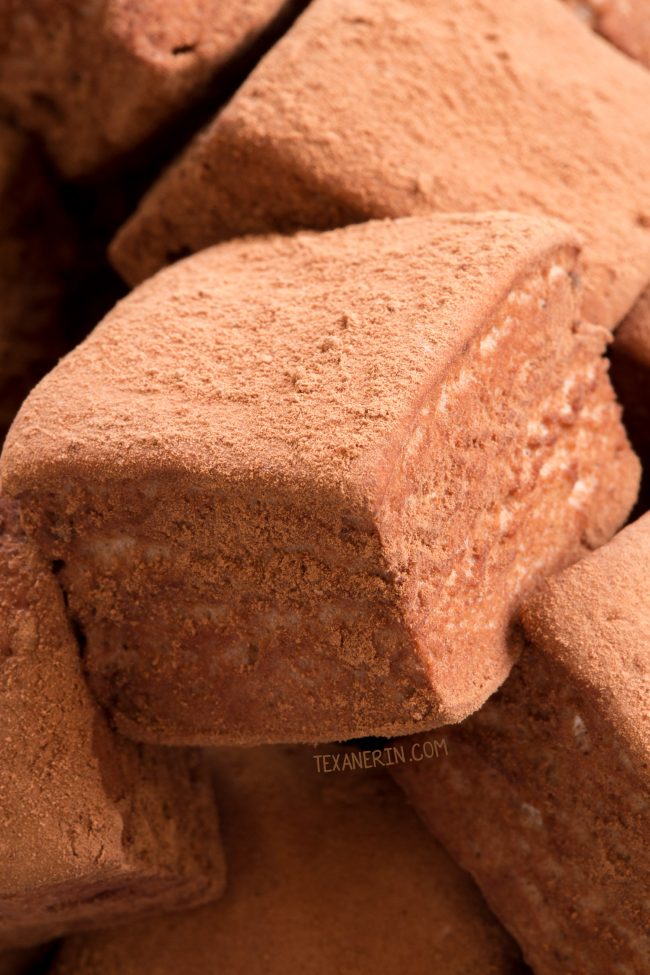 The hot chocolate recipe I'll be posting is paleo + vegan and so I wanted these marshmallows to be, too. I bought some agar agar powder thinking I could just use that in this recipe, along with some maple syrup instead of honey.
By the way, if you're really sensitive to gluten, you might want to check out what on I wrote about it here – Is Honey Gluten-free?
But apparently, that's not how agar agar powder works! Sorry, folks. I can't even find a vegan recipe that doesn't use corn syrup or some other weird kind of syrup. :/ If anyone knows of a healthier vegan marshmallow recipe, please share!
I coated these marshmallows in plain cocoa powder but if you're okay with powdered sugar, a mix of powdered sugar and cocoa powder may be tasty! But they're honestly sweet enough without the extra sugar.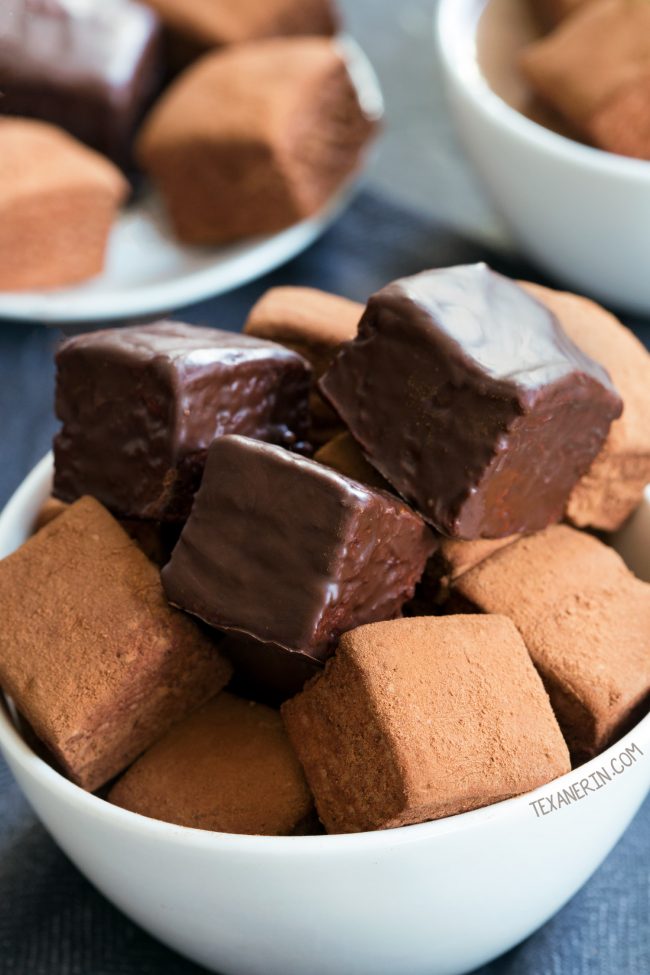 By the way, the chocolate taste is pretty dark. You could reduce the amount of cocoa powder if you don't want them so dark. When you're mixing in the cocoa paste, you can taste as you go. Just keep in mind that the cocoa flavor is a little stronger after the marshmallows have set.
These chocolate marshmallows are also AIP and GAPS diet-friendly! I'm actually doing both diets right now (which I'll write more about in my next post) and it's really hard to find sweet treats that fit both diets. I'm SO happy to now have these marshmallows in my life! Please see the notes below the recipe for which ingredients to use.
Making marshmallows is way easier than it sounds. My recipe is only so long because I tried to include lots of tips to make the process less scary. It's actually really simple. :) As long as you have a candy thermometer (which is unfortunately totally necessary for this recipe)!
❀
More of my favorite paleo desserts!
❀
Paleo Chocolate Marshmallows (AIP, GAPS)
Prep Time:
Cook Time:
Ready in:
Please see the notes below for the AIP + GAPS options!
Ingredients
For dusting the marshmallows:

2 1/2 tablespoons cocoa powder or carob powder, divided

For the marshmallows:

1 cup (236ml) filtered water, divided
3 tablespoons gelatin (I used this one)
1 cup (320 grams) honey (I like Nature Nate's)
1 teaspoon vanilla extract or 1/2 teaspoon vanilla powder / bean scrapings + 1/2 teaspoon water
1/4 teaspoon salt

For the cocoa paste:

7 tablespoons cocoa powder (do not use one with any added ingredients!) or carob powder
3-4 tablespoons warm water
Directions
Line an 9"x13" pan with parchment paper. Using a sifter or tea strainer, sift about 1 1/2 tablespoons of cocoa powder over the parchment paper.
In the bowl of your stand mixer, add 1/2 cup water to the gelatin. There's no need to mix it. Attach the whisk attachment to the mixer and secure the bowl in place if it isn't already. I recommend using a stainless steel bowl rather than a glass bowl.
Get out a medium saucepan (if your saucepan is too big, the mixture is more likely to burn!). Pour the remaining 1/2 cup water in this saucepan with the honey, vanilla and salt and bring this to a boil over medium-high heat. For me, I needed 5 minutes to bring it to a boil.
With a candy thermometer in the saucepan, boil this mixture until the thermometer reads 240 °F (116 °C). It only took me 90 seconds to get to 220 °F but then it took another 10-12 minutes to get to 240 °F. One time, I boiled it for 15 minutes and could only get it to 225 °F and they worked just as well as the versions that reached 240 °F (but you should still aim for 240 °F!). It may take you more or less time depending on the size of your saucepan and burner. It may only take you 7-8 minutes. There's no need to stir the mixture. Once the mixture reaches 240 °F, remove the pan immediately off of the heat.
At this point, the gelatin will likely be lumpy. Mix it for a few seconds to break it into pieces and then pour the honey mixture (still super hot, as it's just come off of the stove) into the bowl of your stand mixer, in a slow stream. Be sure not to pour too fast as this will cause problems later on! Mix on low for about 20-30 seconds or until thoroughly combined and no lumps of gelatin remain.
Start beating this mixture on the highest setting and continue until it's thick, kind of like marshmallow creme, and the mixture is completely cool. This took me about 10 minutes but could take as few as 7 minutes.
While it's mixing, stir together the cocoa powder and just enough water to make a thick paste.
Once the marshmallow creme is ready, add the cocoa paste and whisk another 30-60 seconds or until it's totally incorporated.
Immediately spread the creme over the parchment paper as evenly as you can. Sift on the remaining cocoa powder. Don't let the mixture sit before spreading it into the pan. It makes it much more difficult to spread evenly.
Let this sit for 4 hours and then cut. I've had mine at room temperature now for 10 days in an airtight container and they've held up perfectly. You may want to move them to the refrigerator after 1 week to be on the safe side. They also freeze well.
I don't recommend putting these in super hot liquids (like so hot you can't drink it) as they'll melt quite quickly.
Notes
For AIP: Use carob powder. Vanilla powder / bean scrapings are elimination-phase legal (read more here).

For GAPS: Cocoa powder is GAPS-legal once you're on the full diet and don't have any digestive symptoms. Read here for more info. I also use vanilla bean scrapings but it looks like pure vanilla extract (with just vanilla beans + vodka) is legal.

Adapted from Rustic Homemade Marshmallows on Urban Poser