The answer is yes! Most of the time. Keep reading to find out the exceptions.
Even if you're highly sensitive to gluten, you should be able to enjoy honey without any issues. Honey is naturally free of gluten.
With that said, if you're trying to avoid gluten, there are a few things that you'll want to watch out for.
Cross-contamination
In some cases, honey may be packed in a facility that packages gluten products. Or it could even be processed using the same equipment as gluten products, which may or may not be cleaned when they switch from product to product. This could lead to cross-contamination.
Some manufacturers are very careful with this when switching from a gluten to a non-gluten product, but some aren't.
Food processing equipment isn't easy to properly clean unless the manufacturer dismantles absolutely everything. I think it's safe to assume that very few companies do that.
If you're highly sensitive to gluten, you'll want to check labels carefully before buying a new brand of honey (or anything else for that matter!).
In the US and many other countries, common allergens used in a food product must be labeled on products. So if a gluten product is being used, it should say it on the label.
The label might also say something like: "may contain (traces of) gluten," "processed in a shared facility," or "made on shared equipment with gluten-containing foods."
Wind?!
It's also possible that wind could blow some gluten particles into the honey if the beehives are in an area where gluten grains are growing. If you are extremely sensitive to gluten, you might want to contact local beekeepers who have total control over the hives and know every detail.
Mass-produced honey often comes from multiple sources, so local is a safer bet. If you go to a local beekeeper, they also most likely process the honey right there at their premises.
I highly doubt they have gluten flying around where they process the honey, but it's always best to ask.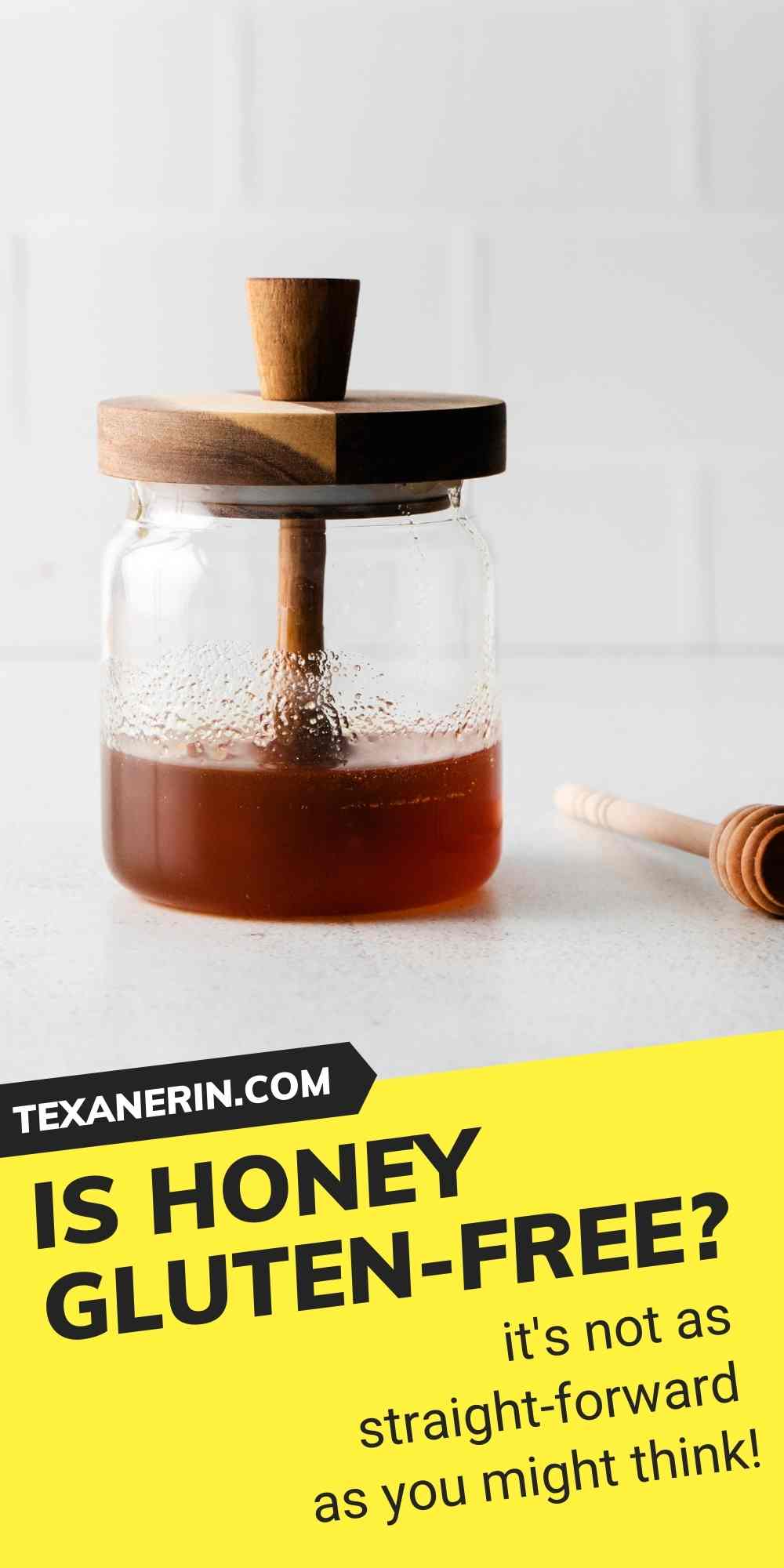 What about flavored honey?
Be cautious of flavored honey as that can sometimes contain flavorings that contain gluten. If it contains wheat, rye, barley, or any kind of ingredient made with these grains, then that product is not gluten-free.
There are also a number of honey-based products that contain gluten. This could include honey-based salad dressing, honey mustard, or cereals sweetened with honey.
It's best not to assume that a product is gluten-free. Always read the label to see if it's a product that you can enjoy safely.
Brands of Gluten-free Honey
As of 11/07/2021, these brands are all gluten-free according to their websites.
Sioux Honey
Mike's Hot Honey
Capilano
Soothing for sore throats
Bee Harmony
L.R. Rice
Gunter's
Local Fischer's
These two brands are special in that they're certified gluten-free.
Can You Make Gluten-Free Recipes With Honey?
Of course! There's no gluten in honey, which means it can be an excellent way to add a little extra flavor to some of your gluten-free meals.
Wondering what to do with honey? I have over 100 honey recipes, with most of them being gluten-free!
Here are some of my favorites (and they're all gluten-free!):
Also, be sure to check out my other 400+ gluten-free recipes!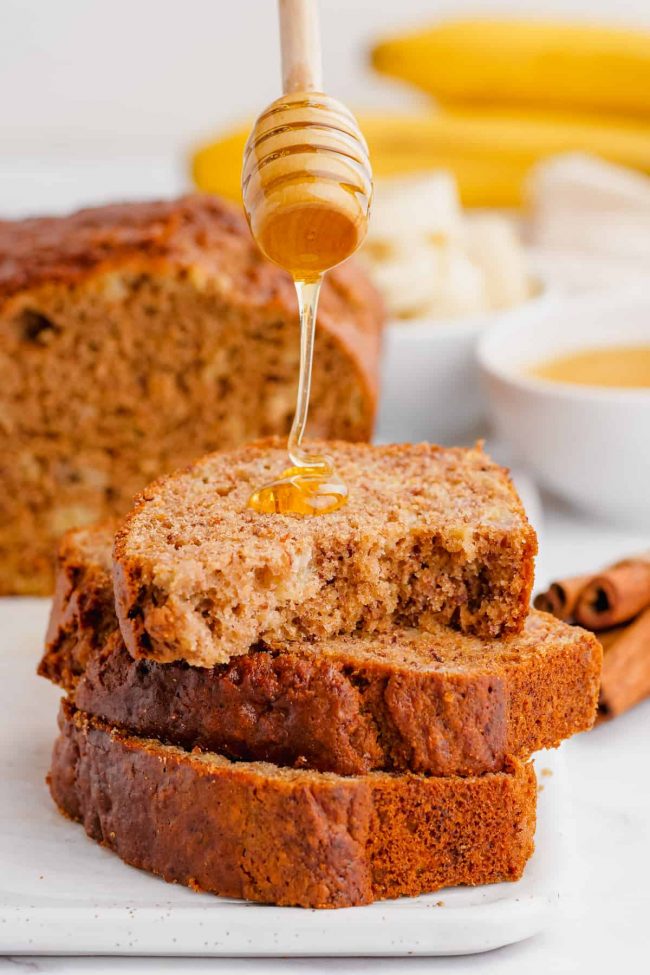 Honey has a naturally sweet flavor that makes it perfect for desserts, but you can also use it alongside spicier ingredients. It's perfect for making a sauce that blends sweet and savory flavors.
Honey is used with soy sauce in a number of Asian dishes. Since soy sauce contains gluten, you can use coconut aminos to make a similar sauce with the honey that you have in your cupboards.
You can also use it to make your own gluten-free sauces and salad dressings at home. No matter how you choose to use it, this is an ingredient that you'll appreciate having in your pantry.
Does Honey Have Health Benefits?
Now that you know that honey is indeed gluten-free, you may have a few more questions about this sweet golden liquid. You may be wondering if there are any benefits to sweetening your food with honey!
Honey is a much healthier alternative to processed sugar, and it offers quite a few additional benefits. Some of the health benefits that have been linked to honey include:
High in antioxidants
Immune-boosting phytonutrients
Aiding with digestive issues
Soothing for sore throats
Helps with heart health by decreasing blood pressure, improving cholesterol, and lowering triglycerides
When you do buy honey, it's always a good idea to check the label to make sure there aren't any additives. Raw honey tends to be more expensive, but it's also one of the healthiest options on the market. Take a look at the honey available at your grocery store and find the best products to buy.
If you come across this article and are wondering why this article even exists or why someone would want to avoid gluten, this next part is for you!
Is Gluten Bad for You?
Most people can consume gluten without any issue. However, some people aren't able to properly digest gluten. One example of this is celiac disease, a condition that causes the small intestine to become extremely sensitive to gluten.
In addition to celiac disease, there are several other conditions can cause people to react badly to gluten, including irritable bowel syndrome and gluten intolerance.
People that have issues with gluten often experience bloating, abdominal pain, gas, or diarrhea after eating foods that are high in gluten.
How Can I Tell If I Have a Gluten Sensitivity?
If you suspect that you have issues with gluten, the best thing that you can do is discuss your symptoms with your doctor. Your doctor may recommend that you try an elimination diet so that you can identify the foods that are causing your digestive issues.
Your doctor may also have you undergo a test to see if you have celiac disease. Currently, it's only possible to test for celiac disease, not gluten intolerance.
Gluten is found in a number of foods, but it's not something that your body needs. If you want to give up gluten for a few weeks to see if it helps with some of your symptoms, you can do that without any risk.
However, if celiac disease is suspected, you'll have to eat gluten for a while before you can be tested. It's also not recommended to do elimination diets without guidance from a doctor, so definitely – talk to your doctor!
Until then, enjoy the gluten-free honey!
I hope I've answered your question. :) If you have any others, definitely leave a comment below and I'll be happy to help answer them.