These paleo gingerbread men cookies are soft and chewy and are also grain-free, gluten-free and dairy-free!
Does anyone else require gingerbread men to have a proper Christmas? It's just not Christmas without them! You can get fancy and decorate your gingerladies and gingermen in a more complicated manner, but I was happy with the classic outline.
I just used melted white chocolate. First, because I absolutely love white chocolate and second, because I try to avoid powdered sugar (although I know white chocolate isn't any better!) If you need to keep these gingerbread men paleo / dairy-free, you'll want to make your own paleo white chocolate.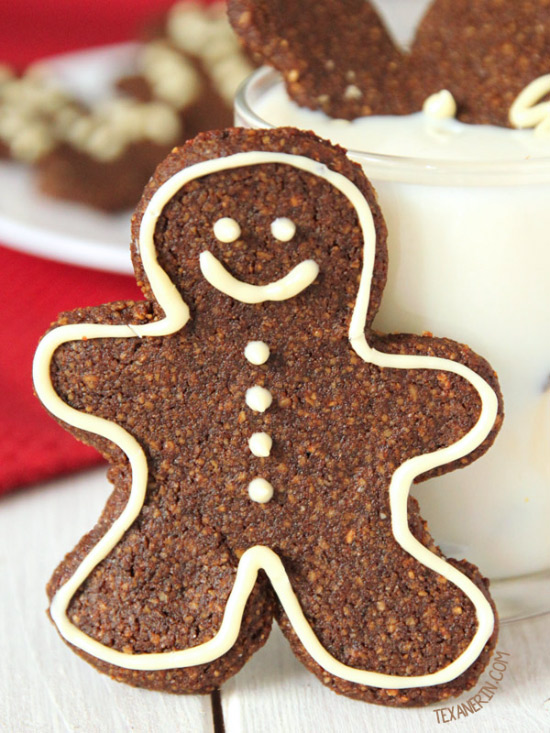 It would have been clever to try my grain-free soft and chewy ginger cookies to make gingerbread men, but I only realized this after futzing around with a new recipe creation.
Oh well. The new recipe worked out wonderfully! And I was pleasantly surprised by the taste. They're pretty molasses-y, but not overwhelmingly so. But still, not recommended for molasses haters.
The dough isn't the nicest to work with (you have to freeze it and flour the surface before rolling the dough into shapes) but it's not that bad and not any more work than a normal roll-out cookie recipe.
And if you don't want to roll them out at all, use the recipe I linked to above. They are just as amazing and the dough is a little easier to work with! :)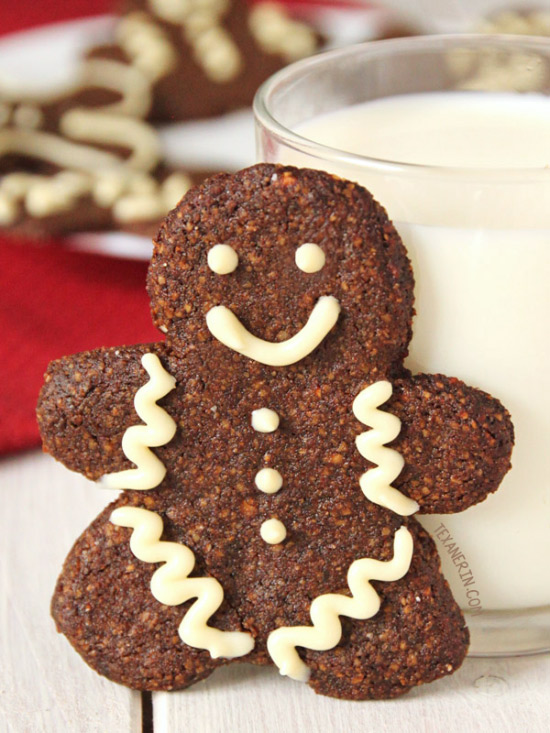 I eat a mix of grain-free and whole grain goodies and to be honest, I would totally take these over a whole grain version. Seriously, y'all. Make these!
And just a little heads up – be careful with how you store these! I packed my container too full, pressed them down a little, and they stuck together just a bit.
What other paleo Christmas cookies do you all want to see made? After making these paleo gingerbread men, I'd love to try some more! I like a little challenge every now and then. :)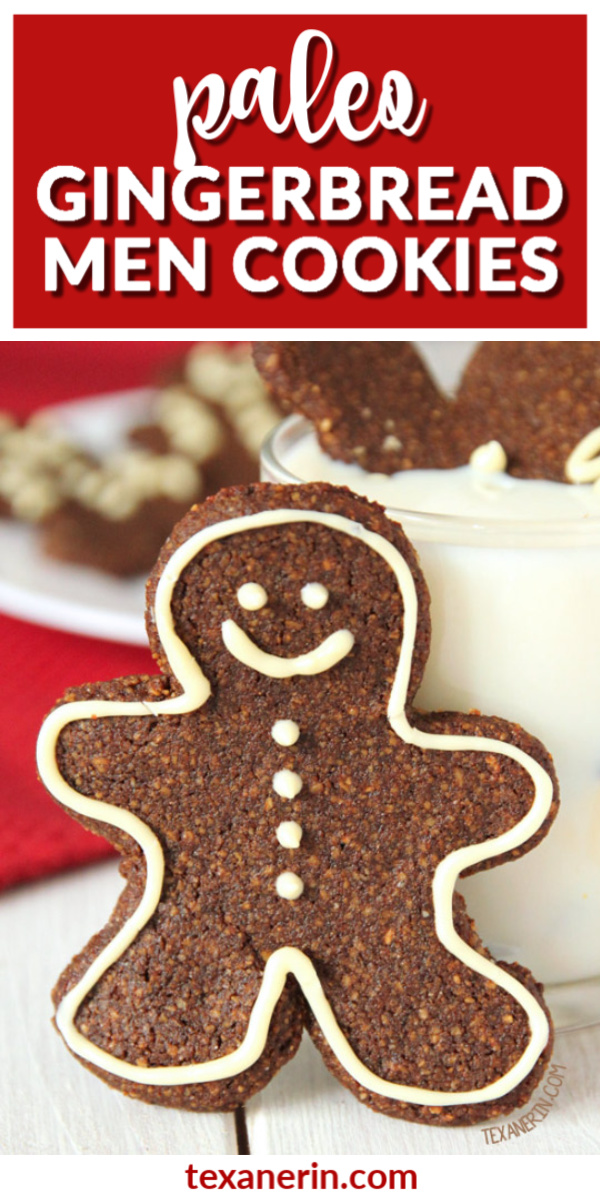 ❀
Soft and Chewy Paleo Gingerbread Men Cookies (grain-free, gluten-free, dairy-free)
Prep Time:
Cook Time:
Ready in:
Yield:

16-20 gingerbread men
Ingredients
285 grams (~2 3/4 cups, but please weigh it!) almond flour or almond meal
1/4 cup (33 grams) coconut flour
1/2 teaspoon salt
1/2 teaspoon baking soda
3/4 teaspoon cinnamon
3/4 teaspoon ginger
1/2 teaspoon cloves
1/4 teaspoon nutmeg
1/4 cup + 2 tablespoons (120 grams) honey
1/4 cup (88 grams) molasses
1/4 cup (56 grams) coconut oil, melted
Directions
In a medium bowl, combine all the dry ingredients and set this bowl aside.
In another medium bowl, combine the wet ingredients. Add the dry ingredients to the wet ingredients and stir just until combined.
Divide the dough into four balls, place the balls in plastic wrap and chill in the freezer for at least 30 minutes or until the dough is quite firm.
Preheat your oven to 350°F (176°C). Get out two pieces of parchment paper or two Silpats and flour both of them with almond flour or whatever kind of flour you like. I normally don't flour my Silpats but here it's absolutely necessary.
Take out one ball of dough at a time, roll it out to about 1/8", and, working quickly, use your cookie cutters of choice to cut out the desired shapes. I prefer to cut the shapes, leaving about 3/4" between each one, and then remove the dough surrounding the shape. That way I don't have to worry about damaging the gingerbread men. Gather up the leftover dough and place back in the freezer. Bake the gingerbread men for 7 - 9 minutes. They'll still be soft when you take them out of the oven.
Immediately remove the piece of parchment paper or Silpat from the pan to prevent the gingerbread men from baking even more. If you want them slightly crunchy, you can let them cool on the cookie sheet. When completely cooled, you can pipe on some white chocolate for decoration.
Store in an airtight container. They get really soft if not properly stored or if left too long uncovered. I didn't pack mine up for several hours but luckily liked my gingerbread men that soft however. The only downside is that they stuck together a little (but you can easily pull them apart again).