This avocado chocolate frosting is super easy and fudgy and makes your frosted sweets fabulously delicious and amazingly healthy. It's also paleo and vegan.
Don't let the avocado turn you away from this terrific treat! The avocado gives this frosting its smooth and creamy texture, its shiny luster, and just happens to add a whole lot of nutrition without tasting like an avocado.
It's truly amazing to sneak in nutrition to make sweets even healthier, and this chocolate frosting does it splendidly.
With only a handful of ingredients, you can have this frosting ready in minutes. I've used this recipe on all my kid's birthday cakes so I've fiddled with it quite a bit over the years. I hope you'll enjoy the result!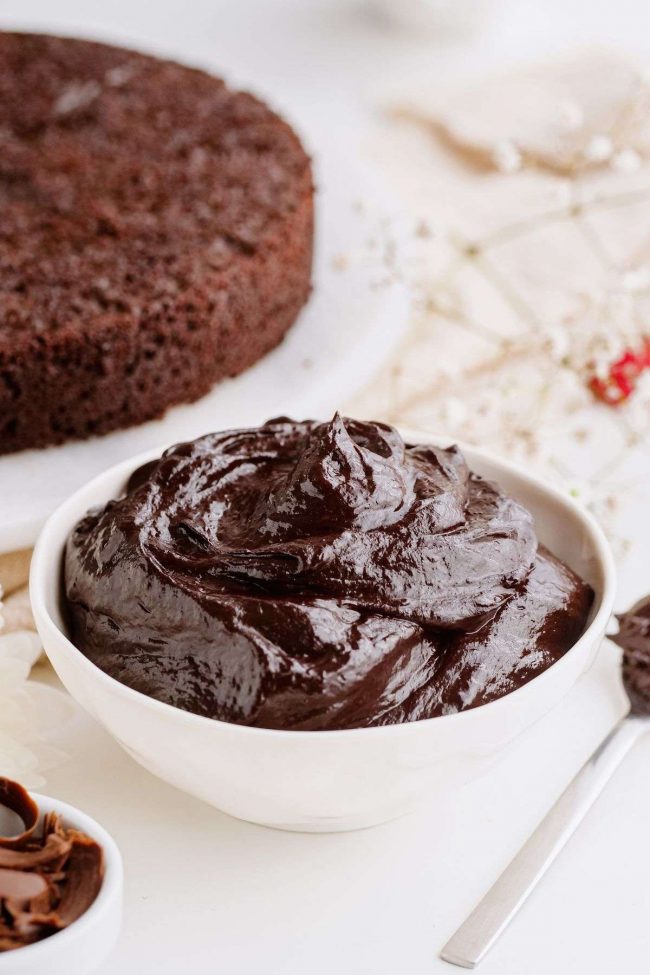 Basic ingredients:
Avocado
Cocoa powder
Maple syrup
Vanilla extract
Salt
Coconut oil
I talk about subs in the questions section at the bottom of the post. :)
This recipe yields 2 cups + 1 tablespoon, so feel free to give it a taste before frosting your cake!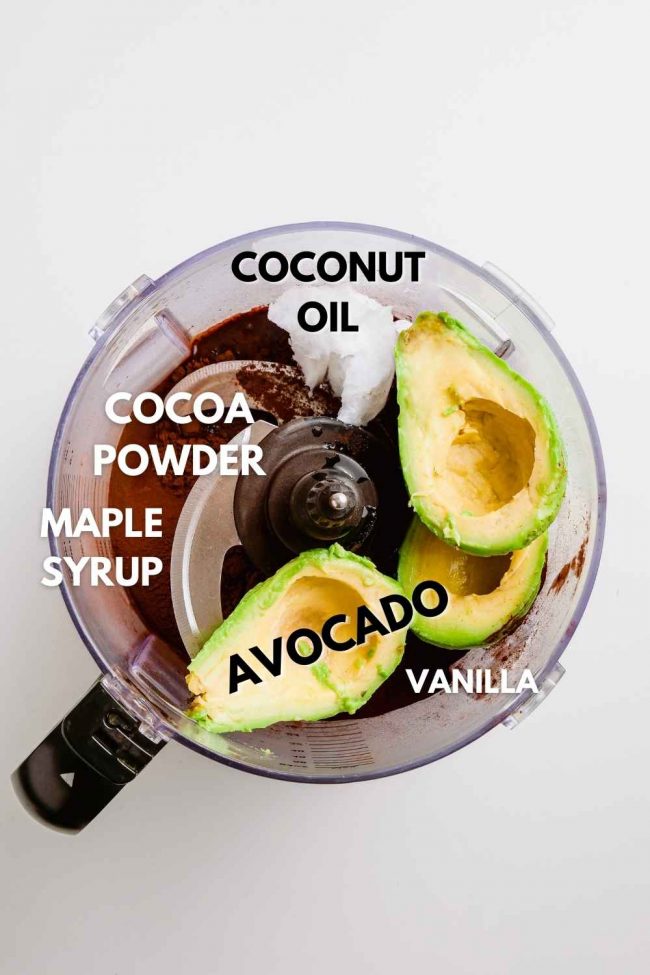 (what you see in the photo is 1.5x the recipe, so I'd have enough to fill the bowl for the photos)
How to make the frosting
To make the frosting, all you do is blend the ingredients in a high-speed blender or food processor until smooth. That's it! It couldn't get any easier, and this frosting is so fudgy delicious, it makes everything better.
Once your baked treats are thoroughly cooled, just slather on the frosting and spread it out over the top.
How much frosting do I need for a cake?
If you make this Vegan Chocolate Cake, you'll use about 3/4 cup to 1 cup of frosting for the middle layer and the rest can be spread over the top. The cake has a gluten-free option.
If you want to also frost the sides of a cake, like this Dairy-free Chocolate Cake, I recommend doubling the batch of the avocado chocolate frosting and freezing the remaining frosting for another treat later.
If you use this frosting for this Healthier Chocolate Cake you'll have one amazingly healthy dessert that will rival any other! This cake is loaded with options: from traditional to whole wheat, gluten-free, vegan, and the list goes on.
If you're wanting to learn to pipe the frosting I found this Frosting 101 Manual which should help.
But don't stop at cake! You can frost any number of sweet treats like cupcakes, cookies or brownies.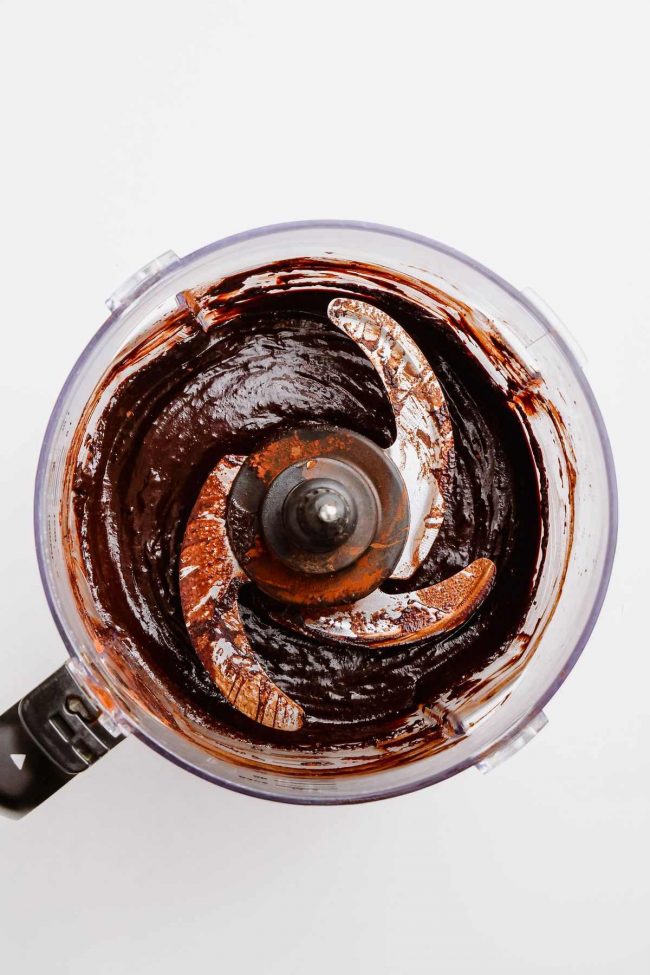 Other treats to frost: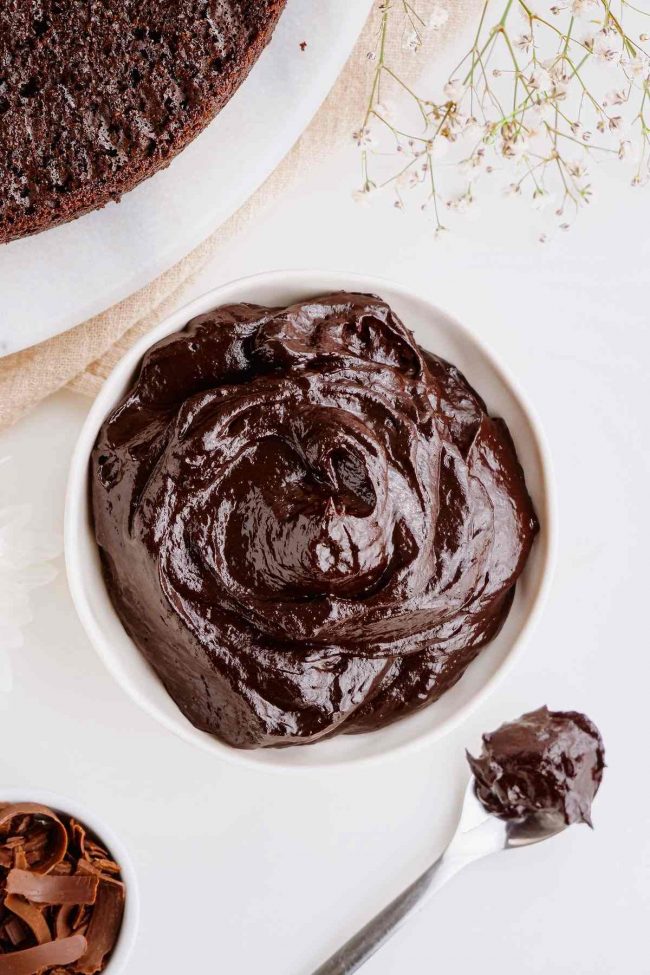 What makes this frosting healthy?
Well, certainly the avocados! Adding avocados is a perfect way to sneak in nutrition without anyone knowing!
One medium avocado is about 150 grams with 240 calories, 22 grams of fat, 11 milligrams of sodium, 13 grams of total carbohydrates, 3 grams of protein and 10 grams of fiber.
They're also a great source of 20 essential vitamins and minerals like vitamins C, K, E, folate, and potassium. Avocados are great for promoting a healthy immune system, healthy bones, and lowering blood pressure.
If you would like more information on how to choose the best avocado, be sure to check out this Ultimate Guide to Avocados.
Avocados are also heart-healthy and seem to have superpowers, so why not use them to make your super treats healthier, even if it's just frosting. 😉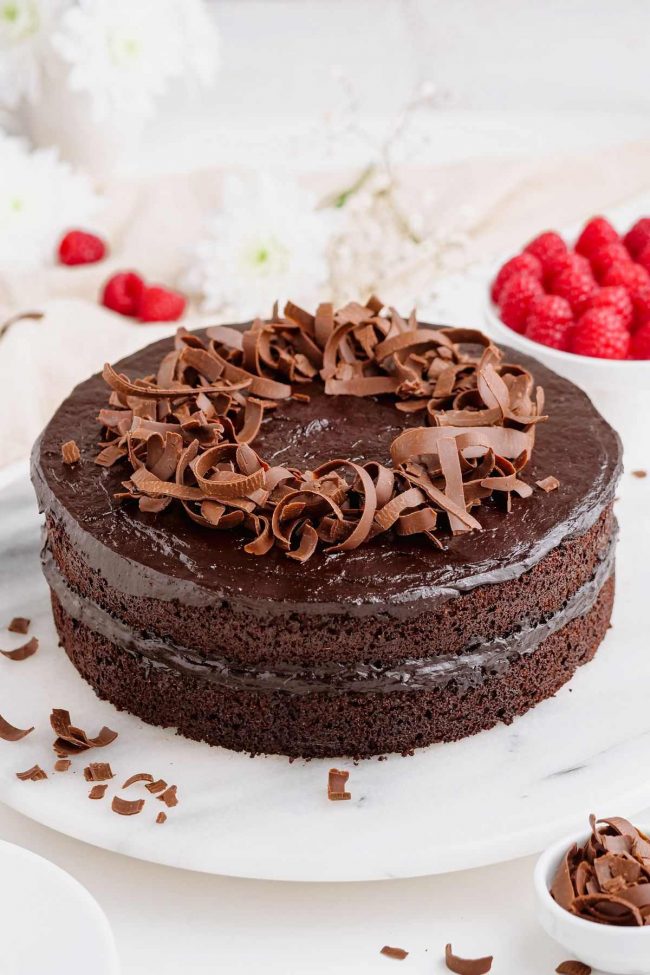 Substitution questions?
What can I use in place of the avocado?

You would unfortunately need to just find a different recipe that isn't based on avocado.

Do I have to use Dutch-process cocoa powder?

No, but the frosting won't be as sweet if you use regular cocoa powder. Cacao powder and natural cocoa powder (like Hershey's) are more bitter than Dutch-process. I always find that I need to use more sugar if not using Dutch-process.

Because maple syrup is the sweetener in this recipe, you just can't add more without making the frosting runny. You could add some powdered sugar (coconut sugar is too coarse and won't dissolve), but then the frosting's not paleo.

Can I omit the cocoa powder to make a non-chocolate avocado frosting?

Nope, as you would have WAY too much sweetener. The whole recipe would need to be reworked.

Can I use something instead of maple syrup?

Here there's some flexibility! I think that any liquid sweetener would be fine. Honey might add some honey taste to the frosting, but I still think it'd be tasty.

Do I have to use refined coconut oil?

You can use unrefined coconut oil if you don't mind some coconut taste in the frosting. I think it's tastier without the coconut flavor, so I recommend refined coconut oil.

Can I use something other than coconut oil?

Butter would work, if you can have dairy. Or vegan butter, if you're not paleo. Liquid oil like olive and avocado oil would not work.

Can I make this in a normal blender?

No, it's much too thick. You need to use a food processor or a high-speed blender like a Blendtec or Vitamix.

And if you have a huge food processor, you might need to double the recipe to make sure that the S-blade is covered. If it's not, it won't be able to blend the frosting.

Can I freeze this?

It freezes great! I've even frozen slices of the frosted cake.
That's it! I know you will love this chocolate avocado frosting. :) If you decide to top off your special treat, I would love to see pictures 📸! Just tag #texanerin on Instagram, Facebook, and Twitter so I can easily find them. Enjoy!
❀
Avocado Chocolate Frosting (paleo, vegan)
Prep Time:
Cook Time:
Ready in:
Yield:

2 cups + 1 tablespoon
Ingredients
flesh of 1 avocado (155 grams)
1/2 cup + 2 tablespoons (72 grams) Dutch-process cocoa powder
1/2 cup + 2 tablespoons (150 ml) maple syrup, divided
1 teaspoon vanilla extract
1/4 teaspoon salt
2 tablespoons (28 grams) refined coconut oil
Directions
Put all the ingredients (using 1/2 cup maple syrup) in a high-speed blender (or a small food processor) and blend until smooth. Taste and add up to another 2 tablespoons of maple syrup (I always do).
The frosting yields 2 cups + 1 tablespoon. That's enough for a two-layer 8" cake if you use about 3/4 cup to 1 cup for the middle and the other remaining cup on top.
The frosting will harden in the fridge but you can still cut it once it's on the cake. It will be too firm to spread once cold, so just gently reheat it if you need to spread it after it's been chilled.
It's best used on the day of making but can also be stored for up to 2 days in the fridge. The longer it sits, the more avocady it gets (it doesn't taste at all like avocado when you first make it). I only notice it after about 1 day.