These paleo lemon bars are sweetened naturally with maple syrup and are grain-free, gluten-free and dairy-free!
You might be wondering why I'm posting this paleo lemon bars recipe when, as you know, it's pumpkin time! Today, a group of food bloggers has gotten together to throw Liz of The Lemon Bowl a surprise baby shower!
I got to meet Liz while at BlogHer Food in Austin this summer. She was so sweet and I'm super excited for her and her family!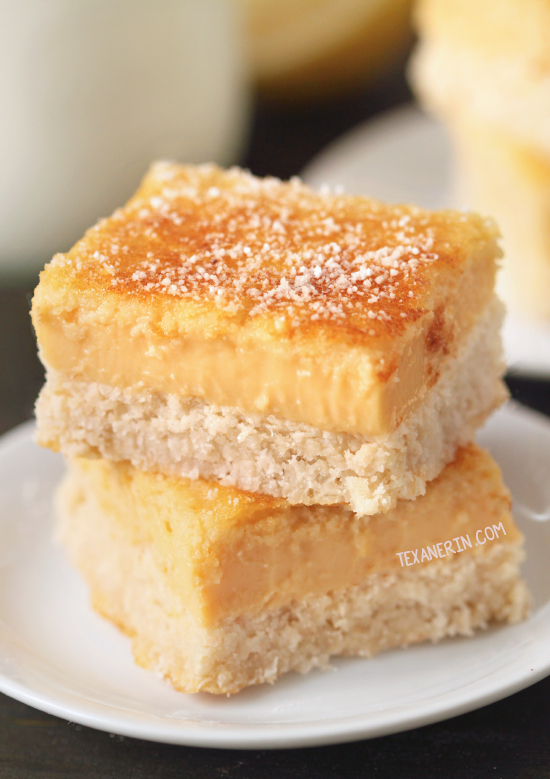 Liz, who almost always posts healthy recipes, got a bit naughty with her recipe for lemon bars. They were for her mother for Mother's Day but I figured that Liz would love a healthier version! And these lemon bars also happen to be paleo.
Lemon bars are usually so full of white sugar but this paleo lemon bar version? Just maple syrup! And there's so little of it compared to the amount of sugar in other recipes.
I made raspberry lemon bars a few months ago. That filling is honey sweetened and has an amazing whole grain buttery cookie crust, which you could use instead of the crust in this recipe (make only half of that crust recipe!)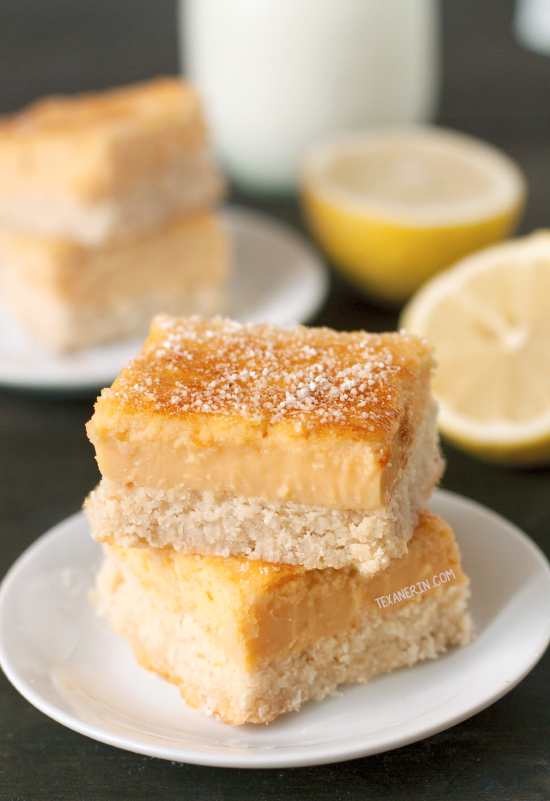 These lemon bars have a macaroon-like base. But it was just too much crust for me. I've written the recipe as I made it, but I would halve the crust if I were you.
Don't need to eat grain-free? Go for the less healthy crust in the raspberry lemon bars! :D I mentioned in my blueberry cream cheese pie recipe that it's the best crust ever. And it is. But it's kind of an unfair comparison – it's full of butter, sugar, and whole wheat pastry flour and this version is grain-free and lightly sweetened with maple syrup.
Need a keto version? Try these keto lemon bars!
❀
Paleo Lemon Bars (grain-free, gluten-free, dairy-free)
Prep Time:
Cook Time:
Ready in:
Yield:

8 bars
Ingredients
For the crust:1

2 1/2 tablespoons (31 grams) coconut oil
2 tablespoons maple syrup
1 cup shredded coconut
1/2 cup (50 grams) almond flour
a pinch of salt
1 egg white

For the filling:

3 eggs + 2 egg yolks
1/3 cup (80 ml) maple syrup
1/3 cup (80 ml) lemon juice
1 tablespoon lemon zest (about 2 lemons)
1/3 cup (33 grams) almond flour

For serving:

powdered sugar or coconut flour, optional (use coconut flour for paleo)
Directions
Preheat the oven to 350°F (175°C).
Line a 9" x 5" loaf pan with parchment paper (this make the bars much easier to remove from the pan).
Melt the coconut oil in a medium sauce pan over medium heat.
Add the maple syrup, shredded coconut, almond flour and salt.
Mix until well combined and remove from the heat.
Add the egg white (saving the yolk for later!) and stir.
Pat the mixture onto the bottom of the prepared pan and press down firmly.
Bake for 10 minutes and then remove from the oven.
Meanwhile, start preparing the filling.
In a large bowl with an electric mixer, beat together the eggs and egg yolks until frothy.
Add the remaining ingredients and beat for two additional minutes.
Pour the filling over the baked crust and bake for 19 - 21 minutes or until the center is set.
Let the bars cool completely and then cut and serve.
Store in the refrigerator for up to 4 days.
Before serving, dust with powdered sugar or coconut flour, if desired.
Notes
Please read the post concerning halving the crust!
Adapted from Perfect Lemon Coconut Bars from Green Kitchen Stories