This virgin Moscow mule is an alcohol-free twist on the classic Moscow mule. This mocktail recipe consists of non-alcoholic ginger beer, freshly squeezed lime juice, sparkling water, maple syrup for added sweetness, and fresh mint for garnish. It's also vegan and gluten-free with the right kind of ginger beer.
If you've enjoyed our Strawberry Mule or our Mango Mule that we posted this summer, you might also get a kick out of this non-alcoholic mule. It's a lively, palate-pleasing beverage suitable for kids and adults alike.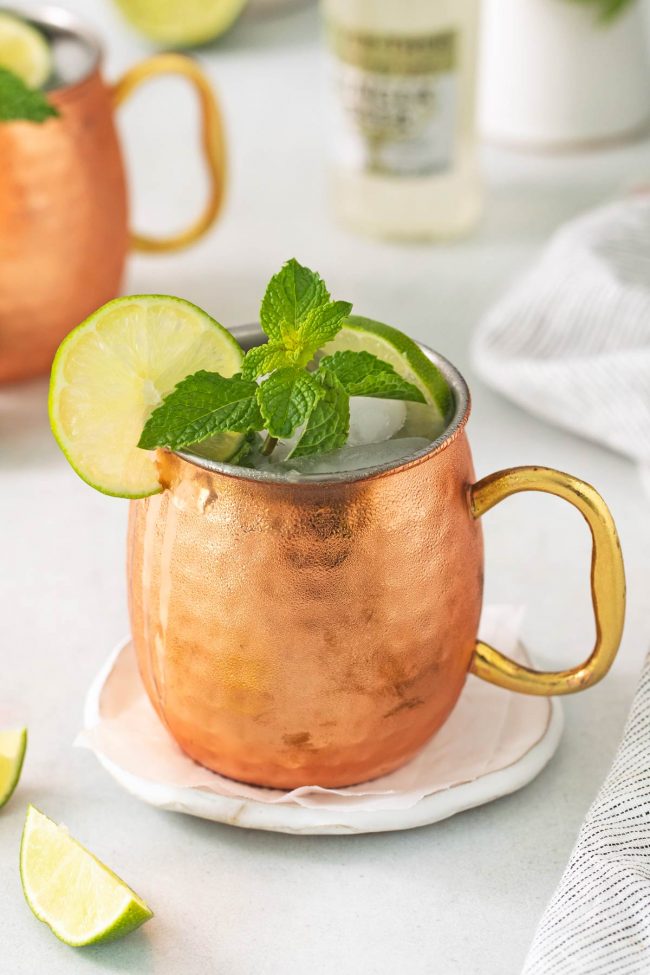 What is a virgin drink?
It's simply a term for a drink made without alcohol.
It's also known as a mocktail or spirit-free drink and may resemble a cocktail with fancy garnishes or be made to taste like a cocktail without alcohol.
This Vodka Mocktail, for instance, is made to taste like a vodka appletini, and special care went into the recipe to mimic the flavor of vodka.
But in today's recipe, we're just eliminating the alcohol and not trying to mimic the taste of vodka, so it's probably better named a virgin drink.
Virgin drinks are an excellent option for people looking for a fun, flavorful drink without the booze.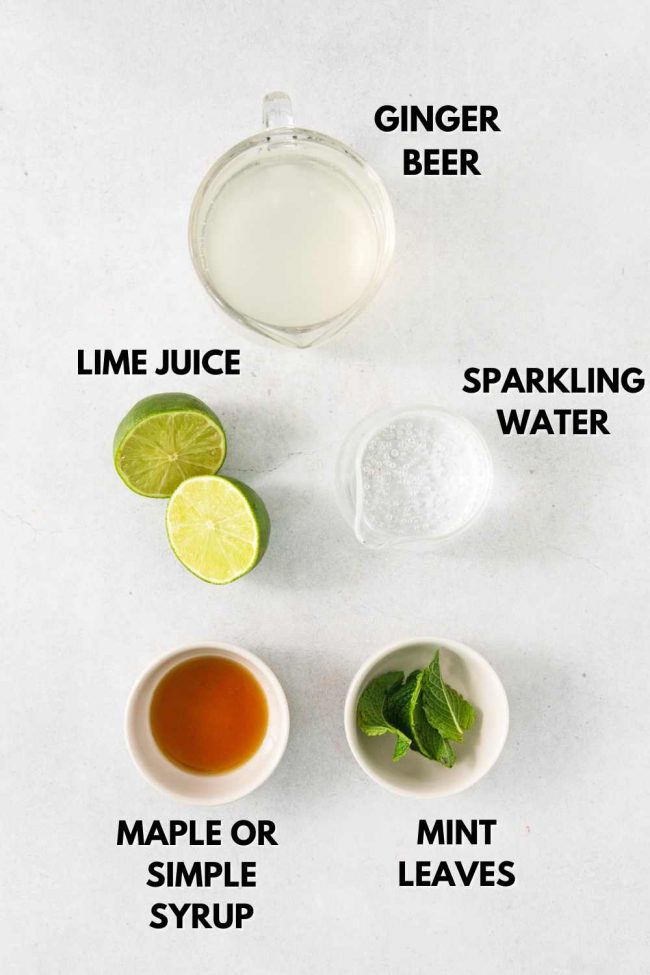 What is a Moscow mule?
A Moscow mule is most famous for being served in a shiny copper mug and consists of vodka, ginger beer and lime juice.
It was invented in the 1940s to eliminate an overstock of vodka and ginger beer, and today, we have many versions of this classic cocktail.
What is ginger beer?
Ginger beer is the essential ingredient in this mocktail mule. It's a carbonated beverage that's spicy with a strong ginger flavor.
It's made with a blend of fermented ginger, water, sugar, and yeast and then carbonated.
Ginger beer appears darker and cloudier than ginger ale and has a zingy sensation.
Most ginger beers on the market are non-alcoholic, but a few are labeled alcoholic ginger beer.
To keep this drink alcohol-free, you'll want to buy a high-quality, non-alcoholic ginger beer.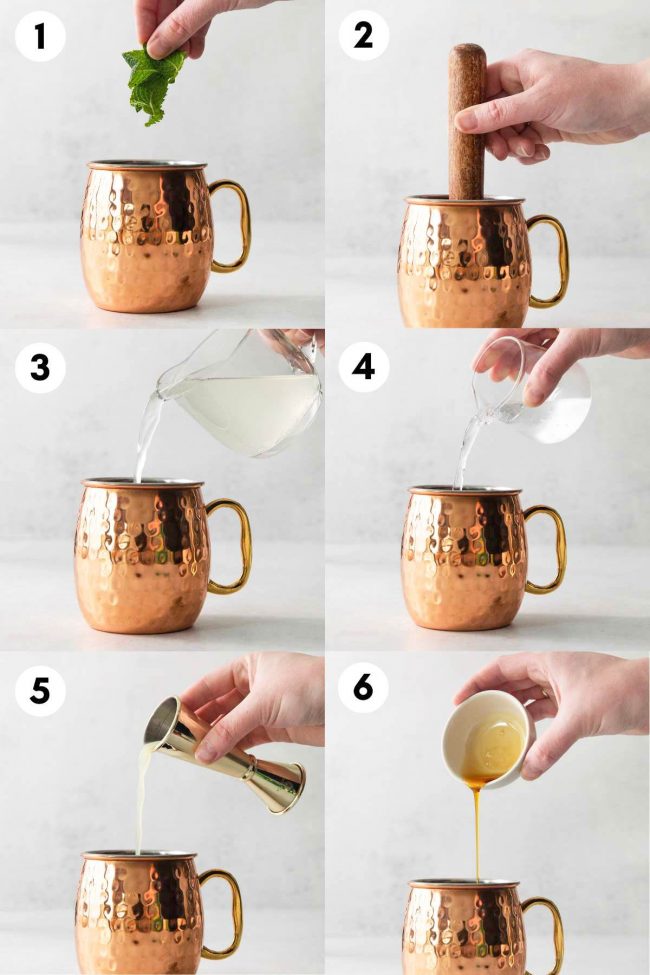 Gluten-free?
Most true ginger beer is naturally gluten-free in that they're made with just sugar, ginger and water.
But be aware because some may contain additional flavorings that contain gluten. If you're sensitive to gluten, it's important to read the labels and opt for a ginger beer made with the simplest ingredients.
According to Celiac.com, these are the top brands of ginger beer made without gluten-containing ingredients.
Vegan?
This drink can easily be made vegan. Although the ingredients to make ginger beer are vegan, due to processing, they may contain isinglass, a kind of gelatin obtained from the air bladders of fish and is often used as a clarifying agent for wine and beer.
If something contains isinglass, then it's unsuitable for vegans or vegetarians.
This list from Barnivore identifies those suitable for vegans and some that are not.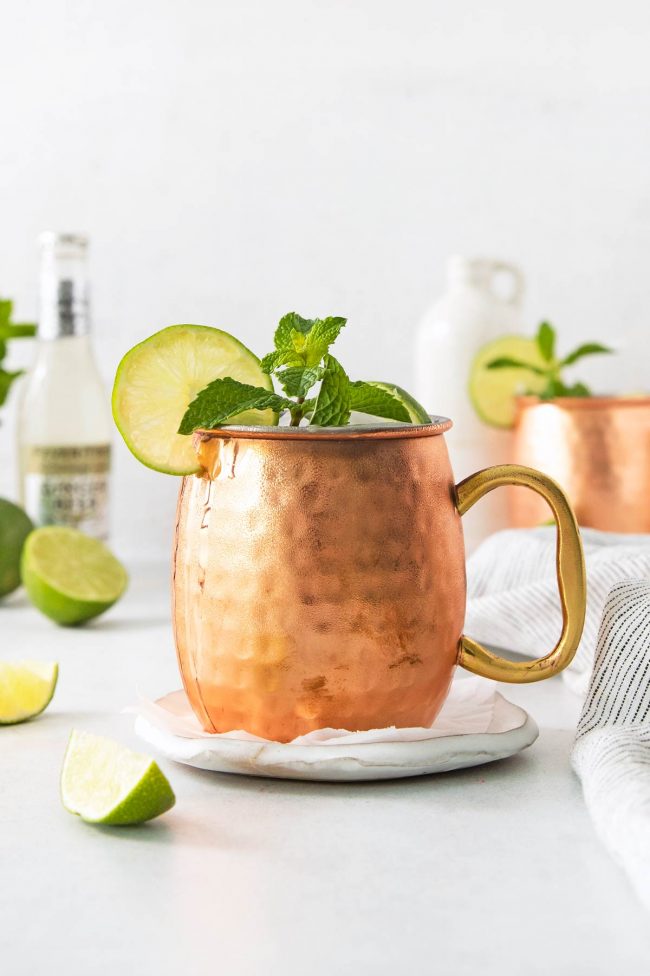 Can I use ginger ale?
Ginger beer is zestier than ginger ale, which I think is a plus for this drink. It's also less carbonated, but with the addition of sparkling water, it makes it a well-balanced drink.
Using ginger ale might make it too watered down with the addition of sparkling water.
It would also be sweeter, so if all you can find is ginger ale, you could use it, but you might have to adjust the sweetener to taste and skimp on the sparkling water.
Sweetener
I sweeten most of my drinks with Grade A (the lightest) maple syrup. But you can use simple syrup instead of maple syrup or add extra zest by making ginger syrup. This syrup might work better if you use ginger ale instead of ginger beer.
Garnish
Mint is terrific in this virgin mule. It has a slightly sweet taste with a cool, refreshing sensation and adds a bit of flare to a simple drink.
If you don't have fresh mint, you can garnish with a lime wheel or any berries you may have on hand.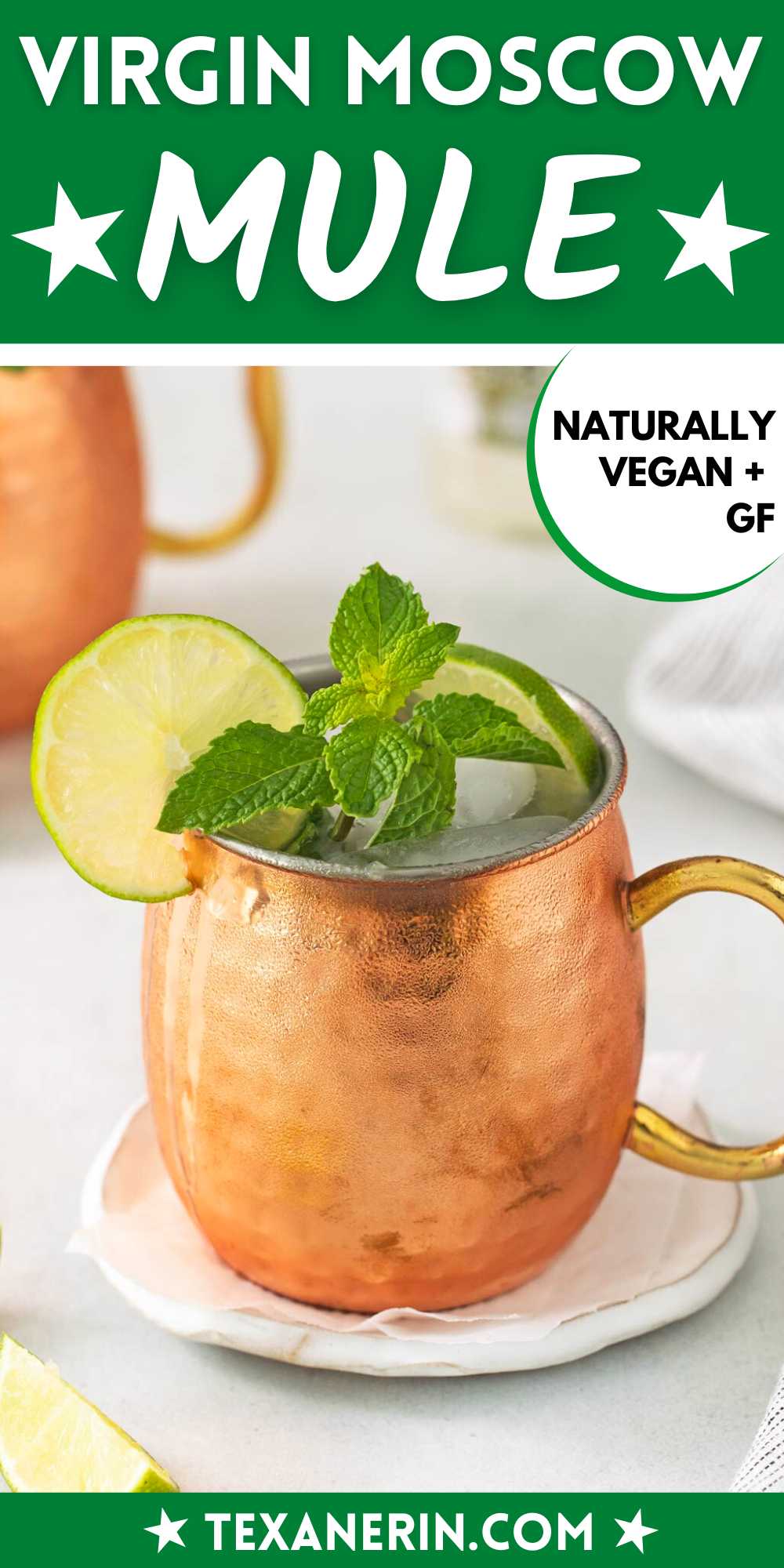 Why use a copper mug?
A copper mug can help keep a drink cold for longer, preventing the drink from becoming watered down.
I didn't use a copper mug to photograph my other two mules because the colorful drinks were prettier in a glass in the photos.
But this drink is clear, so – copper mug it is!
Other non-alcoholic drinks
I hope you'll enjoy this virgin Moscow mule. If you make it, please share your thoughts in a comment below. We'd love to hear about it. Thanks!
❀
Virgin Moscow Mule
Prep Time:
Cook Time:
Ready in:
Yield:

1
Ingredients
4 mint leaves + more for garnish
ice
1 cup (240ml) ginger beer
1/4 cup (60ml) sparkling water
3 tablespoons (45 ml) lime juice + lime slices for garnish
1 1/2 teaspoons (10 grams) maple syrup
Directions
Muddle the mint leaves at the bottom of the mug for about 5 seconds.
Fill the mug halfway with ice and then add the remaining ingredients. Give it a stir.
Garnish with mint leaves and lime slices.
Notes
If you're gluten-free or vegan, check the post for more info. You need to buy a brand of ginger beer that's gluten-free/vegan.