This healthy paleo lemon fudge is incredibly easy to make and is also vegan.
This is another one of those recipes where I have to pick a title and it doesn't exactly fit, but whatever… it's the closest I could get. ;) This vegan paleo lemon fudge isn't as fudgy as regular fudge, but it's fudge-like and should definitely satisfy any cravings you may have.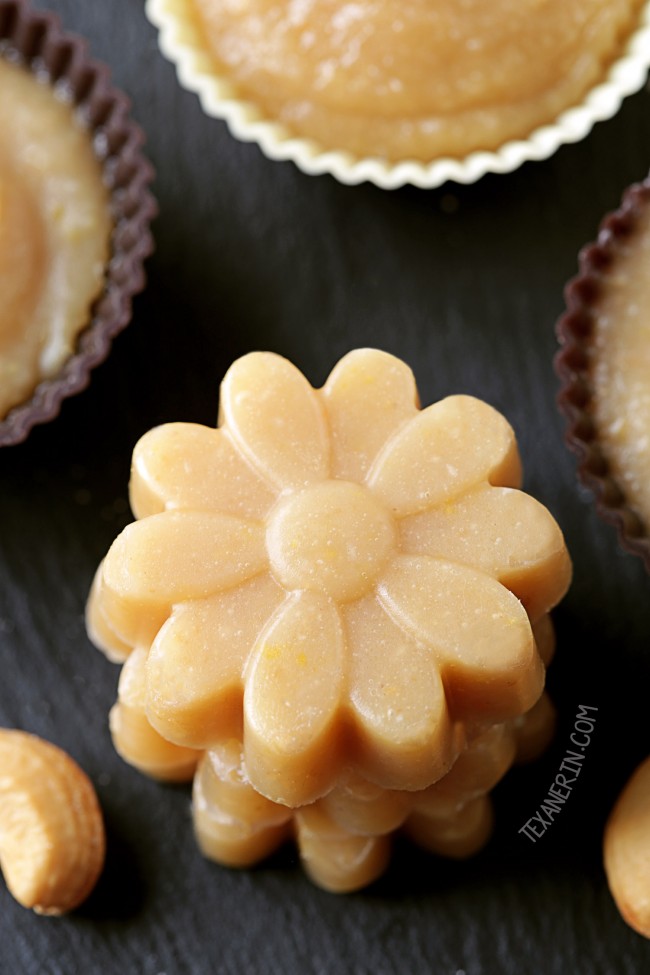 This is probably the healthiest fudge recipe I'll ever post. It consists of cashew butter, coconut butter, coconut oil, lemon juice + zest, and a whopping 1 tablespoon of maple syrup for about 10 pieces.
I love the lemon flavor in here. I thought that the cashew butter would overpower the lemon but it doesn't at all. At least with my cashew butter! (I used homemade). You can taste some coconut but it's not all that strong and I've tried with refined and unrefined coconut oil. If you want as little coconut flavor as possible, use refined.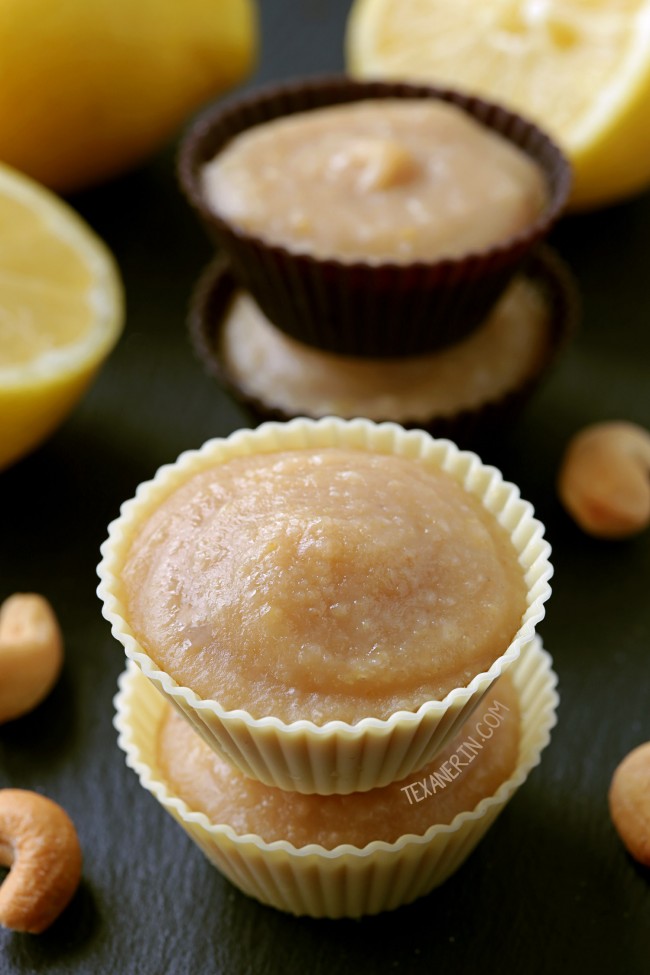 I also want to tell you about a new book that just came out called Eating Clean: The 21-Day Plan to Detox, Fight Inflammation, and Reset Your Body by Amie Valpone of The Healthy Apple.
I have a whole bunch of health issues that I don't talk about here. It's nothing serious (as far as I know) but basically half of me hurts most of the time and has for years. It hurts to stand, walk, lie down and even to sit sometimes. And I've had a light non-stop headache for every second of the past 5 years. Doctors have been no help at all.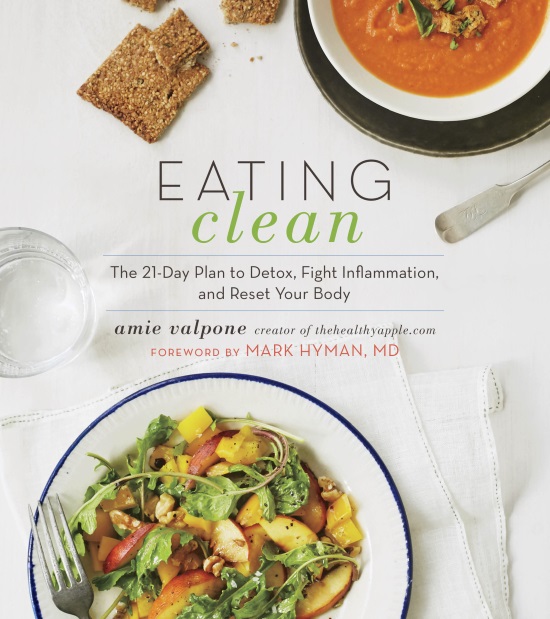 Then I started working on the cookbook and after a few months of that mega-stress and eating pretty much only sweets all day, it seems as though I damaged my gut. I went from having no food intolerances to reacting to everything I ate except for fruit, veggies and meat. I also started having gastrointestinal issues – something I had never had before.
It was only then that I realized that food plays a much bigger role in my health than I had thought. I look back at myself and have no idea what I was thinking in regards to what I was eating. Diet is such an integral part of healing and Eating Clean will certainly help you reclaim your health! I know it's certainly helped me get back on the right path.
Amie's book is all about how to reset your body and fight inflammation. It includes a 2-week meal plan, 200 recipes (which are all gluten-free, dairy-free and vegetarian) and a 21-day elimination diet. You can read more about it here!
And yes – there is a desserts section – and it's filled with delicious + healthy treats like the above cashew cream! I definitely recommend checking it out on Amazon and using the Look Inside feature to get a better idea of what it's all about. :)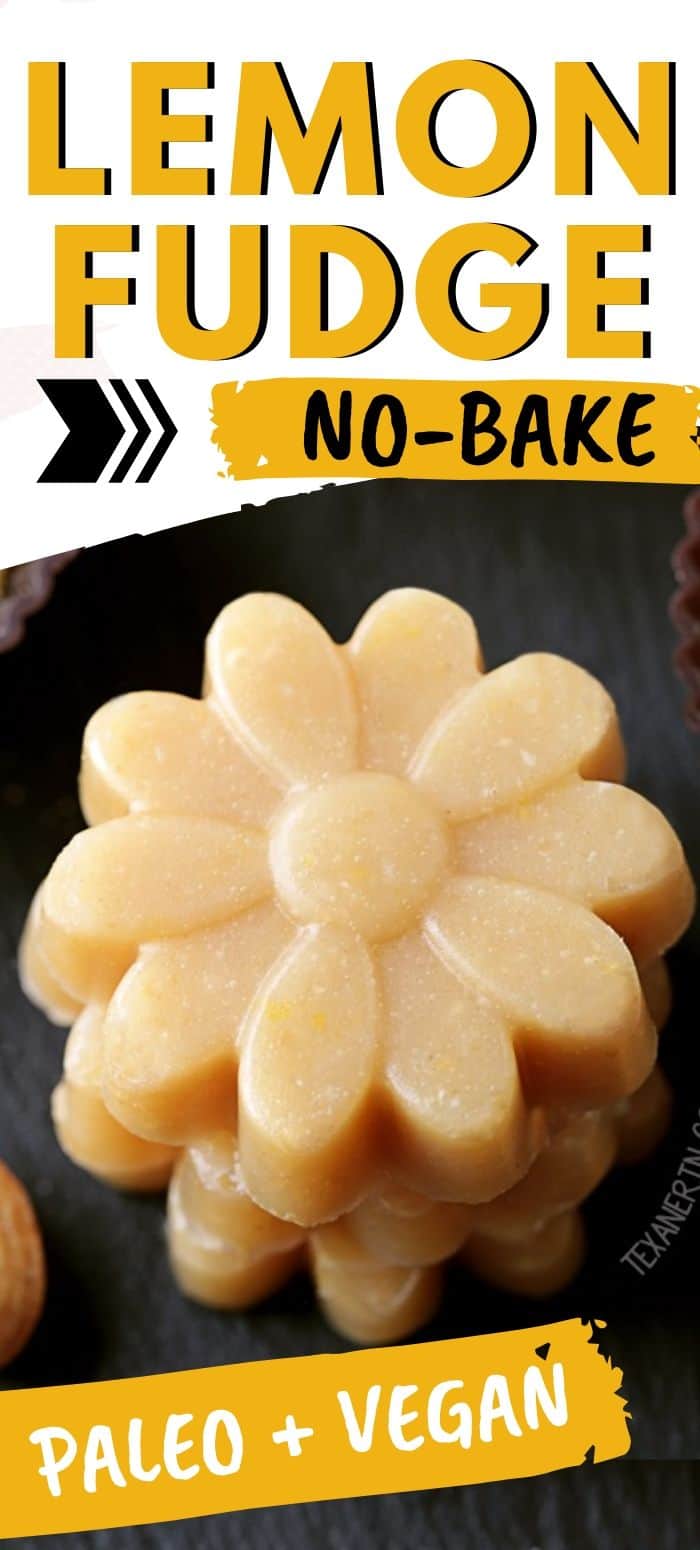 ❀
Paleo Lemon Fudge (vegan, grain-free, gluten-free, dairy-free)
Prep Time:
Cook Time:
Ready in:
Yield:

8-12 pieces (2/3 cup total)
Ingredients
1/3 cup (85 grams) salted natural cashew butter (the kind with just nuts and salt)
2 tablespoons (30 grams) stirrable coconut butter (not coconut oil!)1
1 1/2 tablespoons (21 grams) coconut oil, softened (it should be soft enough to stir into the other ingredients)
5 teaspoons lemon juice
1 tablespoon maple syrup (I recommend Grade A and not the darker, more intensly flavored Grade B syrup)
1/2 teaspoon lemon zest (or more, to taste)
pinch of salt if cashew butter is unsalted
Directions
Stir all the ingredients together and pour into mini muffin liners (waxed, paper, or silicone liners all work) or a silicone candy mold. It yields just over 2/3 cup of fudge so if you use 1 tablespoon of fudge per liner, that'd yield 10 pieces. Freeze for 30 minutes or refrigerate until hardened.
Refrigerate in an airtight container for up to 4 days or freeze for up to 2 weeks. They're too hard to eat straight from the freezer so you need to let them defrost for about 20 minutes. I think freezing and then defrosting them right before eating yields a fudgier outcome. The fudginess also depends on your cashew and coconut butter. I've made this about 6 times, using homemade cashew butter and coconut butter each time (all from different batches). Each batch of homemade butter yielded a slightly different texture in the final product.
Notes
It should be soft enough to stir. If it's not, I recommend weighing 30 grams into a small saucepan and melting it gently. 30 grams of unmelted coconut butter is actually a little more than 2 tablespoons.
I had my fudge sitting out for half the day and while it didn't melt, I wouldn't want to transport them at room temperature. Transport them after having frozen them! It's still quite cold here but they may melt in warmer environments.
If you want to make a bigger batch, I think this would work well using the small jar of a high-powered blender.
As an Amazon Associate, I earn from qualifying purchases. For more info, see my disclosure.