This sweet, cake-like vegan cornbread is also gluten-free, dairy-free and 100% whole grain and doesn't contain any specialty ingredients.
I'm thrilled to be working with Bob's Red Mill today to bring you this gluten-free and vegan cornbread! After every trip to the US, I come back with my suitcases stuffed with their flour and even had my friend, Rose, send me another 20 pounds after I had run out of my stash.
I brought the cornmeal I used in this recipe back with me because I had started to notice that most of the German brands I had been buying weren't 100% whole grain. It's no different in the US so make sure your cornmeal says whole grain or stone ground. If it says steel-milled, some or all of the hull and germ has been removed and then you might as well be using all-purpose flour!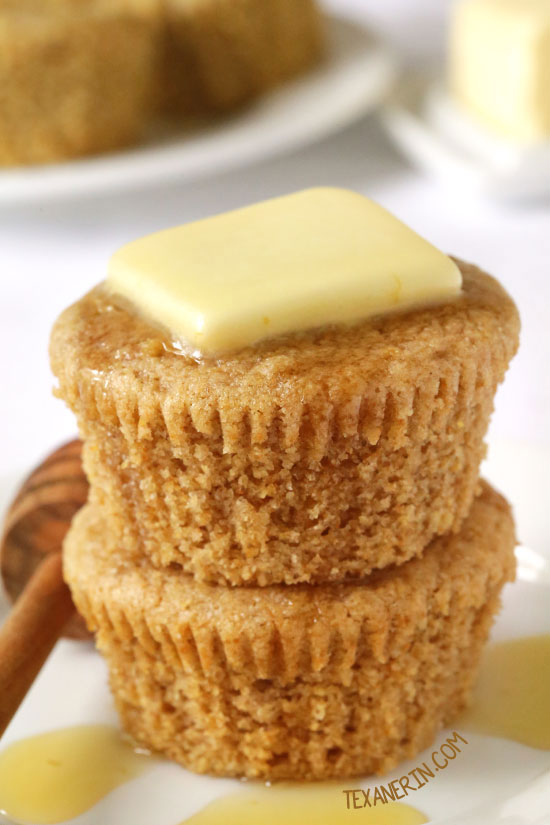 This healthier cornbread has what is, in my opinion, the perfect ratio of cornmeal to flour. I don't like my cornbread too coarse-grained but I still want the corn taste. It's moist, not at all dry, slightly dense (but in a great way!) and sweet. And there's vanilla! This Southern girl is all about northern-style cake-like cornbread.
This vegan cornbread is great in bread form or as muffins. The only thing is that if you choose to make it as bread, you need to let it sit for 2-3 hours or it'll be extremely difficult to cut and hold. It's so fluffy when it comes out of the oven and due to the lack of gluten, it's just hard to handle. The muffins can be eaten straight from the oven. If you want to make this for Thanksgiving, I recommend making it Wednesday night or Thursday morning so that it's as fresh as possible.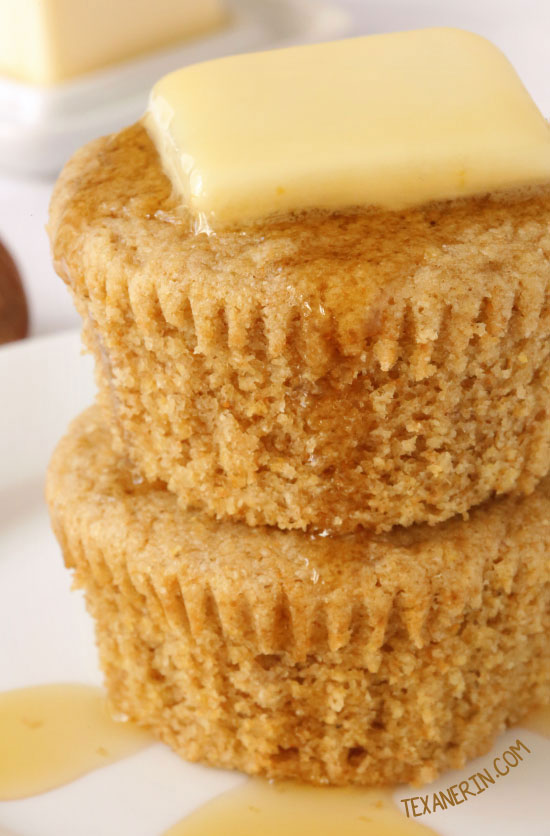 I used this gluten-free medium ground cornmeal and though I haven't tried it, I'm assuming it'd come out well with finely or coarsely ground cornmeal. I did try whole spelt in place of oat flour and the muffins sunk in the middle and didn't taste nearly as good as the oat flour version. So stick with oat flour! I also tried store bought buttermilk in place of the homemade dairy-free buttermilk and that worked perfectly.
When I post a vegan recipe, it's usually just coincidentally vegan, meaning that there aren't any eggs involved and I used coconut oil instead of butter. Because I've gotten a few nice comments recently thanking me for posting vegan recipes, I thought I'd make more of an effort to make vegan recipes. So here we have some vegan cornbread!
If you're vegan or making this for a vegan friend, you'll need to skip the honey and butter I used to dress up my cornbread. Use maple syrup instead! Or just eat it plain like I do. :) And if you're not vegan or gluten-free, make this anyway! It's the best cornbread I've ever had and it really doesn't taste like it's been made healthier.
For another delicious cornbread dish perfect for Thanksgiving, try this Southern Cornbread Dressing! And for sugar-free, check out this Keto Cornbread.
❀
Vegan Cornbread (gluten-free, dairy-free, whole grain)
Prep Time:
Cook Time:
Ready in:
Yield:

16 pieces of bread or 12 muffins
Ingredients
Wet ingredients:

1 cup (240 ml) milk of choice, room temperature or warm (this is important so that the coconut oil doesn't harden once added)1
2 teaspoons apple cider vinegar
1/3 cup (75 g) coconut oil, melted2
1/2 cup (100 g) raw or granulated sugar
1/2 teaspoon vanilla

Dry ingredients:

2/3 cup (88 g) medium grind gluten-free cornmeal (non-GF cornmeal works, too)
1 1/3 cup (123 g) oat flour (use certified gluten-free, if necessary)3
3/4 teaspoon salt
2 1/2 teaspoons baking powder
1/2 teaspoon baking soda
Directions
Preheat the oven to 350 °F (175 °C) and line a muffin pan with 12 muffin liners or line an 8" x 8" pan with a piece of parchment paper.
Pour the milk in a large mixing bowl, add the apple cider vinegar, and give it a few stirs. Let sit for 5 minutes while preparing the dry ingredients.
In a medium mixing bowl, stir together all the dry ingredients. Set aside.
To the milk mixture, add the melted coconut oil, sugar and vanilla and stir until well combined.
Add the dry mixture and stir just until combined.
Pour into the prepared pan. Bake muffins for 12 minutes and bread for 20 minutes. A toothpick inserted in the middle should come out with a few moist crumbs but no wet batter.
Let the muffins cool for 5 minutes in the pan and then remove to a wire rack to cool completely. The bread can be eaten immediately but will be very difficult to cut – it's better to wait for 2-3 hours until it's firmed up just a little.
Store any leftovers in an airtight container for up to 3 days.
Notes
You can use store bought buttermilk in place of the milk + vinegar mixture for a dairy-containing, non-vegan version. To make the homemade dairy-free / vegan buttermilk, you can use soy milk, almond milk, etc. but I don't recommend canned coconut milk. If you can have dairy, you can also use regular cow's milk.
I used refined coconut oil, which has no coconut taste. If you use unrefined, these may have a slight to mild coconut taste.
If you don't have oat flour, you can grind quick or rolled oats in a food processor or coffee grinder until it resembles flour.
I was compensated by Bob's Red Mill for the development of this recipe but, as always, all opinions expressed in this post are my own.