These carrot cake muffins have a cream cheese filling and are gluten-free and grain-free with a great texture! Nobody will know that these are gluten-free.
After I posted these paleo carrot cake cupcakes two years ago, I knew I had to de-paleofy them by adding a cheesecake filling.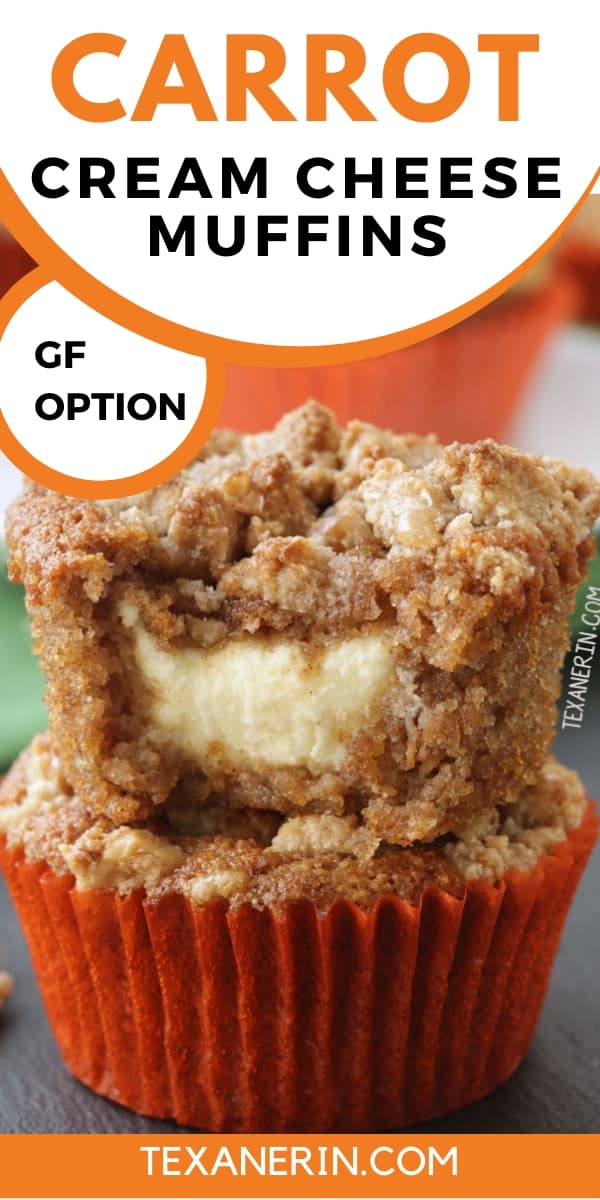 I've tried a number of fillings and they all had their issues. They were too runny, used weird proportions like 1/2 egg, or made the muffins soggy.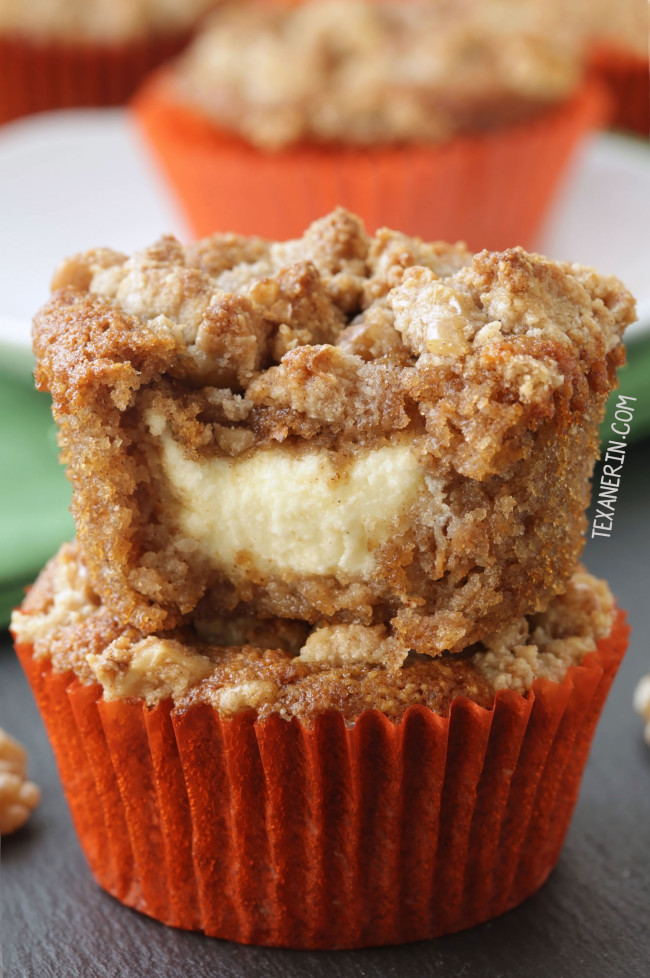 Finally I came up with a winner! The filling is so simple it's almost frustrating. Why couldn't I have tried that to begin with?!
The muffins really have an awesome texture. They're super moist and somehow even kind of fluffy, which I haven't experienced too much in grain-free recipes.
Check out the reviews in the original recipe if you need convincing. Everyone seems to love them!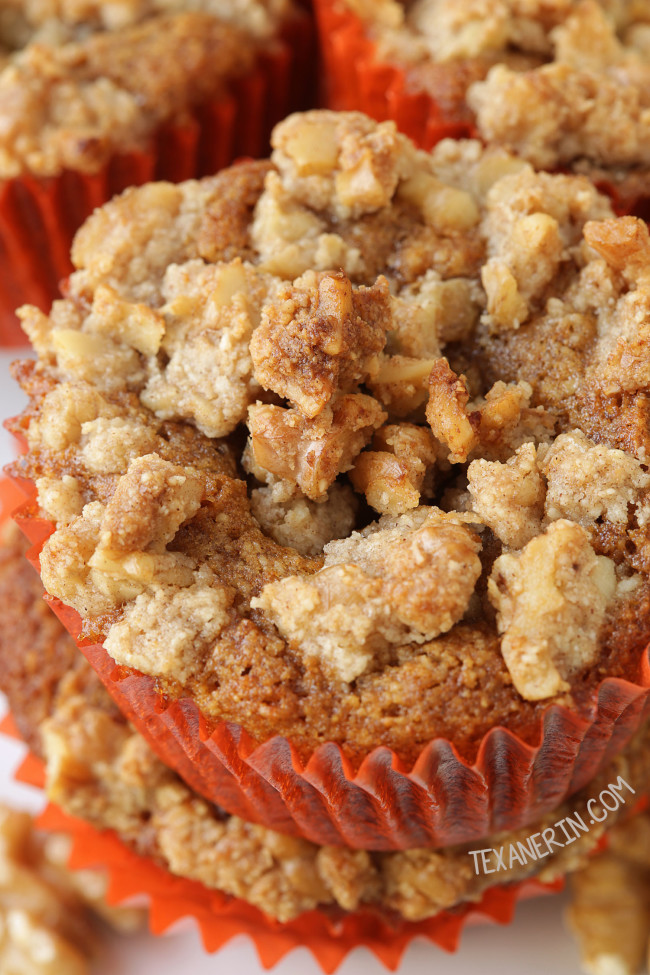 I added a walnut-based streusel topping but to be honest, we preferred the muffins without. I thought that it somehow interfered with the creamy cheesecake filling.
But I've included the streusel recipe in the notes section should you want to try it out, anyway! If you do, I recommend chopping the walnuts finer than what you see in the pictures. My chunks were so large that the topping kind of fell apart when you ate it.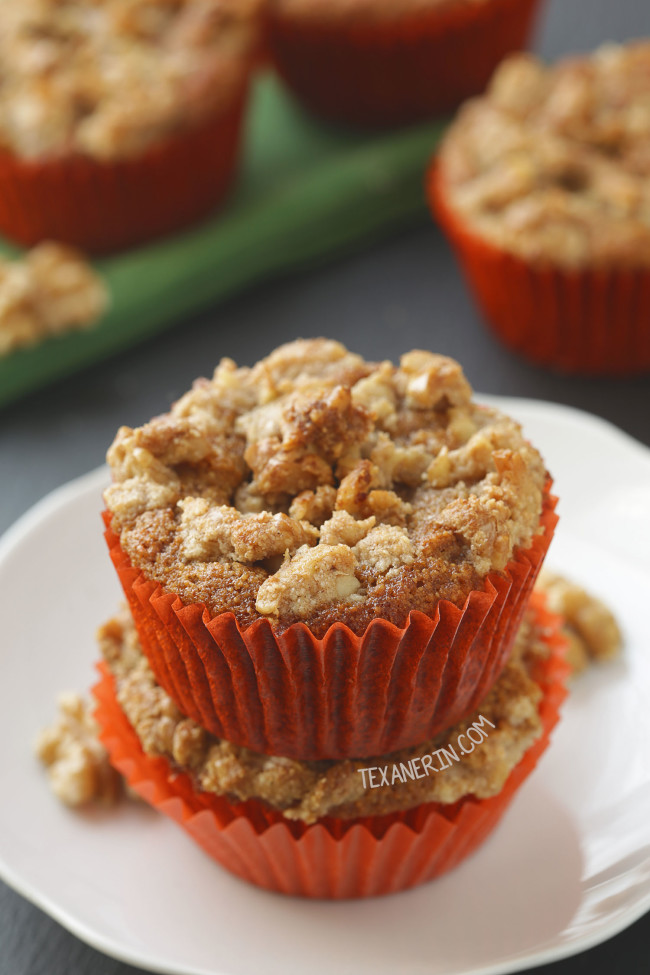 These are definitely some of my favorite muffins ever. Gluten-free or not. I love them without the filling but add cream cheese filling to anything and it just instantly becomes so much more delicious.
If you need something dairy-free, try these gluten-free carrot cake baked donuts from Food Faith Fitness! They look amazing.
Or you could make the carrot cake muffin part and add this vegan cream cheese frosting on top. It's great stuff! And there's no processed vegan cream cheese with funky ingredients in there.
❀
Carrot Cake Cream Cheese Muffins (grain-free, gluten-free)
Prep Time:
Cook Time:
Ready in:
Yield:

10 muffins
Ingredients
For the filling:

6 ounces (170 grams) cream cheese
3 tablespoons raw sugar, granulated sugar or coconut sugar if you don't mind the darker taste / color
1/2 teaspoon vanilla extract
pinch of salt

For the carrot cake muffins:

1 1/4 cups (125 grams) blanched almond flour
2 tablespoons (16 grams) coconut flour, sifted if lumpy
1/2 teaspoon baking soda
1/8 teaspoon salt
1 1/2 teaspoons ground cinnamon
1/2 teaspoon ground ginger
1/4 teaspoon ground nutmeg
2 large eggs, room temperature
1/3 cup (75 grams) coconut oil, melted
1/3 cup (106 grams) honey
2 teaspoons vanilla extract
1/2 cup (50 grams) grated carrots
Directions
Preheat the oven to 350°F (175°C). Line a muffin tin with 10 muffin liners.
Prepare the filling. In a medium bowl using an electric hand mixer, beat all filling ingredients at medium speed until light and fluffy. Set aside.
Prepare the muffin batter. In a medium mixing bowl, mix together the dry ingredients (almond flour through nutmeg). Set aside.
In a large mixing bowl, mix together the eggs, oil, honey, and vanilla extract.
Add the dry mix to the wet mix, stirring just until combined, and then gently fold in the grated carrots.
Pour a little batter into each cup so that they're about 1/5 or 1/4 full. Add about 1 tablespoon of cheesecake filling and then top with the remaining muffin batter.
Bake for 20 minutes or until a toothpick inserted in the side of a muffin comes out clean.
Let the muffins cool for 5 minutes in the pan and then remove to a wire rack to cool completely. Refrigerate in an airtight container for up to 3 days.
Notes
Please read the post above regarding my thoughts on this topping. If you want to use it anyway, here's what I used. You just mix it all together and sprinkle over the batter before baking.
1 tablespoon (14 grams) coconut oil, melted
1 tablespoon maple syrup
1/4 teaspoon ground cinnamon
pinch of salt
1/3 cup (33 grams) almond flour
1/2 cup (55 grams) chopped walnuts (I recommend finely chopping them, which is not what you see in the pictures)