These peanut butter oatmeal bars are super quick, easy, no-bake and naturally gluten-free and 100% whole grain. With a vegan option.
So it's been three weeks since I last posted and that was a re-post of an old recipe. And here's another – with new pictures and a video. Sorry to my long-time readers!
Our little guy is 5 months old and I get a few minutes at a time, maybe 30 all together throughout the day, in the kitchen. That's been making recipe testing nearly impossible.
I like to use those few minutes to actually eat. But luckily I do have some new recipes on the way!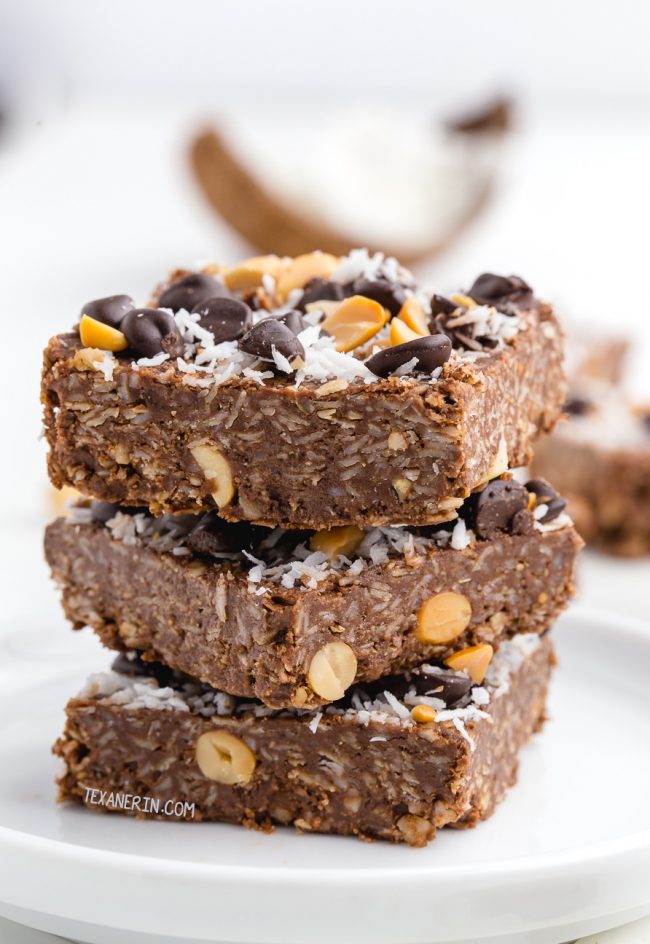 These peanut butter oatmeal bars are basically candy bars using healthier ingredients. And it couldn't be any easier!
You just melt a bunch of stuff together, put it in a pan, chill and cut into bars.
I love honey and peanut butter together so that's what I used but I've also tried these with brown rice syrup and it works just as well for a vegan version!
I haven't tried these with maple syrup. It's a whole lot less thick and sticky than honey and brown rice syrup so I can't say for sure that it'd work.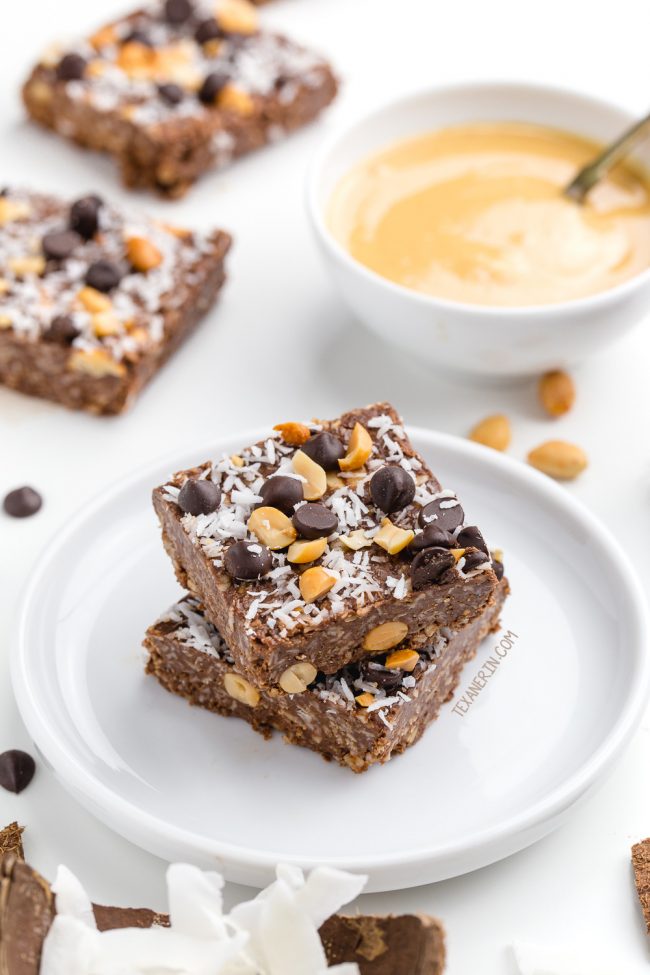 You can use more or less oats or coconut depending on what you want. You could also add in other healthy stuff like nuts or dried berries.
Just don't go so crazy with the add-ins that the mixture no longer holds together easily.
Want a less sweet version? Use dark chocolate. Want a slightly naughtier version? Add in some peanut butter chips (which aren't vegan / dairy-free)!
Don't want to use peanut butter? Almond butter and chopped almonds are a delicious alternative! I also like to add a little almond extract to that version.
Hope you'll enjoy them! Try these Homemade KIND Bars for something a little healthier if these are too much on the unhealthy side for you. These Gluten-Free Vegan Nanaimo Bars are also another healthier coconut treat.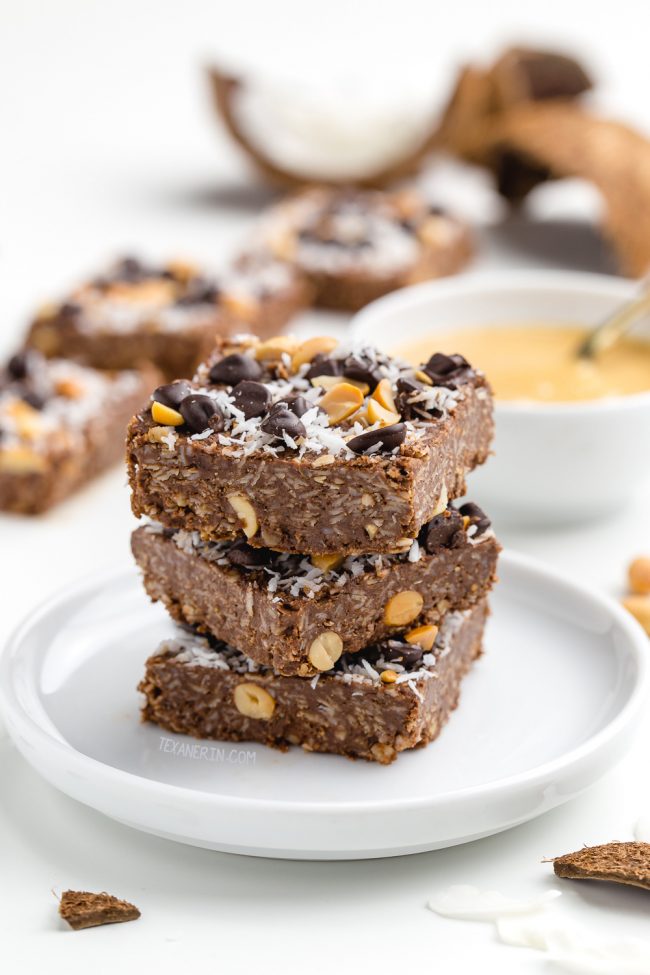 Questions about these peanut butter oatmeal bars?
Can I use something else in place of the coconut oil? Butter should work fine! Not olive oil or any liquid oil.


Can I use something other than peanut butter? Almond butter works great! I'm assuming other types of natural nut butter, without any added fat or sugar, would work fine.

Nut butters aren't always exchangeable but since this a simple no-bake recipe where you just mix everything together, I think it'd be fine.


Can I use something else other than honey or brown rice syrup? Granulated sugars wouldn't work. Maple syrup might work but it's less thick and sticky than honey and brown rice syrup so I'm not 100% sure.



Can I use white chocolate instead of semi-sweet chocolate? I haven't tried it but I'm thinking it'd be a little too sweet.


Can I reduce the sweetener or amount of chocolate? You can definitely play around with this recipe. I tried it out a bunch of times and thought it was best as written below.

I'm guessing omitting the 3 tablespoons of honey would be ok for a less sweet version. I think it'd still hold together fine.


Can I omit / use something instead of coconut? Together with the oats, the coconut forms the bulk of the recipe. So I wouldn't just omit it, but I can't think of a good sub. Maybe more oats?


Can I use something else in place of oats? Maybe quinoa flakes? I personally don't like them but they should work. If you can have gluten, spelt flakes, emmer flakes, or whatever-flakes should work! I haven't tried any grain-free alternative.


❀
Peanut Butter Oatmeal Bars (gluten-free, vegan option, whole grain, dairy-free)
Prep Time:
Cook Time:
Ready in:
Yield:

24 bars
Ingredients
1/4 cup (56 grams) coconut oil
3/4 cup + 2 tablespoons (234 grams) natural peanut butter (just peanuts + salt, no added fat or sugar)
3 tablespoons (60 grams) honey or brown rice syrup for a vegan version
1 cup (180 grams) semi-sweet chocolate chips (make sure to use vegan / dairy-free chocolate chips, if needed)
1 cup (85 grams) shredded unsweetened coconut
1 3/4 cups (164 grams) rolled oats (gluten-free oats for gluten-free)
1/2 cup (60 grams) roasted peanuts

To sprinkle over the top:

3 tablespoons chopped peanuts
2+ tablespoons shredded unsweetened coconut
Directions
Melt the coconut oil in a medium pan or pot over medium-low heat. Add in the peanut butter and honey and when thoroughly combined, add in the chocolate chips.
When melted, add in the coconut and oats. Let cool for 5 minutes and then stir in the peanut butter chips or peanuts.
Line an 8" x 8" pan with a piece of parchment paper or wax paper. Press the candy into the pan and top with the extra peanuts and coconut, if desired.
Let chill for about 2 hours or until firm and then cut into bars.
Store in an airtight container in the refrigerator. The bars will stay good for several weeks.