These soft and chewy no-bake maple almond butter cookies only take a few minutes to put together and are full of delicious fall flavors! Naturally vegan, gluten-free, dairy-free and 100% whole grain.
I have to admit that I've only had two things on my mind the last few weeks: apples and maple syrup. If you dislike both of those things (why?!) then I apologize because it seems as though I'm incapable of posting any recipes without them for the time being.
I've got loads of ideas for recipes, but I just can't bring myself to post any of them until I've had my fill of apples and maple!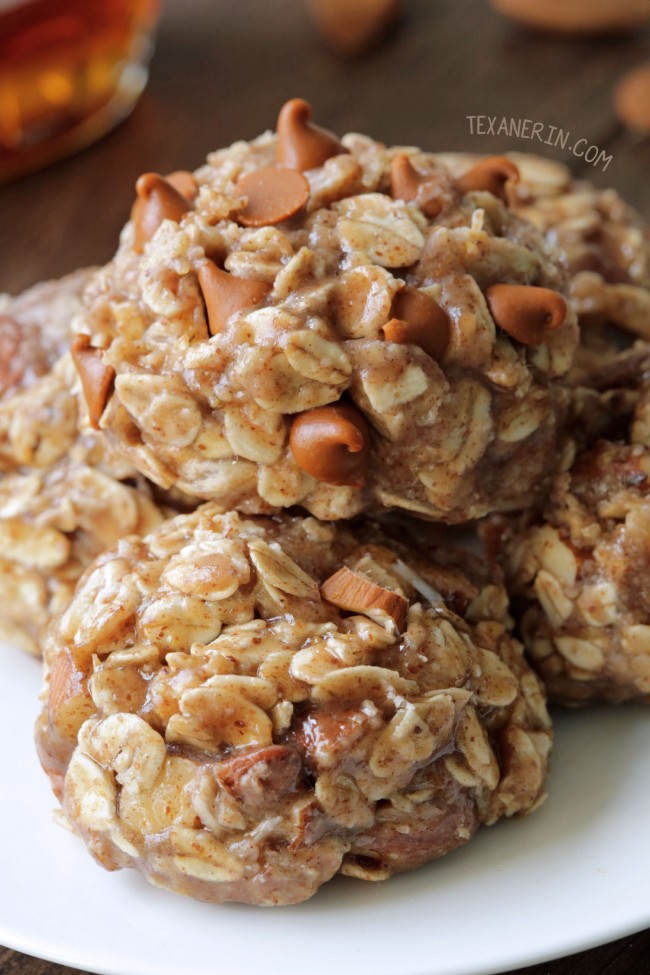 This is the third week in a row I'm posting a recipe that was somehow adapted from these no-bake peanut butter cookies. And there are at least three more coming. What do they all have in common? Nut butter and maple syrup!
So today's cookies. Almond butter, maple syrup, and cinnamon. It's the perfect blend of fall flavors. If you want a more dominant maple flavor, use Grade B maple syrup or a little maple extract.
What was surprising for me while making this recipe is just how important salt is. I used homemade unsalted almond butter and after mixing the liquid together, it didn't taste all that exciting. Just kind of like… eh, whatever. Adding 3/16 teaspoon of salt made a world of difference! If that sounds like a ridiculous measurement, you need this set of measuring cups and spoons.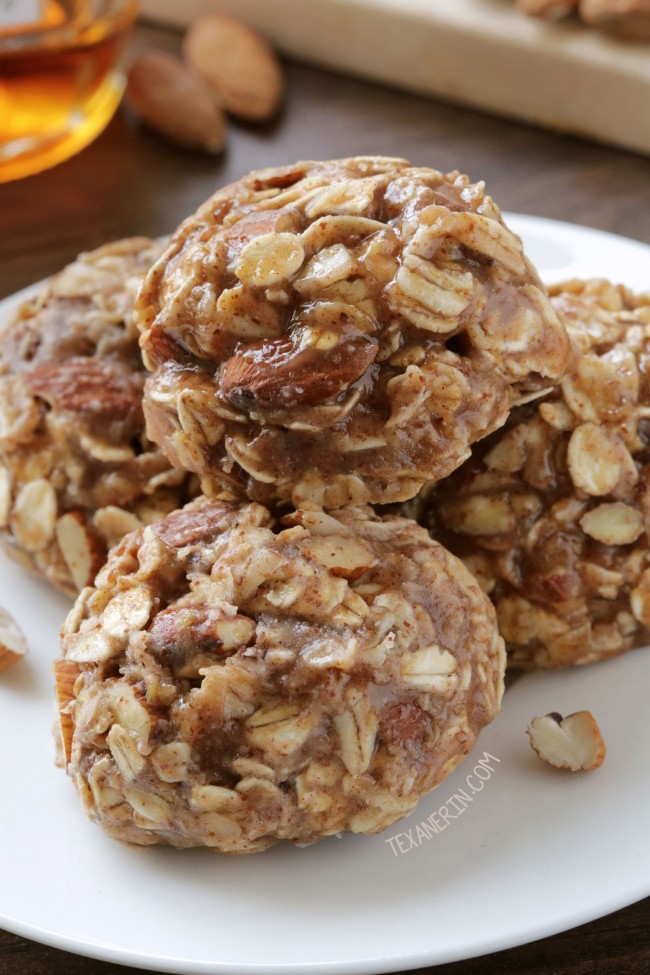 I added chopped roasted almonds to most of the cookies and because I felt naughty, I rolled a few in cinnamon chips. I stopped using processed stuff like that a while back but I brought these chips all the way from the US with me and I didn't want to be wasteful, so… :D Be sure to omit them for the vegan / dairy-free version.
If you use chopped almonds, definitely be sure to roast them first! They're so much crisper and flavorful that way. I just put them on a baking sheet and bake for 5-8 minutes at 350 °F until they smell toasty.
And as a bonus, they're dietary-friendly! One thing they're not is cheap. Mr. T tasted one and asked if I could make another batch to bring to a friend. I promptly told him that wasn't going to happen. I love sharing my sweet treats (I try to give them all away!) but with half a cup of almond butter and maple syrup in just 10 cookies, I'm not sharing. ;)
❀
No-bake Maple Almond Butter Cookies (vegan, gluten-free, whole grain, dairy-free)
Prep Time:
Cook Time:
Ready in:
Yield:

10 cookies
Ingredients
3 1/2 tablespoons (49 grams) coconut oil1
1/2 cup (128 grams) unsalted natural almond butter (the kind with just nuts and salt)
1/2 cup (120 milliliters) maple syrup
1/2 teaspoon ground cinnamon
1/8 teaspoon salt (I used 3/16 teaspoon as I like things a little salty) (if your almond butter is salted, add salt to taste)
1 1/2 teaspoons vanilla extract
1 1/2 cups (138 grams) rolled oats (use gluten-free oats, if necessary)
1/2 cup (55 grams) roasted chopped almonds2 and / or about 1/4 cup (60 grams) cinnamon chips (omit for dairy-free / vegan)
Directions
In a medium pot, melt the coconut oil over low heat.
Add the almond butter, maple syrup, cinnamon and salt and stir until well combined.
Turn the heat up to medium and while stirring constantly, bring the mixture to a boil.
Boil for 2 minutes, stirring constantly. The mixture should thicken a little. Don't boil it longer than 2 minutes or it may separate.
Remove from the heat and stir in the vanilla and oats until well combined.
If using almonds, stir them in now. Use a medium cookie scoop to scoop out balls of the mixture onto a piece of parchment paper. If using cinnamon chips, let the formed cookies cool until almost room temperature. Place the chips in a small bowl and roll the tops of the cookies in the chips. You can also stir the chips into the almost cooled mixture if you don't mind them melting and partially combining with the almond butter mixture.
Refrigerate in an airtight container for about a week.
Notes
I used refined coconut oil which doesn't have any coconut taste. If you use unrefined coconut oil, these may have some coconut taste to them.
To roast almonds, place on a baking sheet and bake for 5-8 minutes at 350 °F (175 °C) until they smell toasty.