These moist and delicious pumpkin spice latte Nutella muffins are grain-free and gluten-free and can also be made paleo / dairy-free!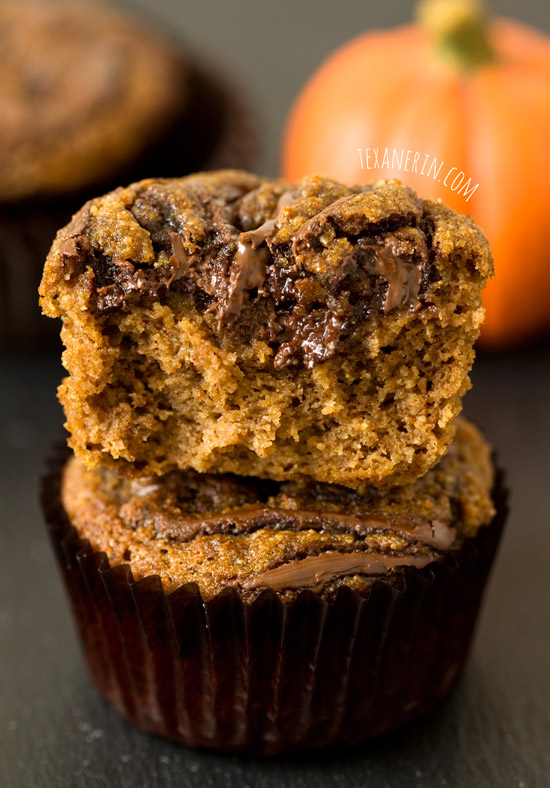 Before anyone says anything about the Nutella – you can make homemade chocolate hazelnut spread. And voila! No processed stuff in your pumpkin muffins. :) And it'd make these pumpkin spice latte Nutella muffins dairy-free and paleo!
That's a healthier version. For a version that's probably closer to Nutella that uses chocolate chips, try this Homemade Nutella.
So I really wanted to get in on this pumpkin spice latte thing. I don't drink coffee but I don't mind it (or actually, I really like it!) in baked goods so here we go. Healthy pumpkin spice latte muffins!
But I have to say – the coffee flavor in these isn't all that strong. If you want it stronger, add another teaspoon or two to the batter. I used espresso powder, which is supposedly stronger than instant coffee granules so keep that in mind if you want to use regular instant coffee. I didn't want to add too much so as not to overpower all the other flavors.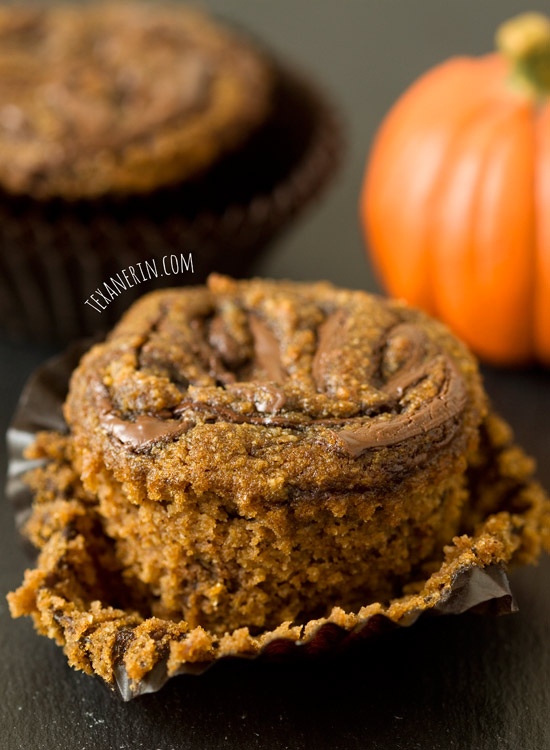 I tried several different recipes for the muffins before I realized that the apple butter cake I posted last week over on the Clean Dish would be easy enough to tweak. Take out the apple butter, put in pumpkin and espresso powder. It worked! And magically.
And if the Nutella thing is too much, or you just don't feel like making it from scratch, check out the glaze on that cake. Maple cinnamon almond butter glaze would be awesome on these! Or you can simply just make the muffins and not fiddle with anything on top. These are definitely yummy enough without. :)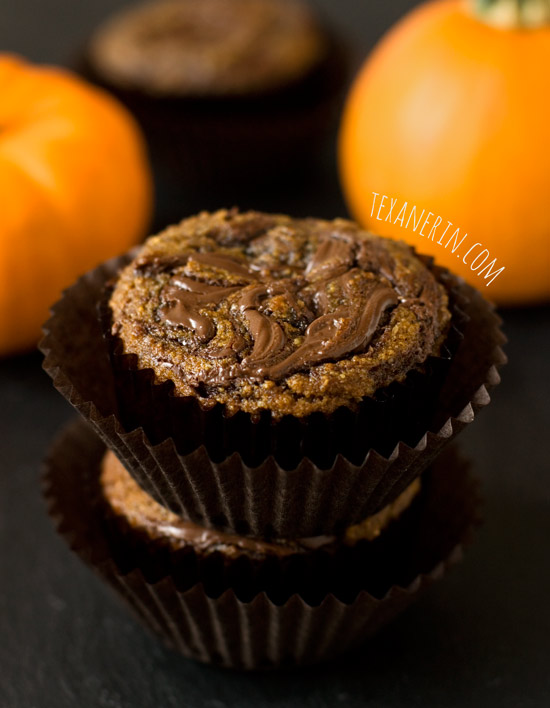 These muffins are super moist, but not soggy, like a lot of grain-free muffin recipes are. It's these pumpkin muffins are of fall spices! Not overwhelmingly pumpkiny or spicy. Just a nice blend of everything. And even with the Nutella, these aren't that sweet. They're just perfect, in my opinion. ;)
Now that I've done apple cake and pumpkin muffins with this base, I wonder what else I can stuff in there instead of pumpkin. Ideas? I'm loving this base recipe!
And if you're like to reduce the sugar, try using this keto nutella! I think it'd be great in these muffins.
❀
Pumpkin Spice Latte Nutella Muffins (grain-free, gluten-free, dairy-free)
Prep Time:
Cook Time:
Ready in:
Yield:

16 muffins
Ingredients
1/2 cup (66 grams) coconut flour
3/4 cup (75 grams) almond flour
1 1/4 teaspoons baking soda
2 1/2 teaspoons cinnamon
2 teaspoons instant espresso powder
1/2 teaspoon allspice
1/2 teaspoon nutmeg
1/2 teaspoon ginger
1/2 teaspoon cloves
1/4 teaspoon salt
4 eggs
7 tablespoons (98 grams) coconut oil, melted
1/2 cup maple syrup
1/2 cup canned pumpkin puree
2 teaspoons vanilla
1/3 - 1/2 cup Nutella or homemade chocolate hazelnut spread for dairy-free / paleo
Directions
Preheat the oven to 350 degrees F (175 degrees C). Line 16 muffin cups with muffin liners.
In a large bowl, mix together the dry ingredients (coconut flour through the salt). If your coconut flour is lumpy, be sure to sift it into the dry ingredients.
In a separate medium bowl, mix together the wet ingredients (eggs through the vanilla).
Add the dry mix to the wet mix and stir just until combined.
Pour the batter evenly into the muffins cups.
Put about 1 – 1 1/2 teaspoons of Nutella on top of each muffin and swirl it around with a toothpick.
Bake the muffins for 13 – 16 minutes or until a toothpick inserted in the middle comes out clean. Turn out onto a wire rack to cool completely. Straight from the oven, these do not taste good! They need to rest.
Cover the muffins and store them in the refrigerator for up to 5 days (2 days at room temperature is also okay).
As an Amazon Associate, I earn from qualifying purchases. For more info, see my disclosure.