This rich and creamy chocolate hazelnut fudge is full of hazelnut flavor thanks to the addition of hazelnut butter! Paleo-friendly, vegan and gluten-free.
My last two fudge recipes weren't exactly fudge. They were fudge-like candy. This chocolate hazelnut fudge recipe, though, is for real fudge. And I'd consider it a little healthier than your typical fudge! There's no sweetened condensed milk, marshmallow fluff, or any such stuff in here.
It's just chopped chocolate, hazelnut butter (not Nutella!), coconut milk, a little maple syrup, and vanilla. And hazelnuts, if you'd like. I prefer my fudge without add-ins and the hazelnut flavor is quite evident without the chopped hazelnuts so I make mine without. However, I'm vain and wanted my fudge to be pretty for the pictures so I added chopped hazelnuts. ;)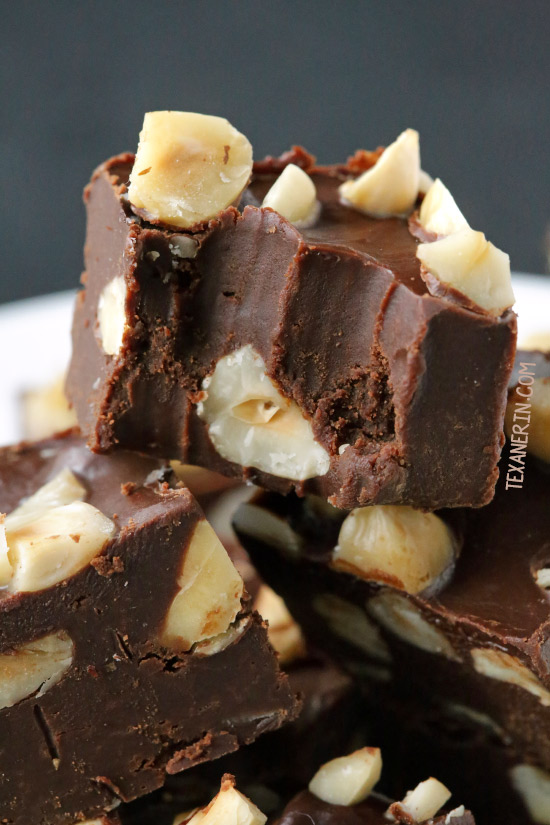 To make your own hazelnut butter, process 1 1/2 cups (165 grams) toasted and preferably blanched hazelnuts in a Blendtec or a food processor. Process until creamy and smooth like natural peanut butter. You don't actually need that much nut butter for this recipe but I find it difficult to process smaller amounts than that. If you don't want to eat the leftover hazelnut butter plain, you could use it in these hazelnut cookies or this homemade chocolate hazelnut butter.
If you use a food processor, the hazelnut butter won't be totally without any tiny bits of hazelnuts (and therefore neither will your fudge). If you use a Blendtec, it'll be just as smooth as store-bought. So if you have the option, definitely go with that! Both ways are delicious so if you don't have a Blendtec, don't let that hold you back.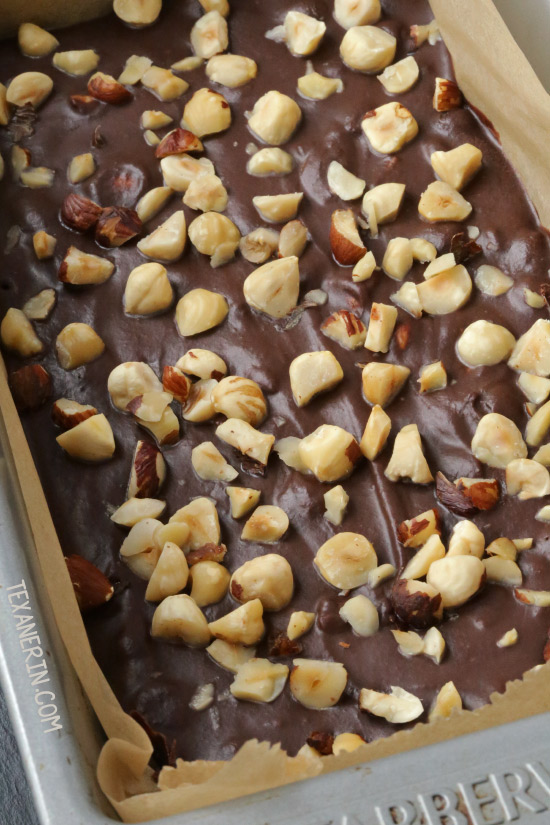 And unlike my last fudge recipe (this peanut butter fudge), you don't have to boil anything. You just melt everything together! You could even make this in the microwave if you wanted.
I haven't tried this with any other nut butters or cream instead of coconut milk but if you feel like experimenting, let me know how it goes. :) By the way, you can't taste the coconut milk at all. All you taste is chocolate and hazelnut.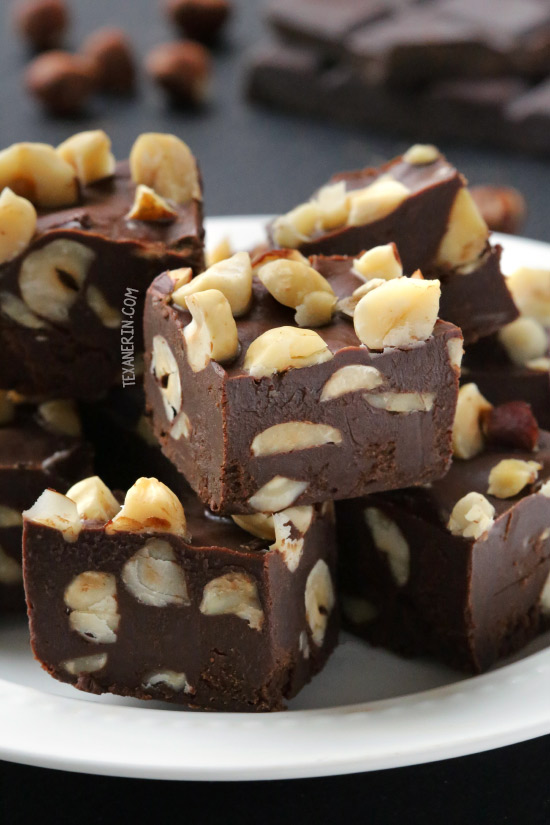 I cut this fudge straight out of the refrigerator assuming it'd be melty at room temperature. But I was wrong. It's firm just like traditional fudge is at room temperature. And it's easier to cut at room temperature than when cold!
If you've made paleo or vegan fudge before, then you probably know it often melts at room temperature due to the coconut oil. Like this chocolate peanut butter fudge – it's super delicious but has to be chilled.
If you're like me and love the chocolate hazelnut combination, try these gluten-free chocolate hazelnut muffins from Flippin' Delicious!
If you want to make this chocolate hazelnut fudge paleo-friendly, vegan and dairy-free, make sure to use these chocolate chips. It seems like a majority of people consider them paleo but if you disagree with that, here's some healthy chocolate hazelnut fudge I posted a few years ago. It uses cocoa powder, coconut oil and honey instead of chocolate. Enjoy! :D
❀
Chocolate Hazelnut Fudge (paleo, vegan, gluten-free)
Prep Time:
Cook Time:
Ready in:
Yield:

20 pieces
Ingredients
2 cups (340 grams) finely chopped semi-sweet chocolate or chocolate chips1
1/3 cup (80 milliliters) full-fat canned coconut milk
1/4 cup (64 grams) toasted hazelnut butter2 (the kind with just hazelnuts)
4 teaspoons maple syrup
1/4 teaspoon vanilla extract
a pinch of salt, optional
3/4 cups (83 grams) + 1/4 cup (28 grams) toasted hazelnuts, chopped, optional3
Directions
In a large saucepan, mix everything, except for the hazelnuts, together. Melt over low heat while frequently stirring. Meanwhile, prepare a 9"x5" loaf pan with a piece of parchment paper.
Once the mixture is melted, add 3/4 cup chopped hazelnuts, if using. Pour the fudge into the prepared pan. Let sit for about 20 minutes and then sprinkle the remaining 1/4 cup chopped hazelnuts over the top of the fudge. Refrigerate for 2 hours or until set. You can cut this when cold but it's easier when at room temperature. Store at room temperature for 1 day and then refrigerate. It'd likely stay well for much longer than 1 day at room temperature but I figure I'd better stay on the safe side and say 1 day due to the hazelnut butter.
Notes
Use these chocolate chips for paleo / vegan / dairy-free.
See the post for directions on how you can make your own hazelnut butter.
To toast hazelnuts, place on a baking tray and bake at 350 °F (165 °C) for about 5-8 minutes or until they smell toasty. Shake the pan halfway through. Let cool for 5 minutes and then place the nuts in the middle of a clean tea towel and rubs off the skin. Discard the skin. You could alternatively toast them in a pan on the stove top.
As an Amazon Associate, I earn from qualifying purchases. For more info, see my disclosure.