These healthy raw hazelnut chocolate brownies are grain-free, dairy-free and vegan! Perfect for when you need chocolate now!
I was tempted to shape these brownies into balls again but I don't want to overdo the ball thing. So here we have little brownie towers. :)
I love these things. No bake. Not so much sweetener and they're actually tasty. They don't really taste like brownies or cake, though. Just a little disclaimer. And the chocolate avocado frosting doesn't taste like frosting with tons of butter and sugar, but I'd take this version over the sugar filled one any day.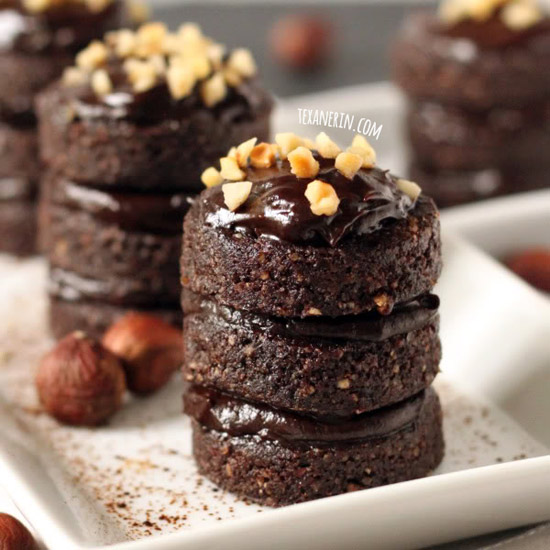 Something else I love about these raw hazelnut chocolate brownies is that you can easily make a small batch and overeating, something I have a problem with, is no longer a problem.
I've had one loooong headache for 13 months now. Not headaches every day, but one long headache. Every second of every day. No matter what I do or don't do. And pain relievers don't work. If I get an "extra" headache, they get rid of that, but the base headache is always there. But it's really light and more annoying than anything. I've been to every doctor imaginable (and I've been going to physical therapy for almost a year) and they can't find anything wrong with me, so my neurologist put me on some "pain management" medicine. She warned me that I'd gain weight and crave sweets, but I really thought, "Eh, whatever. I already do that." What I didn't realize is that I'd basically be living off of sweets. Seriously. I hadn't had vegetables in weeks when I realized that I had gained tons of weight. And my fat pants were now too small. Whoops.
Sonia mentioned that she needed to lose weight, and I know I definitely had to, and since then we've been weight loss buddies. In 3 weeks, I've lost 3.5 kilos (7.7 pounds). YAY! I'm well aware that's more than you're supposed to lose, but I've been getting more than enough calories and hardly exercising (because it makes my head hurt more), so I think my body is just in shock. In shock from not having sweets as every meal of every day.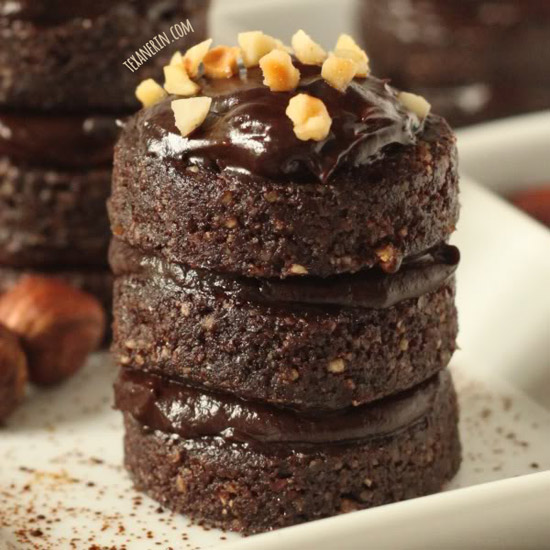 I definitely recommend getting a weight loss buddy if you want to lose weight! I could have never done it without Sonia, who cheers me on and reads my food and exercise diary every day. And if you know someone's going to read your food diary, you don't really want to write down that that you ate 4 cookies for breakfast, half a pan of brownies for lunch, and pizza for dinner, which was totally typical for me just a month ago. I've even cut back to two sweets a day! That's probably a lot to some people but that's a miracle for me. And yesterday? My first sugar free day ever (with the exception of tons of fruit). It wasn't intentional… it just sort of happened. WEEEEEE! :D
So having a baking blog and not having anyone to really share the goodies with kind of became a problem and that's why you've seen more non-baked goodies around here lately. You can easily make 1/2 or even 1/4 of the batch and these are no exception! They're soft, chocolately and satisfy any sweet craving you might have.
I found this raw hazelnut chocolate brownie recipe on The Wannabe Chef last week and made them the next morning. I just couldn't wait. Evan's picture just made them look so sinful!
❀
Raw Hazelnut Chocolate Brownies
Prep Time:
Cook Time:
Ready in:
Yield:

5 2×3-inch frosted cakes
Ingredients
For the cake:

2 cups (254 grams) raw, unpeeled hazelnuts
1 heaping cup (172 grams) dates
1/2 cup (50 grams) Dutch-process cocoa powder
1/4 cup (60ml) maple syrup (I used 3 tablespoons and it was fine)
1/2 teaspoon vanilla

For the frosting:

1 avocado (avocados come in all different sizes so I'll just say mine was 287 grams with the pit and 212 with just the meat)
6 - 7 tablespoons (88 - 103ml) maple syrup
1/4 cup (28 grams) Dutch-process cocoa powder
1 - 3 teaspoons espresso powder (not instant coffee!)
Directions
In your food processor, process the hazelnuts until nicely ground. It won't be as finely ground as store-bought almond meal, but a little coarser. Don't process too long or you'll have hazelnut butter. It shouldn't take any more than 20 seconds. Add the dates, cocoa powder, maple syrup and vanilla and process until a sticky dough forms.
Place the dough between two Silpats or pieces of parchment paper and roll out to about 1/4 of an inch thick (or really, however thick you want it). Cut them however you like (I used 1 1/2" circular cookie cutters) and form the excess dough into a ball, roll out again and cut out more shapes.
For the frosting, in the bowl of your food processor, combine all the ingredients until thoroughly combined and no chunks of avocado are left. It took me a few minutes to do this but it was possible. If it's not sweet enough, add more maple syrup.
The espresso flavor was really light even with quite a bit of powder, but I still liked the difference it made. Add the frosting to the cake and store in the fridge.
Recipe adapted from Chocolate Hazelnut Cake {Raw/Vegan} - The Wannabe Chef