This pear cider is warm and cozy with pears and is loaded with fall spices. It's lightly sweetened with maple syrup, making it naturally vegan and paleo.
It's that time of year when I want to make something inspired by the season, and this pear cider is just that! Like this Homemade Apple Cider, it's great to make when you have an overabundance of fruit, and will leave your house filled with aromas of autumn.
I don't have any pear recipes, so I thought it was about time to post one. It's a perfect addition for Thanksgiving or any fall gathering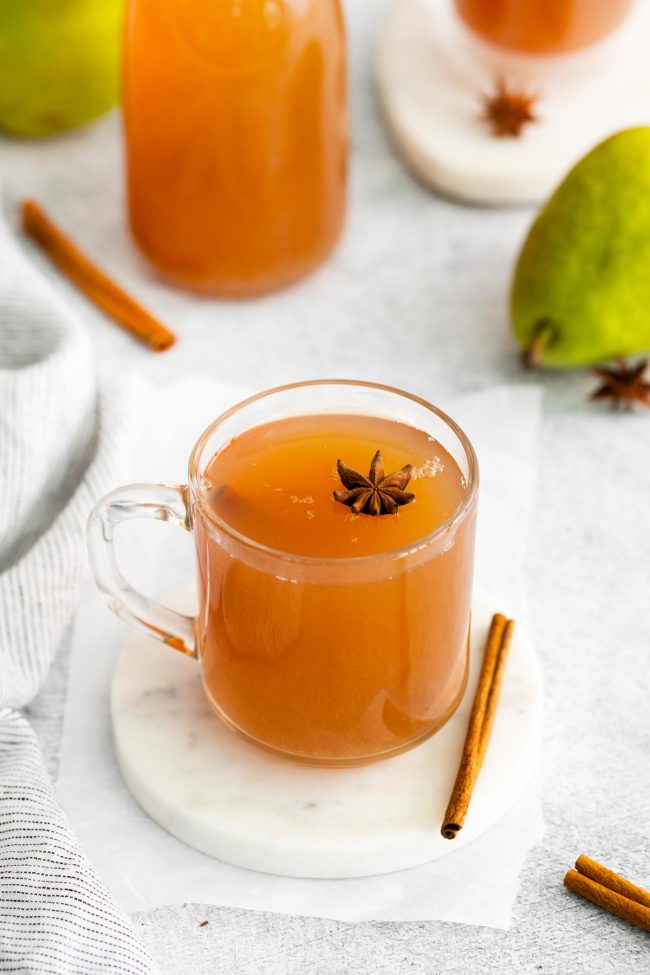 Ingredients
Pears – there's no need to peel or core your pears – just make sure the skins are clean!


Maple syrup – the perfect sweetener alongside pears.


Cardamom – this adds a deliciously floral, almost tea-like flavor.


Cloves – they add a bit of woody spice flavor.


Cinnamon – this adds warmth and that classic fall cider flavor.


Star anise – this contributes a very mild licorice flavor.


Orange – adds a bit of acidity and brightness.


Ground nutmeg – adds a warm, almost nutty flavor.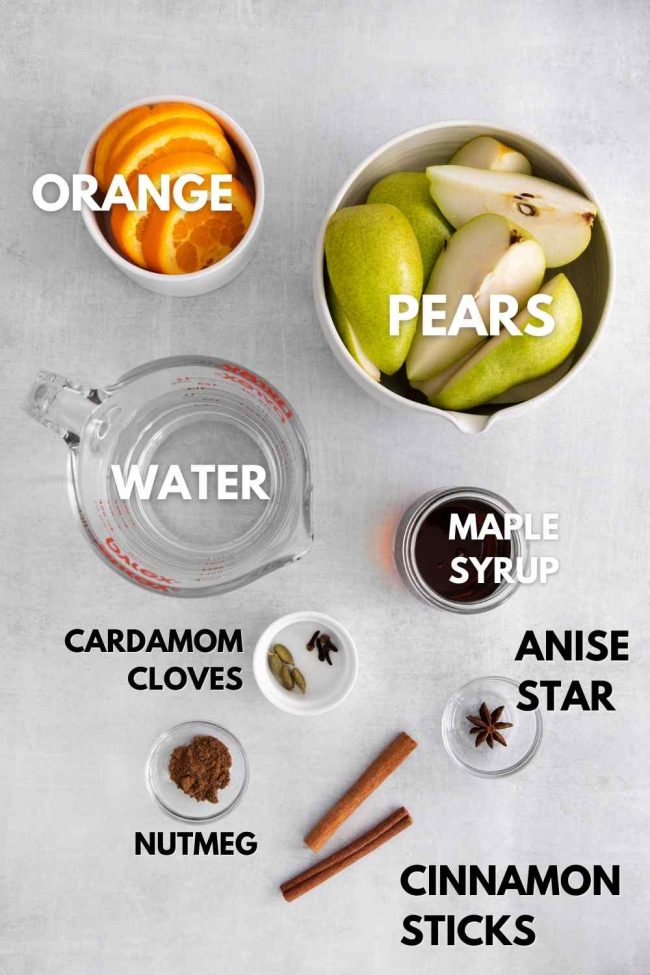 Tips
Feel free to adjust the amount of maple syrup based on the sweetness of your pears.


I prefer spices in whole form in this drink (they're more flavorful) except the nutmeg. Freshly ground nutmeg has a much more robust flavor than whole nutmeg.


I included the amount of ground spice you'd use in place of the whole form for each spice.
Equipment
Large Dutch oven or a pot similar in size
Fine mesh sieve
Large heat-safe bowl (with a pour spout if you have one)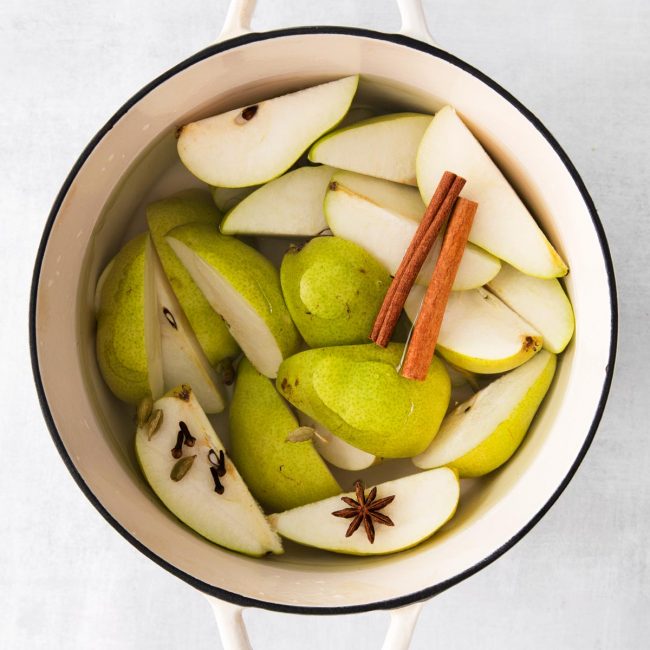 How to store/freeze?
You can store leftover cider in an airtight container in the fridge for up to five days. Storing it any longer causes it to lose its flavor.
I don't recommend freezing it because cider tends to separate.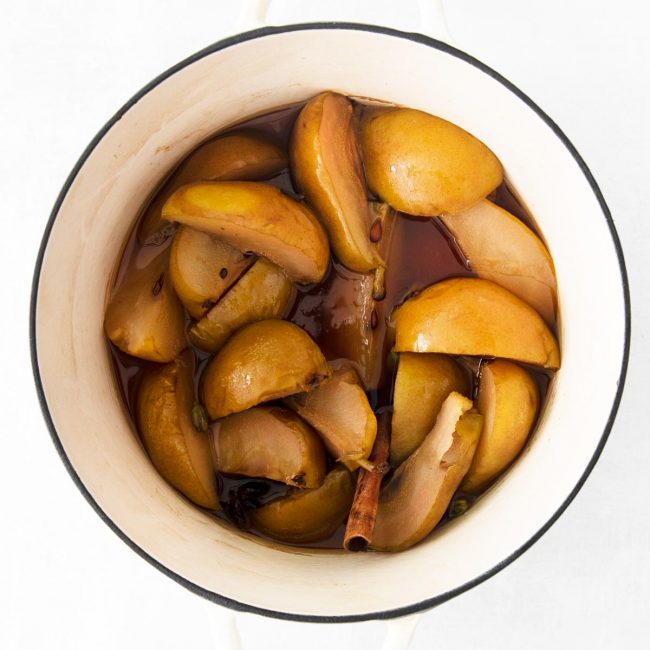 Do I have to peel and core the pears?
Nope! That's what is great about this recipe. The prep work is cut substantially by not having to peel or core the pears. You just wash them thoroughly and cut them into quarters.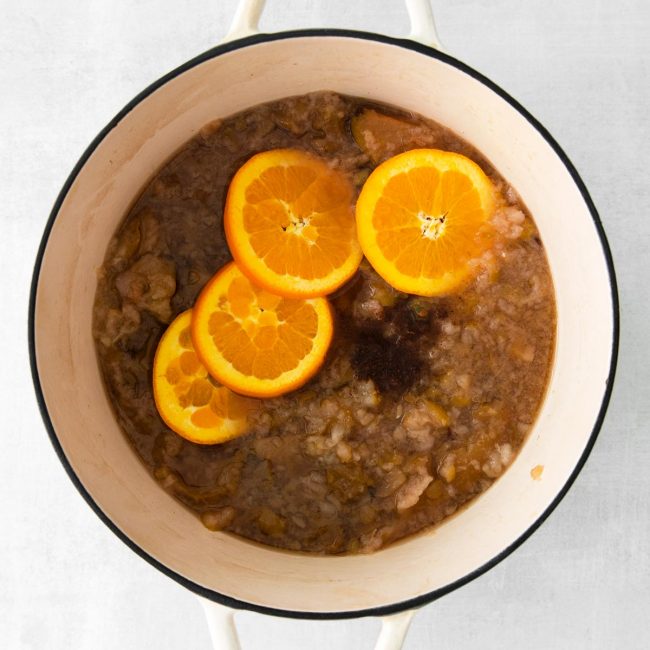 What kind of pears?
I used anjou pears, but any pear should work. I like anjou because they're juicy, sublty sweet and have a citrus-like flavor.
You should use ripe pears. Even pears that are overripe will work.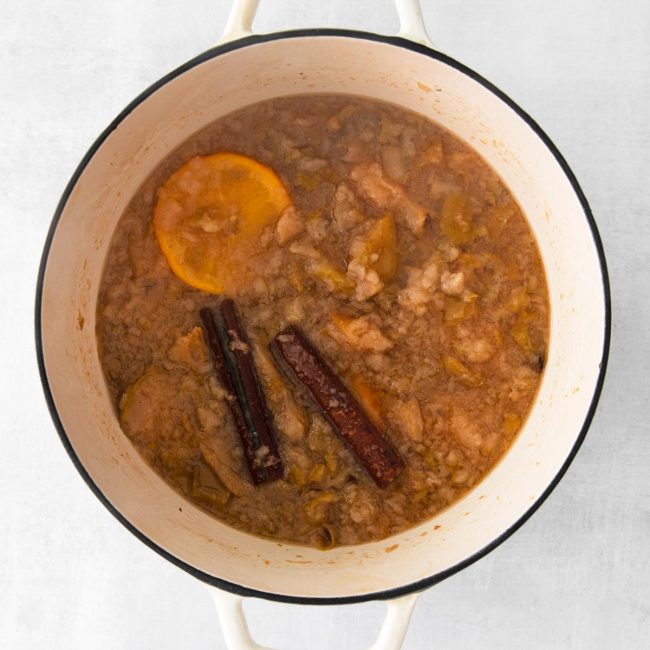 If all you can find are super sweet pears, you can add citrus to balance the sweetness.
Maybe a squeeze of orange or lemon juice to finish it off, but not too much.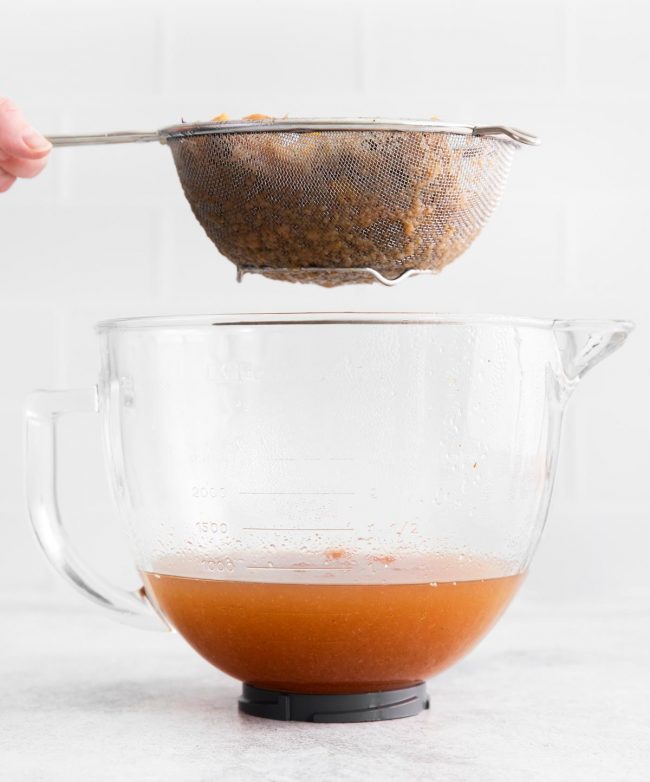 Make it boozy
Brandy would be my first choice of liquor to turn this cider into a craft cocktail.
A pear bourbon cocktail would be a nice treat with just an added shot of bourbon in the cup.
I've seen some pear cocktail recipes with rum which sounds pretty good.
If you spike this cider, let me know what you used, and I'd be happy to update the post!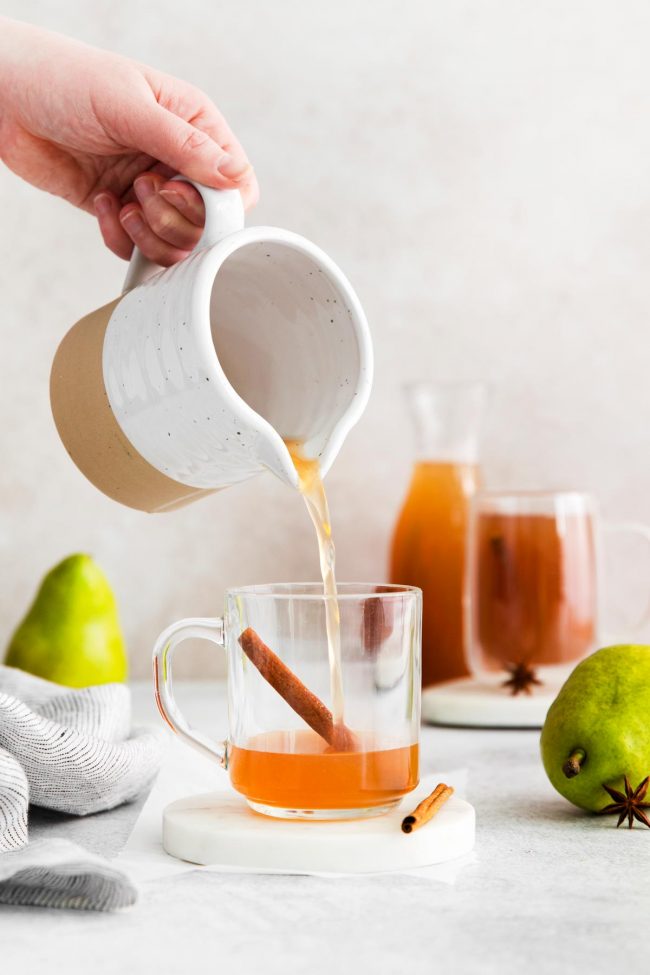 Sweeteners
I used maple syrup because it just makes everything taste like fall and lightly sweetens the cider without overpowering the pear flavor.
You could substitute another liquid sweetener like agave, or if you're not vegan, you can use honey. Just make sure to dissolve the sweeteners in the drink.
Garnish
Orange slices, cinnamon sticks, or a slice of pear elevates the drink for gatherings. At home, I just use a little of whatever is left to garnish the drink.
I don't recommend adding star anise or cloves to the cups, even though they look great in photos. They can be hazardous if swallowed, so I avoid adding them to the glass.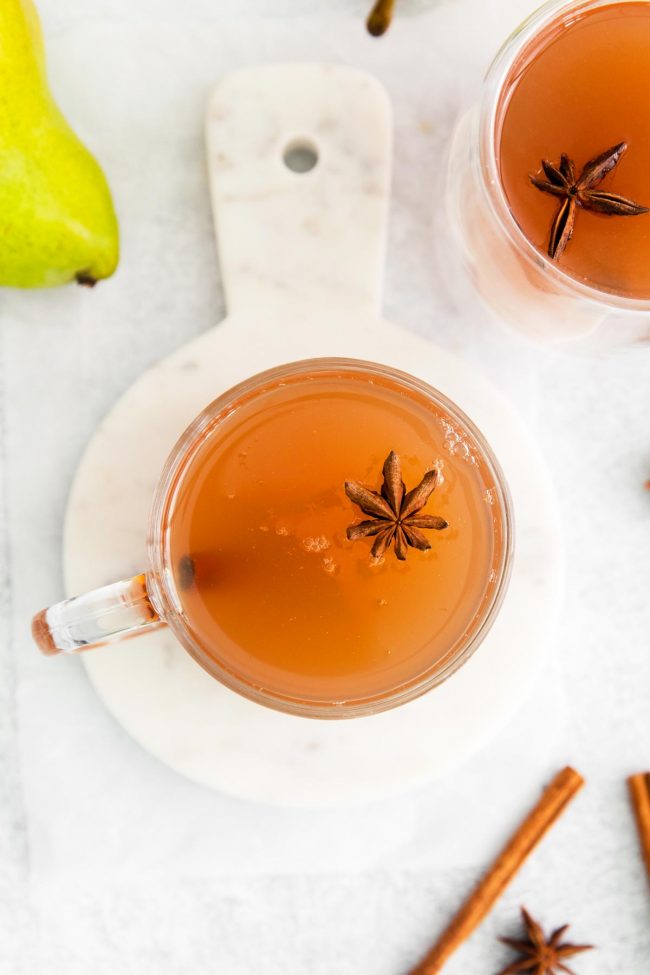 Other fall drinks
I've been posting a lot of drinks lately, so whether you're looking for a nice warming latte or an iced summer spritz, you can find a variety of different options. Here are a few of my favorites for the season.
Here's to happy fall drinks! I hope you enjoy this pear cider. If you make it, please let us know how it turned out. Give us a shoutout on social media at #texanerin so I can see your creations.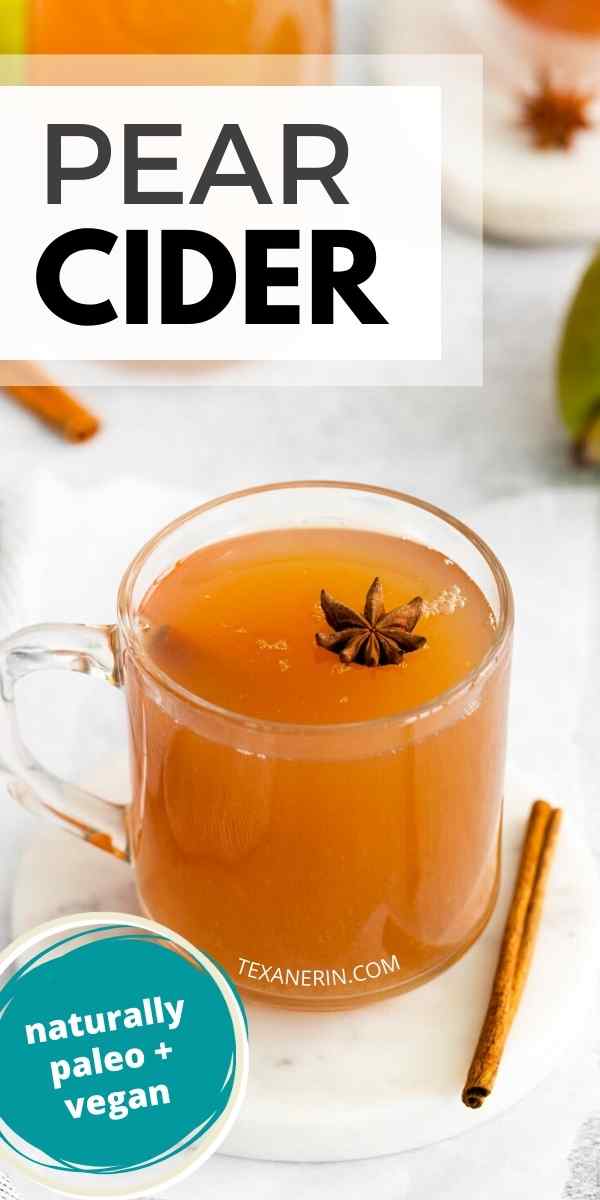 ❀
Pear Cider Recipe
Prep Time:
Cook Time:
Ready in:
Yield:

4 cups
Ingredients
8 cups (1900 ml) water
6 pears (1620 grams), cut into quarters
1/4 cup (60 ml) maple syrup, or to taste
4 cardamom pods or 5/8 teaspoon ground cardamom
4 whole cloves or 1/2 teaspoon ground cloves
2 cinnamon sticks or 1 teaspoon ground cinnamon
1 star anise or 1/2 teaspoon ground star anise
1 small orange, sliced + more to taste
1/4 teaspoon freshly ground nutmeg
Directions
Add the water, pears, maple syrup, cardamom, cloves, cinnamon sticks, and star anise to a large dutch oven. Set the pot over medium heat and bring the mixture to a boil.
Reduce the heat so the cider is very gently boiling and cook for 2 hours.
After 2 hours, use a wooden spoon (or potato masher) to break up the pears. This will help release all of the flavor!
Add the sliced orange and ground nutmeg. Reduce the heat again slightly so that the cider is just simmering. Cook for an additional 1 hour.
Place a fine mesh sieve over a large heatsafe bowl and very carefully pour the cider through the strainer. Press on the solids in the strainer to ensure that all of the liquid from the pears has been released.
This cider can be enjoyed as is, placed in the fridge to chill, or kept warm over low heat on the stove or in a slow cooker.
Storage: Store any leftover cider in an airtight container in the fridge for up to five days.