This 5-ingredient paleo vegan chocolate mousse is easy to make and egg-free! Perfect for Valentine's Day or whenever you're in the mood for a healthy (but delicious!), chocolaty treat. It's also GAPS and AIP-friendly.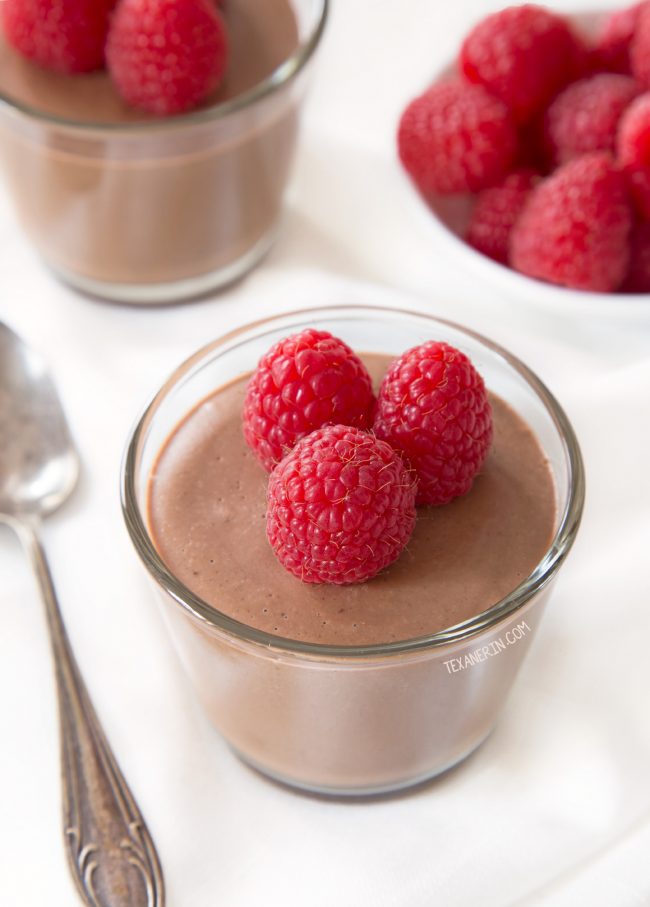 It's been a while since I posted and if you follow me on Instagram and happened to have seen this post, you'll know why. All my effort went into making the below video for my perfect paleo chocolate chip cookies.
I'd love for you to check it out! And if you like it, I wouldn't mind if you gave it a thumbs up and / or commented on it as it currently has 0 of each. ;) If you click on the white title in the upper left corner of the video, it'll bring you directly to Youtube.
Now on to today's recipe! This chocolate mousse came about after I refrigerated some of my leftover paleo vegan hot chocolate. Once it's chilled, it becomes thicker and slightly moussy. So I figured I'd make it a lot more moussy!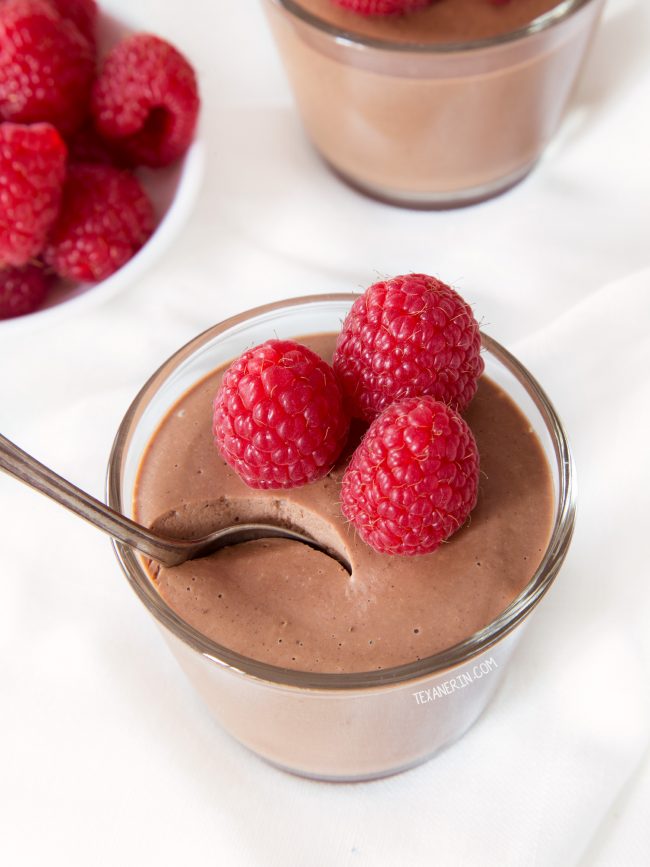 So instead of using a full can of coconut milk, like in the hot chocolate recipe, you refrigerate the can overnight and then use the coconut cream and all except 1/3 cup of the coconut water. And to make it even thicker, you add a little coconut oil.
You can probably tell by the below picture that it's quite thick, kind of like cheesecake. If you want it more in the direction of pudding, use only 1 1/2 tablespoons of coconut oil.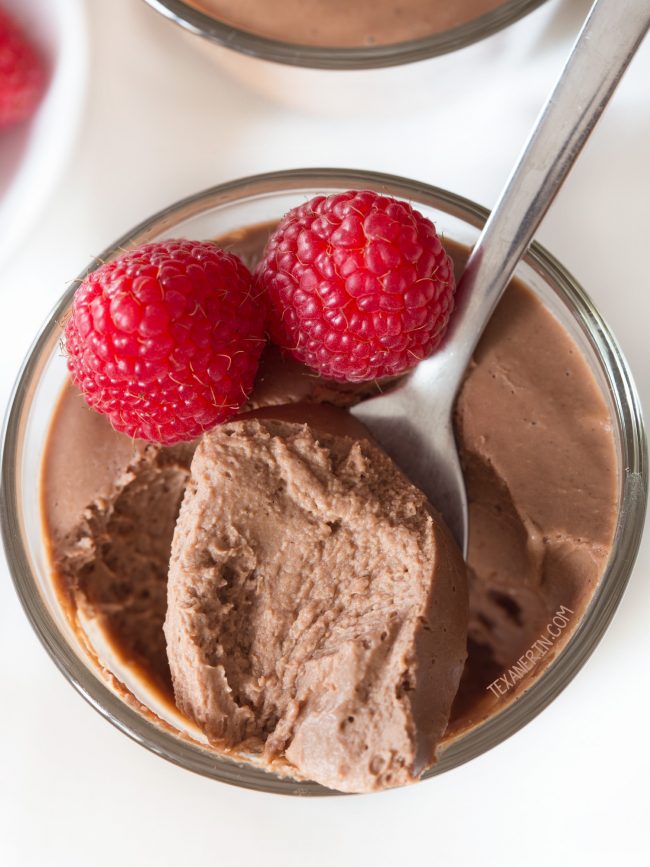 The chocolaty-ness and sweetness will depend a lot on your cocoa powder. If you find that it doesn't have enough chocolate flavor, add more cocoa powder. If it's not sweet enough, add more dates or another sweetener.
I usually use Dutch-process cocoa powder in my recipes but this time (at least in these pictures) I used raw cacao powder, hence the light color. With raw cacao, you could taste the coconut. With Dutch-process, it's almost undetectable. By the way, I used raw cacoa for the health benefits. It's good stuff!
And as a bonus, this chocolate mousse is AIP (autoimmune paleo) and GAPS-friendly! Even if you're not on a special diet, this is a delicious treat. :)
For a more classic version (but still naturally sweetened one), try this chocolate mousse from Veggie Balance!
❀
Paleo Vegan Chocolate Mousse (AIP, GAPS-friendly)
Prep Time:
Cook Time:
Ready in:
Yield:

four 1/2-cup servings
Please see the notes below for the AIP + GAPS options!
Ingredients
1 14-ounce (400-milliliter) can full-fat coconut milk, refrigerated for at least 8 hours
100 grams pitted dates (that's about 16 - 18 dates regular-sized dates – if you use Mejdool, you'll need a lot fewer)
1 1/2 to 2 tablespoons cocoa powder or carob powder for AIP
3 tablespoons (42 grams) coconut oil
1 teaspoon vanilla extract or 1/2 teaspoon vanilla powder / bean scrapings for AIP
1/8 teaspoon salt (I like things salty and use 1/4 teaspoon)
Directions
Scoop out all but 1/3 cup of coconut water from the can and place the contents in a small pot. Use the remaining 1/3 cup coconut water in a smoothie or just drink it. Depending on your can, you might be able to turn the can upside down and use a can opener to open it so you can just measure out the 1/3 cup coconut water and dump the rest of the can in the pan.
Warm it up so that it's melted and no longer hard.
Place that and the remaining ingredients (using 1 1/2 tablespoons of cocoa for now) in a high-powered blender (I haven't tried this in a food processor). Blend for about 1 minute and add additional cocoa / carob, to taste.
Once totally blended and no chunks of dates remain, pour into dessert glasses. Chill for at least 2 hours to firm up. Refrigerate leftovers for up to 2 days.
Notes
For AIP: Use carob powder. Vanilla powder / bean scrapings are elimination-phase legal (read more here).

For GAPS: Cocoa powder is GAPS-legal once you're on the full diet and don't have any digestive symptoms. Read here for more info. I also use vanilla bean scrapings but it looks like pure vanilla extract (with just vanilla beans + vodka) is legal.