These coconut chocolate balls are super easy to make in minutes, with only a handful of ingredients for a healthy treat that will satisfy your cravings without the guilt. They're also naturally vegan, gluten-free and dairy-free.
Everyone will enjoy these no-bake goodies after dinner or as a healthyish snack. They're the least sweet of all my No-bake Balls, but the chocolate chips add quite a bit of sweetness, so I highly recommend using them.
If you love coconut, then these balls are for you! Also be sure to check out my other Coconut Recipes.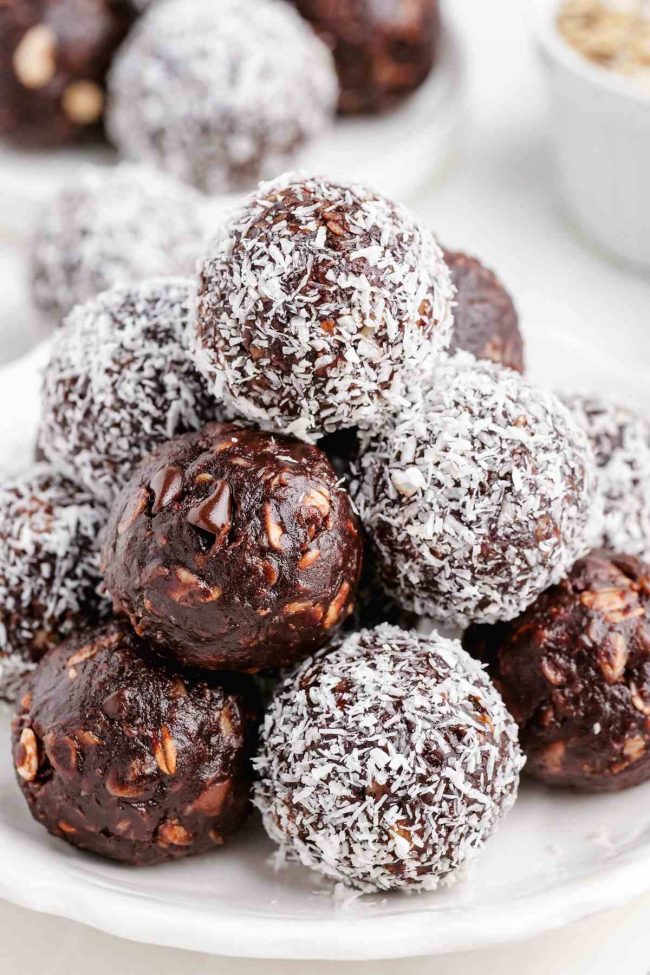 Ingredients:
There's no denying that these little healthy vegan snacks are addictive but don't worry, they're packed with good-for-you ingredients.
Rolled oats
Unsweetened shredded coconut
Cocoa powder
Natural almond butter (Homemade Peanut Butter also works great!)
Maple syrup
Vanilla extract
Mini chocolate chips
Salt
More shredded coconut to roll the balls in, if desired
By the way, if you need coconut chocolate balls to be gluten-free, check out Is Cocoa Powder Gluten-free? for more info on brands that are tested as and labeled gluten-free! You can also read specifically about Hershey's here in this post → Is Hershey's Gluten-free?
If you only have sweetened coconut on hand, just know that sweetened coconut has about 2 teaspoons of added sugar per ounce.
I prefer unsweetened coconut, but you can use sweetened if you want the balls a bit sweeter.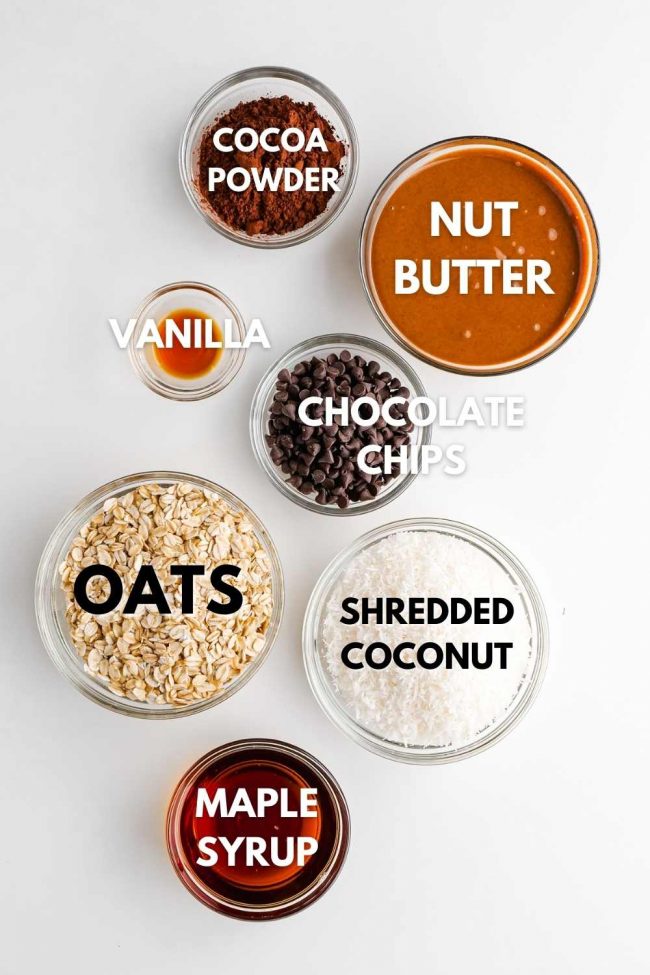 How to make them
It's so easy! All you do is mix together all of the dry ingredients, then stir in the almond butter, maple syrup, and vanilla. Once the mixture is nicely mixed, add the chocolate chips.
If the mix is a bit wet, let it sit for 5 minutes until the oats have absorbed the majority of the moisture.
Roll them into little balls. Done!
If you like, roll the balls into more shredded coconut, it helps from getting chocolate sticky fingers, but it's totally not necessary. Your choice!
How to store them
When I make a batch, I just can't keep my hands off of them, but I've been better at rolling them into balls and storing some in the fridge. This way I can get them out of my sight, so I don't eat the whole batch before rolling them into balls!
Just put them in an airtight container, and they'll last the entire week in the fridge.
I put the remaining balls in the freezer with parchment paper in between the layers. Then I can just set them out at room temperature for an hour and have a snack with no effort. These balls should last up to three months in the freezer. Just thaw them and enjoy!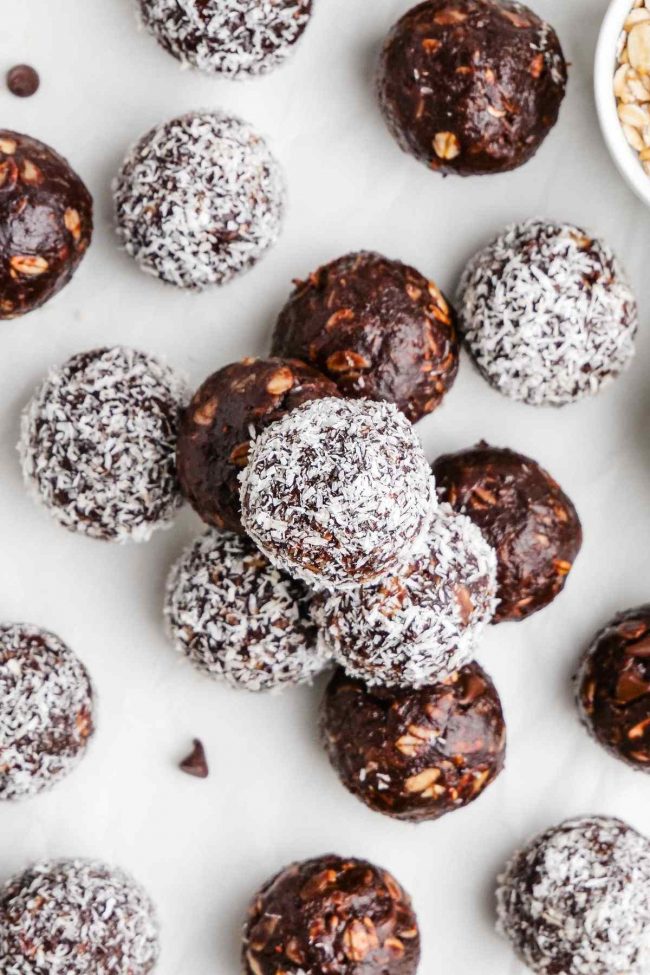 Do I have to use toasted coconut?
I apparently wasn't thinking when I first made this recipe or had the photos done. Because I should have used toasted coconut. I know toasted coconut is tastier than untoasted!
So, no, you don't have to use toasted coconut, but you're truly missing out on a richer, more complex taste and crispier texture (I have indeed tried it, so I'm sure of this ;)). These balls are so simple that the extra step of toasting the coconut makes it worth it.
Toasting coconut adds depth and brings out the nuttiness of the coconut flesh. It adds a slightly crunchy texture and terrific coconut flavor.
I love to eat it straight, but I try to save some for the chocolate balls. 😉 You can also make this amazing Toasted Coconut Butter with it.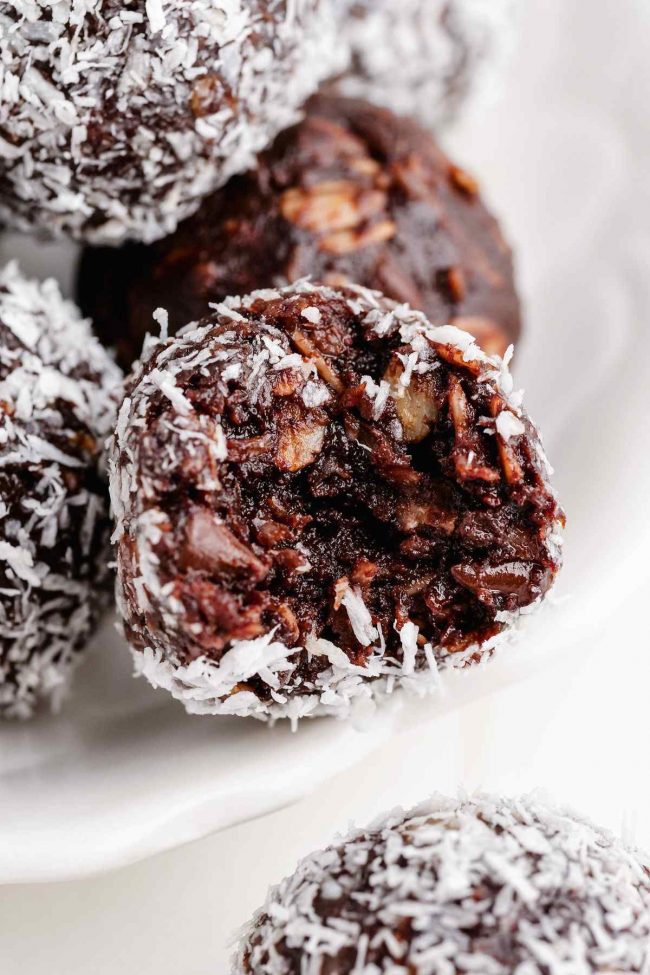 How to toast coconut (4-ways):
Toasting coconut enhances all your favorite baked or non-baked goodies, it's even delicious by the handful! If you haven't ever tried it, toasting brings out a more robust flavor of the coconut and adds a crisp texture that just adds to the overall experience.
Toasting works well for shredded or shaved coconut, sweetened or unsweetened, so it's a great way to bring out the coconut flavor in all your sweet treats.
Oven
It's easy to toast coconut in the oven.
Preheat the oven at 325 °F (165 °C).
Line a large sheet pan with parchment paper.
Place the shredded coconut evenly on the pan and pop it in the oven for 3 minutes.
Then, gently stir with a spatula so that it gets evenly toasted, and bake until it is golden brown (up to 3 or 4 minutes more). It will toast more around the edges, so be sure to stir it well.
Once it's perfectly golden, let it cool thoroughly. But keep an eye on it because there is a very fine line between toasted coconut and burnt coconut.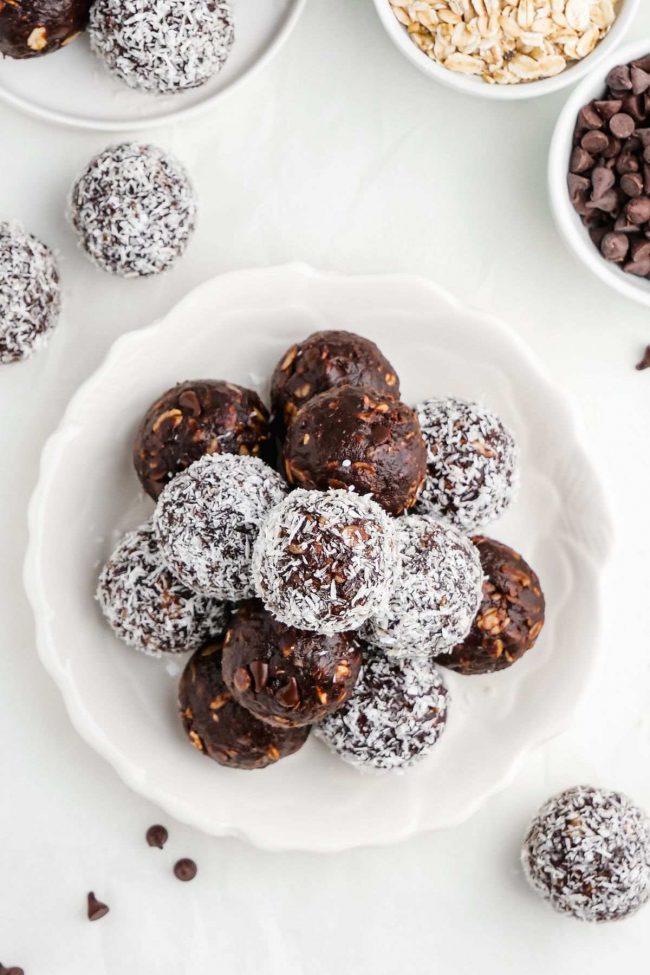 Skillet
You can also toast coconut in a skillet. It won't exactly toast evenly like in an oven, but it works fine and tastes just as great.
Simply put the coconut in a large skillet over low-medium heat and stir frequently. Don't walk away or get distracted or you'll have burnt coconut.
Once the coconut has slightly browned, take it off the heat and put the toasted coconut on a baking sheet to cool. Don't put it in a bowl or it'll get a bit wet and soggy, rather than remain crisp.
Microwave
If you want good results without heating up your kitchen, your second option is the microwave. It works just as well as the oven.
Spread the coconut onto a small microwave-safe baking dish.
Place the dish into the microwave and zap it in intervals of 30 seconds. After each interval, stir the coconut with a fork.
Once the coconut starts to brown, microwave it in intervals of 15 to 20 seconds to make sure it doesn't burn. Microwaves vary, so it's best to keep an eye on it throughout the process. Once it's toasted, set the dish on a wire rack to cool.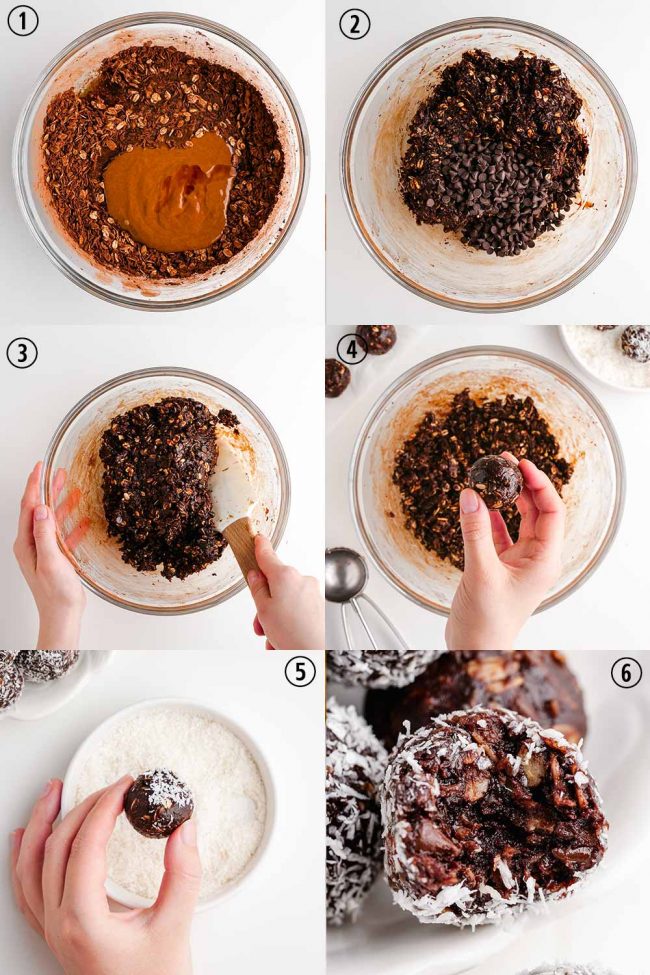 Air fryer
Have an air fryer? Perfect, because you can toast your coconut without turning on the oven which makes it perfect in the hotter months.
Preheat the air fryer at 330 °F (165 °C).
Place the coconut in a single layer inside the baking pan and set for 4 minutes.
Halfway through, at 2 minutes, you will want to stir the coconut so that it gets evenly toasted.
Let cool.
Tips:
Sweetened coconut takes less time to toast as the sugar will speed up the process.
Make sure not to overlap the coconut so that it gets evenly toasted.
Always keep an eye on the coconut to make sure it comes out perfectly.
How to store toasted coconut:
If you're like me and like to make big batches, you can toast the coconut and place it in an airtight container to store it in the fridge for up to 3 to 4 weeks. That's if you can keep yourself from eating it all by the handful. 😉
If you would rather save it for later, you can also freeze the toasted coconut and store it in a freezer bag. When you're ready to use it, just put the amount you want in a container and put it in the fridge to thaw overnight.
If you forget to do this and are desperate for some coconut, just put the coconut in a bag and put it in a bowl with warm water.
It may be a little listless, so you might want to throw it in the skillet a bit just to toast it up a little more before using it.
It's easy to make a big batch of toasted coconut ahead of time, and it will make these coconut chocolate balls even easier in less time.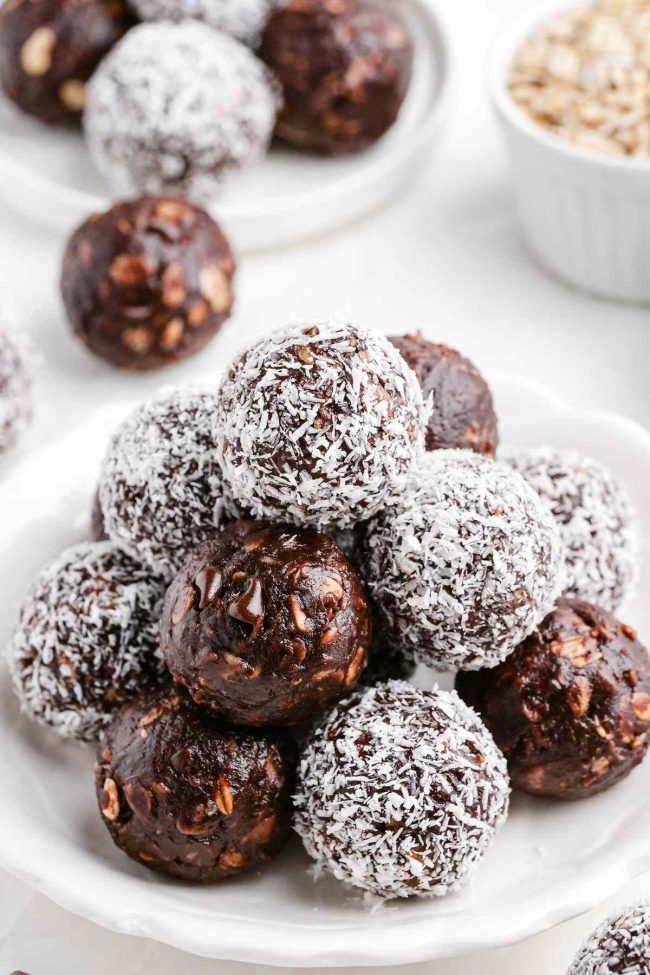 Benefits of coconut:
Coconut has been known as a superfood, and it has some great benefits. It's got: good healthy fats that burn energy rather than sticking to your middle, fatty acids that boost metabolism aiding in weight loss, and helps to maintain a balance in the digestive tract to detoxify the body.
Eating coconut also keeps you hydrated. It has the highest-rated source of electrolytes and keeps your nerves and muscles functioning well. Plus, it's great for your skin.
Better yet, coconuts contain lauric acid which helps fight fungi, viruses, and bacteria in your gut. It's even been shown to eliminate the yeast Candida albicans which is the source of yeast infections.
Coconut meat is high in fiber weighing in at 20% DV and it's low in sugar with 2 grams per 1 ounce of coconut.
It also contains protein and essential minerals like iron, manganese, copper and magnesium.
Coconut is great for your teeth. Coconut has been found to kill the harmful bacteria found in your mouth and helps protect your gums and teeth from infection and cavities.
Coconut is easy to add to your diet and adds extra health benefits which make these coconut treats even better.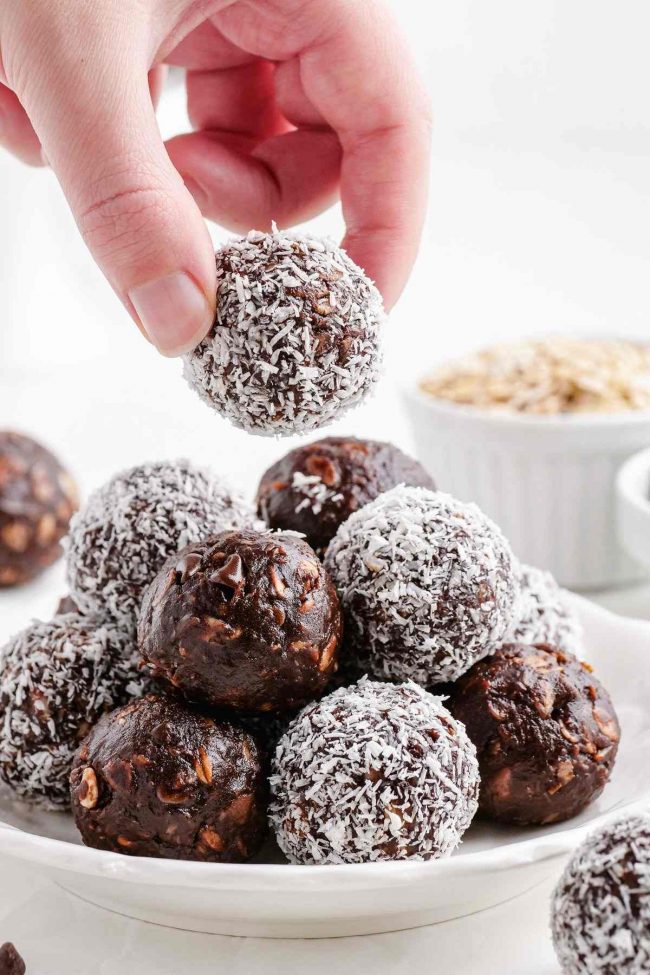 More energy balls:
If you've read this whole post and aren't convinced that these coconut chocolate balls are for you, then here are some other healthy protein balls that are sure to please.
Resources if you're new to gluten-free/vegan eating!
That's it! I hope you enjoy these coconut balls. If you decide to make these or any of my recipes, I would love to see pictures 📸! Just tag #texanerin on Instagram, Facebook, and Twitter so I can easily find them. Enjoy!
❀
Coconut Chocolate Balls (gluten-free, vegan options)
Prep Time:
Cook Time:
Ready in:
Yield:

26 balls
Ingredients
1 cup (92 grams) rolled oats (for a GF version, use GF oats)
1 cup (85 grams) unsweetened shredded coconut (I recommend toasting it first)
1/4 cup (29 grams) Dutch-process cocoa powder
1/4 teaspoon salt
3/4 cup (192 grams) natural almond butter or peanut butter (just almonds/nuts + salt, no added fat or sugar)
6 tablespoons maple syrup
1 teaspoon vanilla extract
1/4 cup (50 grams) mini chocolate chips
more shredded coconut to roll the balls in, if desired
Directions
In a medium mixing bowl, stir together the dry ingredients (oats through salt).
Stir in the almond butter, maple syrup and vanilla.
Stir in the chocolate chips. If the mix seems a bit wet, let it sit for about 5 minutes until the oats have absorbed a bit of the moisture.
Roll into 1" (20-gram) balls. If desired, roll some balls into more shredded coconut.