This red, white and blue cheesecake salad is like cheesecake filling in a bowl with strawberries, blueberries and blackberries for the perfect 4th of July treat. You can make a traditional version with powdered sugar or a keto version that's just as tasty.
I got the idea for this cheesecake salad when making my Keto Cheesecake recently. I just wanted a treat one night.
So it wasn't that big of a deal when I ate a fourth of the filling before baking it. Whoops.
Then I realized that next time, I might as well just make the filling and enjoy it with a spoon. So here we are.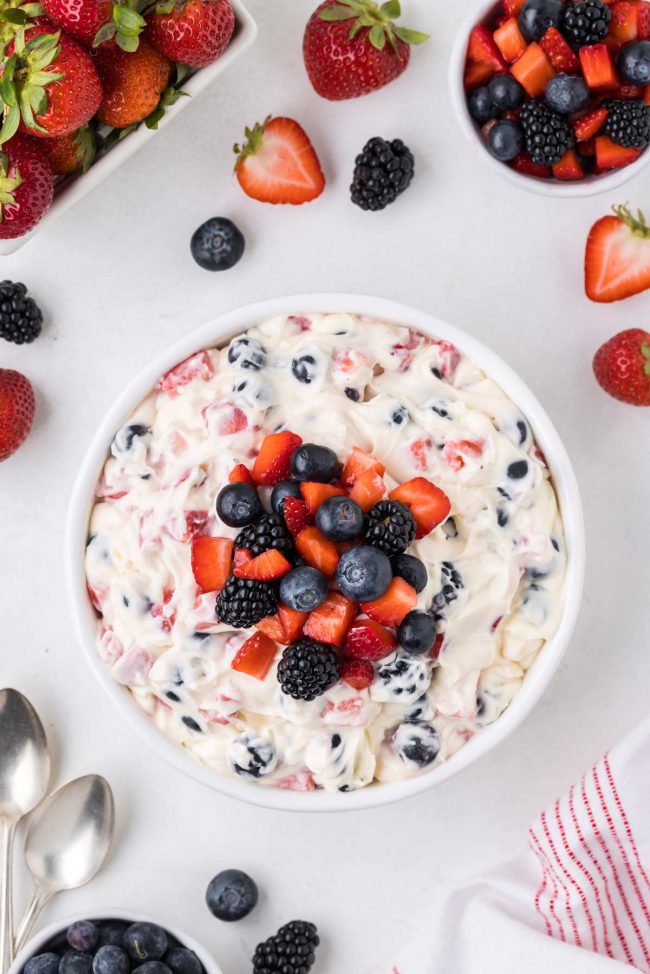 A dessert salad without Cool Whip and without marshmallows! Just whole, real ingredients.
The cheesecake filling of a cheesecake is pretty runny, so I used the whipped cream cheese frosting recipe from my Matcha Cake Recipe.
It might sound odd, fruit dumped in a bunch of frosting, but the result is perfect. The frosting isn't that sweet, and nobody eating the cheesecake salad will have any idea that this is indeed what they're eating.
And that's because the filling tastes like raw cheesecake batter. Definitely not frosting.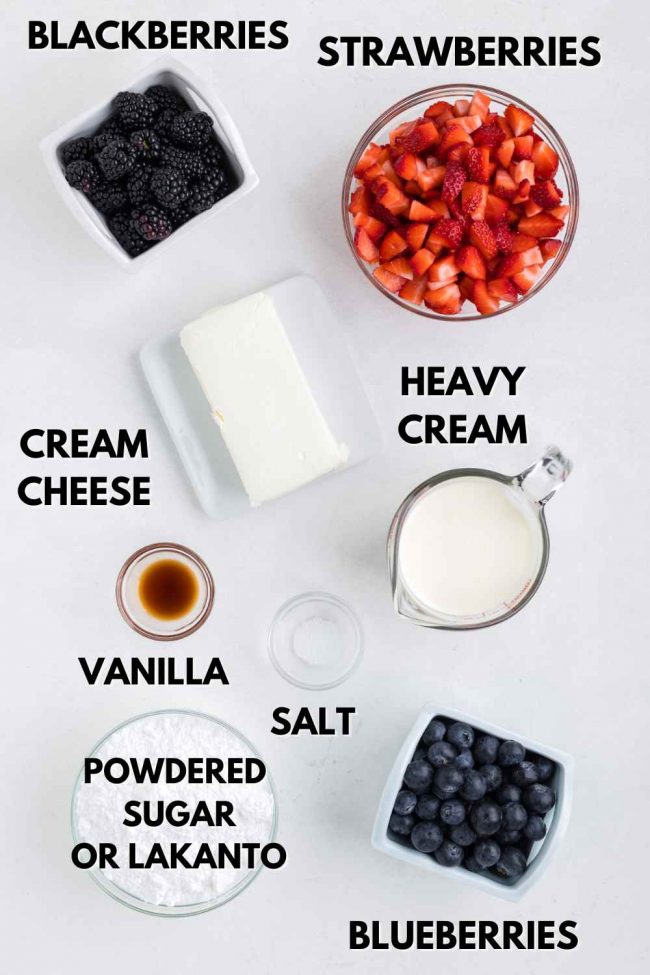 Warning!
Only add the fruit to the cheesecake mixture before serving. If you're bringing this to a picnic, mix the cheesecake filling and berries together at the picnic.
Even with patting the fruit dry, they'll start to release their juices, making the cheesecake mixture a bit runnier.
If that doesn't sound doable and you need something for a July 4th BBQ, I have these Red White and Blue Bars with a US flag design on them. They can be decorated at home, and because they're baked, they hold up better than any no-bake treat in the heat.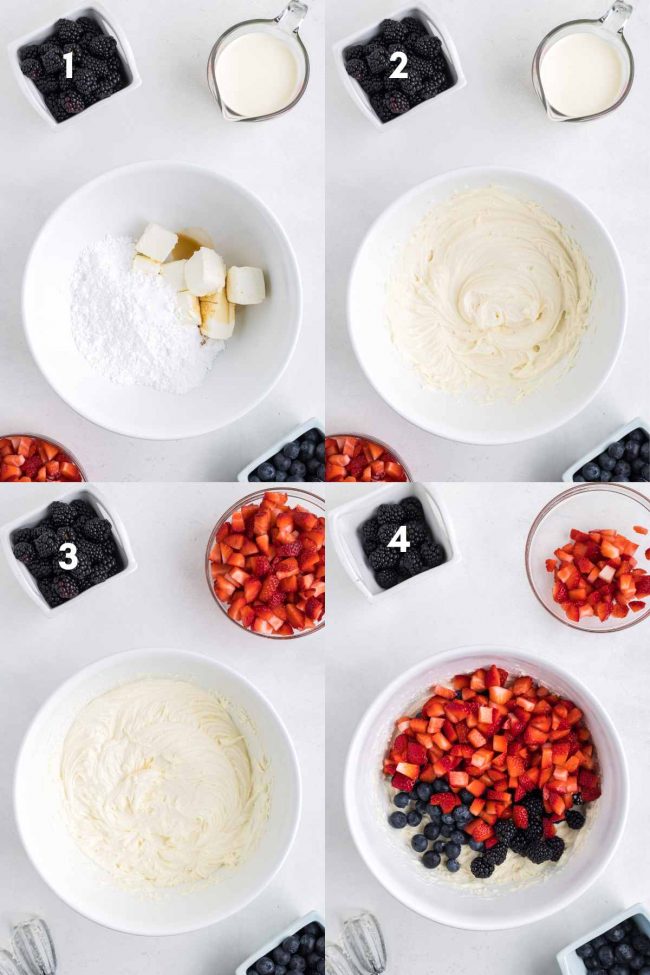 Can I use frozen berries?
If you're fine with it looking terrible and serving it immediately after adding the berries, then it's okay.
I tried it. It's still tasty, but there's a lot of bleeding from the berry juice.
The texture of fresh berries is also a lot better than frozen.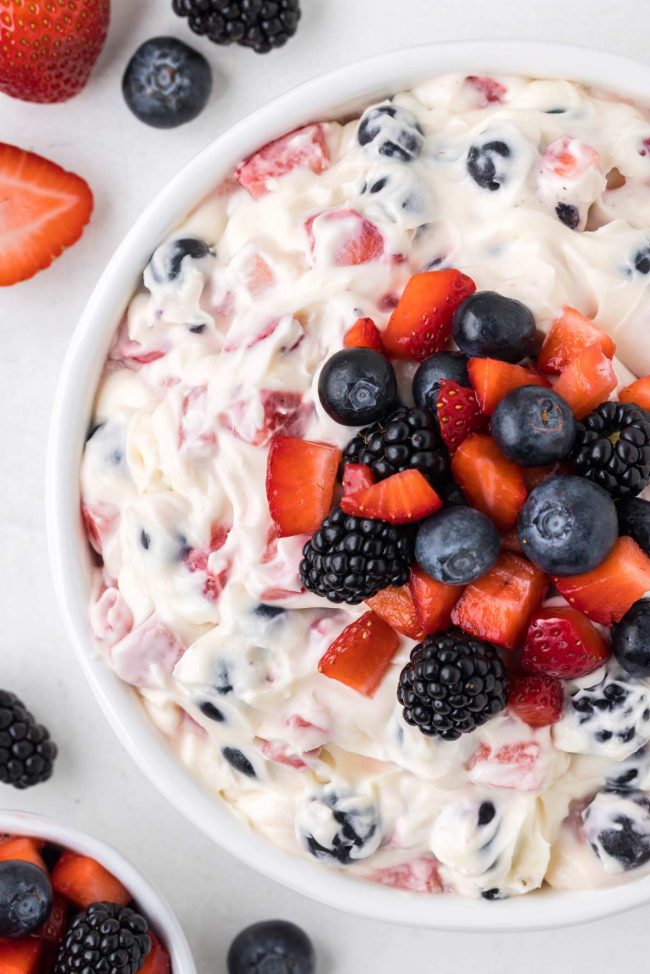 Don't have heavy cream?
Heavy cream contains 36-40% fat, and whipping cream has 30-36% fat.
This recipe calls for heavy cream, but you can use whipping cream. You just have to use a different method when making the filling.
With heavy cream, you mix together the cream cheese, sugar and vanilla until fluffy. Then you beat in the heavy cream until you have stiff peaks.
If using whipping cream, you should first whip the whipping cream until you have still peaks, and then in another bowl, beat together the cheesecake filling. Then you fold the whipped cream into the cheesecake filling.
This ensures that that salad is thick enough. It doesn't quite whip well enough if you use the same method as the heavy cream.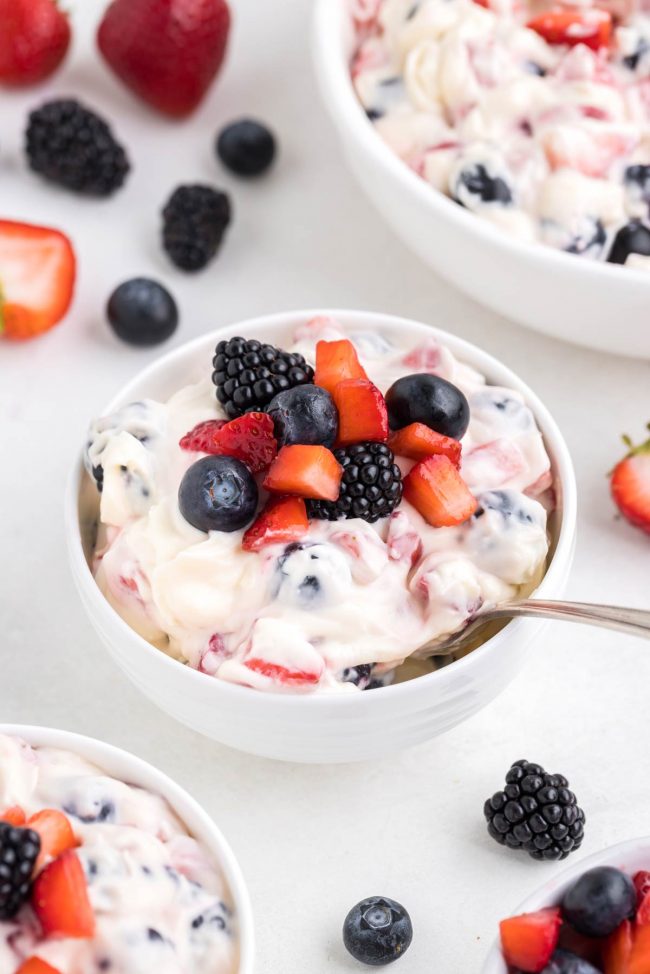 Yield
The cheesecake mix + fruit yields about 5 1/4 cups (1.25 liters), and then you've got a bit over a cup of fruit on top of the mixed up salad.
So that should help you decide what kind of serving dish to use.
How many servings that yields is up to the self-control of the people enjoying it. ;)/p>
How to make ahead
You can make the cheesecake filling up to 3 days in advance. Keep it refrigerated in an airtight container.
Then prepare the berries the day of serving and stir them into the cheesecake filling just before serving. The salad will keep for a few hours at room temperature.
If bringing it to a BBQ and it's hot outside, I would recommend keeping it in a cooler or at least in a shady spot and not in the full sun.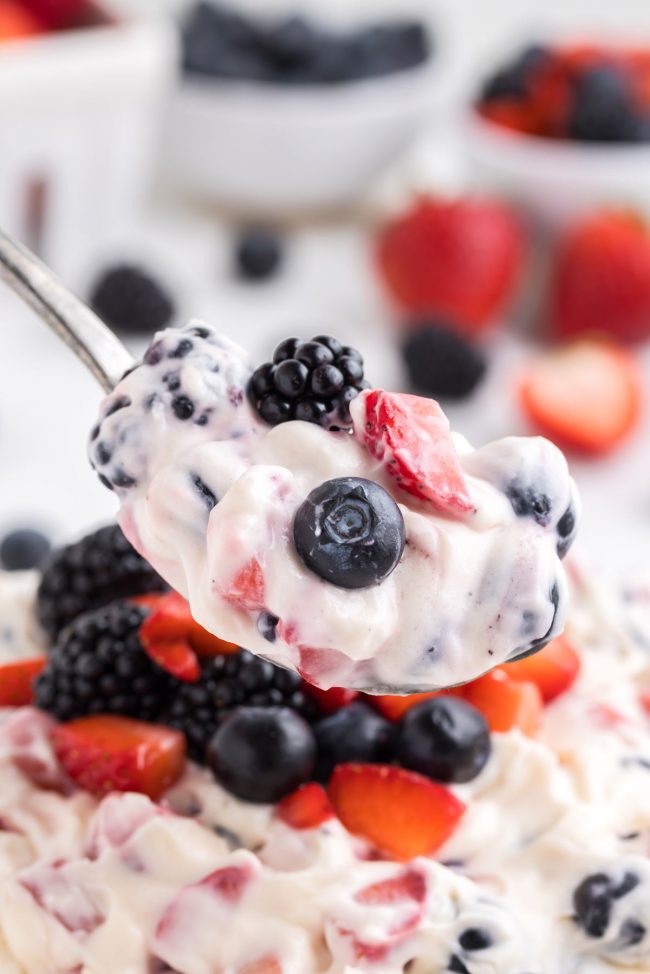 Can I use a different sugar?
Please do not try a liquid sweetener! It might be tasty, but the filling would be super runny and unappetizing.
I don't recommend a granulated sweetener. The filling would be grainy and in the case of something like coconut sugar, it wouldn't taste good in combination with berries.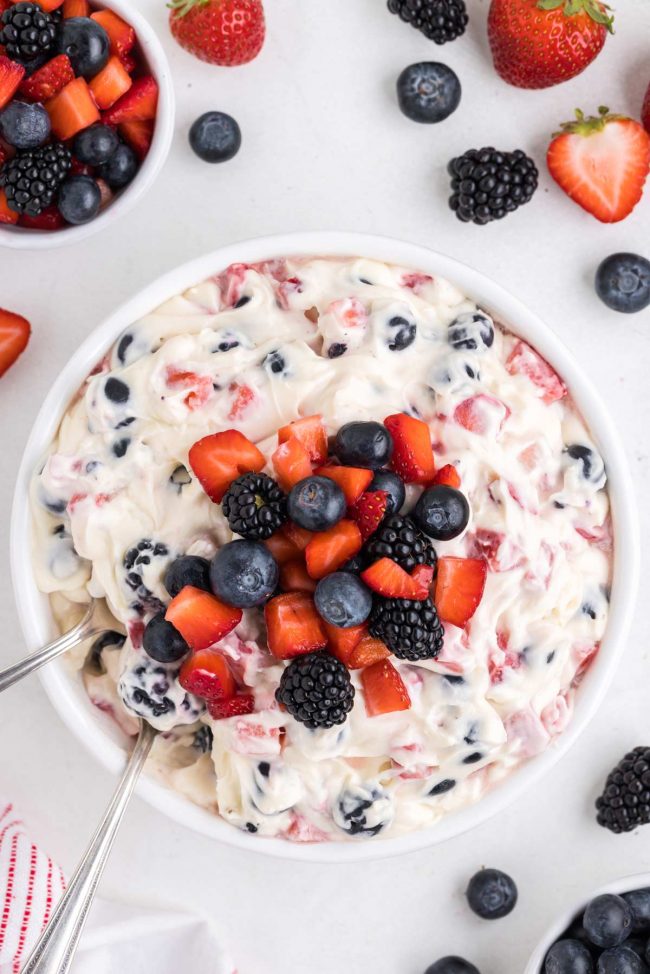 Keto version
Like I said in my keto cheesecake post, I'm not a fan of Lakanto, a type of keto sweetener that's based on erythritol and monk fruit. At all.
Except in cheesecake. Including this Keto Pumpkin Cheesecake!
I have no idea why, but it seems as though there's something about cream cheese that covers up the terrible aftertaste.
And it's the same with this cheesecake salad! Nobody could tell that the keto version was keto.
It's easy to make the filling keto by using Powdered Lakanto, but remember all the carbs in the fruit. You'll need to enjoy small servings of this cheesecake salad if you're counting carbs.
You might even want to just scoop the cheesecake salad into a bowl and top it off with a little bit of fruit.
Vegan version?
This recipe is full of dairy, so I'm afraid there's no vegan option. I don't use vegan cream cheese, so I don't know if you can just sub vegan cream cheese for the regular cream cheese.
I've also never been very successful with whipped coconut cream. I can never get it as airy and fluffy as it should be.
I'd love to hear your thoughts about this cheesecake salad if you make it! Please leave a comment below or share on social media and tag #texanerin so I can be sure to see it. Thank you! :)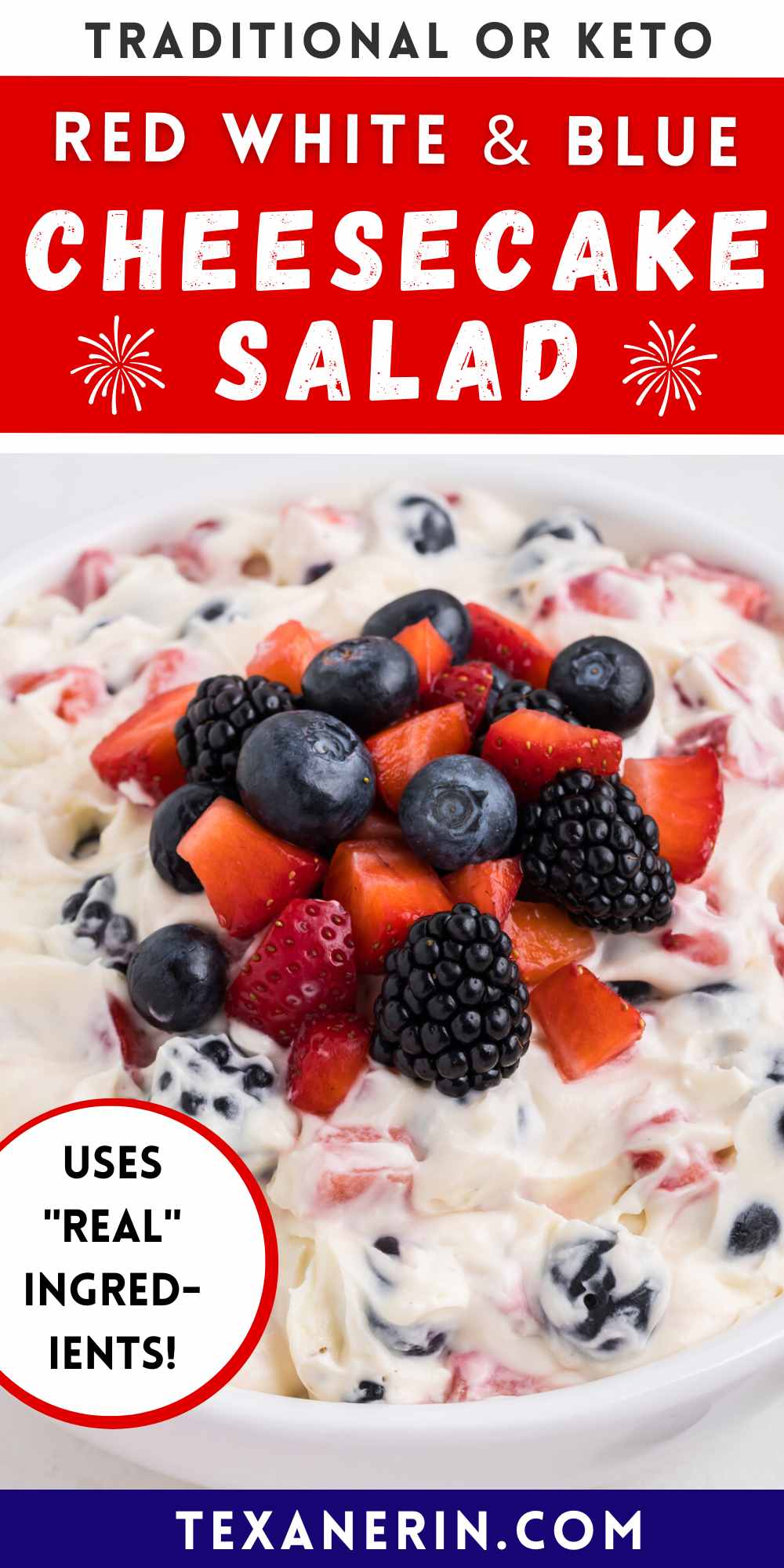 ❀
Red White and Blue Cheesecake Salad (traditional or keto)
Prep Time:
Cook Time:
Ready in:
Yield:

6 cups
Ingredients
8 ounces (225 grams) cream cheese, room temperature
1 1/4 cups (150 grams) powdered sugar or up to1 1 1/4 cups (150 grams) powdered Lakanto for keto
1 teaspoon vanilla extract
1/8 teaspoon salt
1 cup (240 ml) cold heavy cream2
1 pound (455 grams / 2.75 cups) fresh strawberries, cut into bite-sized pieces
12 ounces (340 grams / 2.3 cups) fresh blueberries
6 oz (170 grams / 1.2 cups) fresh blackberries
Directions
Place your hand mixer beaters and bowl in the fridge for 1 hour before making the frosting.
Also rinse and lay the berries out on paper towels so that they'll dry. Place some paper towels on top, as well, to really soak up any water. This will prevent the cheesecake mixture from getting runny.
In a large mixing bowl using an electric hand mixer at medium power, beat the cream cheese, sugar, vanilla and salt until totally combined.
While still mixing, now on low, gradually add the heavy cream.
Once it's well incorporated, turn the speed to high and beat until stiff peaks form - about 3 to 5 minutes.
Reserve 1/2 cup strawberries, 1/3 cup blueberries, and 1/4 cup blackberries for the top.
Very gently fold the remaining berries into the cheesecake mixture.
Transfer to a serving bowl and top with the reserved berries. Serve immediately.
You can make the cheesecake filling up to 3 days in advance. Keep it refrigerated in an airtight container. Then prepare the berries the day of serving and stir them into the cheesecake filling just before serving. The salad will keep for a few hours at room temperature.
Notes
For the keto version, start off with 3/4 cup (90 grams) powdered Lakanto, taste and add up to a total of 1 1/4 cups. I use the full amount, but not everyone will want it that sweet.
See post if you need to use whipping cream instead of heavy cream.