These red, white and blue bars have a super creamy cheesecake filling, a thick graham cracker crust and are topped off with blueberries and raspberries to create a US flag design, making these bars perfect for the 4th of July or Memorial Day. They can be made traditionally or gluten-free by using gluten-free graham crackers.
I've been blogging for 12 years and have yet to make anything for July 4th. When you have bad allergies and no air conditioning, meaning you have to open your windows for several hours every morning to make the indoor temperatures bearable, summer is kind of a miserable and unproductive time.
I don't want to contribute even further to the unpleasantness by turning on the oven and don't really feel like doing much of anything with food other than making frozen desserts.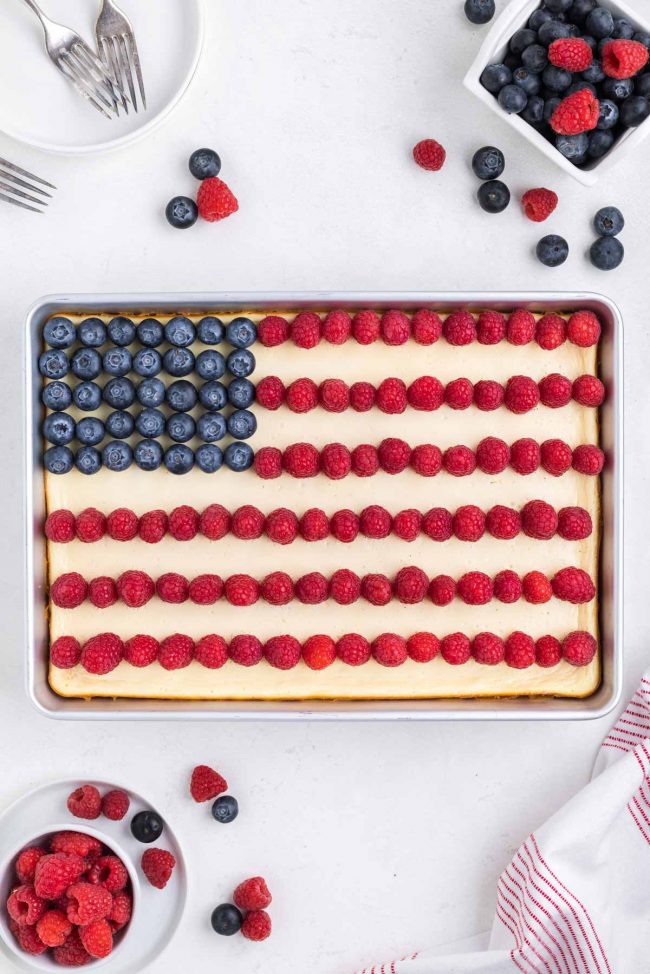 I do have my Ninja out on the balcony so I can bake smaller things in an 8″x8″ pan like these berry bars and cornbread, both of which would be great for the 4th of July.
But for recipes that require the regular-sized oven, I have to wait for a cooler day, bake late at night and then have the windows open all night to cool the place down. These bars were worth it. 😁
I first thought about making no-bake cheesecake bars but decided against that because they often turn to goo in the heat. Since so many people like to have picnics and BBQs for the 4th of July, here are some baked cheesecake bars that hold up well in the heat.
You still won't want to leave them outside all day. They are dairy-based, so you can't leave them out in the heat for more than a few hours.
By the way, I just posted these Memorial Day Cookies over on Easy Wholesome! They can be made with all-purpose, white whole wheat or King Arthur Flour Gluten-free Measure for Measure Flour.
They're super easy to decorate! You need absolutely zero decorating skills. :)
Ingredients
Just your basic cheesecake ingredients here.
For the crust
Graham crackers – if you don't have access to these, I talk about a sub using digestive biscuits below.


Brown sugar – you can use granulated sugar if you prefer, but brown sugar adds a bit more flavor and makes the crust a little bit chewier and less crumbly, which I think is a good thing.


Butter – I haven't tried these bars with coconut oil or anything else in place of the butter. I figured that the bars are already full of dairy, so it's best to go with butter, which will give the crust a better flavor than coconut oil.


Salt
For the cheesecake filling
Cream cheese – you need to use regular full-fat cream cheese if you want your bars to have the best texture. Reduced fat might work, but I'm not sure. Please do not use fat-free!


Granulated sugar – there's no sub for this unless you want to use a keto sweetener. There's more about that below.


Sour cream – this makes these cheesecake bars super creamy! I haven't tried Greek yogurt or anything else in its place, so I can't say what effect it'd have.


Eggs – egg subs won't work here.


Vanilla and salt
For the decoration
Fresh blueberries and raspberries – not frozen!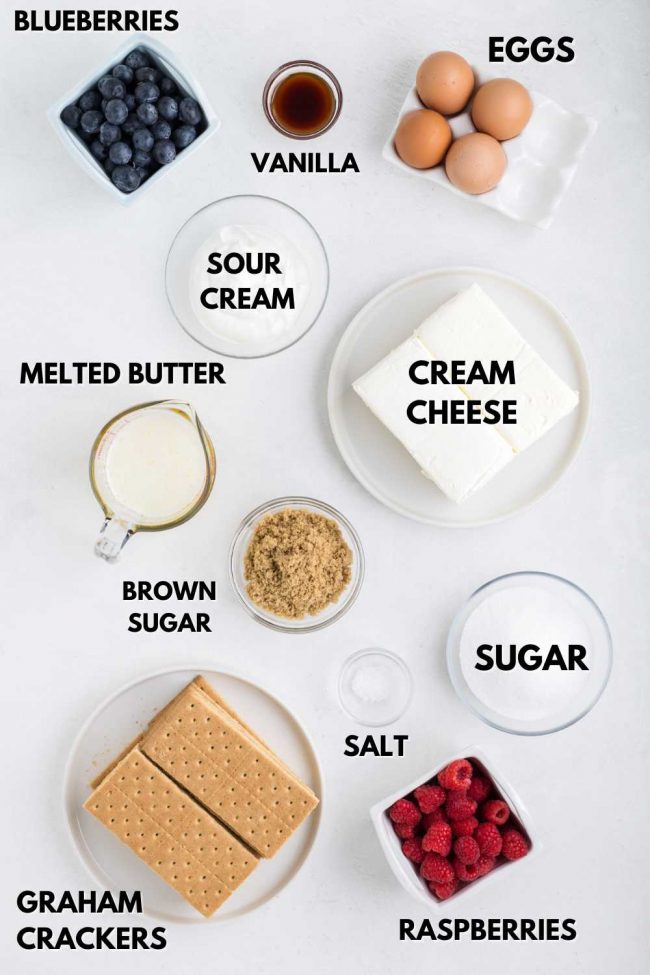 Graham cracker crust
You need 3 cups of graham cracker crumbs for the crust. That's 23 or 24 full sheets of graham crackers.
So you know how much to actually buy, you need 12.7 oz or 360 grams. A standard box of graham crackers is 14.4 oz, so you'll have about 2 sheets of graham crackers left over.
If you're in the UK, digestives are a good sub, but they're not a direct sub as the texture is different. You can scroll down here (or press Ctrl + F or ⌘ + F on Macs) to where it says, "Digestive Biscuit Crumb Crust Alternative."
She's upped the amount of crumbs and sugar to make up for the differences between graham crackers and digestives.
That recipe is for a pie pan, so you'll need to make 1.5x the recipe for today's recipe. That'll give you a crust using 3 cups of crumbs, just like my recipe.
And if you're in Germany, the Vollkornkeks from Leibniz are a great direct sub for graham crackers. No need to make adjustments like with digestives.
If you live outside of the US, be sure to keep reading for more tips about the ingredients needed for this recipe.
The filling
The filling of this recipe is adapted from my Keto Cheesecake – but I used regular sugar for these bars. To fill a 9″x13″ pan, which is needed for the US flag design, I upped the filling by a third. The cheesecake layer was too thin with the original amount of filling.
Also, don't be alarmed if you compare the two recipes. I intentionally didn't increase the amount of sour cream by a third, so what you see below is correct. :)
I love how creamy the bars are with the sour cream. If you don't like sour cream or just don't have any, you could make these Mini Cheesecakes, which are also red, white and blue. Greek yogurt might work in place of the sour cream, but I haven't tried it.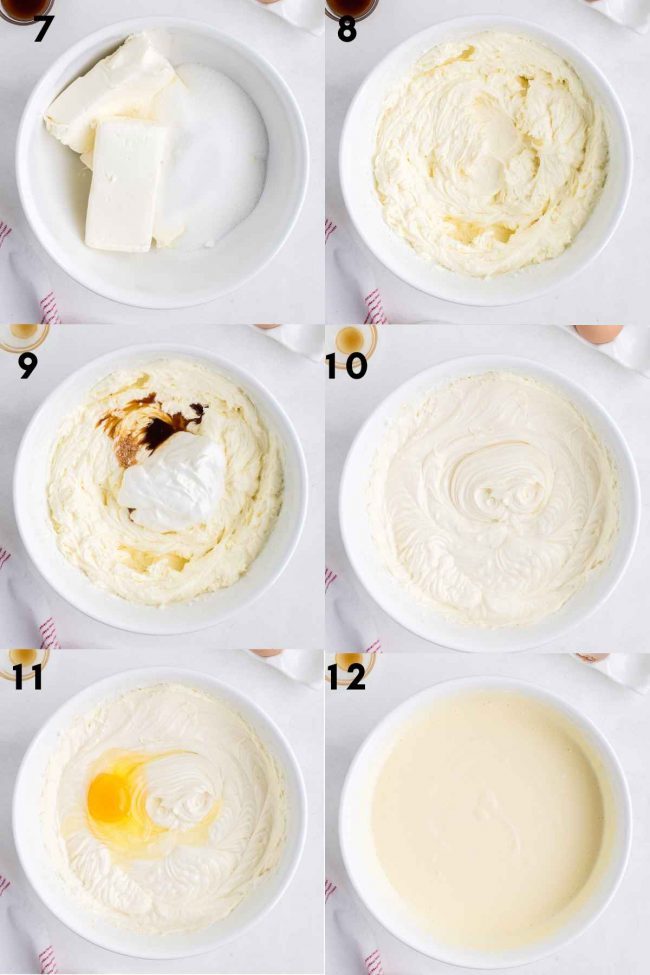 Gluten-free and grain-free version
All you have to do for gluten-free is use gluten-free graham crackers. Any brand will do.
I love these Honey Cinnamon Seed & Nut Flour Sweet Thins from Simple Mills. They're denser than graham crackers but still great for making crust. They're also grain-free!
The only problem is that they're extremely expensive. However, it seems like all groceries in the US cost a small fortune these days, so maybe they're not all that expensive compared to other graham crackers and cookies.
I read in one post about gluten-free graham crackers that they're not so great for baking. But I tried them out in this recipe and the result was perfect.
I used 360 grams, just like the recipe calls for. The volume might be different, so go by grams. I didn't need to make any adjustments.
You could also try using the shortbread crust in my Gluten-free Cheesecake Recipe.
I think you'd need to make 1.5x the recipe to fit the 9″x13″ pan.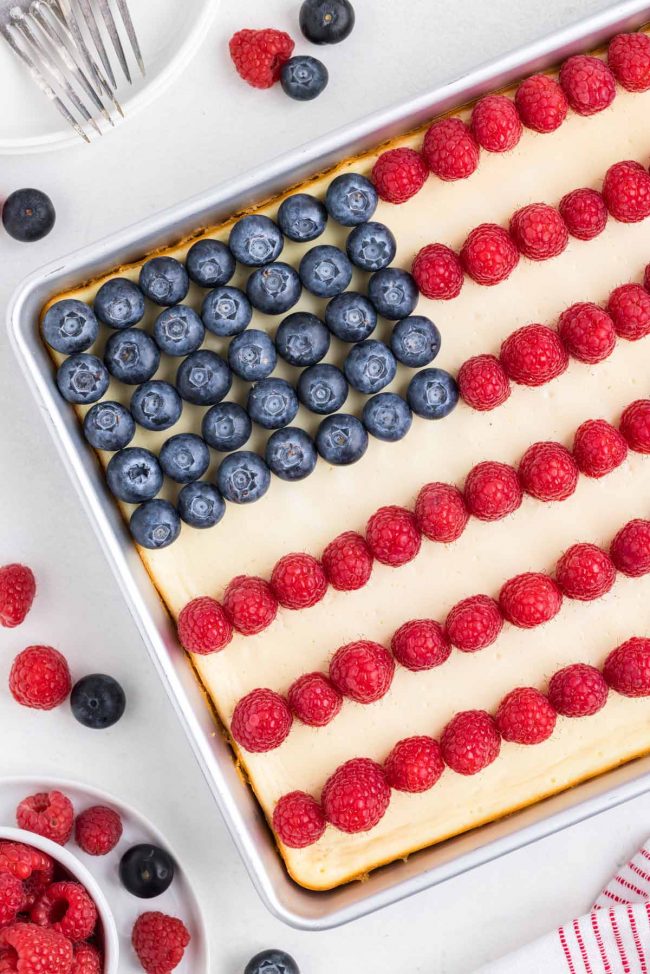 Keto version?
To make the filling keto, you just have to use one of the recommended sweeteners in my Keto Cheesecake recipe. Remember to increase it by a third!
There's no way to keto-fy the crust of today's recipe. It calls for graham cracker crumbs and brown sugar. But my keto cheesecake recipe has a crust similar to a graham cracker crust, so that'd actually be perfect for the flag bars.
I'd also up the crust recipe by a third to make sure you have enough to cover the bottom of the 9″x13″ pan.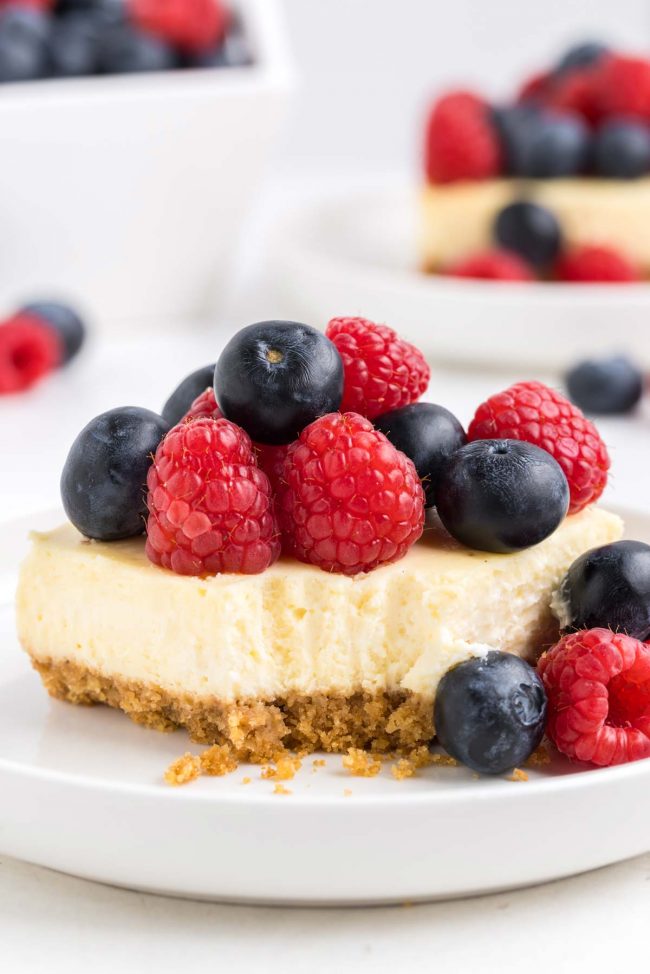 Can I make these vegan?
Unfortunately not. You'd need to find an already vegan recipe. I LOVE my Vegan Cheesecake Recipe, and think that'd work well. But you'd probably need to double the recipe for a 9″x13″ pan, which will honestly be painfully expensive.
And you'd also need to find a different crust recipe. I think something without cocoa powder would be better.
Can I make them eggless?
No, but you can try increasing this Eggless Cheesecake recipe by a third and baking it in a 9″x13″ pan. So instead of three 8-ounce packages of cream cheese, you'd use four packages.
I have no idea of the baking time and haven't tried it myself, but I think it would work.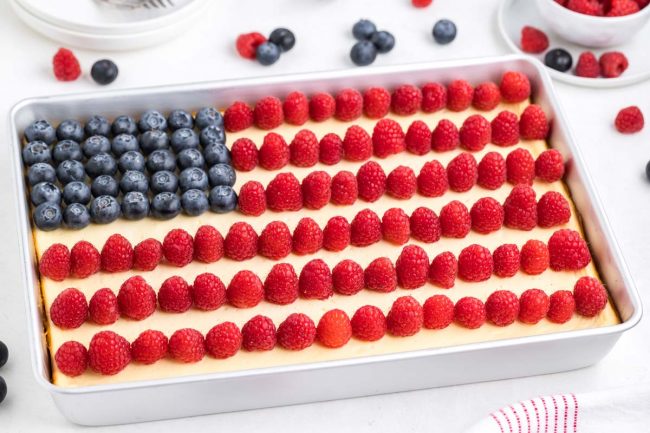 Can I use frozen berries?
I sure wish you could! It'd certainly make this recipe cheaper to make.
But you definitely can not. Not only would the bars be ugly with blobs of shriveled, defrosted berries, but the berries would bleed into the cheesecake and make it soggy.
Don't live in the US or Canada?
You can just keep scrolling if you live in the US or Canada! This recipe was tested multiple times with US ingredients by a few different people, so this section isn't relevant for you.
It was also tested several times with European ingredients. This is what I did.
Cream cheese
The filling was a little bit creamier with the US cream cheese than when using European Philadelphia brand (and every other brand of cream cheese). The cream cheese here (I live in Germany) is more watery and not as creamy as the brick-style cream cheese in the US.
So! For those of you living outside of the US or Canada and only have the type of cream cheese in little tubs which is meant to be spread on toast, this is what you need to do:
For every 8 ounces (225 grams) of cream cheese, buy a 300-gram package of cream cheese. The stuff at Lidl, Aldi, etc. works just as well as Philadelphia brand. Put the cream cheese in the center of a clean tea towel or cheesecloth, and squeeze out the liquid until you have 225 grams of cream cheese.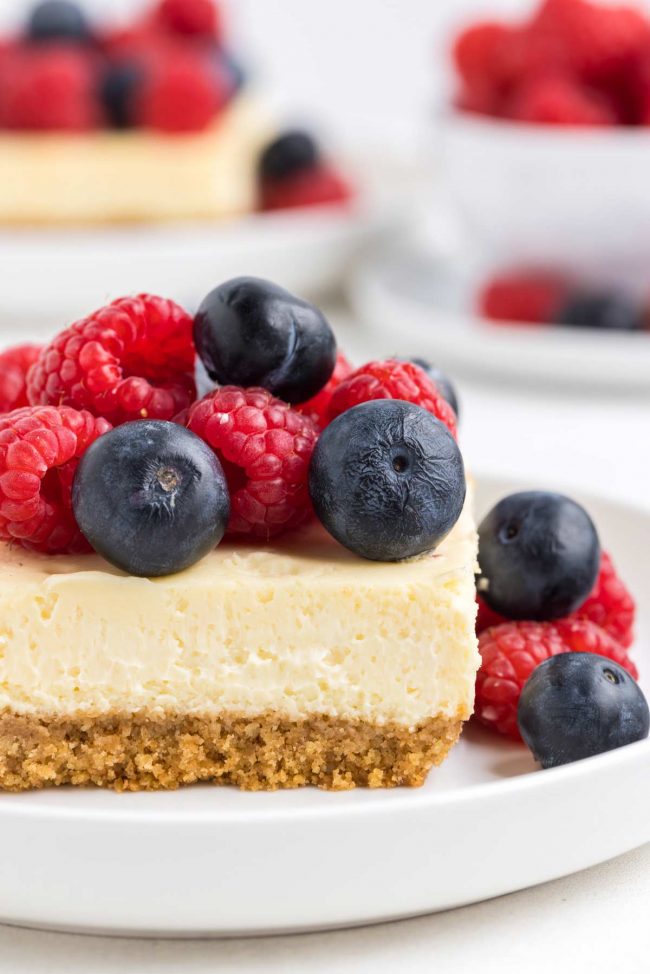 So for this recipe, you need to buy 1200 grams of cream cheese and squeeze out the liquid until you have 907 grams of cream cheese left. It's totally fine if it's a little more or less.
If you think this is dumb and couldn't be bothered to get rid of the excess liquid, which I realize is annoying, I wouldn't recommend this recipe. The baking time will be totally different and you're likely to over or underbake your cheesecake. I know this because I have done this several times and want to save you the trouble.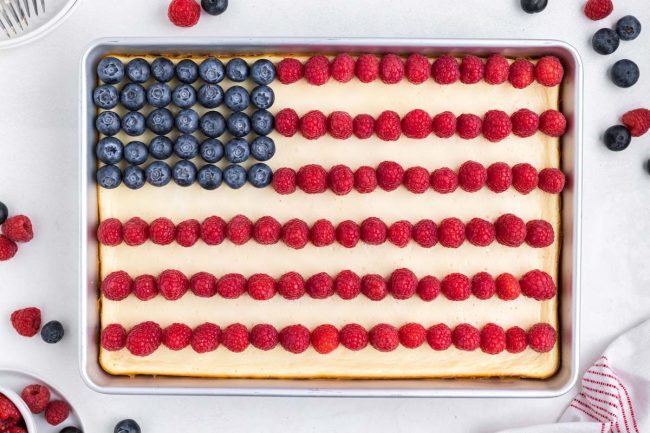 Butter
Using European butter with its 82% fat is often a disaster in crust recipes. It's the main reason why I rarely post pie recipes, cheesecakes and other recipes with baked butter-based crusts.
But you can use it in this recipe. If using European butter, use 156 grams of butter instead of 168 grams and add 12 grams of water. Some, or all of the 12 grams, can be vanilla extract.
I hope you'll enjoy these US flag cheesecake bars! If you try them out, I'd love to hear in the comments how they came out. Thanks!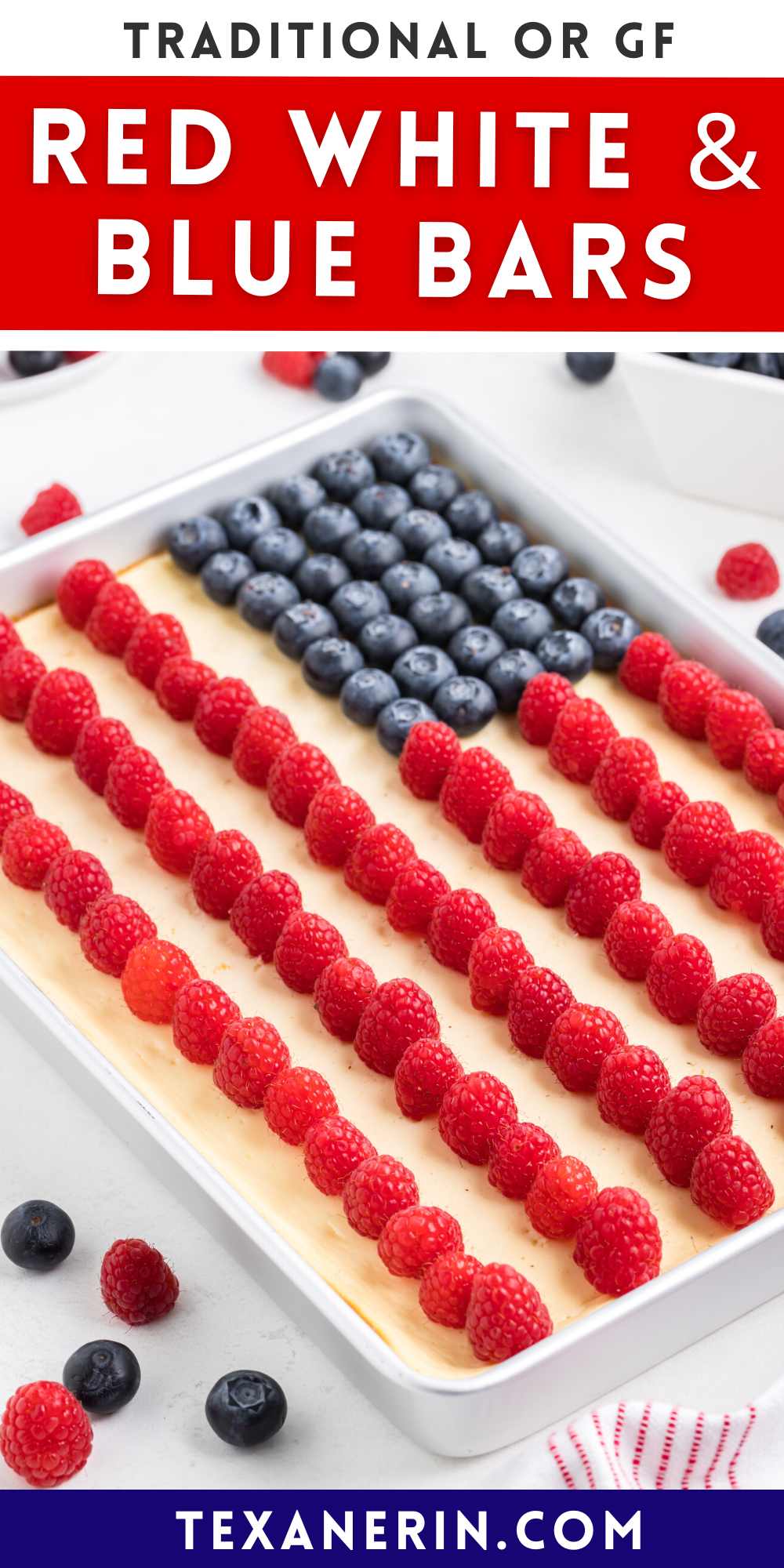 ❀
Red White and Blue Bars (traditional or gluten-free)
Prep Time:
Cook Time:
Ready in:
Yield:

20 bars
Ingredients
Crust:

12.7 oz (360 grams) graham crackers (23-24 sheets of graham crackers, this will give you 3 cups of crumbs)1
1/3 cup (67 grams) brown sugar
pinch of salt
3/4 cup (168 grams) unsalted butter, melted2

Filling:

32 ounces full-fat cream cheese (907 grams), room temperature3
1 cup (200 grams) granulated sugar
1 tablespoon vanilla extract
1/8 teaspoon salt
3/4 cup (173 grams) sour cream, room temperature
4 large (50 grams each, out of shell) eggs, room temperature

Decoration:

18 oz (510 grams) fresh raspberries
1 1/4 cups (6 oz / 170 grams) fresh blueberries4
Directions
Prepare the crust:

Preheat the oven to 325 °F (167 °C) and lightly grease a 9"x13" pan.
Place the graham crackers in a food processor fitted with an S-blade and process until you have uniform fine crumbs.
Transfer to a mixing bowl and stir in the brown sugar and salt until combined.
Stir in the butter until well combined.
Pat evenly onto the bottom of the prepared pan.
Bake for 10 minutes and then remove to a wire rack to cool for at least 10 minutes while preparing the filling.

Prepare the filling:

In a large mixing bowl using an electric hand mixer, beat together the cream cheese and sugar until fluffy.
Add the vanilla, salt and sour cream and beat on low until combined.
Add in the eggs, one by one, until combined. Be sure not to overmix.
Pour this into the crust, which has cooled for at least 10 minutes.
Bake at 325 °F (167 °C) for 37-45 minutes or until the middle appears set.
Remove from the oven, place on a wire rack, and let come to room temperature, about 2 hours, before chilling for 8+ hours. You can make the cheesecake portion up to 4 days in advance (and cover and refrigerate), but I'd recommend making the bars the day before serving so they're as fresh as possible.

Decorate:

Rinse and lay the berries out flat on a paper towel to dry. Pat them dry with more paper towel before decorating the bars.
Use the blueberries to create a US flag design on top of the bars. In the upper left corner, make a 7x5 section of blueberries for the "stars." For the raspberries, I recommend using a knife to very gently mark straight lines into the bars that will guide you where to put your raspberries.
If you have leftovers, it's best to remove the fruit if storing for more than 1 day to prevent it from getting soggy/moldy.
Undecorated cheesecake bars can be refrigerated in an airtight container for up to 4 days.
Notes
If you're gluten-free, use gluten-free graham crackers. I tested this recipe with Honey Cinnamon Seed & Nut Flour Sweet Thins from Simple Mills (using 360 grams) and they came out great. Regular gluten-free graham crackers also work.
If using European butter, use 156 grams of butter instead of 168 grams and add 12 grams of water. Some, or all of the 12 grams, can be vanilla extract.
If you live outside of the US or Canada, you need to drain some of the whey from the cream cheese so your bars bake up properly. The stuff at Lidl, Aldi, etc. works just as well as Philadelphia brand. You need to buy 1200 grams of cream cheese and squeeze out the liquid until you have 907 grams of cream cheese left. It's totally fine if it's a little more or less.
You need 35 blueberries. The amount called for in the recipe will give you enough so that you have some choice to choose similarly-sized blueberries.