These moist chocolate football cupcakes have a simple chocolate fudge frosting, naturally dyed green coconut grass and a chocolate peanut butter football truffle on top! Can be made 100% whole wheat or with all-purpose flour.
Football season has arrived! Whether or not you enjoy watching football, I think we can all agree that tailgating food is fun. I'm excited to be teaming up with Silk today to bring you these chocolate football cupcakes. The challenge was to create a dairy-free and meat-free dish for #MeatlessMondayNight. Most of what I bake happens to be dairy-free due to me using coconut oil rather than butter a majority of the time, so I thought I'd take it one step further and try making some vegan cupcakes. If you're like me and have been disappointed by vegan baked goods in the past, don't go running yet! Hear me out.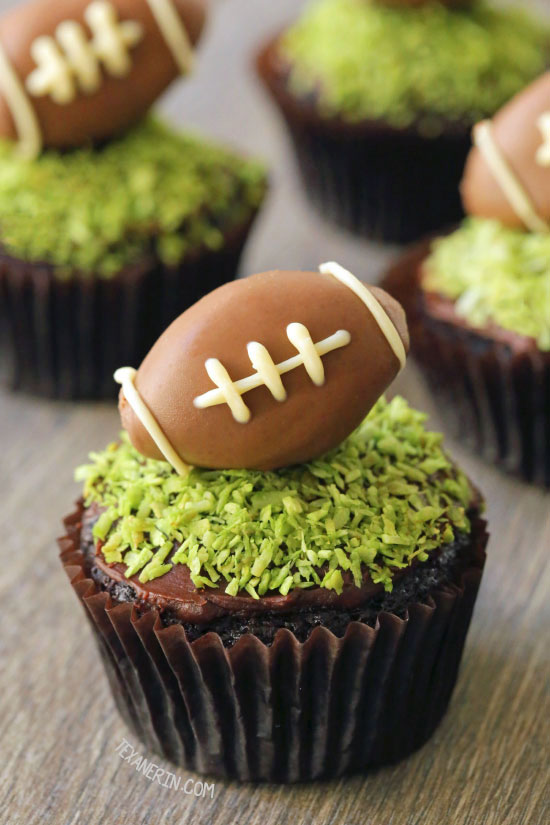 I've tried several vegan chocolate cupcake recipes and was never impressed – probably because I didn't have the right recipe! These cupcakes, though? They've replaced my favorites. You won't miss the eggs at all. The recipe is similar to wacky cake, which uses a little vinegar (that you absolutely can't taste!) in place of the eggs. To replace the dairy milk, I used Silk's unsweetened almond milk. While that milk has a delicious almond flavor, you can't taste it in the cupcakes. It's all chocolaty goodness!
I used almond milk in the chocolate fudge frosting, too. I thought for sure you'd be able to taste a hint of almonds in there, but you can't. The frosting reminds me of canned frosting – but this one is really so much better. It's got the same consistency, too. I didn't try it but I'm pretty sure it can even be piped! It's firm enough and it holds it's shape well at room temperature. And the best part is that it requires just a few simple and pronounceable ingredients!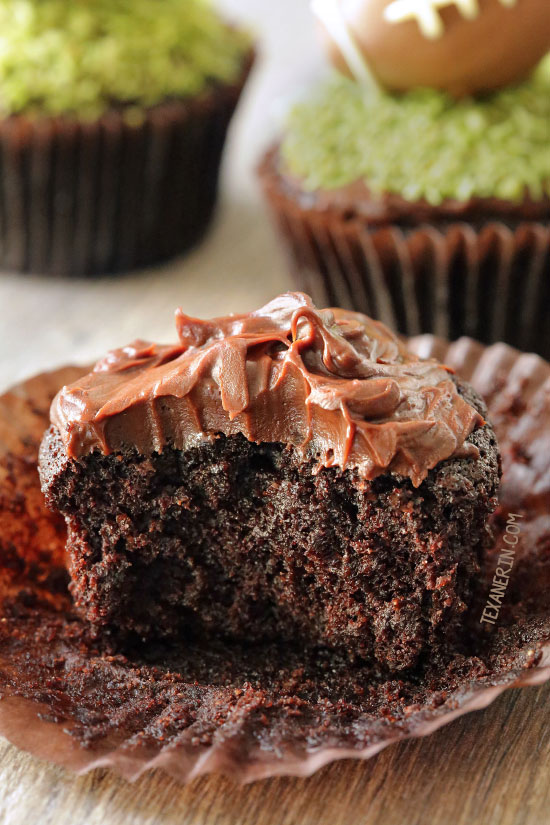 For the green grass, I used this recipe: how to naturally dye shredded coconut green. I had previously tried using homemade green food coloring I made by simmering spinach for 20 minutes. That stuff didn't work at all! Kale worked perfectly. When you eat the coconut plain, you can detect a very slight vegetable taste. Put it on these cupcakes and you can't tell at all! If it sounds like too much of a hassle to make your own food coloring, here's how you can use regular food coloring to dye coconut green.
I used the chocolate peanut butter football truffles I posted the other day on top. You can lay them flat or use a toothpick to prop them up! Once assembled, I'd keep them at room temperature. The cupcakes are dense when refrigerated but at room temperature, they're perfectly fudgy and moist. If you want to refrigerate them, give them an hour or two to come to room temperature before serving! And do yourself a favor and eat one of these cupcakes straight out of the oven when they're truly almost too good to handle.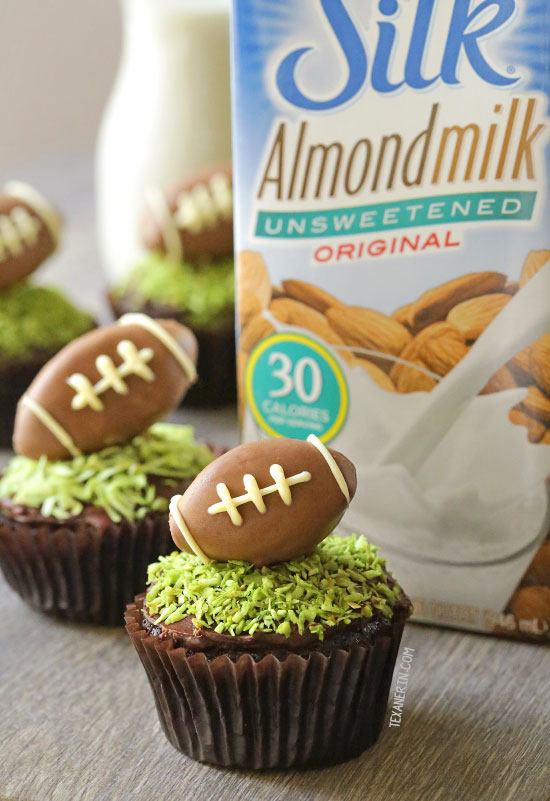 Even if you're not vegetarian, vegan or dairy-free, adopting a more plant-based diet just one day a week can be beneficial for both you and the planet. So why not start by sidelining meat during Monday Night Football games this season? I hope you'll join me in taking the #MeatlessMondayNight challenge to help spark real change!
Be sure to check out Silk's Sideline Meat website for more great meat- and dairy-free recipe ideas and to enter their giveaway! If you don't already know where you can buy Silk in your area, here's a handy store locator.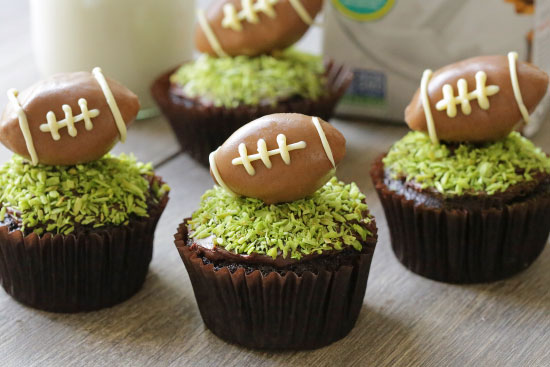 ❀
Chocolate Football Cupcakes (vegan, dairy-free, 100% whole grain)
Prep Time:
Cook Time:
Ready in:
Yield:

16 cupcakes
Ingredients
For the cupcakes:

1 1/2 cups (355 milliliters) Silk unsweetened original almond milk
1 1/2 teaspoons white vinegar
1/2 cup (113 grams) melted coconut oil or another oil of choice1
2/3 cup (133 grams) brown sugar or coconut sugar
1/2 cup (100 grams) granulated sugar or raw sugar
2 teaspoons vanilla extract
1 teaspoon espresso powder2
1 1/2 cups (188 grams) whole wheat flour, white whole wheat flour or all-purpose flour for a non-whole grain version
1/2 cup (58 grams) cocoa powder (I prefer the dark taste of Dutch-process cocoa powder)
1 1/4 teaspoons baking soda
3/4 teaspoon baking powder
1/2 teaspoon salt

For the frosting (this yields 1 cup of frosting):

1 cup (170 grams) semi-sweet chocolate chips3
1/4 cup (60 milliliters) Silk unsweetened original almond milk
1/4 cup (56 grams) coconut oil (or butter for a non-vegan / dairy-free version)1
1 teaspoon vanilla extract
1/3 cup (40 grams) powdered sugar, sifted if lumpy4
pinch of salt

For decorating:

1/2 cup naturally dyed shredded coconut
Directions
For the cupcakes:

Preheat the oven to 350 °F (175 °C) and line two muffin pans with a total of 16 cupcake liners.
In a large mixing bowl, stir together the almond milk and vinegar. Let sit for 5 minutes. Then stir in the melted coconut oil, brown sugar, granulated sugar, vanilla extract and espresso powder.
In a medium mixing bowl, stir together the flour, cocoa powder, baking soda, baking powder and salt. Add this to the wet mixture and stir just until combined.
Fill the liners slightly more than half-way full and bake for 16-18 minutes or until a toothpick inserted in the middle comes out clean or with some moist crumbs (not raw batter). Let cool for 5 minutes and then turn out onto a wire rack to cool completely.

For the frosting:

In a small saucepan over medium-low heat, mix together the chocolate chips, almond milk, coconut oil, and vanilla extract. Stir until melted and then gradually whisk in the powdered sugar until completely smooth. Let the pan cool for about 15 minutes (or until cool enough to place in the refrigerator) and then place the pan in the refrigerator for about 10-20 minutes, stirring after every 5 minutes, or until firm enough to spread on the cupcakes. Spread 1 tablespoon of frosting on top of each cupcake.

For decorating:

Sprinkle about 1 1/2 teaspoons of coconut grass over the frosting. Stick a toothpick in the football truffle and place on the cupcake. Can be kept at room temperature for about 4-6 hours. Then place in the refrigerator. Let come to room temperature (about 1-2 hours) before serving.
Notes
I prefer refined coconut oil, which doesn't have any coconut taste. If you use unrefined coconut oil, there may be some coconut flavor in these cupcakes and the frosting.
This just enhances the chocolate flavor. You can't taste any coffee in the cupcakes.
Use dairy-free / vegan chocolate chips, if necessary.
Use certified vegan powdered sugar, if necessary.
This conversation is sponsored by Silk. The opinions and text are all mine.