These vegan date brownies are no-bake, healthy, and are topped off with an optional avocado-based chocolate frosting. They're also grain-free and date-sweetened, making them paleo, too.
The Heart-shaped Chocolate Chip Cookies I posted earlier this week are great for Valentine's Day, but they're not at all healthy. So here's a healthier choice!
If you use a heart-shaped cookie cutter, you've got some nice vegan Valentine's Day treats.
For today's no-bake recipe, you just toss everything into a food processor and process until it sticks together. And the frosting is also made in the food processor.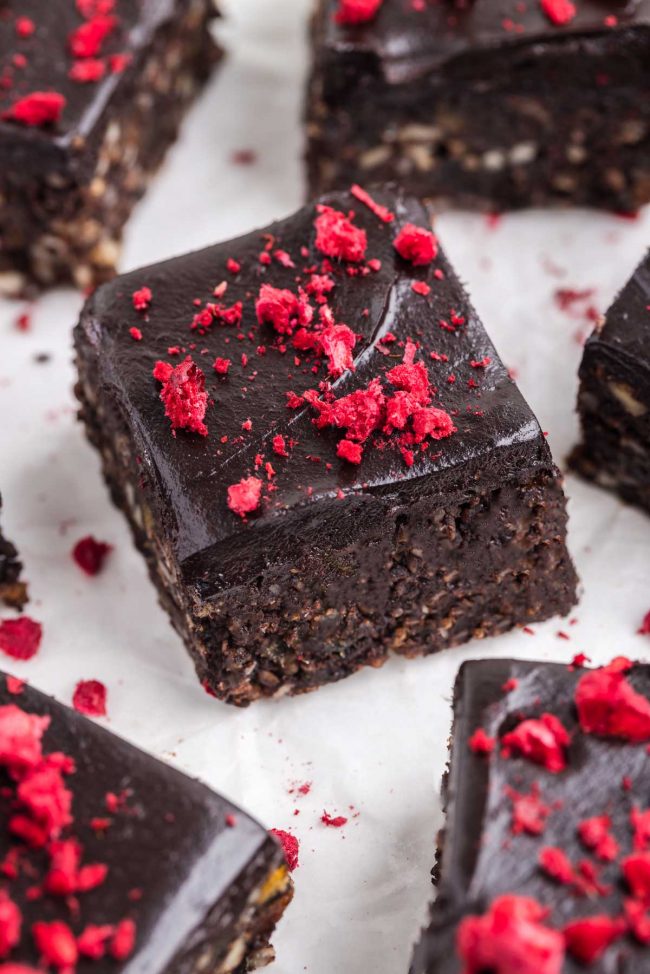 Ingredients
This is what you need for the brownies and the frosting. If you don't want to make the frosting, then you don't need the maple syrup, avocado or coconut oil.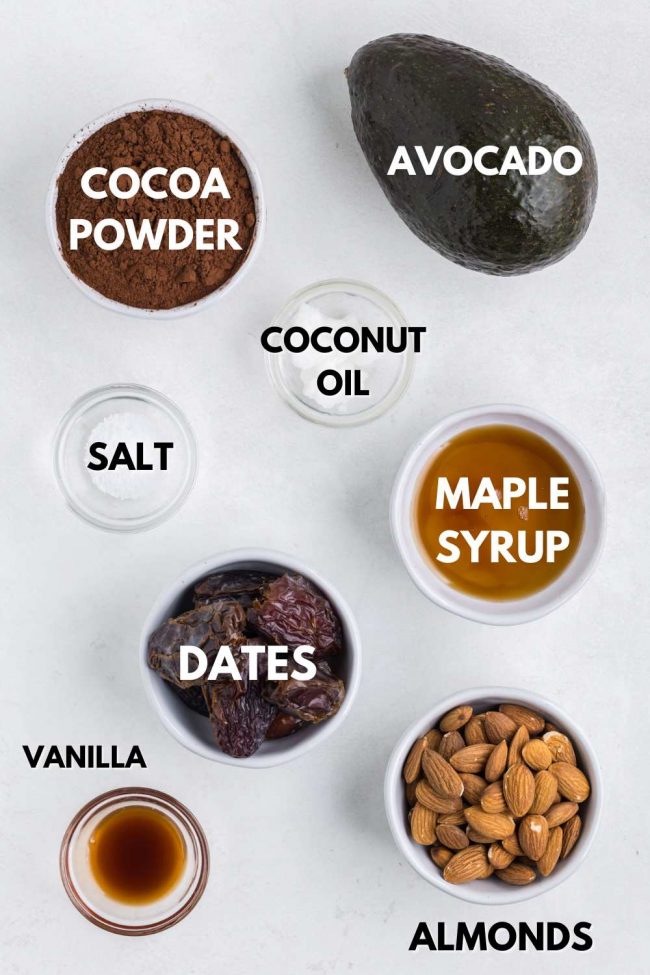 Do I have to use almonds?
A lot of people use walnuts in their no-bake brownies. I tried out today's recipe with walnuts, but I thought the flavor and texture was better with almonds.
If you want to use walnuts, I would suggest soaking and dehydrating them first. That would help with both the taste and texture! You can find out how to do that here → Walnut Butter Recipe.
I've also made these brownies with hazelnuts, and that's super tasty. I think roasted and salted cashews would also be great.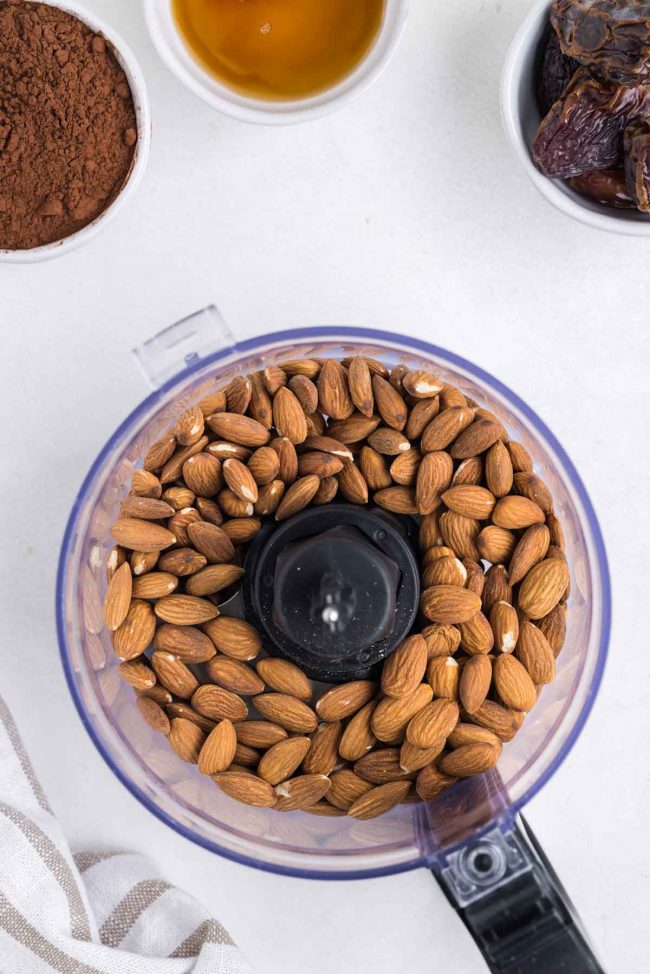 Can I just use almond flour or almond meal instead?
I thought that this would be a great way to use up some expiring almond flour I had, but the result was brownies that were dry and crumbly.
You might be able to get away with just using a smaller amount. So instead of 248 grams of almonds, start off with half of that, and keep adding more until you've got the right texture.
It's just a guess, though! It might not work.
So I would highly recommend using whole almonds (or other nuts) when making this recipe.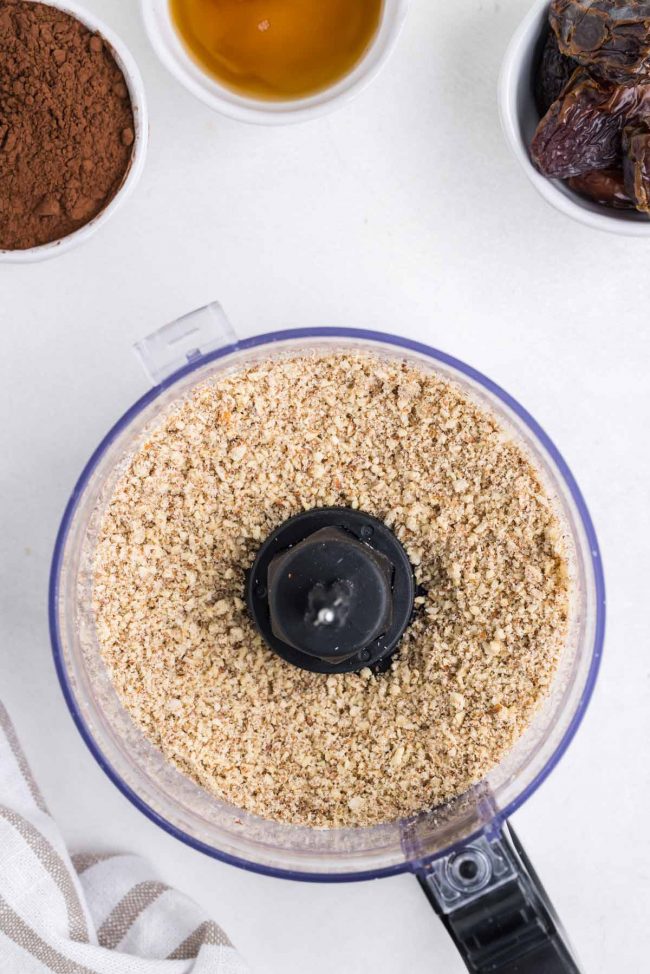 Do they taste like brownies?
Not exactly. No no-bake brownie recipe is going to taste just like brownies.
But they're close! If you want real brownies, these Paleo Vegan Brownies have an amazing texture.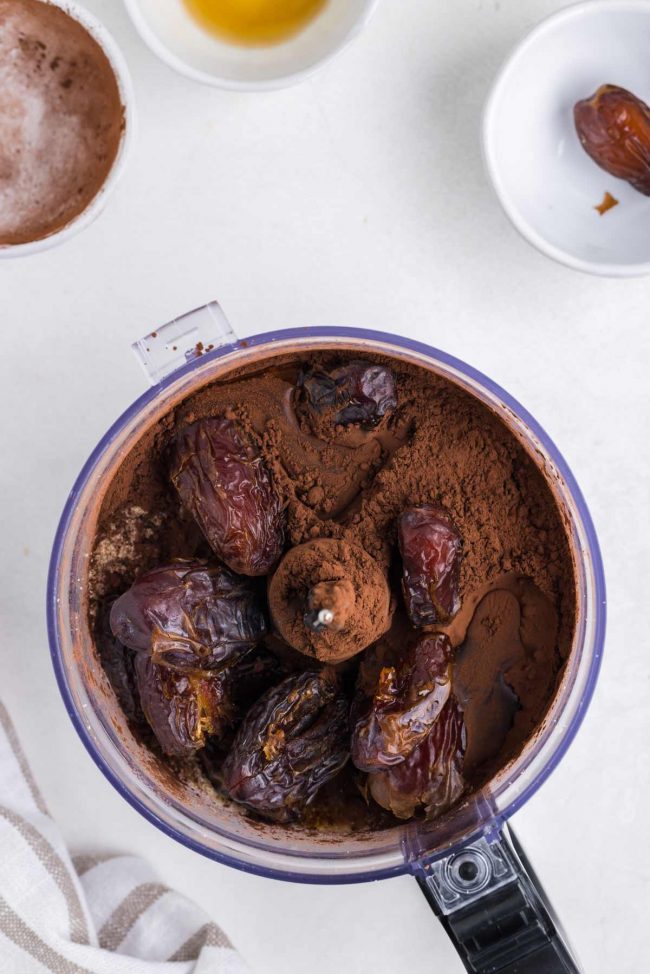 They're almond flour-based and sweetened with coconut sugar, so they're also paleo.
And this Vegan Mug Brownie is super gooey and ready in just a few minutes.
That can also be made gluten-free.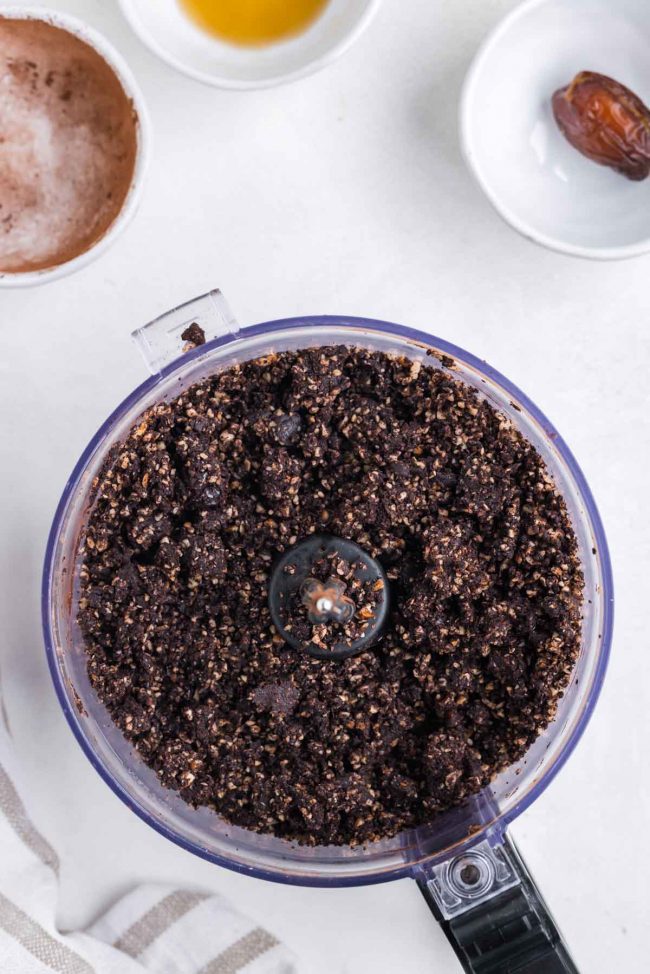 Do I need a food processor?
I usually use the Twister jar of my Blendtec for everything. It's a smaller jar that's meant for making nut butter and other thick foods like hummus.
But in recipes where you need nuts processed in a fairly uniform way, I find food processors to be much better.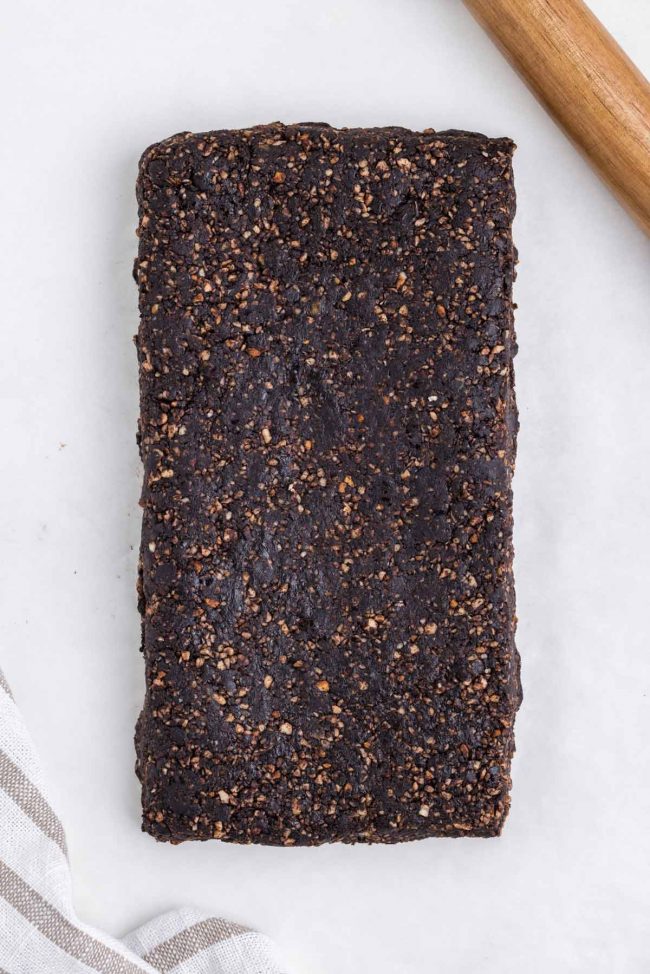 If you only have a high-speed blender, you can still make these brownies, but you'll have to stop often to push the mixture down the sides of the blender jar. I think it'd be a pretty annoying process.
You do either need a food processor or a high-speed blender to make these brownies. It's impossible to get the dates chopped up finely enough without one.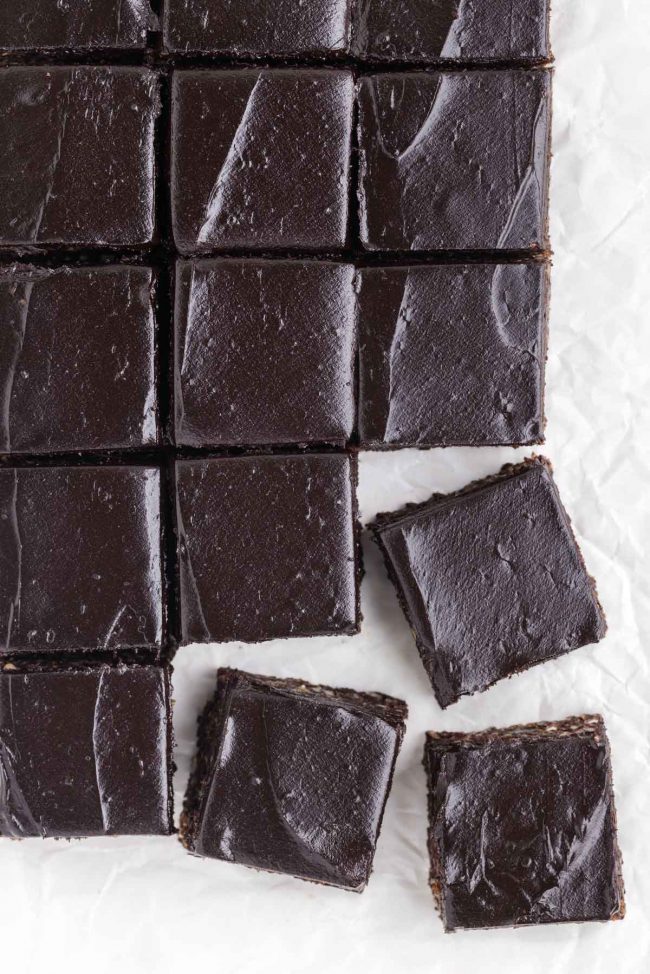 What kind of food processor to use
I use a 14-cup 1000-watt food processor, and it can easily handle this recipe.
My photographer used a 7-cup 250-watt Kitchenaid processor and had issues with it. I think that it was too much volume for that size of the food processor.
It might be better to make this recipe in two batches if you have a smaller food processor. And you might also want to cut up the dates into chunks before tossing them into the bowl.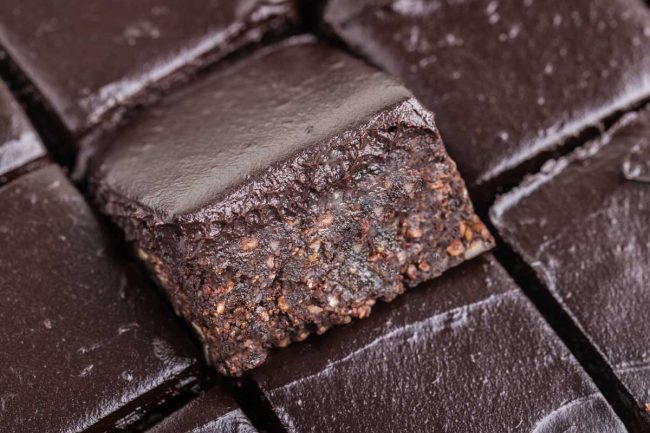 Frosting
The brownies are great on their own, but if you want to make them extra fancy, then you can toss on some healthy frosting.
I used my Chocolate Avocado Frosting to keep these brownies completely refined sugar-free, but you could use melted chocolate, if you prefer.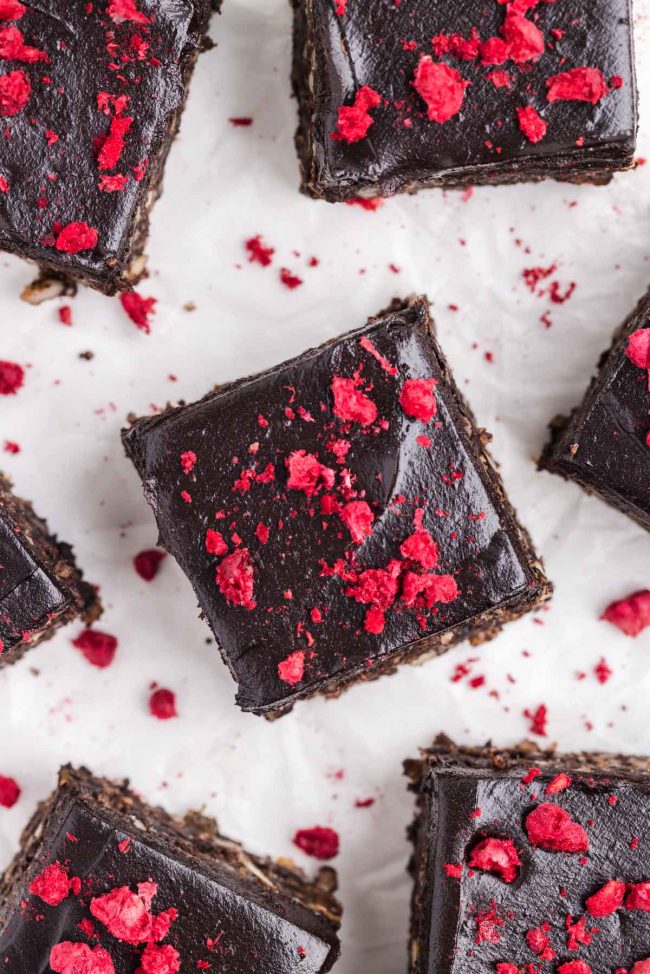 Does the frosting taste like avocado?
Nope! As long as you follow the directions and don't make any changes at all to the recipe, it tastes like regular chocolate frosting.
You can start to taste it on the second day, though. What you could do is cut them into squares and immediately freeze what you won't be eating up quickly.
They freeze great!
Also make sure to weigh the avocado. I wrote 1/2 avocado, which is about 78 grams. If you use too much avocado, your frosting won't be as tasty as it should be.
If you use too little, then your frosting will be too sweet and too runny.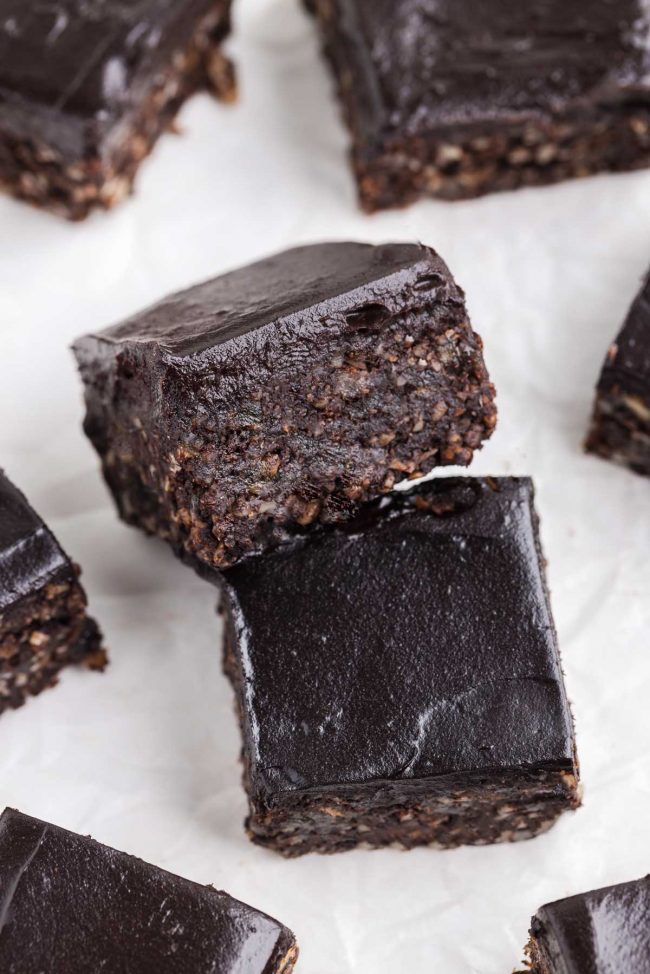 Other Valentines Day treats
I hope you'll enjoy these vegan dates brownies! If you make this recipe, I'd love to see photos. Please hashtag them #texanerin so I can find them. :) Thanks!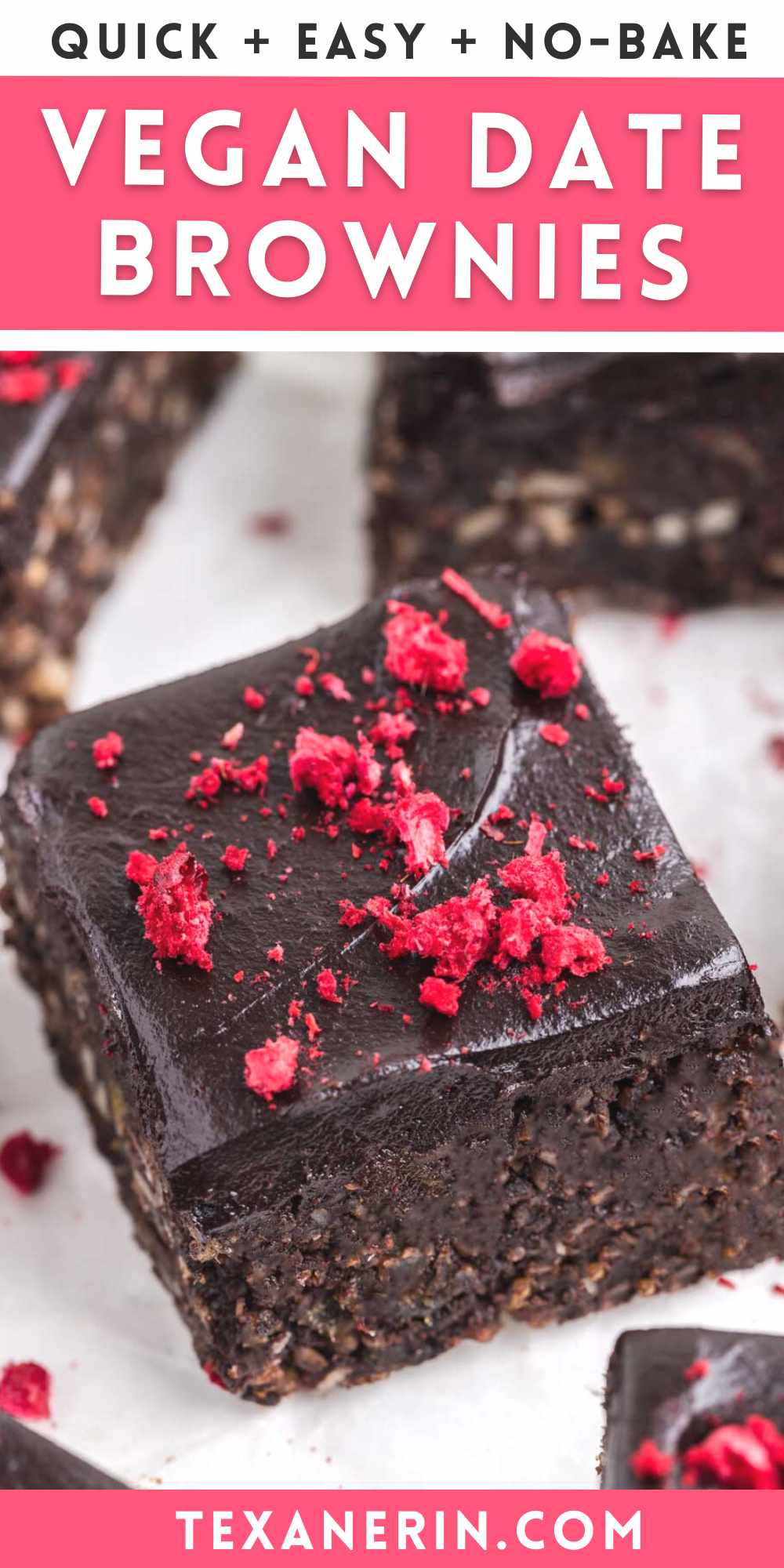 ❀
Vegan Date Brownies
Prep Time:
Cook Time:
Ready in:
Yield:

15 small brownies
Ingredients
Brownies:

2 1/4 cups (248 grams) raw almonds
3/4 cup (180 grams) pitted dates
1/2 cup (58 grams) Dutch-process cocoa powder
3 tablespoons pure maple syrup
1 teaspoon vanilla extract
1/8 teaspoon salt

Frosting:

1/2 avocado (78 grams)
5 tablespoons (36 grams) Dutch-process cocoa powder
5 tablespoons pure maple syrup, divided
1/2 teaspoon vanilla extract
1/8 teaspoon salt
1 tablespoon (14 grams) refined coconut oil
Directions
Brownies directions:

In a food processor fitted with an S-blade, process the almonds until nicely ground. It won't be as finely ground as store-bought almond meal, but a little coarser. Don't process too long or you'll have almond butter.
Add the dates, cocoa powder, maple syrup, vanilla and salt and process until a sticky dough forms. It should clump together easily when you press it together. If it doesn't, add a bit more water or vanilla.
Place the dough between two Silpats or pieces of parchment paper and roll out to about 3/4 of an inch thick.
Unfrosted brownies can be kept in an airtight container at room temperature for up to a week, refrigerated for 2-3 weeks, and frozen for up to 3 months.

Frosting:

Put all the ingredients (using ¼ cup maple syrup) in a high-speed blender (or a small food processor) and blend until smooth. Taste and add up to another tablespoon of maple syrup (I always do).
The frosting yields 1 cup + 1/2 tablespoon. Spread the frosting over the brownies.
The frosting will harden in the fridge but you can still cut it once it's on the brownies. It will be too firm to spread once cold, so just gently reheat it if you need to spread it after it's been chilled.
It's best used on the day of making but can also be refrigerated in an airtight container for up to 2 days. The longer it sits, the more avocady it gets (it doesn't taste at all like avocado when you first make it). I only notice it after about 1-2 days. It freezes great so you can frost all your brownies and freeze what you don't want to eat right away.