This white chocolate strawberry cheesecake mousse is creamy, egg-free, and can be made with other berries, if desired! For a decadent treat, serve in white chocolate cups.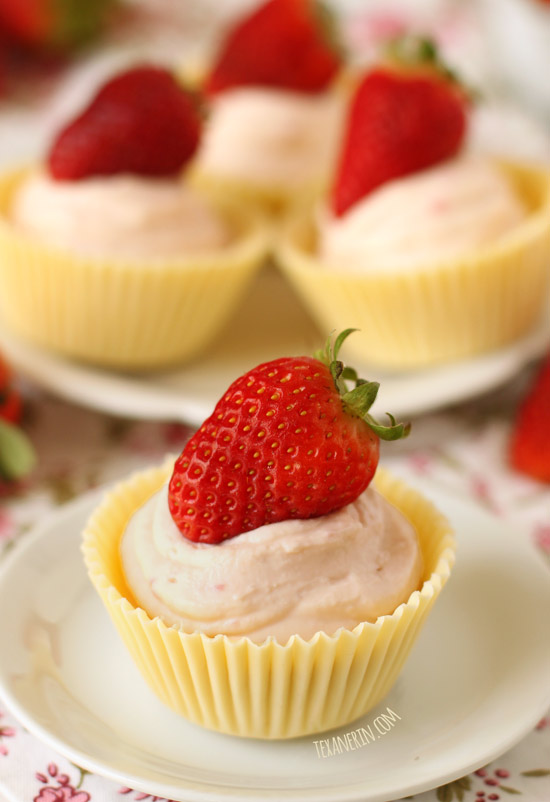 Today a group of bloggers has gotten together to throw Georgia of The Comfort of Cooking a surprise virtual baby shower! I was lucky enough to meet Georgia in Austin last year at the food blogging conference, BlogHer Food. She was just as sweet in person as she is online! She's due with her first baby (a girl!) in only a few weeks and we're all so excited for her and her husband! How could we not celebrate?
The mousse is the easiest thing ever to put together. It probably doesn't even qualify as mousse but that's what I'm going with. ;) You melt white chocolate and stir in cream cheese, Greek yogurt, vanilla and a few strawberries. Done!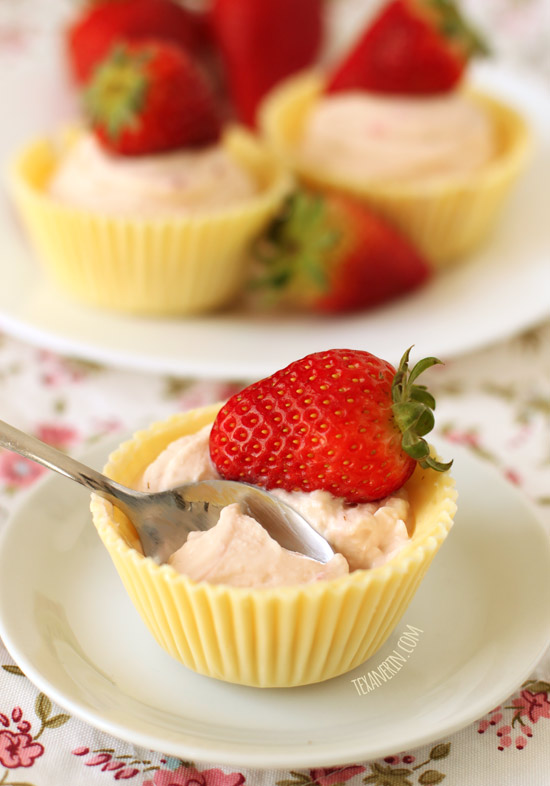 The strawberry flavor isn't super intense so if you want it to be, add more. Be prepared that the mousse might be a little more runny then, but as this is quite firm, that shouldn't be a problem. The Greek yogurt, cream cheese and white chocolate balance each other perfectly but if you're not a white chocolate fan, I probably wouldn't make this because you can taste it.
Since this is a baby shower, I felt like I had to make these a little fancier by putting the mousse into white chocolate cups. Those are also ridiculously easy to make but they do take a little time. Most of that time is inactive time – you just have to wait for the white chocolate to set in the refrigerator. All you do is melt white chocolate and "paint" muffin liners with it.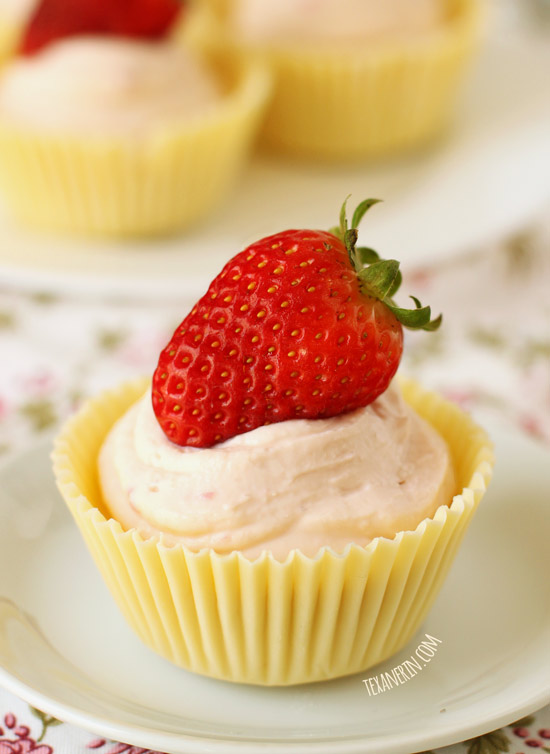 After I filled the white chocolate cups, I found myself not being able to resist these little mousse cups. Mostly because of the white chocolate cups. Make sure to use good quality white chocolate! Store brand is often good enough but the white chocolate found in the US stores? Nuh-uh. Get the name brand stuff!
For a semi-sweet chocolate version, try this vegan chocolate mousse. And for a sugar-free version, try this Easy Keto Chocolate Mousse!
❀
Strawberry Cheesecake Mousse in White Chocolate Cups
Prep Time:
Cook Time:
Ready in:
Yield:

12 cups
Ingredients
For the white chocolate cups:

12 ounces (340 grams) good quality white chocolate

For the mousse:

3/4 cup (110 grams) good quality white chocolate
8 ounces (225 grams) cream cheese, room temperature
1/2 cup (128 grams) plain Greek yogurt
1 teaspoon vanilla
2 medium strawberries (60 grams)
Directions
For the cups:

Line a muffin tin with 12 muffin liners.
Melt the white chocolate in a microwave safe bowl at half power in 30 second increments in the microwave. Stir after each increment. You can also melt it in a double boiler over simmering water. Stir until completely smooth.
Using a pastry brush, paint the inside (sides and bottoms) of the muffin liners using about 1 tablespoon of the melted white chocolate per liner. Try to make it as even as possible and to get all the way up the liners and to coat all the grooves of the liners.
Place the pan in the freezer for about 30 minutes or in the refrigerator for about an hour, or until the chocolate has hardened.
Remelt the white chocolate and then repeat the painting process to make the cups more sturdy.
Freeze for an hour or refrigerate for 2 hours or until the chocolate has completely hardened.
Very carefully remove the paper liners and place the cups on their serving plate.

For the mousse:

Melt the white chocolate in a microwave safe bowl at half power in 30 second increments. Stir after each increment.
Using an electric hand mixer, beat in the cream cheese until smooth and then add the Greek yogurt.
You can either use an immersion blender to blend in the strawberries, or you can dice them or smash them with the bottom of a glass and then beat them in using a hand mixer.
Spoon the mousse into the white chocolate cups and refrigerate for an hour or until the mousse has firmed up.
Cover and refrigerate any leftovers for 2 days.
As an Amazon Associate, I earn from qualifying purchases. For more info, see my disclosure.