We went to Belgium last summer and found this amazing stuff called Speculoospasta, which turns out is the same thing as Biscoff spread. The only thing is, I feel like eating it on bread is a waste. I brought home over seven pounds of the stuff, all of which I just can't eat straight from the jar, so I've started baking all kinds of things with it.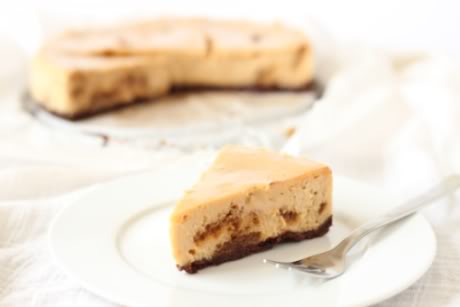 Mr. Texanerin thought he didn't like Biscoff cookies. Or Biscoff spread. But for some reason, before he knew what I was feeding him, he claimed that this cheesecake was "even better than the peanut butter version."
I thought that Biscoff crust and Biscoff filling with chopped up Biscoff cookies would be overkill, so I used an Oreo crust. It was fantastic, but next time there will be Biscoff crust.
If you want, use 1/3 fat cream cheese, but please, don't try with fat free cream cheese. It'll just be gross.
For a half cheesecake: halve the ingredients, bake in a 6-inch springform, and bake for about 40 minutes. It makes the perfect amount when you're not feeding loads of people.
No Biscoff spread but have the cookies?
No problem. Make these changes:
– Use a Biscoff cookie crust. Crush 30 cookies, add 3 tablespoons granulated sugar, and then mix with 6 tablespoons melted butter. Pat over the bottom of a 9-inch springform and bake for 9 minutes at 325°F / 160°C.
– Add one package of cream cheese, for a total of 32 ounces (900 grams), AND fold in 1 cup (120 grams or 236 ml) of sour cream after you mix in the eggs.
– Follow the rest of the directions.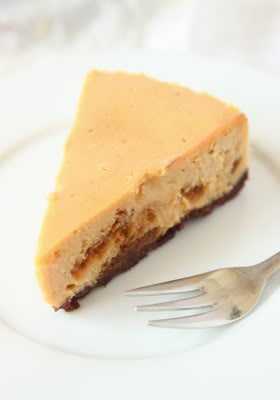 Ingredients:
Crust:
16 Oreos, crushed
3 tablespoons (42 grams) butter, melted
(or use the above Biscoff cookie crust)
Filling:
3 eight-ounce packages (680 grams) of cream cheese, room temperature
1 cup + 2 tablespoons (290 grams) Biscoff spread
1 cup (205 grams) granulated sugar
1 teaspoon vanilla
4 eggs, room temperature
16 Biscoff cookies, broken into pieces
Directions:
1. Grease a 9-inch springform pan. Preheat oven to 325°F / 160°C.
2. Mix the Oreos and butter until thoroughly mixed. Pat the crumbs over the bottom of the pan (not up the sides).
3. Bake the crust for 9 minutes. Let cool on a wire rack.
4. With an electric mixer, beat the cream cheese and Biscoff spread on medium until light and fluffy. On low, slowly add the sugar and then the vanilla, beating until smooth and creamy. Now, add the room temperature eggs, but don't overmix! Overmixing can lead to a cracked cheesecake. Fold in the cookie pieces.
5. Pour cheesecake filling over the crust and bake for about 50 minutes – 1 hour, still at 325°F / 160°C. Don't open that oven door, especially during the first 30 minutes! At 50 minutes, check it. The middle should just jiggle a little.
6. Turn off the oven, open the oven door (not all the way), and let it cool. I ususally let mine cool in there for about two hours.
7. Take the cheesecake out of the oven, cool to room temperature, and then cool in the refrigerator for at least 4 hours. Don't even think about cutting into it before that! But really, the taste and texture is much better after waiting 8 hours. I'm impatient and cut into mine after 4 hours and it was kind of like pie. After 8 hours, it was just right.
German bakers: They have Biscoff cookies at Metro! They're called Speculoos. And about using the fan: I've found that using the fan leaves little spots on cheesecake. But then again, maybe it's just my oven that does that.