These 100% whole grain strawberry white chocolate blondies have melted white chocolate in the batter and in chip form!
I'm one of the few people (and perhaps the only food blogger?) who prefers white chocolate over all other kinds of chocolate. But it has to be the good stuff! And pairing white chocolate with any type of berry is just pure heaven as far as I'm concerned.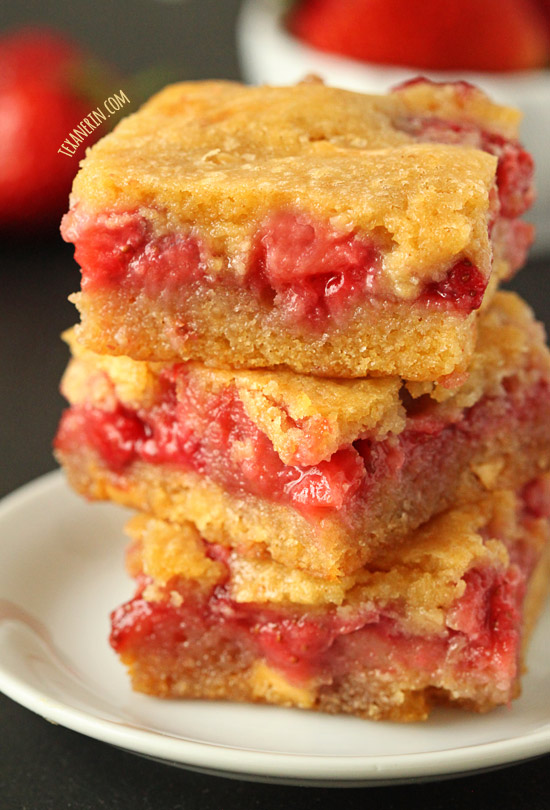 I've made white chocolate blondies in the past but I didn't like how the white chocolate wasn't incorporated in the batter. Just folding in white chocolate doesn't do it for me. But in this one, you melt the white chocolate, add it to the batter AND fold in white chocolate chips. It's a white chocolate bonanza!
Like in my strawberry oar bar recipe, these are super buttery. But in a good way! If you prefer to use coconut oil, I'm pretty sure it'd work but I can't guarantee it. I'm loving the idea of using unrefined coconut oil and tossing in some coconut for a strawberry coconut white chocolate version. Let me know if you try it!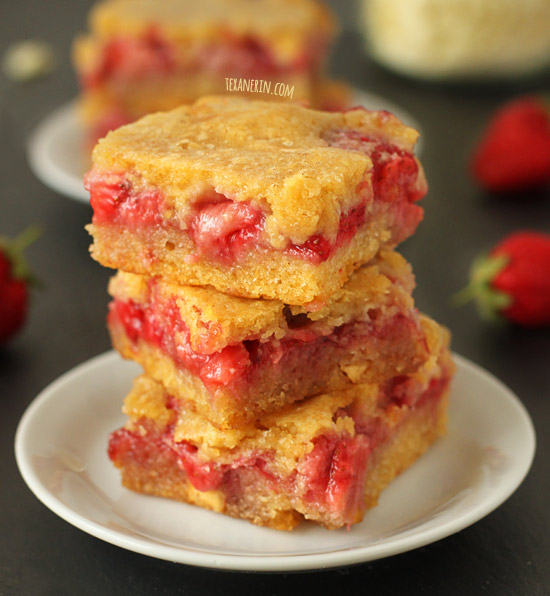 These are kind of a nutritional disaster (though in my opinion, the 100% whole wheat thing counts for something ;)) but they're blondies. When it comes to brownies and blondies, I just don't care. They need fat and sugar to be good so voila. I present with you fat and sugar. :D
I'm not really sure if these are blondies or bars but they have a gooey middle so I went with blondies. They're dense, sweet and perfect, no matter what they're called.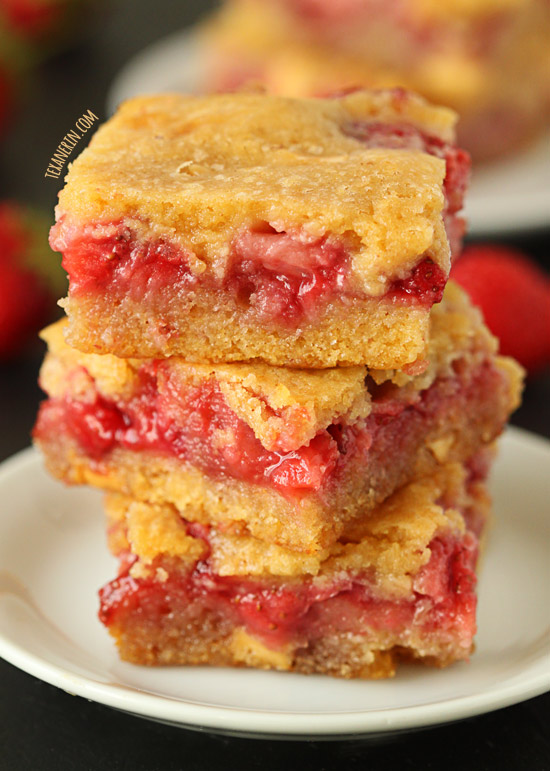 One important thing is that you should use a lightly sweetened strawberry jam unless you want your blondies ridiculously sweet! I used this homemade strawberry jam but any jam (and not jelly!) that's 85% fruit should be fine. When I look for jams at the store, I'm kind of horrified when I find jams that are only 50% fruit (and 50% weird sweeteners!) and then just give up and make my own.
And of course you can make this with any type of berry! Any type of stone fruit would work well, too.
White chocolate blondies not your thing? Here you go! :)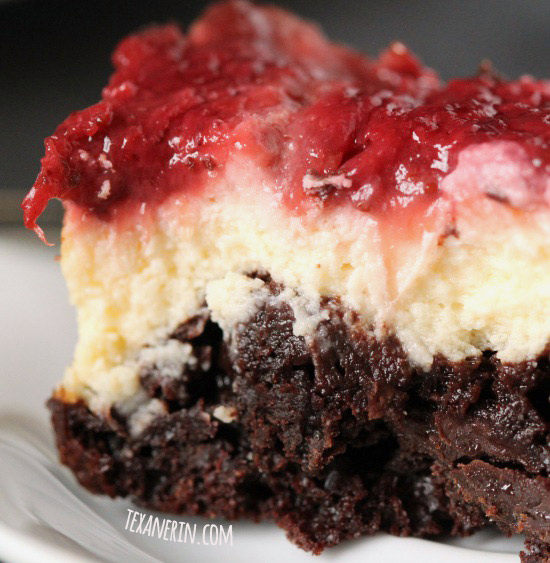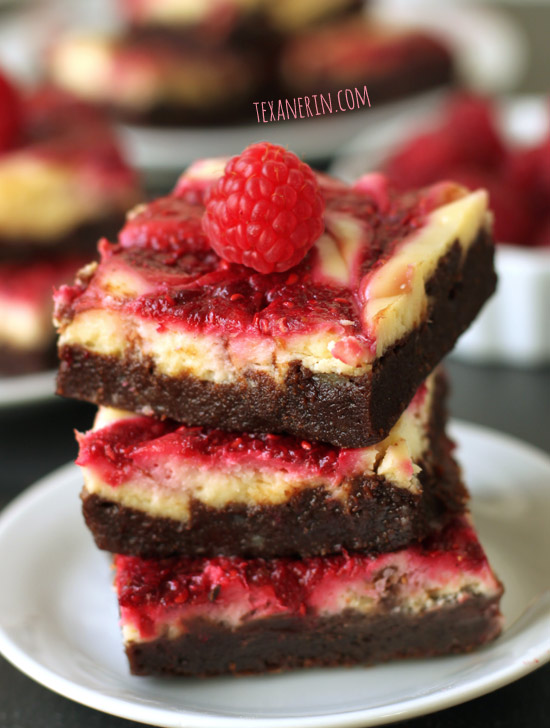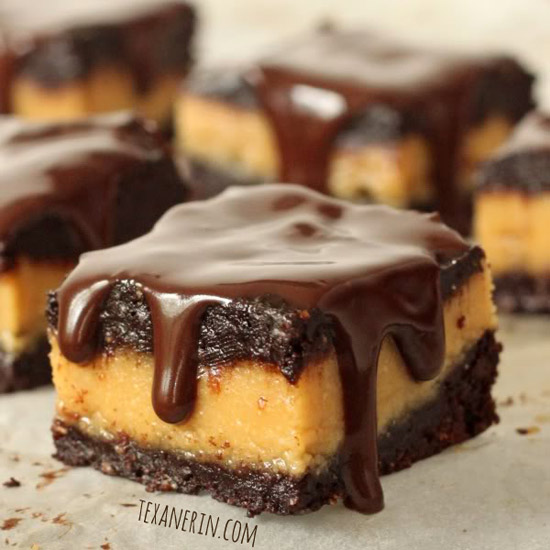 And for a grain-free alternative…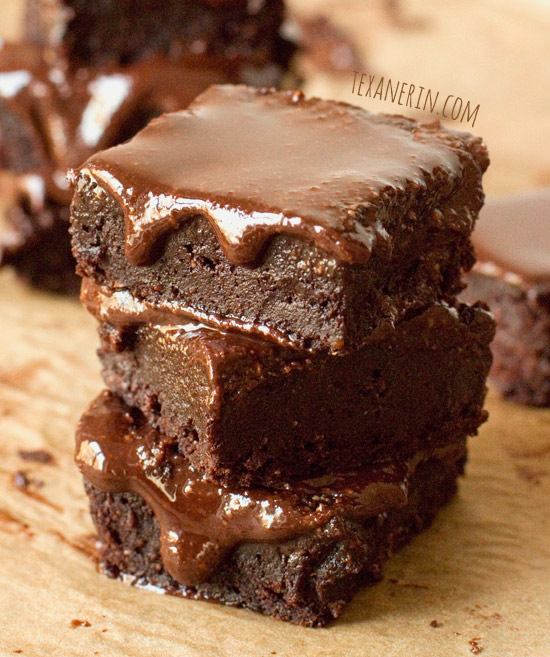 ❀
Strawberry White Chocolate Blondies
Prep Time:
Cook Time:
Ready in:
Yield:

16 blondies
Ingredients
1/2 cup (113 grams) butter
1 cup (180 grams) + 3/4 cup (135 grams) white chocolate chips
2 eggs
1/3 cup (67 grams) granulated or unrefined sugar
1 1/2 teaspoons vanilla extract
1 cup (125 grams) white whole wheat flour
1/4 teaspoon baking powder
1/4 teaspoon salt
1/2 cup (147g) strawberry jam (preferrably a lightly sweetened one like this homemade strawberry jam
2 cups (300 grams) strawberries, sliced into 1/2" pieces
Directions
Preheat the oven to 325°F (160°C) and line an 8"x8" pan with parchment paper or spray it with baking spray.
In a small saucepan, melt the butter and 1 cup white chocolate chips over low heat, stirring occasionally. Once melted, stir well and set aside. It might looked curdled but don't panic.
In a large mixing bowl using an electric mixer, beat the eggs and sugar together on high speed until thick.
Stir in the melted chocolate and butter mixture, vanilla, flour, baking powder and salt and mix just until combined.
Stir in the remaining 3/4 cup white chocolate chips.
Spread half of the batter onto the bottom of the prepared pan and bake for 15 minutes or until the middle appears set. Let this cool for 5 minutes while preparing the filling.
Mix the jam and strawberries together and spread over the pre-baked layer of blondies.
Spread the remaining blondie batter on top of the strawberry layer.
Bake for another 30 minutes or until the middle appears set and doesn't jiggle when you tap the pan.
Let the blondies cool completely and refrigerate in an airtight container for up to 5 days.