This simple French apple cake is like a crustless pie with a crunchy topping. Can be made 100% whole grain (or with all-purpose flour) and dairy-free.
To kick off International Apple Cake Monday (it's a thing), I wanted to share a paleo French apple cake. The first attempt was SO delicious but it seemed awfully wet. I thought I'd just need to add a little more flour and all would be well.
Adding more flour just made it soggy. Reducing the amount of milk? Made it even soggier. It was bizarre.
After three attempts and a lot of wasted ingredients, I just decided to make it whole grain and dairy-free. If you want a gluten-free version, I'm guessing any gluten-free 1:1 baking mix would work! Or you could try these gluten-free French apple cakes from Fearless Dining!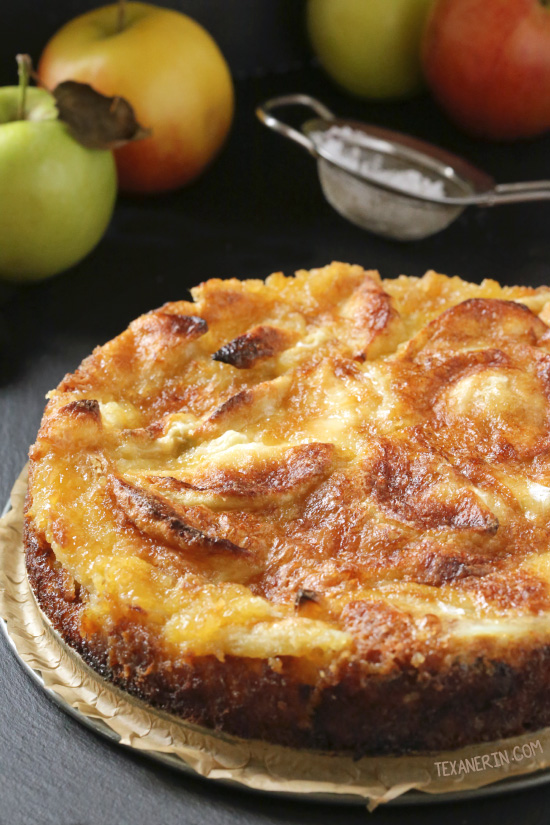 There's something you should know if you want to make this – it's pretty unusual. It's more of a crustless pie than what I'd call cake. Also, even though I used white whole wheat flour, I could still taste the whole grain taste, which isn't surprising considering there's nothing but a little lemon zest to cover it up. It's strongest while the cake is still warm and just a little noticeable after having rested for several hours, which is when I think it's at its best.
I wanted to keep things French and not load the apple cake up with cinnamon, but to be honest – I wish I had! Next time I'll omit the lemon zest and use a teaspoon or so of cinnamon in the cake batter.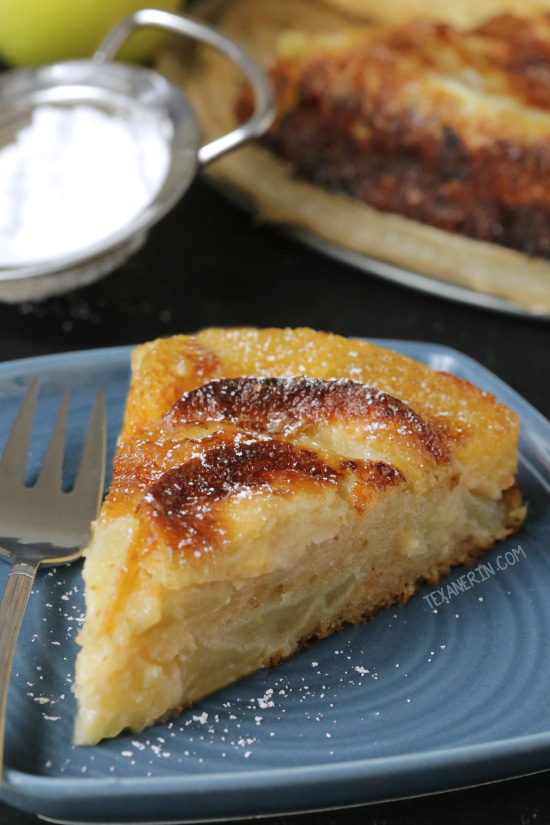 One thing that's really important here is to use firm baking apples that don't break down into a mushy mess while baking. I wasn't thinking when I made the first cake and used random non-baking apples that had been sitting around for a few weeks. This was a very bad idea. If you don't have a favorite baking apple (mine is Jazz!) and don't know where to start, here's a great article on the best baking apples.
❀
French Apple Cake (whole grain, dairy-free options)
Prep Time:
Cook Time:
Ready in:
Yield:

8 slices
Ingredients
For the cake batter:

1/2 cup (62 grams) white whole wheat flour or all-purpose flour
1/3 cup (67 grams) raw or granulated sugar
1 tablespoon baking powder
1/8 teaspoon salt
2 large eggs
2 tablespoons melted coconut oil1 or another neutral tasting oil like canola, vegetable oil, etc.
1/3 cup (80 milliliters) milk of choice (but not canned coconut milk)
1/2 teaspoon vanilla extract
zest of 1 lemon
2 pounds (907 grams or about 5 medium) baking apples – cored, peeled, and sliced to slightly less than 1/4"

For the topping:

1/3 cup (67 grams) raw or granulated sugar
1 large egg
zest of 1 lemon
3 tablespoons (42 grams) melted coconut oil or unsalted butter2
pinch of salt
Directions
Preheat the oven to 425 °F (220 °C) and grease a 9" (23 cm) springform pan.
In a medium mixing bowl, stir together the flour, sugar, baking powder, and salt. Set aside.
In a large mixing bowl, stir together the eggs, coconut oil, milk, vanilla extract and lemon zest.
Add the dry mix to the wet and stir just until combined. Add the apples and coat them thoroughly in the batter.
Pour into the greased pan and push down any apples that are sticking up (so that they don't burn).
Bake for 25-35 minutes. The time will depend on your apples. The top should be quite firm and golden.
Meanwhile, prepare the topping by combining all the topping ingredients in a small bowl.
Remove the cake from the oven and pour the topping evenly over the top. Continue baking for another 10 minutes or until the top is a deep golden brown and feels firm.
Let the cake cool for 10 minutes and then run a knife around the edges of the pan. Remove the springform ring and let the cake cool for at least another 30 minutes. Can be served warm but I think the cake is best after having rested for several hours.
Store the cooled cake at room temperature for up to 1 day.
Notes
I used refined coconut oil, which doesn't have any coconut flavor. If you use unrefined coconut oil, this cake may have some coconut taste to it.
For dairy-free, use coconut oil.
Adapted from The Apple Lady's Apple Cake found in Patricia Well's The Paris Cookbook