These Santa hat brownies are super easy to make and don't have any special ingredients, and they can be topped off with whipped cream or frosting. You can make them with all-purpose, whole wheat, or even gluten-free flour.
Maybe you've seen those super cute Santa hat brownie bites baked in a mini muffin pan.
I'm always on the lookout for naturally colorful festive treats, and those brownie bites fit the bill. But I really couldn't be bothered with making mini brownies.
I'm not lazy – I just don't have time. So with today's recipe, you can save yourself the time of making individual brownies and just dump all the batter into an 8"x8" pan.
You can use a boxed mix if you prefer and follow the directions for making the Santa hats, but these homemade brownies take 5 minutes to throw together.
It's a simple but incredibly delicious cocoa powder-based recipe.
If you're having a cozy Christmas and don't need a whole pan of brownies, you can make my Air Fryer Brownies and decorate them with Santa hats! I also have these Paleo Air Fryer Brownies that you could make as the base.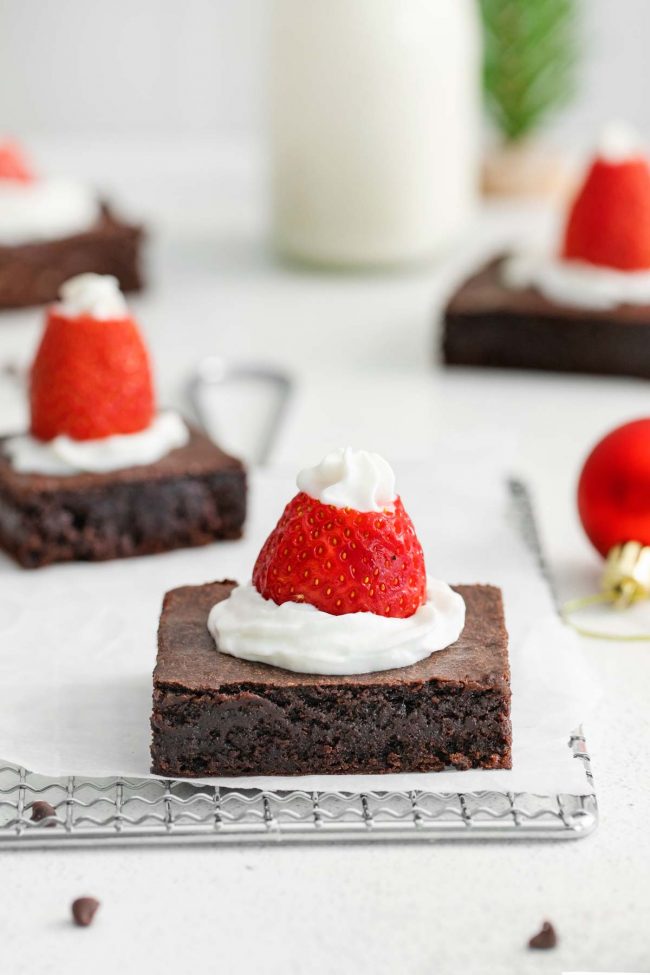 Ingredients
All you need is basic brownie stuff that you likely already have.
Flour – you can use all-purpose, whole wheat or gluten-free flour. Lots more details on the gluten-free options below!


Cocoa powder – I recommend using Dutch-process or Hershey's Special Dark Cocoa. If you use regular, natural cocoa powder (like classic Hershey's), then the result might be more cakey and less fudgy.


Melted butter or coconut oil – if using coconut oil, I recommend refined coconut oil so that there's no coconut flavor.


Sugar – granulated sugar or coconut sugar works.


Eggs – no sub for these! Check out the link to my vegan brownies down below if you need a vegan version.


Vanilla extract + salt


Strawberries


Heavy cream, buttercream or cream cheese frosting. Here's a recipe for Homemade Whipped Cream!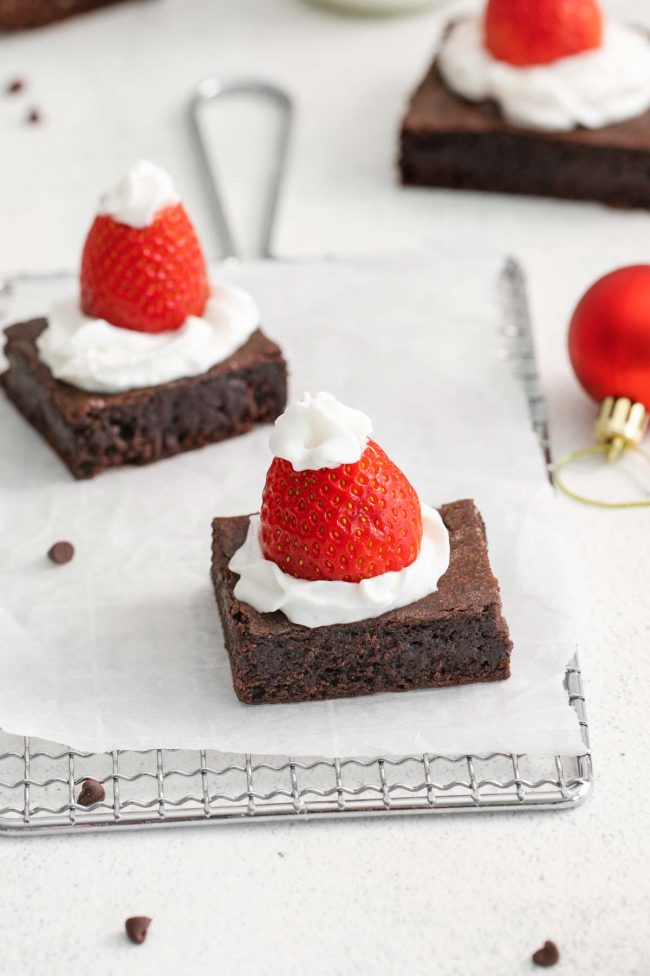 Gluten-free options
Gluten-free options for this recipe.
A gluten-free baking flour that's a 1:1 sub for all-purpose flour
Teff flour
Buckwheat flour
Gluten-free baking flour
So for that first option, you need to make sure it's meant as a 1-to-1 sub for all-purpose flour. I usually use Bob's Red Mill Gluten-free Baking Flour. It's the one in the blue bag.
King Arthur Flour Measure for Measure Gluten-free Flour is just as good in these brownies. I just use Bob's because it's a bit cheaper.
But commenters have said they've successfully used the gluten-free flour blends from Pillsbury, Namaste and more. If you try another one out, please let us know in the comments!
Teff flour
Up next are the two healthier and whole-grain options. Teff comes in different varieties like white/ivory or dark, and some describe the dark kind as earthier tasting (read: it tastes like dirt, like buckwheat).
I've used both white and dark teff flour in these gluten and dairy-free brownies, and you really can't detect any difference – all that cocoa powder does a great job of covering up any "earthy" flavors!
I know teff isn't the easiest flour to find, but the dark kind is available on Amazon.
Buckwheat flour
Buckwheat flour is also really great in these brownies. If you've had buckwheat pancakes or bread before and didn't like it – don't worry. You can't taste it at all.
If you have some buckwheat on hand, also check out my kladdkaka (Swedish sticky chocolate cake) for an amazingly gooey cake that's like a cross between cake and brownies.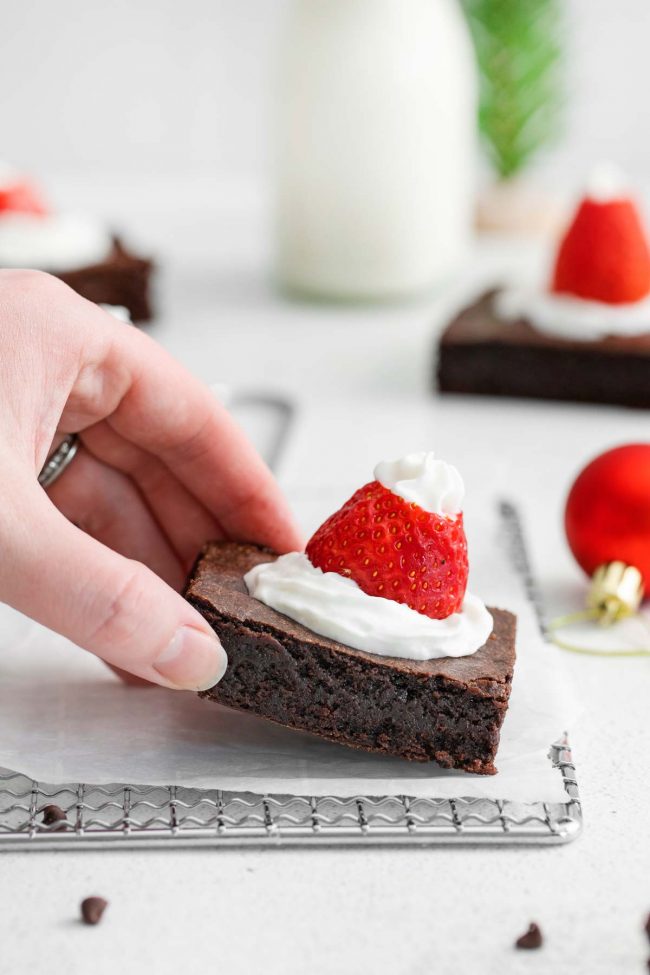 Do all versions taste the same?
The cool thing is that all the different versions taste the same. They're all just as gooey, and there's no grittiness!
That can be said of all of my gluten-free recipes (unless otherwise noted in the post!). I don't sacrifice taste or texture.
If you try the gluten-free versions while warm, the buckwheat and teff versions have something texturally weird going on. But once they cool, they're totally normal.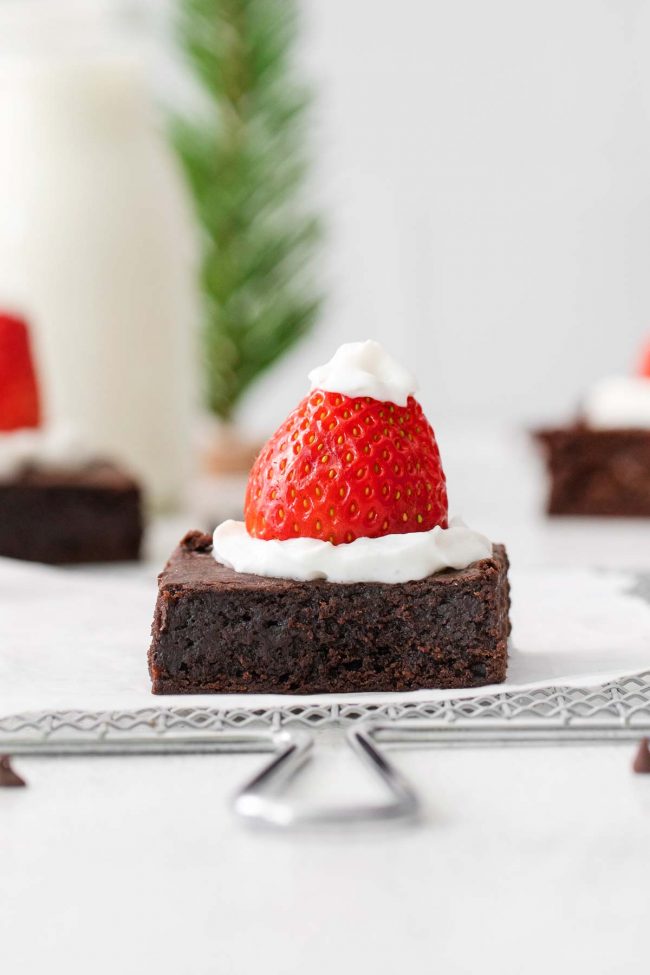 Paleo + vegan options
The recipe below can be gluten-free, but it can't be made paleo. Or vegan.
I have a few options if you want to make paleo and/or vegan Santa hat brownies.
Then you need to use paleo/vegan buttercream on top. Whipped coconut cream might work, but I'm thinking it'd be too soft.
Other easy holiday treats
If you make these Santa hat brownies, I'd love to see them! Please snap a pic and tag #texanerin so I can easily find them. Thank you. :)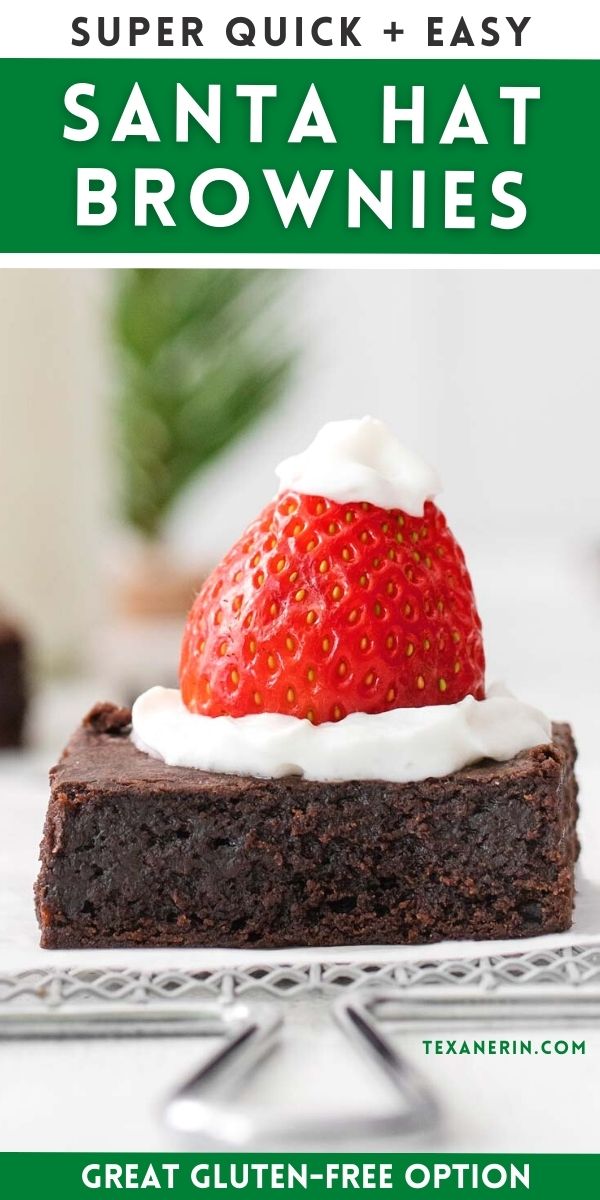 ❀
Santa Hat Brownies
Prep Time:
Cook Time:
Ready in:
Yield:

16 brownies
Ingredients
1 cup (125 grams) all-purpose flour or whole wheat flour, or for gluten-free, use 1 cup (125 grams) buckwheat flour1 or 1 cup (138 grams) Bob's Red Mill Gluten-Free 1-to-1 Baking Flour (or a similar mix) or 1 cup (158 grams) teff flour
3/4 cup (86 grams) Dutch-process cocoa powder
1/4 teaspoon salt
3/4 cup + 2 tablespoons (196 grams) unsalted butter or refined coconut oil, melted
1 1/2 cups (300 grams) granulated sugar or coconut sugar
1 tablespoon vanilla extract
3 large eggs (50 grams each, out of shell), room temperature

Decoration:

1/2 cup of prepared whipped cream, vanilla frosting or cream cheese frosting
16 strawberries2
Directions
For the brownies:

Preheat the oven to 350 °F (175 °C) and line an 8"×8" (20cmx20cm) pan with parchment paper.
In a medium mixing bowl, stir together the flour, cocoa powder, and salt. Set aside.
In a large mixing bowl, stir together the butter or oil, sugar, and vanilla extract. Once combined, add the eggs one at a time, and stir just until combined.
Add the dry mixture to the wet and stir just until almost no streaks of flour remain. Do not overmix!
Pour the batter into the prepared pan.
Bake for 15-20 minutes or until the brownies have formed a thin crust and appear set in the middle. A toothpick inserted into the center will come out wet. A toothpick inserted into the sides will come out with some moist crumbs on it, but not totally raw batter. The brownies will continue to bake as they sit in the pan and will firm up as they cool.
Let cool completely, about 2 hours, and then cover and store at room temperature for up to 3 days. You can also refrigerate them to give them a fudgier texture.

Assembly:

This should be done shortly before serving.
Cut off the stems of the strawberries.
Cut a small bit off the tip of the strawberry to create the flat top for the Santa hat (you will later pipe a little whipped cream here to create the top of the hat).
Pipe a bit of whipped cream on the brownie under where the strawberry will go.
Lay the strawberries, bigger side down and pointy side up, on top of the whipped cream.
Once all the strawberries have been placed, pipe on the tip of the Santa hats.
Cut into squares and serve. Refrigerate leftovers but note that the strawberries might make the whipped cream runny. If you want to prepare the decorations ahead of time, it's best to use frosting.
Notes
Buckwheat flour is naturally gluten-free but not all buckwheat flour is processed in a gluten-free facility. If you need these brownies to be gluten-free, make sure to use certified gluten-free buckwheat flour!
You only need 16 strawberries for the brownies, but it's good to have some spares in case some of your 16 strawberries aren't very good-looking.