This 100% whole grain pancake mix doesn't have that typical whole grain taste and the pancakes, which only take a few minutes to whip up, don't taste the least bit cardboardy!
This was the second recipe I ever posted. I love this whole grain pancake mix so much that I had to post it immediately when I first started blogging, back when I had like… 2 readers.
And since I now have a few more lovely followers, I felt like I should repost this so that you all could see it!
I've easily tried a dozen 100% whole wheat pancake recipes. Some of them were okay, but almost all of them were dry, hard and cardboard-y. But these?! They're soft, moist and don't taste whole grain!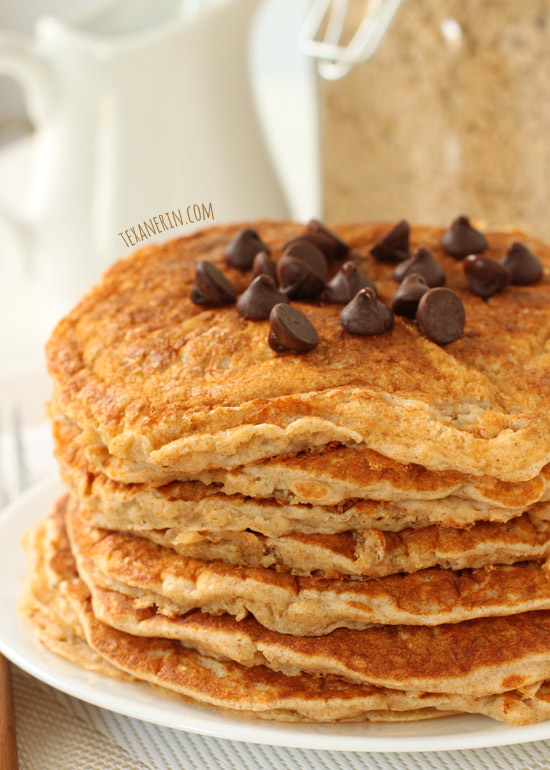 I think it helps that these are 60% whole wheat flour and 40% oats. I love using oats in whole grain recipes because it makes them taste less healthy. But if you don't like oats, don't worry – the oats are totally undetectable once the pancakes are cooked.
By the way, if you need a gluten-free version, try this gluten-free pancake recipe that you can make into a handy mix!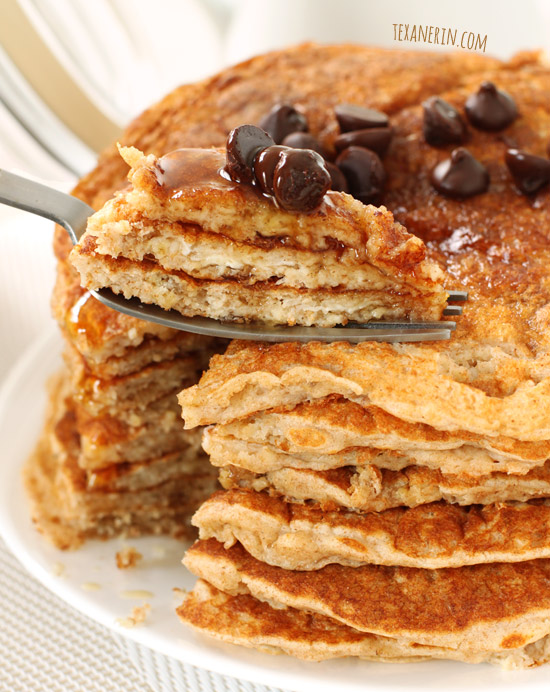 I've made these with whole wheat flour and also with whole spelt flour. I personally prefer whole spelt due to its mild taste, but whole wheat is a close second! White whole wheat would also work well.
Not only do these taste amazing, but this recipe is also super convenient! You make the mix and can store it in the fridge for a few months. Then you have 80 pancakes to look forward to. :)
You can add chocolate chips, blueberries, or whatever you feel like. I normally go with whatever's in season. In the fall, I like to add a teaspoon of cinnamon and two chopped up apples.
If I were making my husband breakfast in bed (which never happens – he wakes up 2-3 hours before me :D) I would add some frozen raspberries and chocolate chips.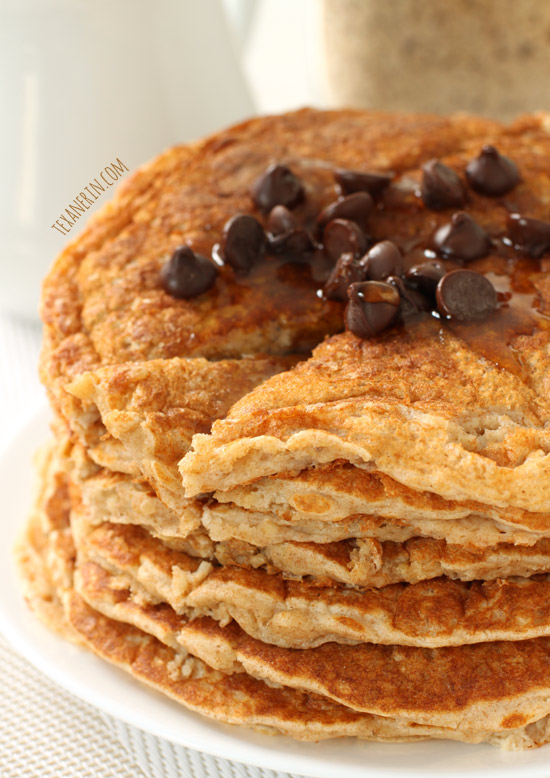 To cook the pancakes, you need buttermilk. I don't know about you, but I rarely have buttermilk around. I tried the trick of pouring 1 tablespoon of lemon juice into a 1 cup measuring cup, filling it with milk and letting it sit for 10 minutes.
It's okay in a pinch but you really can tell the difference between that stuff and real buttermilk. So then I started using half milk and half plain yogurt. This tastes just like the real buttermilk version! At least in these pancakes.
If these pancakes are a bit too boring for you, here are my other favorite 100% whole wheat pancake recipes! Two of them also happen to be gluten-free. :) You could also try these cookie dough overnight oats for something a little different. And if you prefer something thinner, try these sweet crepes. These whole wheat crepes also look fantastic!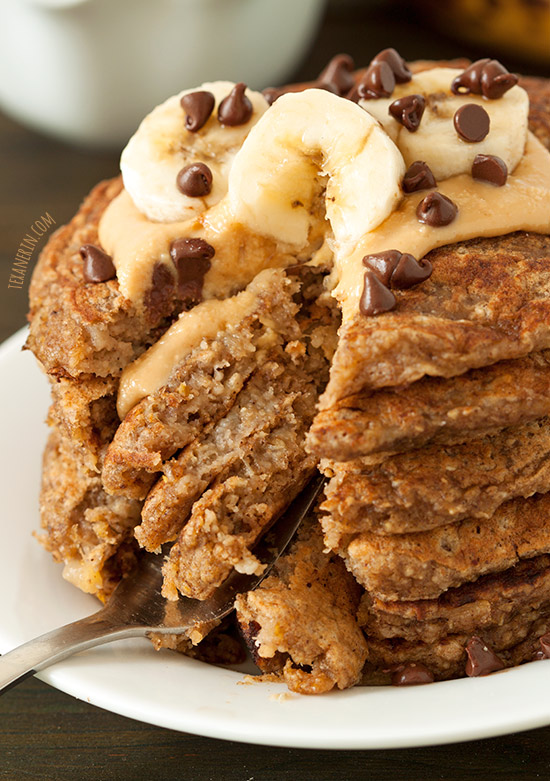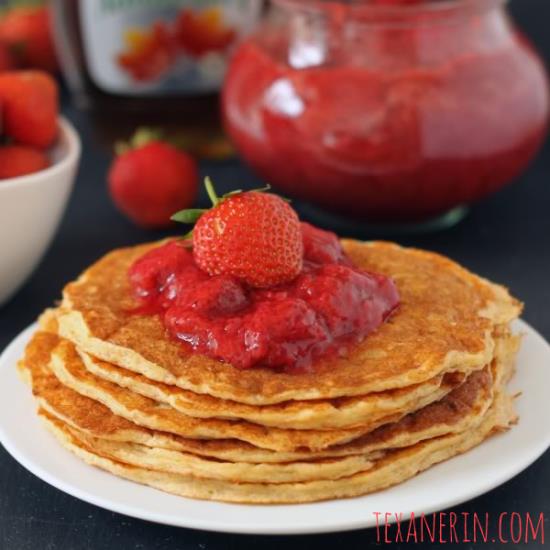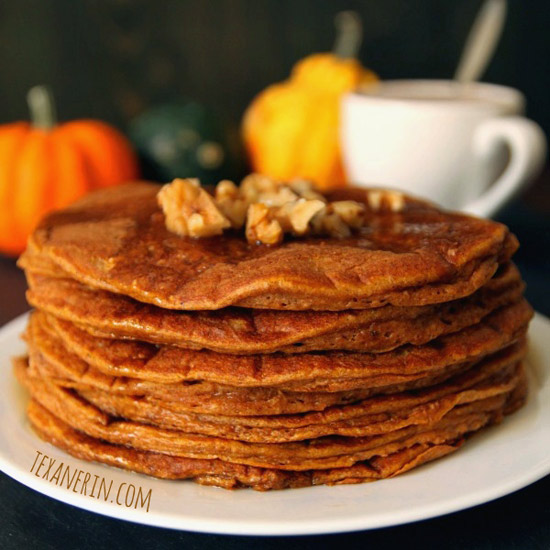 ❀
100% Whole Grain Pancake Mix
Prep Time:
Cook Time:
Ready in:
Ingredients
For the pancake mix:

5 cups (650 grams) whole spelt, whole wheat flour, or white whole wheat flour
3 1/2 cups (315 grams) quick oats or old-fashioned rolled oats
3 tablespoons unrefined sugar (or normal granulated sugar)
3 tablespoons baking powder
1 tablespoon salt
1 tablespoon baking soda
1 cup (240 ml) canola oil

To prepare the pancakes:

1 cup of mix (130 grams)
1 large egg
1 teaspoon vanilla
1 cup of buttermilk (240 ml)
Directions
To prepare the pancake mix:

Put the oats in a food processor and let it go for a few seconds. You want them chopped, but not so much that they turn into oat flour.
In a large bowl, mix all the dry ingredients, including the chopped oats and then add the canola oil. You could use a stand mixer or electric mixer, but I'm lazy and just use my hands.
Store the mix in the refrigerator for up to 3 months or store it at room temperature for up to two weeks. This makes 10 cups of mix, enough for eighty 4-inch pancakes.

To make the pancakes:

Mix everything together. You're supposed to wait 20 minutes, but I'm impatient and I don't do this. The oats soak up some liquid during this time, making them fluffier, but I like mine thin.
Heat the stove to a medium.
I don't use any butter in the pan, but if you normally do, go ahead. Drop some batter into the pan.
Cook the pancakes for about two minutes per side, unless you add berries or apples. Then I do mine about 3 minutes per side.
Yield: If you use 1/4 cupfuls, one batch, with one cup of mix, will yield eight 4-inch pancakes.
Recipe adapted from King Arthur Flour. You can read their post about this recipe here.
As an Amazon Associate, I earn from qualifying purchases. For more info, see my disclosure.