This strawberry apple sauce is naturally sugar-free and quick and easy to put together!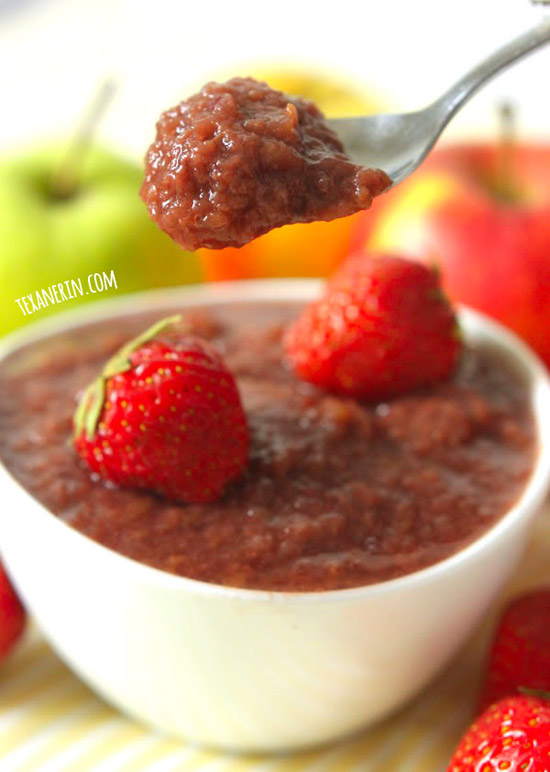 I almost didn't post this strawberry applesauce because the color is so unpleasant. I thought this would be a pretty pink color, but no. Four hours later, I got this funky colored strawberry apple sauce. Bla. I swear – it tastes a lot better than it looks!
When we went to pick strawberries, one of the places was selling already-picked apples with tiny bruises on them for .50EUR/kg (.28USD/lb). Well okay. If someone wants to basically give away apples, I'll take some. Or 20 pounds. ;)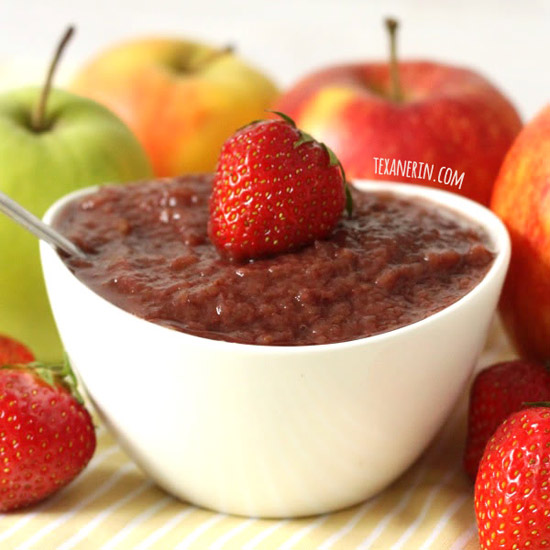 Although this strawberry applesauce was really tasty, I don't like how small the yield is. I really thought that with I'd end up with loads of apple sauce that I could eat daily for months. But that wasn't so. I think this recipe should be something you use when you have way too many apples and strawberries and you don't know what to do with them. I was imaging something like the strawberry apple sauce from the store, but this didn't taste very berry-like to me. But it was still great. :)
It turned out to be really sweet and sugar definitely isn't needed. I did use super sweet strawberries, but I can't imagine needing to add sugar. I just added the apple juice because I had some sitting in the fridge that I wanted to get rid of. I can't imagine it'd make such a huge difference, but as I'm not sure, I'm leaving it in the recipe.
Now that I've made this strawberry apple sauce, I want to try other kinds of flavored apple sauce! Do you have any favorites? I'd love links!
Update: For a non-crockpot version, check out my sugar free raspberry applesauce. Use strawberries instead of raspberries and you have a much quicker version!
❀
Sugar-free Strawberry Apple Sauce
Prep Time:
Cook Time:
Ready in:
Yield:

10 cups of strawberry apple sauce
Ingredients
4.5 kilos (9.8 lbs) apples, about 20 cups / 20 apples, cored and not peeled 1
1 kilo (2.2 lbs) really sweet strawberries (about 5 cups smushed strawberries)
1/3 cup (80ml) no sugar added apple juice
Directions
Combine everything in your largest pot and cook, covered, over medium heat for 3 - 4 hours (it'll depend on how thick you want it). During the last hour, I took off the lid in hopes of getting it a little thicker. And it was thick! Or if you have a gigantic crock pot, cook on high in your crock pot for 4 hours. I really doubt all of this could fit in a crock pot, though. You could easily halve it.
After it cooled down a little, use an immersion blender or a food mill to get it really smooth.
Let it cool completely, place in a jar, and refrigerate for one up to one week. Freeze any leftovers after that.
Notes
You need the peel. It adds pectin and it'll totally break down during the cooking process. I never eat the peel but you really can't tell it's here.