Cooking the apples slightly in the microwave is the trick to this smooth and delicious apple pie smoothie! Think of it as a fuss-free, less sugary and more healthy version of apple pie.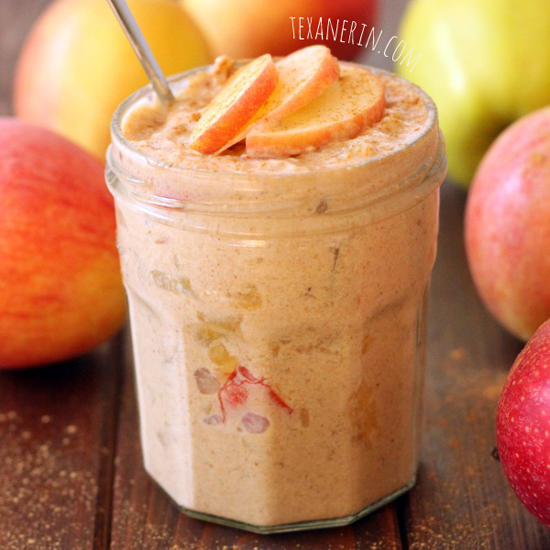 I don't even really know if I can call this a smoothie. It's super thick and you need a spoon. There will be no slurping here.
The previous versions, which included things like apple sauce, apple juice and cottage cheese, were watery and mealy. Disgusting. Then I got the idea of cooking the apples in the microwave first. Tada!
I LOVE cinnamon and nutmeg and used the upper end of each measurement given. Use the lower number if you don't want spice overload. And because that's 1 tablespoon of cinnamon in one serving (what?! that sounds wacky) I used Ceylon cinnamon.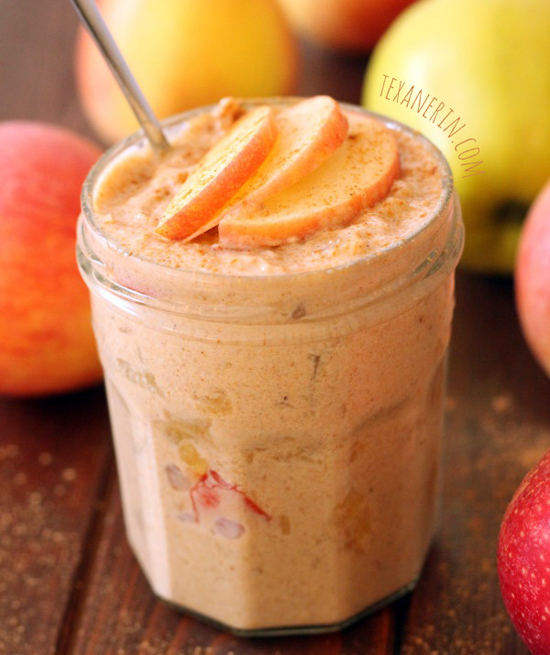 Supposedly the "normal" type of cinnamon, Cassia cinnamon, should not be eaten in large quantities over time. I'm not sure what large quantities really means, but I eat a ton of the stuff, so Ceylon it is. In regular baking, I always use the normal stuff. And probably nobody else will want so much cinnamon in their smoothie so I guess it doesn't really even matter.
Now that I've thought about it, maybe the reason I used so much and didn't notice it being ridiculously cinnamon-y was because of the type of cinnamon I used. Let's say the lower number is for regular cinnamon and the upper normal for Ceylon cinnamon users. You can always add more at the end!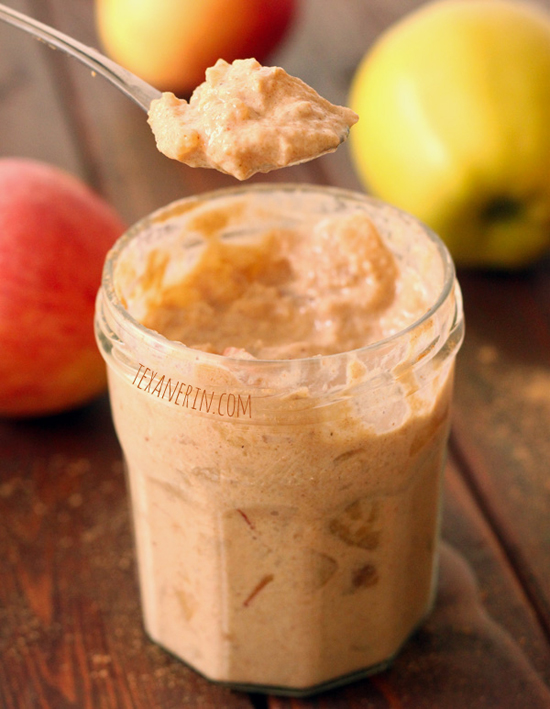 That kind of looks like baby food, doesn't it? I just wanted to show you how thick it is. It could be that baby food is pretty awesome, but I'm betting this is better.
In one serving of smoothie or whatever this is, you get two full servings of fruit. That's a big deal for someone who just wants to eat cheddar and bacon all day. It's only 11:32am and I've already eaten two of these, which means I've eaten about 4 apples. That means I can eat a serving of lettuce later and be finished with fruits and veggies for the day. :D See. My apple pie smoothie is magical.
❀
Apple Pie Smoothie
Prep Time:
Cook Time:
Ready in:
Yield:

1 large smoothie
Ingredients
2 medium apples
1 teaspoon cinnamon, divided (or more, if desired)
2 teaspoons maple syrup
1/2 cup (120ml) Greek yogurt
1/4 cup (60ml) milk
1/2 teaspoon cinnamon (or more to taste)
1/8 - 1/4 ground nutmeg
Directions
Peel and chop the apples coarsely.
Put in a microwave safe bowl along with 1/2 teaspoon cinnamon and maple syrup.
Stir and microwave for 2 minutes on high. They should be soft after the two minutes.
Meanwhile, add the yogurt, milk, remaining 1/2 teaspoon cinnamon and nutmeg to the bowl of your food processor.
When the apples are done, add half of them to the food processor and process about 30 seconds, or until thoroughly combined.
Then with a spoon or spatula, stir in the other half of the cinnamon apples. Add more cinnamon to taste, if desired.
At this point, it was about room temperature.
Serve now, or chill, or even warm up in the microwave if you'd like it warm.