This paleo spice cake with maple "cream cheese" frosting is an easy to make treat perfect for fall and Thanksgiving! Thanks to Bob's Red Mill for making today's post possible.
If you've tried and liked my paleo carrot cake cupcakes, you're going to love this paleo spice cake! I exchanged the carrots for grated apples, added lots of autumn spices, a little coconut sugar, and 1.5x the recipe to fit an 8″x8″ pan.
The apples are in there just for moisture. I don't recommend omitting them unless you want a dry cake (I've tried it, wanting to omit an extra step and ingredient). You can't taste them at all, so use whatever type of apples you have.
At least I couldn't taste them, but I used random sweet-tart apples I had laying around. If you use a sour apple like a Granny Smith, maybe you could taste them, but they'd fit right in! And make sure to use fresh apples and not old, mushy, dried-up apples (I've also tried that).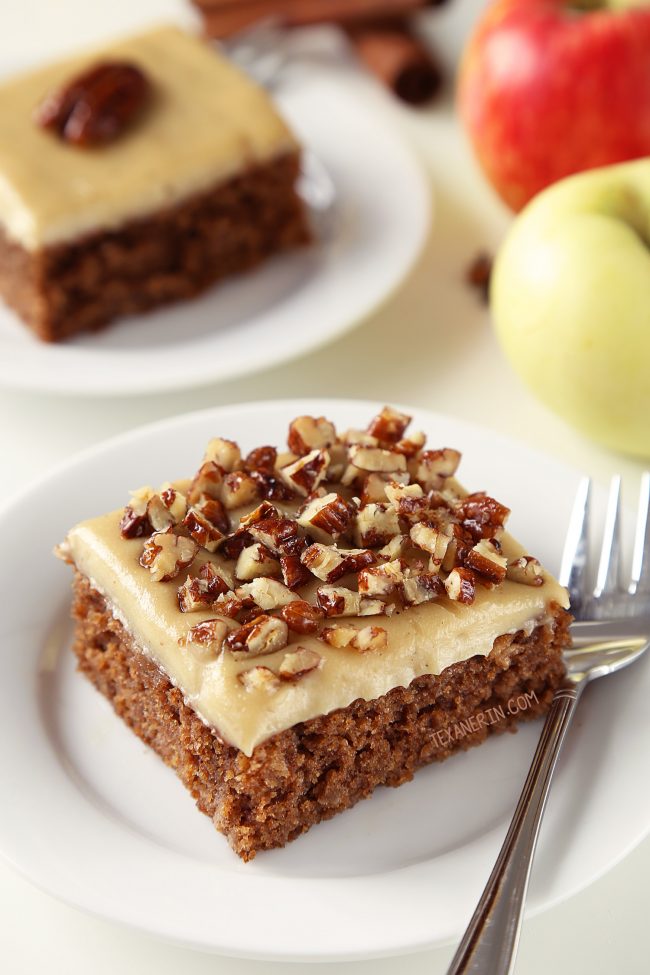 I've made this cake with maple syrup but thought it was better with honey. It seemed a little sweeter plus you couldn't taste the maple, anyway, and it didn't seem like the best use of an expensive ingredient.
On top, I used my paleo and vegan maple cream cheese frosting. I just want to slather this on everything from October to Thanksgiving!
I also used it last year on my paleo pumpkin cake and Mr. T actually said he felt like I was wasting the frosting and that it needs to be eaten with a spoon rather than on top of a flavorful cake.
If you want something caramelly, try this paleo caramel sauce from Wicked Spatula!
Well I think that's a nice plan and all, but it makes this paleo spice cake even more delicious! Do note that it yields a very, very thin layer of frosting. The pieces in the picture are from the very center of the cake and I think they just had more frosting than the other pieces.
You may want to 1.5x the frosting recipe (you can get the measurements in the original recipe linked to above) or even double it and eat whatever you have left over on apples or… with a spoon. :)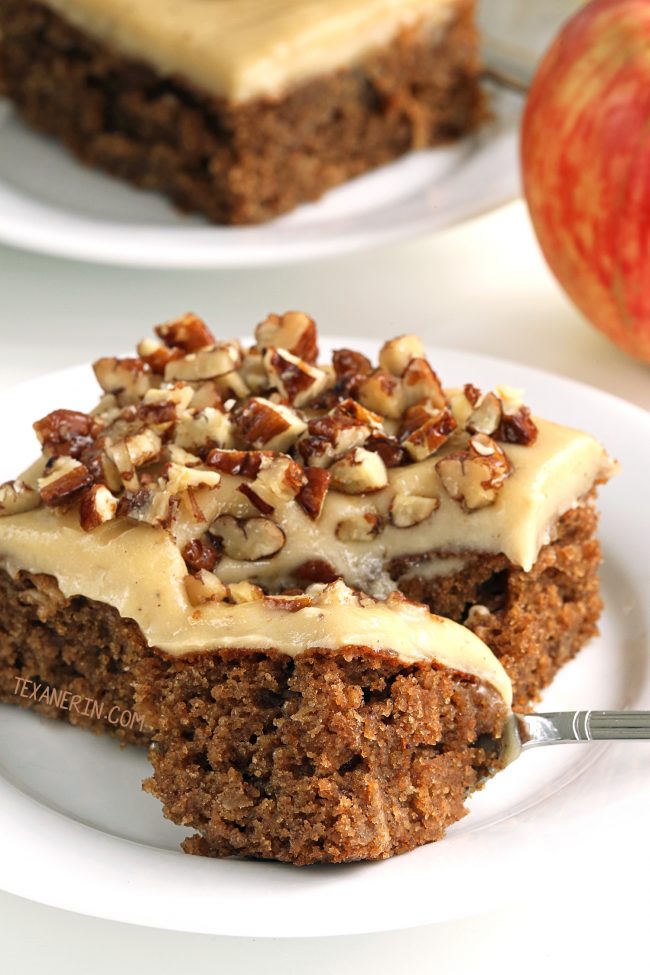 You wouldn't imagine how many questions I get asking if people can sub the coconut flour for something else. Or if they can use coconut flour instead of whatever flour I've used.
The answer's always a big nope. Coconut flour is totally unique and absorbs so much more liquid than any other flour.
If you google coconut flour subs, you'll find some suggestions but I really don't recommend trying them. I've tried. I've tried them all. The result isn't anything at all like the original recipe. At least in the recipes I've tried!
If you ever bake gluten-free, do yourself a favor and just get yourself some coconut flour.
This paleo spice cake recipe uses only 2 tablespoons of coconut flour but it's necessary. You can't use anything in it's place and you just can't omit it. I so wish it weren't that way, because I know some people have coconut allergies. And if you don't use it because you hate coconut, you can use it here because you absolutely can't taste it in this recipe (and I believe the same is true for 90% of my coconut flour recipes!).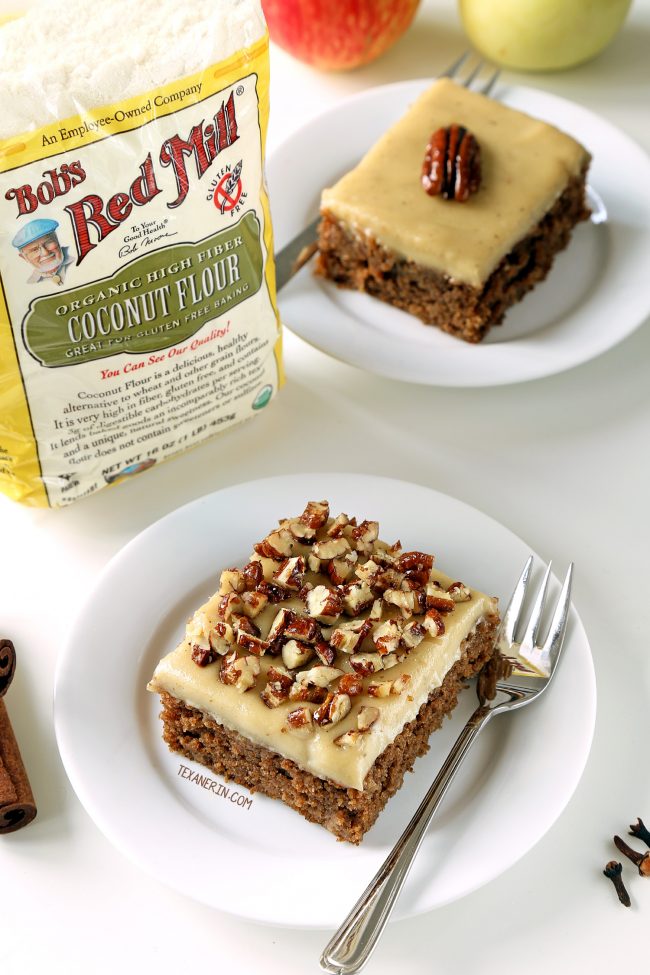 If you follow my blog, you know I love Bob's Red Mill. And that I also live in Germany, where we don't have their products. So I order a lot of flour from the US.
As someone who uses a ton of coconut flour, it would be a heck of a lot cheaper to just buy German coconut flour. It's readily available here and it's even pretty cheap when you buy it by the kilo.
I've tried maybe 6 different brands and I have to admit that I have 5 almost full bags of coconut flour in my cupboard. I give them a few tries, find that they're too gritty and don't absorb liquid as well, meaning my recipes don't come out as intended and go back to Bob's Red Mill.
Creating new recipes with coconut flour is already challenging enough. I definitely don't need the added issue of grittiness! Bob's Red Mill coconut flour is super fine and powdery and the other brands I've tried are definitely more textured and… not powdery.
Wondering what to do with coconut flour other than make this paleo spice cake? I've got about 50 coconut flour dessert recipes!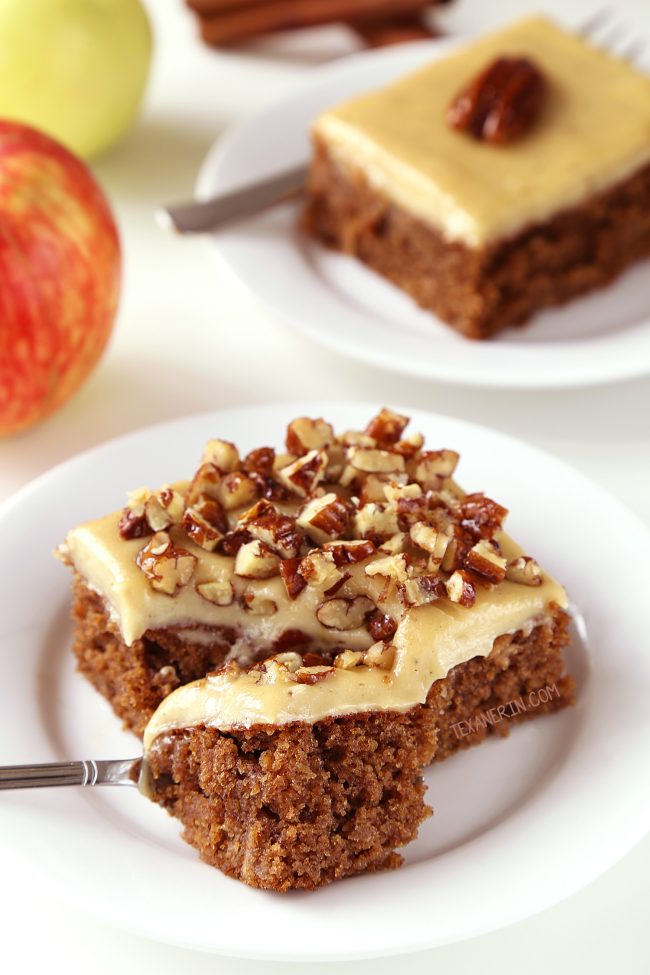 But be warned! The texture of sweet treats that use just coconut flour as the sole flour is often kind of weird. So I rarely use it alone – I think it's best when used in combination with almond flour or another type of flour.
For more tips on baking with coconut flour, check out this post: What Is It? Coconut Flour. I was happy to read that they agree with me – it's definitely best to find a recipe that already calls for coconut flour rather than trying to sub it in for something else!
Thanks again to Bob's Red Mill for sponsoring today's post! They've also got a great collection of 8 Tried and True Coconut Flour Recipes. I can't wait to try those Vanilla Almond Sugar Cookies! The texture on them looks amazing.
❀
Paleo Spice Cake (gluten-free, grain-free, dairy-free)
Prep Time:
Cook Time:
Ready in:
Yield:

9 pieces
Ingredients
For the cake:

1 3/4 cups + 2 tablespoons (188 grams) Bob's Red Mill blanched almond flour
3 tablespoons (24 grams) Bob's Red Mill coconut flour, sifted if lumpy
3/4 teaspoon baking soda
3/8 teaspoon salt
1 tablespoon ground cinnamon
1 tablespoon ground ginger
1 1/2 teaspoons ground cardamom
3/4 teaspoon ground nutmeg
3/4 teaspoon ground cloves
3/4 teaspoon ground allspice
3 large eggs (50 grams each, out of shell), room temperature
1/2 cup (113 grams) coconut oil, melted
1/2 cup (160 grams) honey
3 tablespoons (36 grams) coconut sugar
1 tablespoon vanilla extract
3/4 cup (110 grams) coarsely grated peeled apples

For the frosting (note that this makes a very thin layer):

1 cup (132 grams) raw unsalted cashews, soaked1
1/4 cup + 1/2 teaspoon (62 milliliters) maple syrup (I recommend using the darker Grade B kind like this so that the maple taste is more intense)
2 teaspoons water
1 1/2 teaspoons vanilla extract
1/8 teaspoon salt
1 teaspoon lemon juice

For the topping:

1/3 batch (or more) maple candied walnuts made with pecans
Directions
Preheat the oven to 350 °F (175 °C). Line an 8"x8" pan with a piece of parchment paper.
In a medium bowl, mix together the dry ingredients (almond flour through allspice). Set this aside.
In a large bowl, mix together the eggs, oil, honey, coconut sugar and vanilla.
Add the dry mix to the wet and mix just until combined.
Gently fold in the grated apples.
Pour the batter into the prepared pan and bake for 20-22 minutes or until a toothpick inserted in the middle comes out clean. Note that this cake is easy to over bake!
While the cake is cooling, prepare the frosting.

For the frosting:

Drain the cashews and place all the ingredients in a high-speed blender jar (I don't think this would work in a food processor).
Process on high speed for about 40 seconds or until totally smooth and no chunks remain.
Add more lemon juice, vanilla and salt, if desired.
Spread the frosting over the totally cooled cake. Refrigerate the frosted cake for up to 3 days. Top with maple pecans immediately before serving.
Notes
To soak the cashews, place them in a large mug, small pot, or some kind of container that's safe to pour boiling water into. Pour enough boiling water over the cashews to cover them. Let them sit 1 1/2 to 2 hours.
As an Amazon Associate, I earn from qualifying purchases. For more info, see my disclosure.