These Samoa bars are made completely from scratch (including the caramel!) and are a little healthier with 100% whole grains but can also be made with all-purpose flour!
Basically every Samoa recipe I've come across, whether cookies or bars, uses store bought caramels that you melt down with milk and other ingredients. I don't get the point. And I don't even mean from a health standpoint (although, yeah, I try to avoid processed food like that). My issue is that those things take forever to unwrap! We don't have the same caramels over here in Germany so I actually used to bring them over with me but then I realized that was pretty dumb when I could just make caramel from scratch.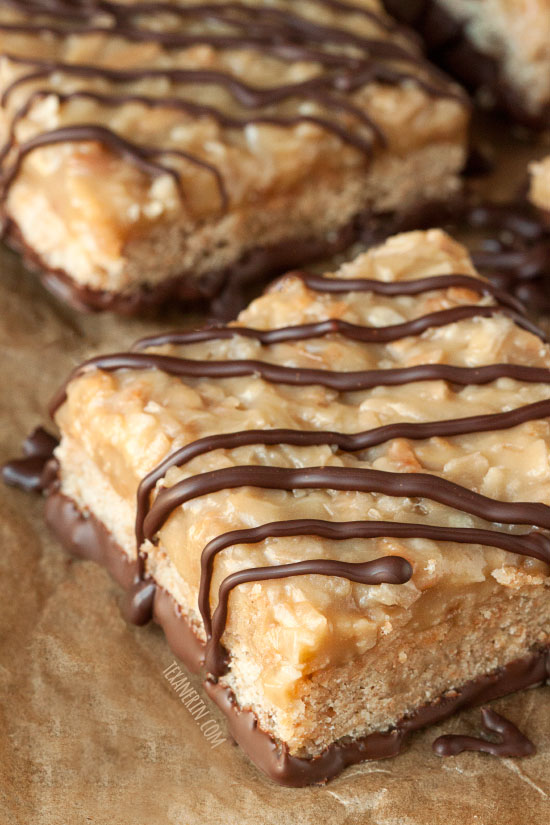 So for these Samoa bars, I made the super simple caramel I used in my mini caramel pecan tarts. I'd tried so many caramel recipes before that one, failed at them all, but I've made this one numerous times now without issue. If you're afraid of making caramel like I am, then this is the recipe for you! You just mix everything together and let it simmer. The caramel isn't in any way healthy, I'm afraid. It's pretty much all cream, sugar, and butter. It's a shame that I don't like that date-based caramel stuff!
The crust is kind of like a shortbread cookie and I used whole spelt flour, making these Samoa bars 100% whole grain. My first choice of flour would have been white whole wheat, but I'm saving my single remaining bag for an emergency. I'm not sure what kind of situation would require a bag of white whole wheat, but you never know.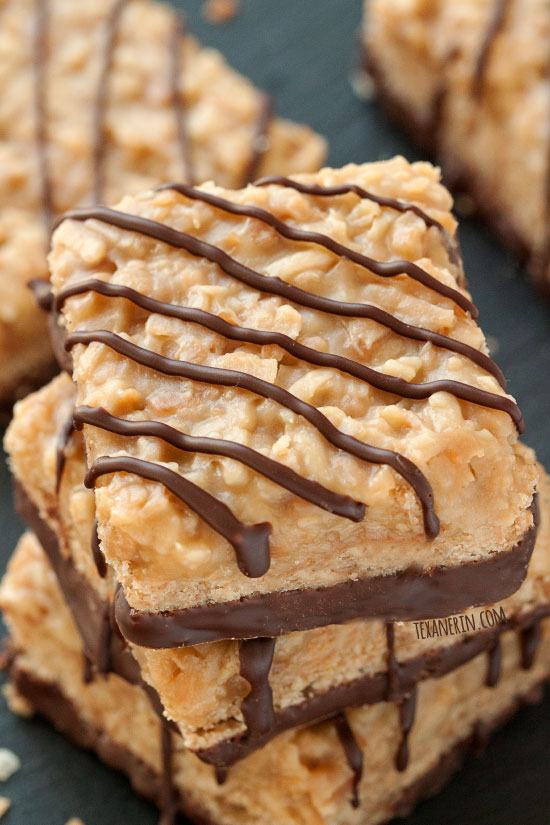 Texturally, traditional whole would would work but I think whole spelt has a much milder taste, which I prefer. When you eat the whole spelt crust without any topping or chocolate, you can tell it's whole grain, which I'm not wild about. So if you have white whole wheat, use that! But even with spelt, once you add the coconut caramel topping and chocolate, I really doubt anyone could tell that you used whole grains.
I almost always use natural sweeteners in my recipes but I really wanted these to taste as close to the real Girl Scout Samoa cookies as possible. If you want to use raw sugar, I'm guessing it'd work but I haven't tried it! And coconut sugar may work but I'm not sure.
For my grain-free friends, check out Carolyn's grain-free Samoa bars. They're low-carb and also have homemade caramel sauce! And stick around because I have a grain-free Samoa inspired recipe coming up next month. :) If you're in a hurry and don't want to bake from scratch, try these oatmeal magic cookie bars.
❀
Totally from Scratch Samoa Bars (100% whole grain)
Prep Time:
Cook Time:
Ready in:
Yield:

16-20 bars
Ingredients
For the cookie base:

3/4 cup (169 grams) unsalted butter, softened
1/3 cup (67 grams) dark brown sugar
1 teaspoon vanilla extract
1/4 teaspoon salt
1 3/4 cups (219 grams) white whole wheat flour, whole spelt flour or all-purpose flour

For the coconut caramel topping:

1 1/2 cups (120 grams) unsweetened shredded coconut (sweetened is fine if you like things on the sweet side)
3/4 cup (150 grams) packed dark brown sugar
2/3 cup (158 milliliters) whipping cream
7 tablespoons (98 grams) unsalted butter, cut into 7 pieces
1 teaspoon vanilla extract
3/8 teaspoon salt

For decoration:

3/4 cup (128 grams) + 1/4 cup (43 grams) semi-sweet chopped chocolate or chocolate chips1
Directions
Preheat the oven to 350 °F (175 °C) and line an 8"x8" (20cmx20cm) pan with parchment paper.
Prepare the crust. Using an electric hand mixer or a stand mixer, beat together the butter and sugar until well combined and light and fluffy. Add the remaining cookie base ingredients and beat until well combined. It will be very dry and crumbly. Pat this onto the bottom of the prepared pan and bake for 12-15 minutes or until the edges have just started to brown. Remove from the oven and cool completely while you prepare the coconut caramel.
Place the coconut on a rimmed pan and with the oven still at 350 °F (175 °C), toast the coconut for 5-10 minutes, stirring after every few minutes. Keep a close eye on it as it turns from perfectly browned to burned in moments. Once lightly browned, remove from the oven.
in a heavy bottom saucepan (not a non-stick pan!) over medium heat, mix together the caramel ingredients. Keep stirring until no chunks of butter remain and then simmer for 8 minutes. Do not stir during this time. If necessary, tilt the pan in order to redistribute the mixture. Remove the pan from the heat. The caramel will be quite thin at this point. Let cool for 20-30 minutes or until considerably thickened and you can just barely pour it. Stir in the toasted coconut and stir until combined.
Spread this evenly over the cooled cookie base and refrigerate for about 30 minutes or until the caramel topping is firm. This refrigeration step may or may not be necessary. Cut into squares.
Melt 3/4 cup (128 grams) chocolate in a small bowl that's large enough to dip the bars in. Dip each square in the melted chocolate and place on a piece of parchment paper. Once all the bars have been dipped, melt the remaining 1/4 cup (43 grams) chocolate and pipe over the top of the bars.
Once the chocolate has set (it should only take about 30-60 minutes in the refrigerator or a few hours at room temperature), place the bars in a container and refrigerate for up to 4 days.
Notes
Some crumbs of the cookie base got mixed in with the chocolate during the dipping, which I think would make piping the chocolate on top more difficult. If you prefer, you can just melt the full cup of chocolate all at once and drizzle the chocolate on top with a fork.
Caramel adapted from Chocolate Nut and Caramel Shortbread Tart