These mini cherry pies use oats, oat flour and coconut oil in the crust, making them naturally gluten-free and vegan!
I made these gluten-free mini cherry pies for my latest post on My Baking Addiction. They're heavy on the streusel (which, believe me, is a good thing!) and have an almond-flavored cherry filling.
The filling isn't your typically jammy and sometimes gloppy cherry pie filling. It's more like baked fruit encased in an oatmeal cookie-like envelope. I did bake a few of these a little longer to get them to the jammy point, but the topping sank into the filling and the pies were pretty unfortunate looking.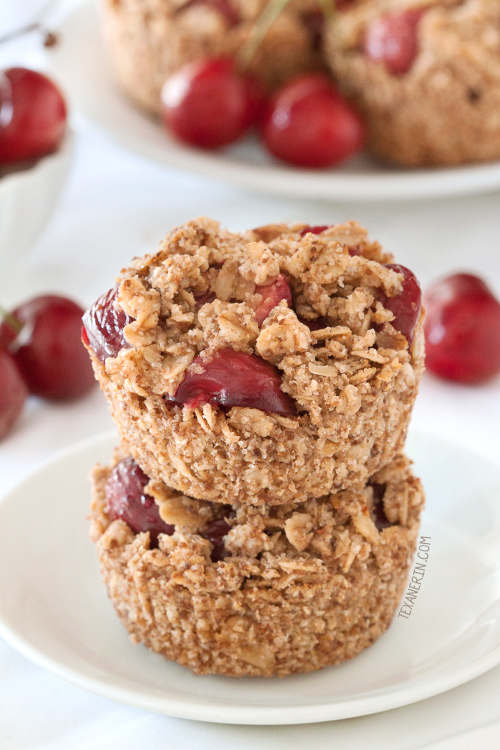 Now that I think about it, I could have partially baked the filling and then added the topping later on but to be honest… I've made these pies 8 times now. The thought of making them again just makes me feel like taking a nap. Plus – they really are delicious as is!
One of the reasons why I made them so many times was that I wanted to offer butter as an alternative in the ingredients list. No matter the amount of butter I tried, they stuck to the liners. So definitely use coconut oil here! I think this is a great recipe for those of you who don't have any dietary restrictions but want to bake something gluten-free, dairy-free or vegan for friends or family. The ingredients are super basic so there's no need to go and spend $15 on specialty flour!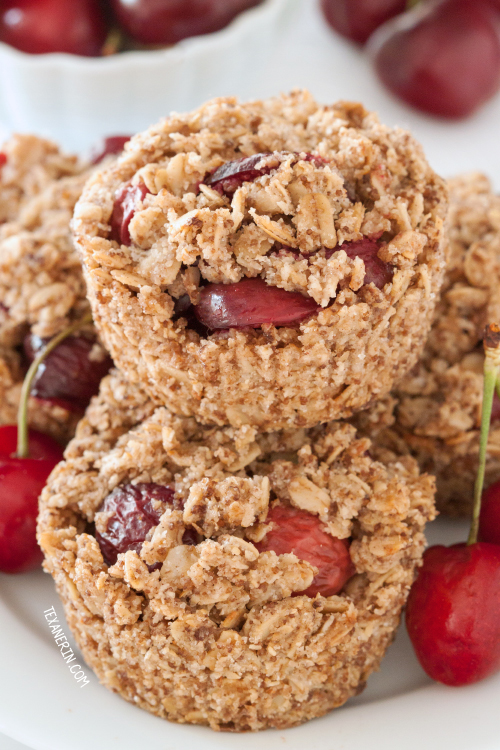 Another thing I had an issue with was waxy / glassine muffin liners. The first several times I made these, I used all kinds of regular paper and foil liners. They came out perfectly. Then I tried glassine liners and the crusts stuck to the bottom! I was paranoid that I had messed up the recipe and made them a few more times with different liners and I only had issues with the one set of glassine liners I had.
Because I only had the one set of glassine liners to test, I'm not sure if glassine liners in general are the problem or if it was just the one specific brand. So I'm advising against all glassine liners. Sorry for the boring liner talk, but I thought I should warn you! Making pies and having to dig out the contents with a spoon was kind of sad. Delicious, but sad. ;)
For another gluten-free treat, try these gluten-free cherry oat bars! These Cherry Cheesecake Bars also look fantastic.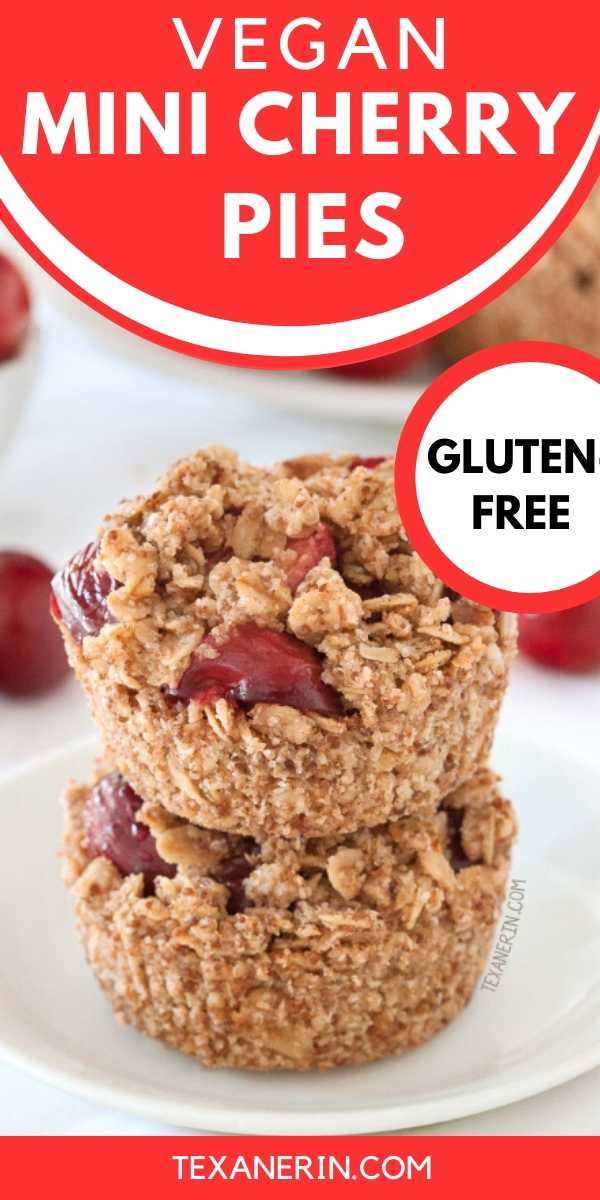 ❀
Gluten-free Mini Cherry Pies (gluten-free, vegan, dairy-free, 100% whole grain)
Prep Time:
Cook Time:
Ready in:
Yield:

12 mini pies
Ingredients
For the crust and topping:

1 1/4 cups (115 grams) oat flour (use gluten-free oat flour, if necessary)
2 cups (180 grams) rolled oats (use gluten-free oats, if necessary)
1 1/2 teaspoons ground cinnamon
2/3 cup (133 grams) brown sugar or raw sugar
1/4 teaspoon salt
3/4 cup (168 grams) coconut oil, melted1

For the filling:

2 cups pitted sweet cherries, quartered (350 grams of cherries without the pits)
2 tablespoons granulated sugar
1 tablespoon cornstarch
2 teaspoons lemon juice
1 teaspoon almond extract
pinch of salt
Directions
Preheat the oven to 375 °F (190 °C). Line a muffin pan with 12 muffin liners. I recommend using foil or regular paper liners. These pies stuck to the bottom of my glassine baking cups.
In a medium mixing bowl, stir together the oat flour, oats, cinnamon, brown sugar and salt. Stir in the melted coconut oil until well combined.
Pat about 3 tablespoons (40 grams) of the crust mixture up the sides and on the bottom of each muffin liner.
Bake for 8-10 minutes or just until they start browning.
Remove from the oven and cool for 10 minutes while preparing the filling.
In a medium mixing bowl, stir together all the filling ingredients. Spoon a little over 2 tablespoons of mixture over each pre-baked crust and top with the remaining oat mixture (about 1 tablespoon per pie).
Bake for another 14-16 minutes or until the topping has lightly browned.
Remove from the oven and let cool for about 10-15 minutes or until cool enough to handle. Use a knife to carefully remove the pies from the molds and then remove the paper wrappers. If you have difficulties getting them out of their wrappers because the pies are too soft, let them cool slightly and then place in the refrigerator for about 10-20 minutes. If you don't remove the wrappers now, the pies may or may not stick to them once cool (it depends on the wrappers you use).
Serve warm, room temperature or cold.
Store at room temperature for up to 1 day. Refrigerate for up to 4 days. These hold their shape well at room temperature but if transporting or they'll be sitting in the heat, chilling the pies first for a few hours is recommended.
Notes
If you use unrefined rather than refined coconut oil, these pies may have some coconut taste to them.
Source: My post on My Baking Addiction – Gluten-free Mini Cherry Pies