These pumpkin cinnamon buns are made a little healthier with whole grains and can be topped with either maple cream cheese frosting or caramel sauce!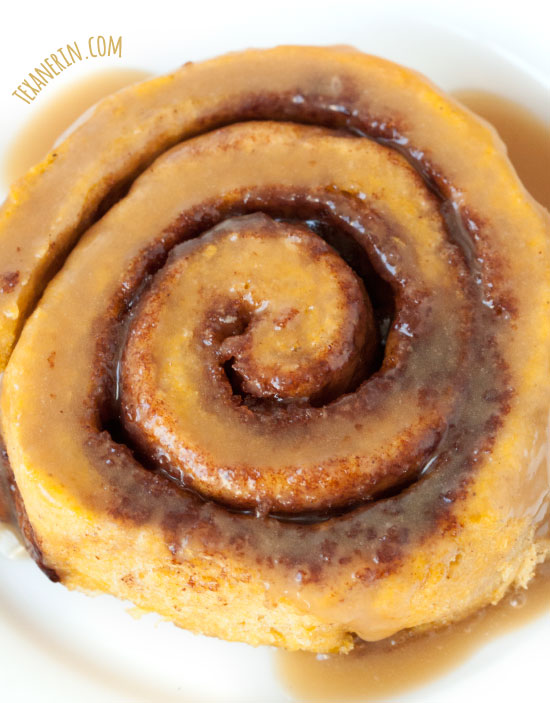 When Red Star Yeast asked me if I'd like to develop a few new recipes, I knew that I had to make pumpkin cinnamon buns! I was so determined to make them 100% whole grain, thinking that the pumpkin and pumpkin pie spice would cover up the whole grain taste. As my supply of white whole wheat flour is about done for (and we don't have it over here), I did a 50 / 50 mix of traditional whole wheat and white whole wheat. They tasted pretty bad and the texture was terrible! That was a huge bummer. So I went back to my yeasted sweet treats default of 50% whole grains. When I put effort into something like cinnamon buns, they better be really good or it's just not worth it.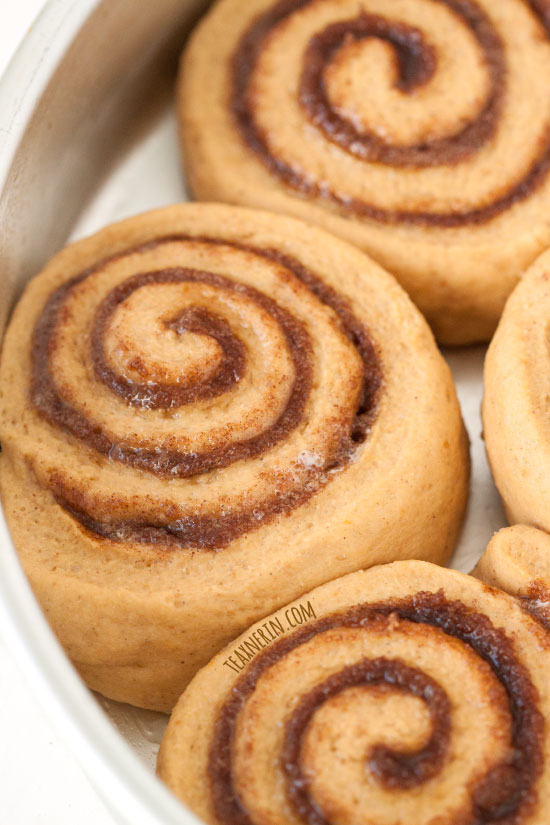 These are a little denser than your typical cinnamon bun but they're so gooily delicious I don't think anyone will mind. They're best fresh out of the oven but they do reheat well. What's important here is not to frost more than you intend to eat in one sitting. I don't recommend reheating cream cheese frosting or caramel sauce in the microwave, so reheat the buns first, and then add your frosting. This recipe only yields about 8-10 rolls but next time, I'm going to freeze half the rolls after shaping them and freeze half of the frosting. Then I have oven fresh buns two times without any real additional work. :)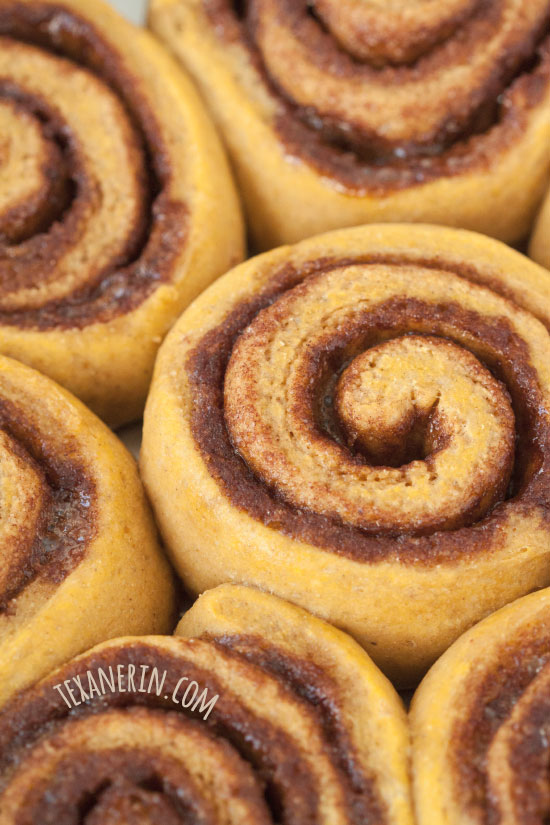 The pumpkin flavor is very subtle but the added spices give these cinnamon buns a nice autumnal taste. But if you're like me, what you're really in it for is the frosting. In a few of these, I used the maple cream cheese frosting recipe listed below. In some, I used maple caramel sauce, which I'll be posting on Wednesday. I really liked them both but I loved how the caramel seeped down into the cracks of the cinnamon buns. It was incredibly sweet but SO good.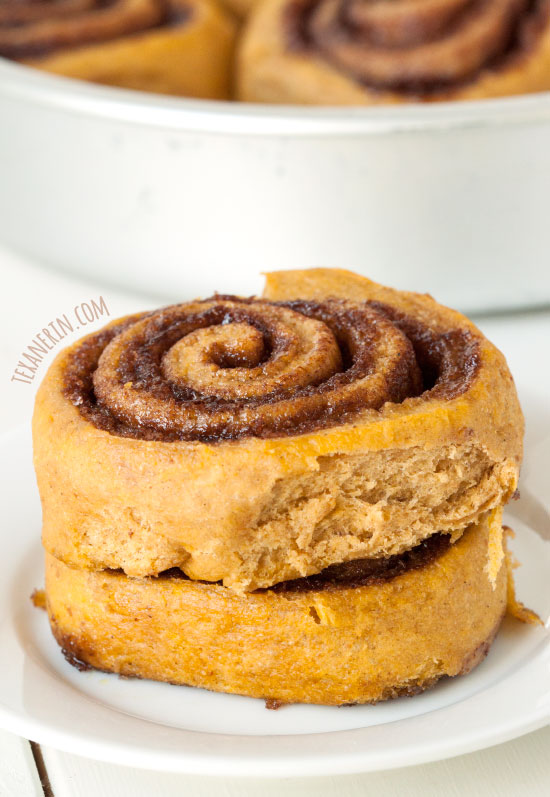 And like my last few yeasted treats, I used potato flour and vital wheat gluten. I always make an effort not to use unusual ingredients in my recipes but there's just no way around it when using whole wheat. If you don't have all the ingredients on hand, you'll have to experiment as I haven't made them with all white whole wheat or without the potato flour or vital wheat gluten.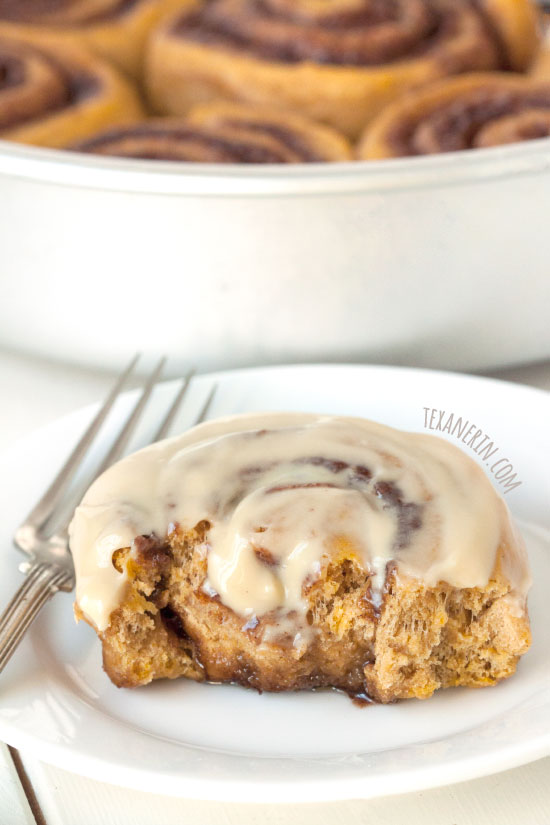 I chose to use those ingredients so that my cinnamon buns wouldn't be super dense, wouldn't taste overly of whole wheat, and would hopefully stay fresher longer. I'm assuming if you choose to use another flour in place of potato flour or vital wheat gluten, it'll affect the texture negatively, but since I haven't tried it, I can't say for sure! If you want to use all all-purpose flour, I'd recommend just finding another recipe. This one probably has a little more liquid than needed for a totally all-purpose flour version.
Whatever you do, definitely go with this maple cream cheese frosting recipe! There's a lot less powdered sugar than in most frosting recipes, which really allows the maple flavor to shine through. You could even add in a little maple extract, if you have it on hand! More maple flavor is always better, right? :)
For something a little different, try these ube bread rolls!
Or need a gluten-free recipe? Check out these awesome looking gluten-free cinnamon rolls!
❀
Whole Wheat Pumpkin Cinnamon buns
Prep Time:
Cook Time:
Ready in:
Yield:

8-10 buns
Ingredients
For the dough:

2/3 cup (158 ml) whole milk
1 tablespoon unsalted butter
1 cup (125 grams) all-purpose flour
2 tablespoons (20 grams) potato flour
2 tablespoons vital wheat gluten
1 3/4 teaspoons Red Star Platinum yeast
1/4 cup (50 grams) granulated sugar
3/4 teaspoon ginger
1/2 teaspoon cinnamon
1/4 teaspoon allspice
1/8 teaspoon nutmeg
1/2 teaspoon salt
1/2 cup (121 grams) canned pumpkin puree
1 1/3 - 1 1/2 cups (167 - 188 grams) white whole wheat flour

For the filling:

1/2 cup (100 grams) coconut or brown sugar
2 1/2 teaspoons cinnamon
3 tablespoons unsalted butter, very soft
1/2 - 3/4 cup (55 - 83 grams) chopped pecans or walnuts, optional

For the frosting:

4 ounces (112 grams) cream cheese, softened
1/4 cup (60 ml) maple syrup (I recommend Grade B for a more intense maple flavor)
1/2 teaspoon vanilla
a pinch of salt
1/4 cup (29 grams) powdered sugar
Directions
Melt the butter in a small saucepan over low heat. Stir in the milk and heat to between 120 °F and 130 °F (49-54 °C). If not using Red Star Platinum yeast, follow the directions on the back of your yeast package.
While the milk is heating up, mix together the all-purpose flour, potato flour, vital wheat gluten, yeast, sugar, ginger, cinnamon, allspice, nutmeg and salt in the bowl of a stand mixer fitted with the dough hook.
When the milk has reached the correct temperature, pour it into the flour mixture and use a silicone spatula to stir it in until well combined.
Add the pumpkin puree and stir.
With the mixer on low, start gradually adding the white whole wheat flour. Let the flour be fully incorporated before adding more flour. The dough should still be a little sticky and won't completely pull away from the sides of the bowl.
Knead on low for 5 minutes. The dough will still be a little sticky and won't completely pull away from the sides of the bowl.
Using a silicone spatula, scoop the dough into a lightly oiled mixing bowl and cover the bowl with plastic wrap or a thin kitchen towel.
Let the dough rise in a warm place until doubled, about one hour.
Meanwhile, prepare the filling by mixing together the sugar and cinnamon in a small bowl.
After the dough has doubled, punch the dough down, and let it sit for 5 minutes.
Grease a 10" cake pan.
Flour a clean surface and roll the dough into a 10" x 15" rectangle.
Spread the butter evenly over the top, leaving a 3/4" border around the edges.
Spread the cinnamon sugar on top, and if using, the nuts, and then starting from the shorter side, carefully and tightly roll into a log.
Use a piece of unscented and unwaxed dental floss to cut 1" pieces. Try to keep the pieces the same size.
Place the buns in the prepared cake pan, leaving a little room between each bun.
Cover with a lightly greased piece of plastic wrap and let rise in a warm place until doubled, about 45 minutes.
The last 10 minutes of rising, preheat the oven to 350 °F (175 °C).
Bake on the middle rack for 12-15 minutes or until lightly browned and the centers are cooked through.
Remove from the oven and let cool for 10 minutes while preparing the frosting.
In a medium mixing bowl, beat the cream cheese, maple syrup, vanilla and salt until well combined.
Gradually add the powdered sugar and beat until no lumps of sugar remain.
After the buns have cooled for 10-20 minutes, slather with the frosting. If not eating immediately, frost the buns just before serving.
Store unfrosted buns in an airtight container at room temperature for up to 2 days.
These are best fresh from the oven but unfrosted buns can be reheated in the microwave at half power for 20-30 seconds or until warm. After reheating, frost the buns.
Be sure to follow Red Star Yeast on Facebook and Pinterest for some more delicious yeasted recipes! And if you ever have issues with your yeasted treats, check out their super helpful troubleshooting guide!
I was compensated by Red Star Yeast for the development of this recipe but as always, my opinions are my own.