This pumpkin and sweet potato soup is flavored with pumpkin pie spices and is easy to make. You can make a traditional version with regular cream or a vegan, paleo and whole30-friendly version with coconut cream. It also makes a great keto side soup. This recipe includes directions for the stovetop and Instant Pot.
Here's something you've never seen on my blog – a soup recipe! Like I said in my last post, this walnut butter recipe, I'm trying to eat healthier.
I would much rather eat pumpkin desserts all day but… you know. I'm trying to be good.
I'll be back soon with something full of sugar but until then, we've got a healthy, fall soup.
I wanted to make pumpkin and sweet potato soup a while back and was surprised by the lack of recipes with cinnamon. I was looking for something with pumpkin pie spices and not spicy spices or herbs.
So I came up with a recipe using cinnamon, nutmeg, ginger and cloves. It doesn't have a strong pumpkin pie spice flavor to it, though. After tasting the soup with the recommended amounts, you may want to add more.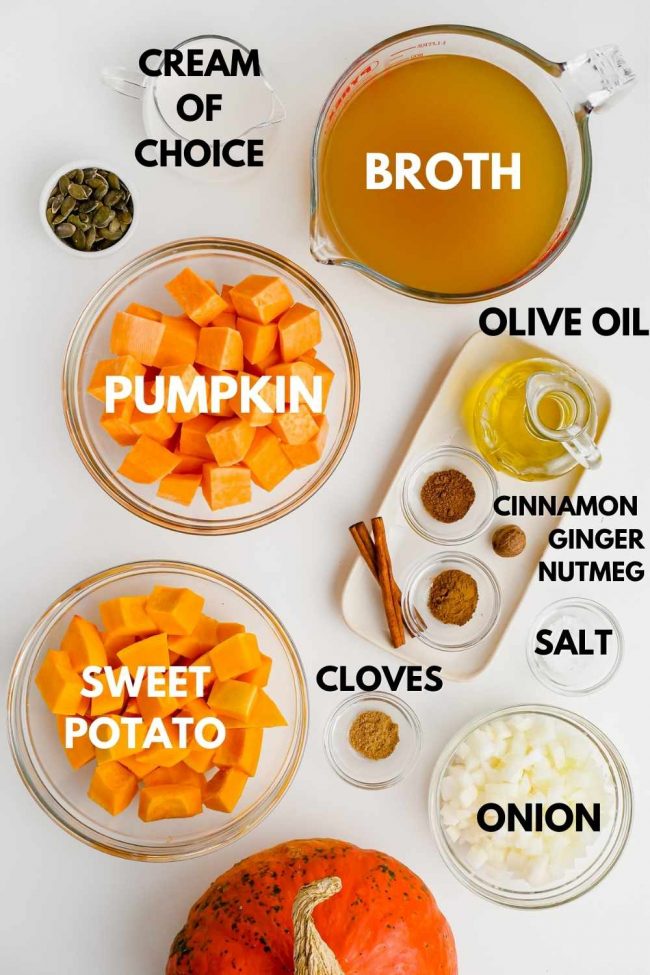 Using frozen sweet potatoes / pumpkin
One thing I do to cut down on preparation time is to use frozen sweet potatoes. If we had frozen pumpkin, I'd use that, too!
I don't find that using frozen sweet potato changes the taste at all. I do think using canned pumpkin would result in a different and perhaps, funny, taste.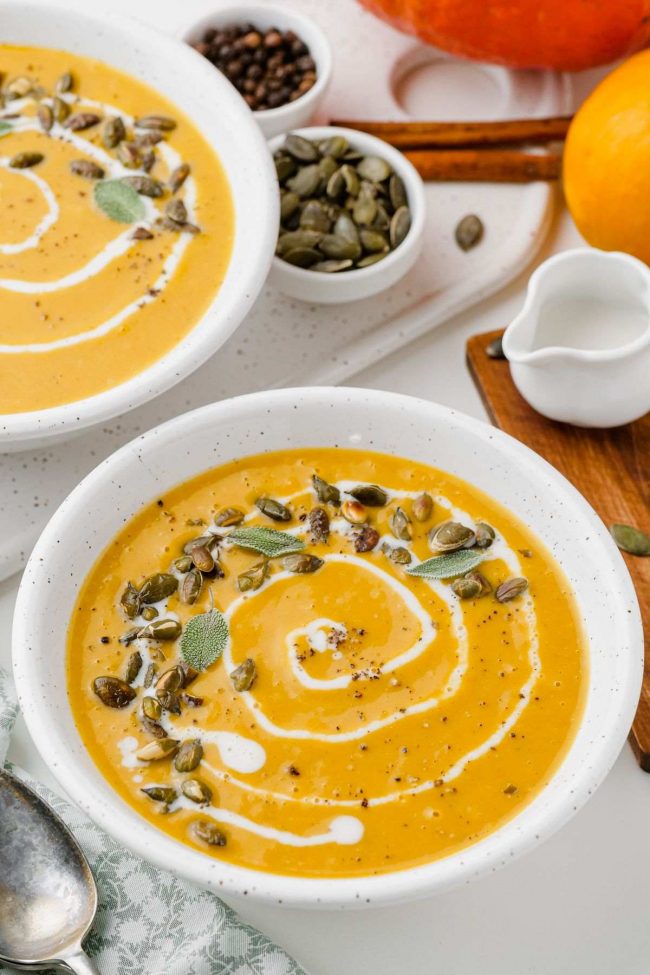 The broth
To keep this soup vegan, I used vegetable broth but it's great with chicken broth. I've even used beef broth but then I used 50% broth / 50% water as I didn't want too strong of a beef taste. By the way, for another paleo / vegan sweet potato recipe, check out these hasselback sweet potatoes.
Note that the soup is much thicker than you see in the video and photos. I accidentally used too much broth. 🤦‍♀️ It should've been 3 cups, as the recipe calls for, but I used 4.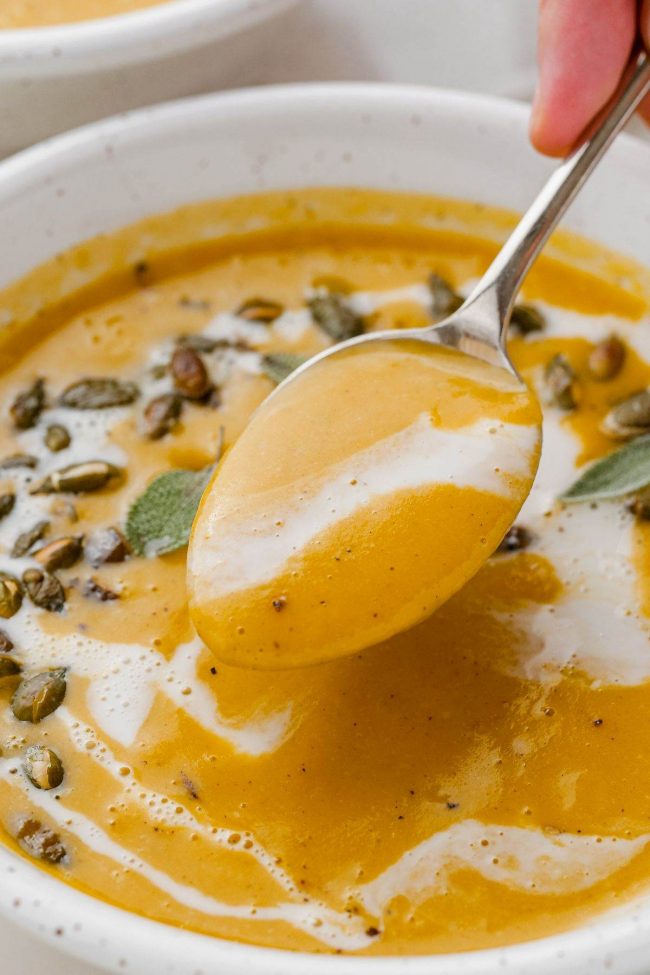 The cream
I also used coconut cream instead of whipping or heavy cream to keep this recipe vegan. You can, of course, use regular cream if you prefer.
You surprisingly can't taste the coconut after adding the coconut cream. All it does is add a bit of richness. But it's much needed.
Without it, it just doesn't taste right. It's quite boring and bla without it.
I have no idea how a little cream can transform a dish so much. You may want to add even more!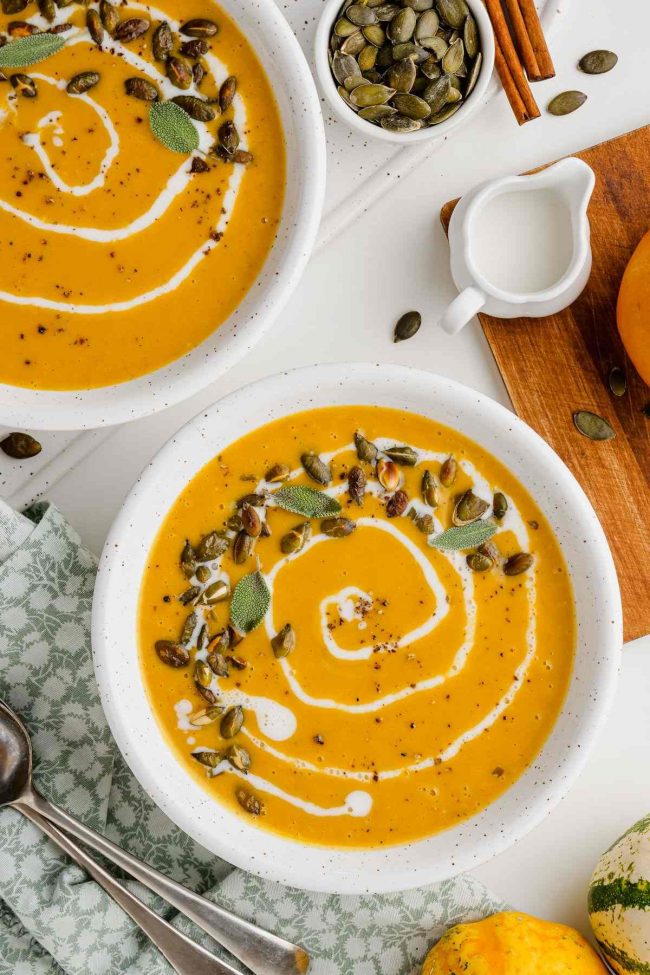 What type of pumpkin to use in this soup
I really think you can use any type of pumpkin that you'd typically eat. So not a jack-o-lantern. And not the little decorative pumpkins.
If you want something more concrete, try one of these:
Sugar pumpkins, aka pie pumpkins, which are common in the US
Butternut squash, aka butternut pumpkin in some countries
Hokkaido pumpkin, aka red kuri squash, which is commonly found outside of the US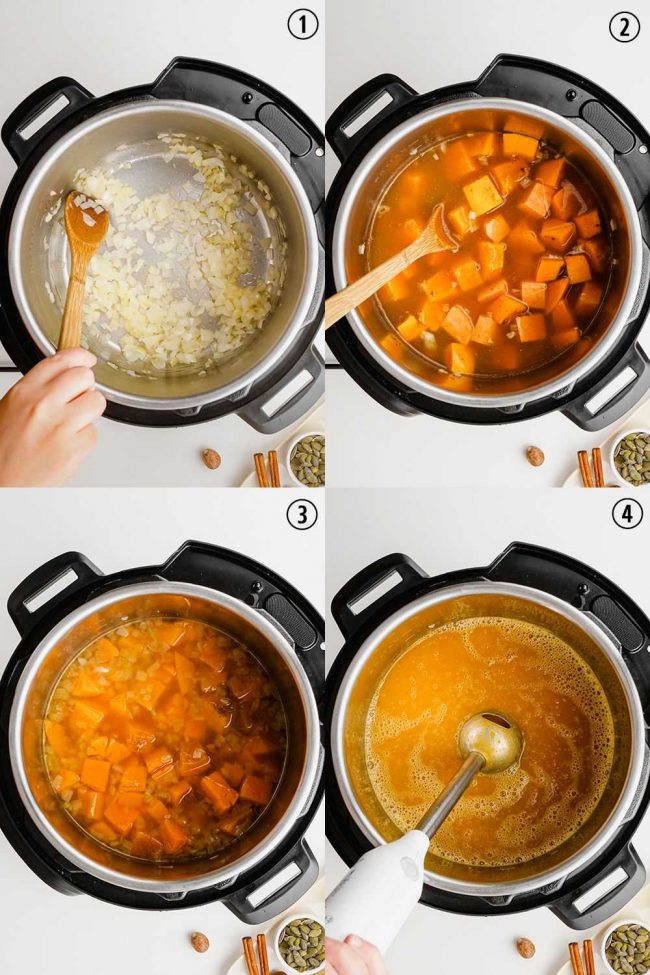 What to serve with this sweet potato pumpkin soup
I topped mine off with roasted pumpkin seeds. The sage was just for color.
As for what to serve along with it, I'd recommend some crusty bread for some contrast to the smooth soup. A baguette or a crusty artisan bread would be great, as would this Lagana Bread.
This pear and walnut salad also sounds nice. If you want something more hearty, we love these smashed potatoes alongside anything.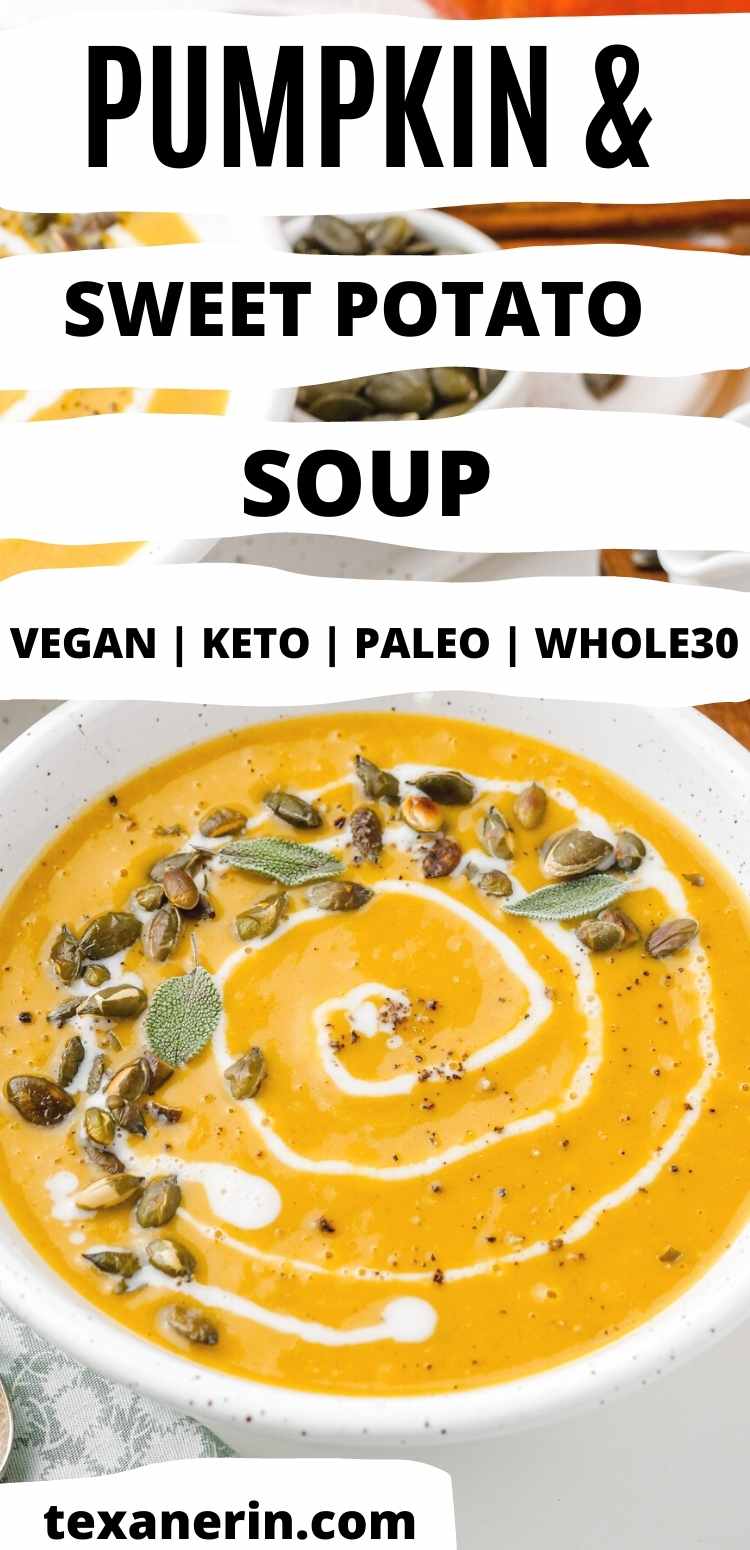 Not into sweet potatoes? Try this Instant Pot Potato Soup! This Potato Cauliflower Soup also looks amazing.
A great keto side dish
Pumpkin and sweet potatoes aren't exactly low-carb. But this soup, eaten as a side dish, is keto.
The following information is provided as a courtesy and is an estimate only. I'm not a nutritionist nor a dietician. This information comes from online calculators. Although I do everything to attempt to provide accurate nutritional information, these figures are only estimates. Be aware that varying factors such as product types or brands used can change nutritional information in any recipe.
Here's the nutritional label for a 3/4 cup side serving. Net carbs = 9.6 grams. For a main dish serving, for non-keto eaters, I'd recommend 1 1/2 cups.
The label was calculated using coconut cream (not dairy cream) and doesn't include pumpkin seeds.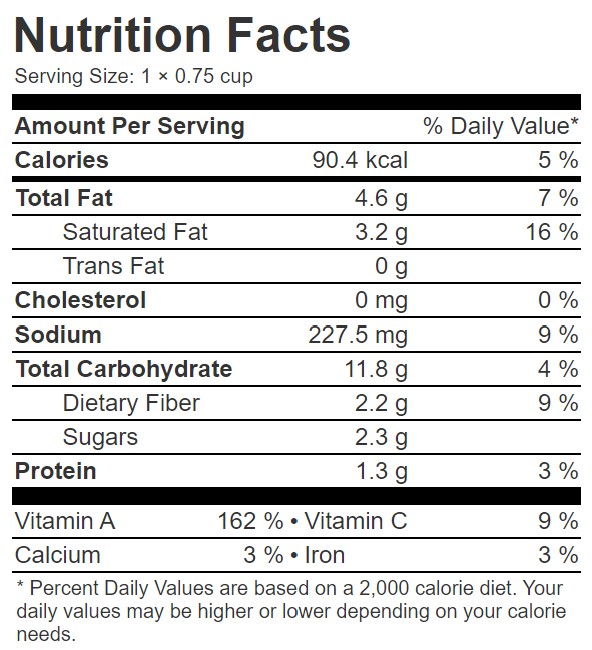 If you try out this pumpkin sweet potato soup, I'd love to hear what you think! And for another comforting soup recipe, check out this minestrone soup.
❀
Pumpkin and Sweet Potato Soup
Prep Time:
Cook Time:
Ready in:
Yield:

about 8 cups
Ingredients
1 tablespoon olive oil
3/4 cup (105 grams) onion, chopped
2 1/2 cups (370 grams) sweet potatoes chunks, peeled and chopped into 1" pieces
2 cups (290 grams) pumpkin chunks, peeled and chopped into 1" pieces
3/4 teaspoon salt (you may need quite a bit more, depending on your broth)
3/4 teaspoon ground cinnamon
1/2 teaspoon ground nutmeg
1/2 teaspoon ground ginger
1/8 teaspoon ground cloves
3 cups (709 ml) vegetable broth (for non-vegan, you can use chicken broth)
2/3 cup (160 ml) coconut cream OR for non-vegan / paleo / whole30 - regular whipping or heavy cream

To top the soup:

roasted pumpkin seeds
freshly ground black pepper
Directions
If using an Instant Pot:

Turn on the saute function of the Instant Pot.
Pour in the oil. Once it's very hot, add the onions.
Fry for 5 minutes, stirring often. Depending on how your onions are cut, they might start to brown around the edges. That's okay.
Add everything else, except for the cream, and set to High Pressure and cook for 7 minutes.
Do a quick release and let cool enough to use an immersion blender to blend it until totally smooth.

If making this on the stovetop:

Heat a pot over medium heat. Add the oil. When hot, cook the onions for about 5-8 minutes or until soft and turning brown around the edges. Add everything else, except for the cream, cover and cook for 20 minutes or until the pumpkin and potatoes are soft. Remove from the heat.
Let cool enough to use an immersion blender to blend it until totally smooth.

For both versions:

Stir in the cream (if you don't plan on freezing the leftovers). Top with freshly ground black pepper and roasted pumpkin seeds.
Refrigerate leftovers for up to 4-5 days. Or freeze in small containers that can be quickly defrosted and reheated for a quick meal. Once it's reheated, then add your cream.