These healthier chocolate peanut butter brownies use ground up oats, meaning they're gluten-free and 100% whole grain!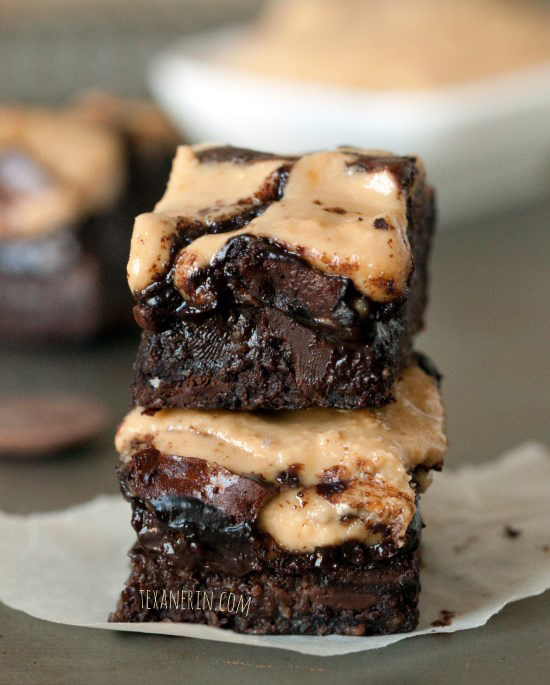 This recipe really gets around. It first appeared on Dashing Dish, then on Sally's Baking Addiction (did you know that she makes a lot of healthier recipes?! Well, she does :)) then again just recently on Butter Baking and I couldn't stand it! I had to make these. And right away. So I did.
Natasha's version uses half the sugar the other versions do but then I went and did something. I put it back in the form of chocolate chips! Woohoo. They're absolutely not needed but who's really going to argue with you for adding chocolate chips? And okay, I didn't exactly add all the sugar back. Just a little. ;)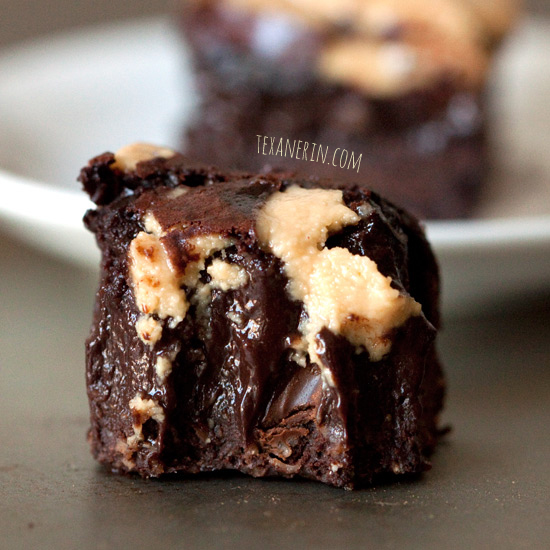 I kind of underbaked them. But I have no problem with that. They've been in the fridge for a week and I still haven't gotten sick. Yes, that's right. I've had to ration them to let you know if you'll get a tummy ache or not! The way I see it, chocolate lava cakes have eggs. They're all runny. So why can't my brownies be? But officially? Yes, you better cook your brownies properly!
One thing to note is that I used an awkward sized pan and my brownies will be a little thicker than yours.
Have a great weekend everyone! I hope you liked my mini peanut butter chocolate week. :)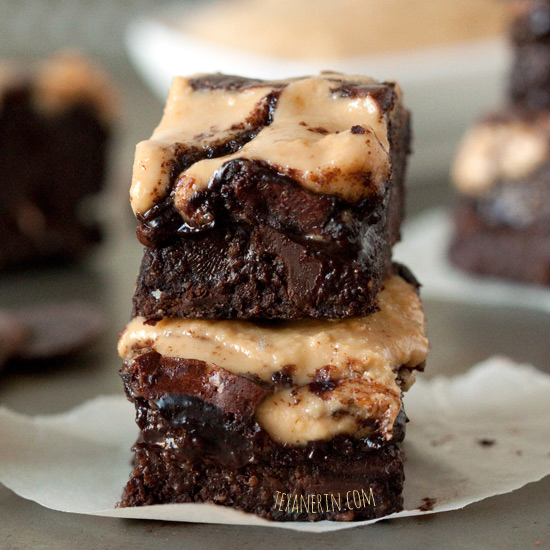 Gluten-free Chocolate Peanut Butter Brownies
Prep Time:
Cook Time:
Ready in:
Yield:

16 - 20 brownies
Ingredients
9 ounces (255 grams Greek yogurt)
¼ cup + 2 tablespoons (90ml) milk
1 egg
1 egg white
¾ cup (65 grams) rolled or traditional oats (non-contaminated for GF)
¾ cup (85 grams) Dutch-process cocoa powder
¼ cup + 2 tablespoons unrefined or coconut sugar
¼ cup (80 grams) honey
1½ teaspoons baking powder
½ teaspoon salt
½ cup (90 grams) semi-sweet chocolate chips
½ cup (128 grams) natural or regular peanut butter
Directions
Preheat the oven to 350°F (176°C). Spray an 8" x 8" pan with baking spray.
If making these in the food processor, process the oats for a few seconds until powdery. Add the rest of the ingredients except for the chocolate chips and peanut butter. If making these in the blender, first add the liquid ingredients, and then the dry ingredients, except peanut butter and chocolate chips. Either way you do it, process until the oats are well ground.
Pour the batter into the prepared pan. Sprinkle chocolate chips on top.
Microwave the peanut butter in a microwave safe bowl on half power until it's easy to spread. Drop spoonfuls of peanut butter onto the batter and create a swirl effect using a knife or toothpick.
Bake for 23 - 27 minutes or until a toothpick inserted in the middle comes out clean. Be careful not to confuse a chocolate chip with batter!
Cool completely in the pan and then cut. Store in an airtight container in the refrigerator for up to one week.
Adapted from Dashing Dish - Peanut Butter Swirl Brownies, as seen on Sally's Baking Addiction - Skinny Peanut Butter Swirl Brownies and Butter Baking - Healthy Peanut Butter Swirled Brownies