This protein powder mug cake is a great, protein-filled way to enjoy an instant cake when you have late-night cravings or it's too hot to bake. It can be made traditionally with regular or whole wheat flour and sugar or gluten-free, vegan and dairy-free.
I've never been big on mug cakes. You spend the same amount of time getting out the ingredients, putting them away, and almost the same amount of time doing the dishes. So I've always thought you might as well make a full cake.
But with this heatwave, I see the point. Yay for mug cakes!
I've mentioned it before, but we have this Ninja 8-in-1 Oven and Air Fryer out on our balcony during the summer. It's covered and safe from the rain, sunshine, little humans and so on, and we bring it in at night.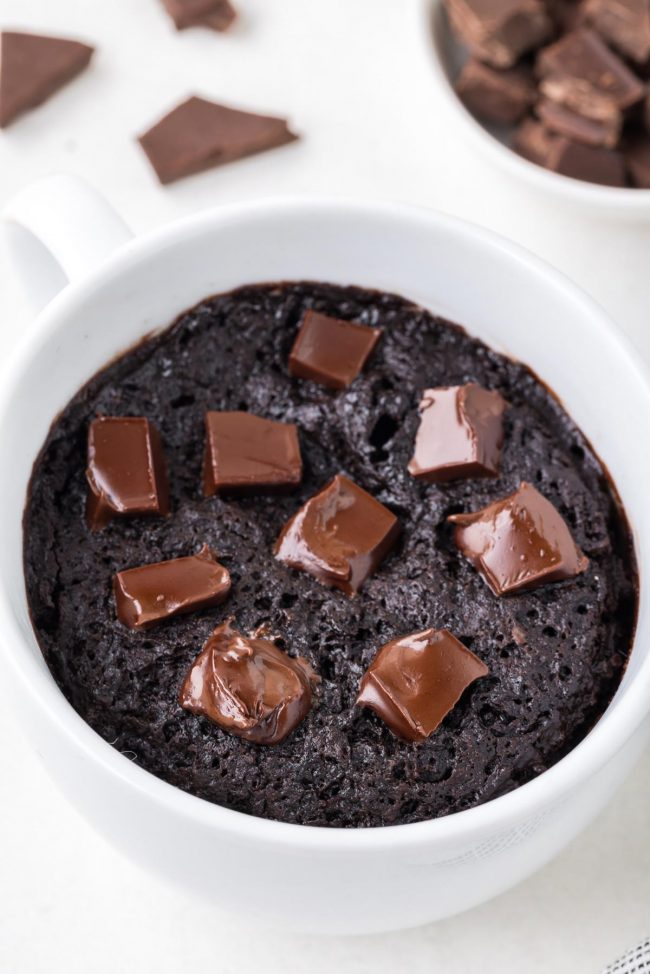 But it's been so hot lately that we don't even want to open the balcony door. Sometimes you just need cake, so here's a mug cake that won't heat up your kitchen or require you to cook on the balcony. :)
Another reason why I generally don't like mug cakes is because of their texture. I've tried a lot of bad ones. Dense and rubbery are the words that come to mind.
This one has a great texture! At least right out of the microwave. This isn't meant to be cooked and then enjoyed hours later. It's meant for immediate consumption.
If you wait until it's cooled, it's denser. Still yummy, but not nearly as good as fresh from the microwave.
If you're after dense, this Vegan Mug Brownie recipe is what you want to make! It has the perfect gooey texture of a proper brownie.
Ingredients
Just normal cake ingredients here. But unlike regular cake, you don't need an egg or egg sub for this.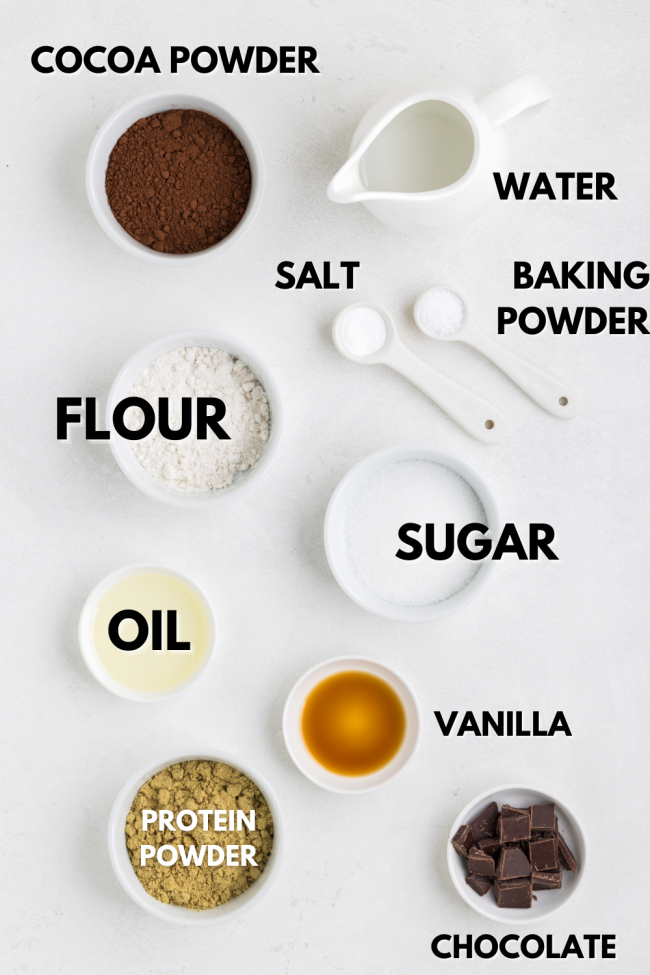 Protein powder – I go into detail about this below. There's no sub for it, and you can't just use more flour or cocoa powder.


Sugar – you can use granulated sugar, raw sugar or coconut sugar. Liquid sweeteners don't work as they'd throw off the proportions.


Cocoa powder – I used Dutch-process in this mug cake and haven't tried it with natural cocoa powder (like Hershey's). But I'm assuming it'd work.


Flour – you can use regular all-purpose flour, whole wheat flour, or white whole wheat flour. If you can't have gluten, you can use a gluten-free baking blend that's meant as a direct sub for all-purpose flour. I talk about which brands I've tested this recipe with below. Oat flour also works! Make sure it's labeled as gluten-free.


Oil – you can use whatever neutral-tasting oil you'd like. If using extra-virgin olive oil, there is a slight olive taste. I love using olive oil in my chocolate recipes, but you can usually taste the olive oil until it's cooled. Since this is a mug cake that should be enjoyed very warm, you'll be able to taste it. But some people like that! If that's you, be sure to check out my Olive Oil Brownies.

If using coconut oil, be sure to use refined coconut oil unless you want some coconut flavor. It also needs to be melted.


Water – you could use milk, if you prefer. Any type will work, except canned coconut milk, which is too thick.


Chocolate, optional – you can use chopped chocolate or chocolate chips.


Vanilla extract, baking powder and salt
Key to success
Please use a scale! The amounts are so small that it's really vital to use the exact amount of grams as I did.
I've read that when people measure dry ingredients like flour and cocoa powder, the amount measured varies from person to person by up to about 30%. So one person could measure 1 cup of something and get 100 grams while another person gets 130 grams.
1 cup of all-purpose flour is 125 grams. 125 grams ÷ 16 tablespoons per cup = 7.8 grams of flour per tablespoon. But I've written 1 tablespoon (11 grams) flour in the recipe.
That's because nobody uses the scoop and level method of measuring flour when they're only using 1 tablespoon. They scoop the flour out of the bag with the tablespoon.
And that's how I arrived at 11 grams. I've made this cake over a dozen of times the last few months and always get around 10.5 to 11.5 grams per tablespoon.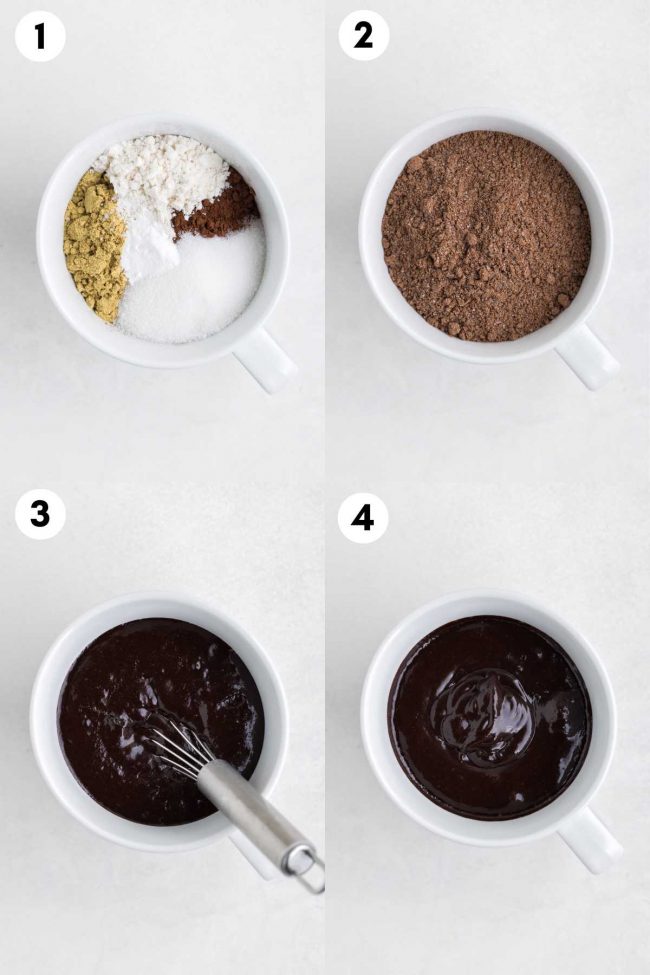 Mug size
The recipe below is for a standard mug or ramekin, so about 1 cup (240 ml).
I also tested out a double recipe in a 1 1/2-cup and a 2-cup mug, and the cook time was two minutes in each.
Can I bake it in an oven?
Yes, at 350 °F (175 °C) for about 14-20 minutes. The exact time you need will depend on the size, shape and material your mug or ramekin is made of.
Texture
When it comes out of the microwave, it's nice and fluffy.
I panicked when I got the photos from the photographer, but I think the issue is that it starts to get dense quickly. And it takes a long time to take photos.
So here's a photo I took with my phone about 2 minutes after it came out of the microwave. Super fluffy!
But it's hard to capture in a photo. Especially with a cellphone camera.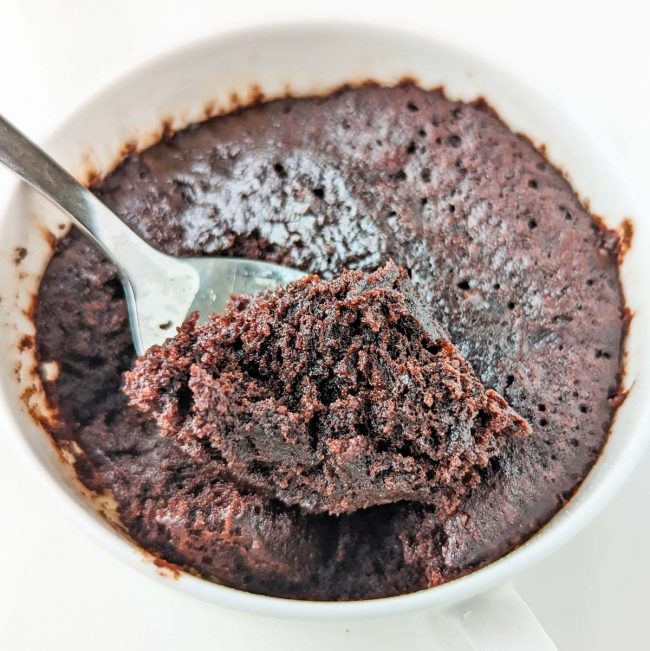 Protein powders tested
I think a lot of protein powders have some pretty nasty ingredients. The ones below aren't perfect, but I think they're relatively good compared to most others.
Dr. Murray's
This recipe was developed with Dr. Murray's 3-Seed Vanilla Protein Powder. It's both vegan and gluten-free.
The ingredients are:
Vegan protein blend (pumpkin protein, flax protein, sunflower protein), natural flavors, MCT powder (MCT oil, soluble tapioca fiber), gum blend (organic guar gum, organic acacia gum, xanthan gum), monk fruit extract, lactobacillus paracasei.
This is the protein powder I always use. I love the taste in sweets, and I use it pretty mucch every day in my Matcha Protein Shake.
It's also what was used in the photos.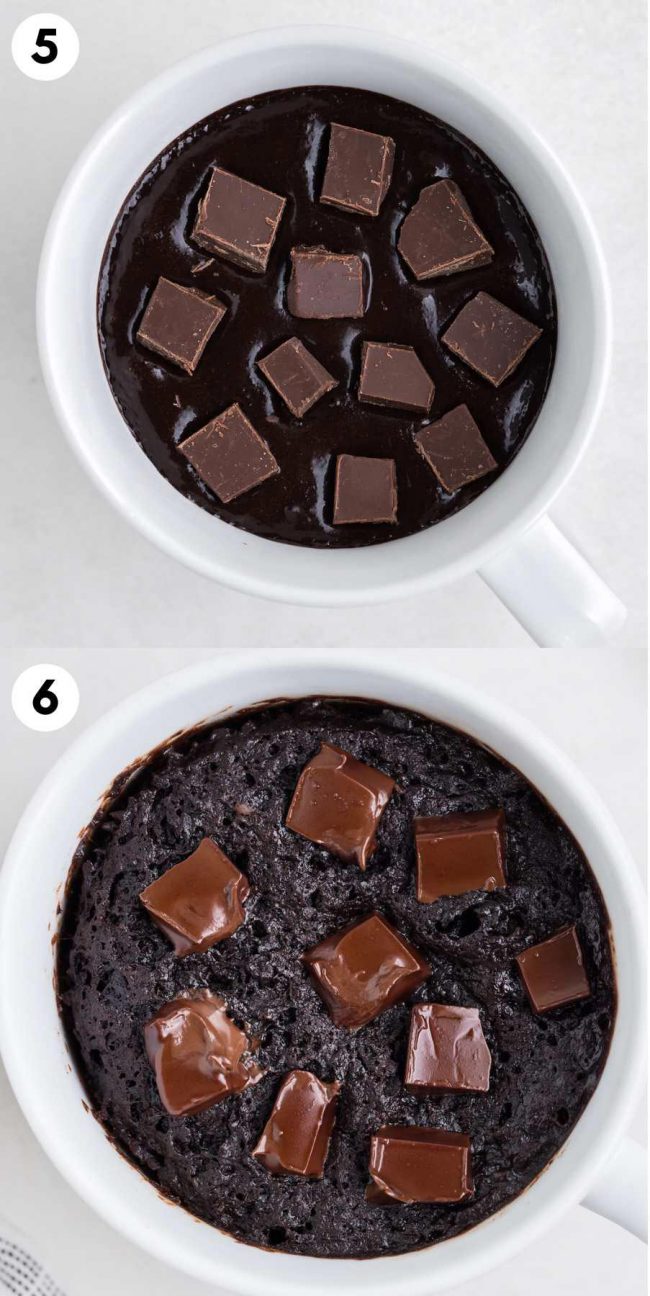 Orgain
I also tried this mug cake with Orgain Chocolate Ketogenic Collagen Protein Powder with MCT Oil.
The ingredients are:
Collagen peptides, coconut medium chain triglycerides, organic alkalized cocoa, acacia, sea salt, organic reb A (stevia extract).
This one is gluten-free but clearly not vegan, but they do sell a keto and plant-based version, in case you're interested. It's always sold out when on sale, so I guess it's pretty good.
This one didn't result in a cake, but a brownie. It wasn't rubbery or weird, but it was indeed a brownie.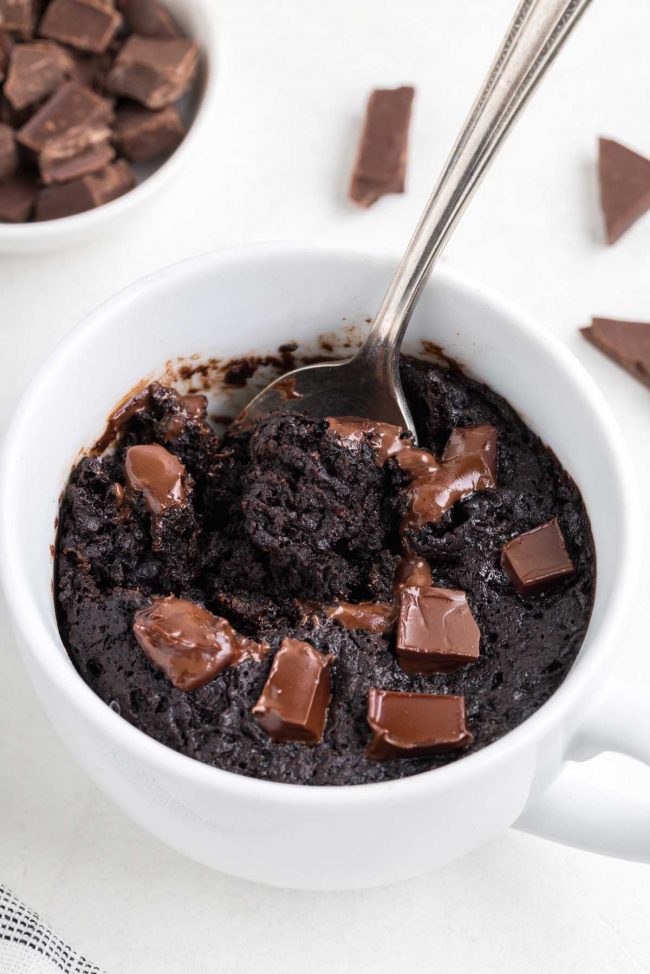 NaturesPlus
I also tried this with NaturesPlus Unflavored Paleo Protein Powder, which is also vegan. Note that the product page says unsweetened, but it's actually sweetened with stevia!
The batter was almost like clay. I thought I might as well cook it to see what happens. It was so awful I had to spit it out.
It worked great in my Paleo Protein Bars, but those aren't baked. And that's the difference.
When you use protein powder in a baked recipe, you really need to use a brand that's been tested successfully. Otherwise, you might end up with disgusting results.
Can I use a different protein powder?
Protein powders vary SO widely in taste and texture. If you try this recipe with a protein powder that I haven't tested it with and think that the taste or texture is funky, then please try again with one of the two (successful) protein powders mentioned above.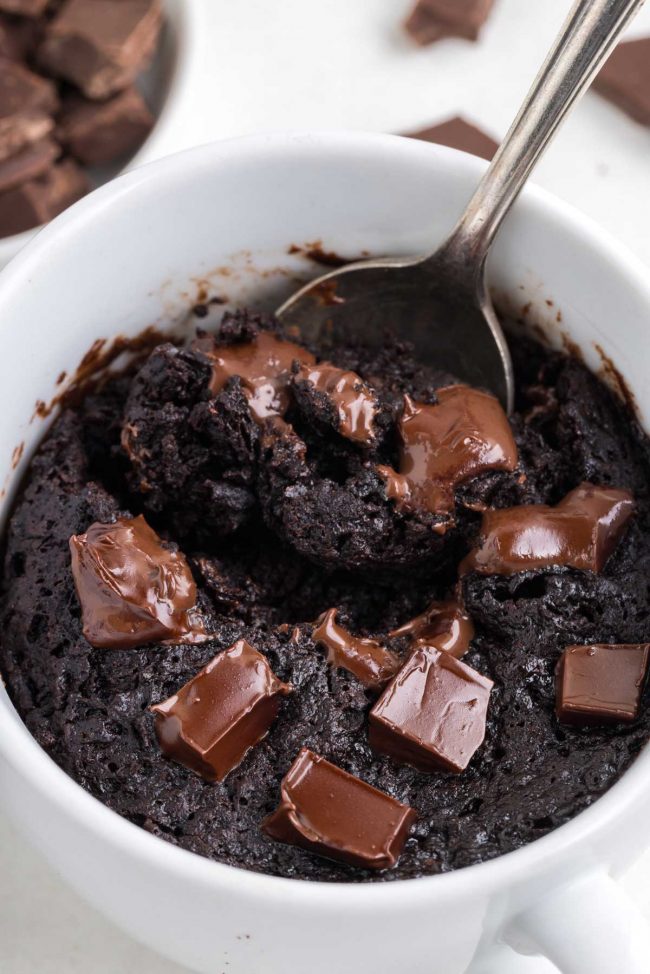 Can I make this ahead of time?
I haven't tried it, but I'm hesitant to say it'd work. There's baking powder in there, and that reacts to liquid and then heat.
At least double-acting baking powder does, and if you live in the US, that's what you're using – even if it doesn't say so on the packaging.
When baking powder gets wet, it starts reacting and producing carbon dioxide. The second, more powerful reaction happens in the oven, but you generally don't want to let batter with baking powder sit around.
What you could do is mix everything together, excluding the baking powder, refrigerate until ready to cook, and then stir in the baking powder right before cooking.
You might need a few more seconds to get it cooked through. And don't use an oil that's solid when refrigerated, or else it'll firm up in your refrigerated batter.
If you use coconut oil, then also exclude that and add melted coconut oil along with the baking powder.
Can I reduce the sweetener / oil?
Nope. It'd have the wrong texture. If you're fine with it being rubbery and weird, you can go ahead and try.
Can I use a different sweetener?
You can likely use whatever granulated sugar you'd like that works well in place of granulated sugar. Maple syrup and honey won't work as they'd add too much liquid to the recipe and throw off the proportions.
You could then reduce the amount of water, but I've never had luck with that. It usually takes a few tries to get the exact amount right.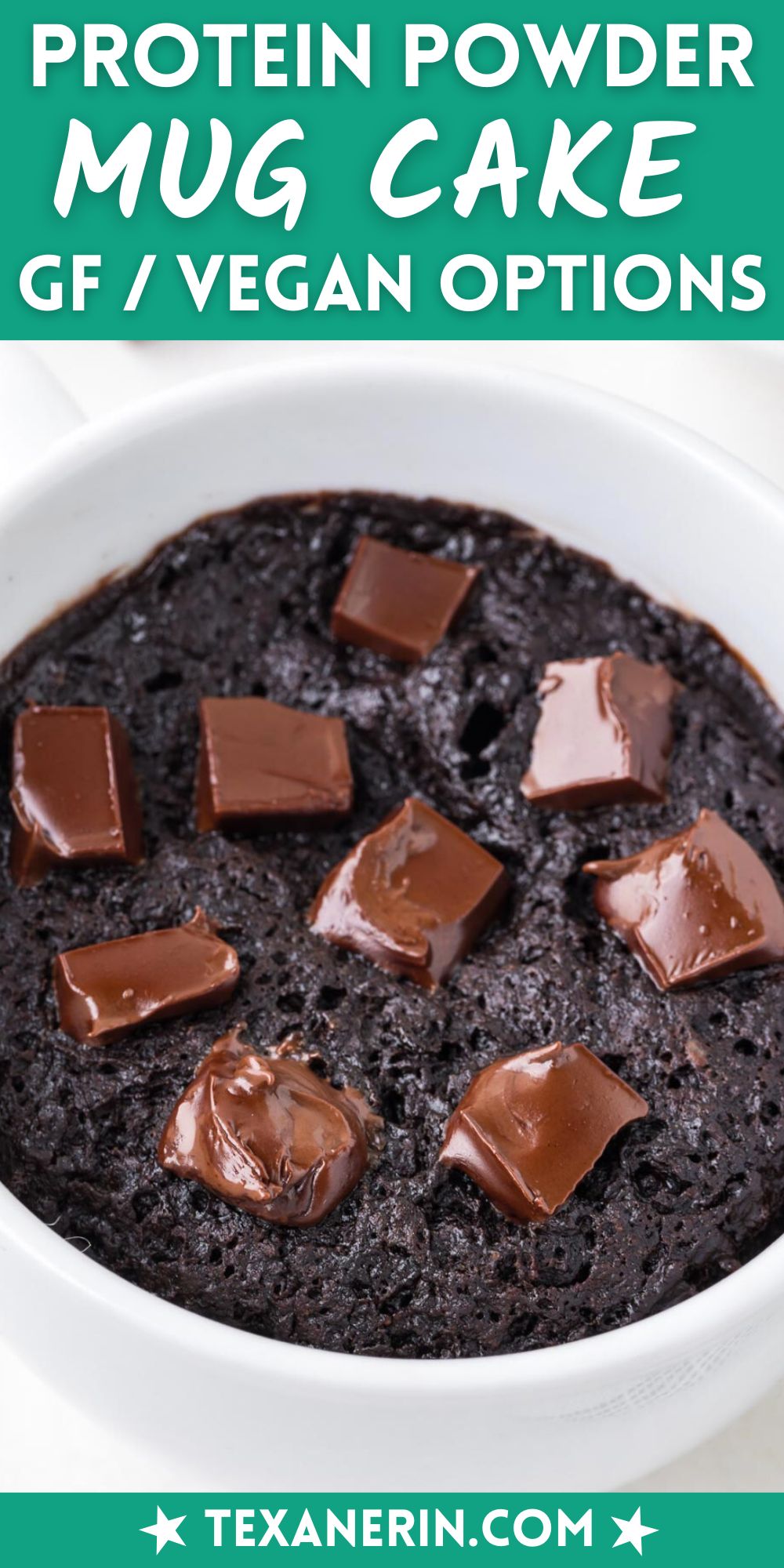 Vegan version
Just make sure that your chocolate and protein powder is vegan! Those are the only ingredients you have to pay attention to.
Gluten-free version
I tested this recipe with oat flour, King Arthur Gluten-free Measure For Measure Flour and Bob's Red Mill Gluten-free 1-to-1 Baking Flour. The latter two are meant as direct subs for all-purpose flour.
For this recipe, I don't recommend using any other type of flour that's not meant as a 1-to-1 sub for all-purpose flour.
Oat flour definitely isn't a 1:1 sub for AP flour, but it works here.
You can likely use another brand of gluten-free 1:1 flour, but without trying it, I can't say for sure how well it'd work out.
It's like with the protein powder. If you try this recipe and think the taste or texture is odd, then please try one of the flours I've tested.
The cake is lighter and fluffier with the King Arthur option. Oat flour yielded a slightly denser cake. Bob's yielded a dense cake. But still delicious!
Paleo or keto versions?
Not this time, sorry. I would recommend finding an already paleo or keto recipe.
Don't wanna turn on the oven? Try these!
I hope you'll enjoy this protein powder mug cake! If you try it, please let me know in the comments. Thanks! :)
❀
Protein Powder Mug Cake (traditional or vegan, gluten-free)
Prep Time:
Cook Time:
Ready in:
Yield:

1
It's really best to use a scale!
Ingredients
2 tablespoons (17 grams) Dr. Murray's Vanilla Protein Powder1
2 tablespoons (27 grams) granulated sugar or coconut sugar
1.5 tablespoons (11 grams) Dutch-process cocoa powder
1 tablespoon (11 grams) all-purpose flour, whole wheat flour or for gluten-free, use King Arthur Flour Gluten-free Measure for Measure Flour or 11 grams gluten-free oat flour2
1/4 teaspoon baking powder
pinch of salt
3 tablespoons water
2 teaspoons neutral-tasting oil like vegetable, canola, or melted refined coconut oil
1/2 teaspoon vanilla extract

Topping:

1-2 tablespoons chopped chocolate
Directions
To a microwave-safe 1-cup mug or ramekin, mix together the dry ingredients (protein powder through salt).
Stir in the wet ingredients.
Use a silicone spatula to push the batter on the sides of the cup down to the rest of the batter.
Top with the chocolate.
Place in the microwave and cook. My microwave is 800 watts and I needed 50 seconds. The top shouldn't be wet, but it might look glossy. The exact time you need will depend on your microwave and the size, shape and material your mug is made out of. You might need up to 75 seconds.
Let cool for just a few minutes so that you don't burn yourself and serve. This is best enjoyed while still warm. It gets dense once cool.
Notes
If you're gluten-free/vegan, make sure to use a protein powder that's gluten-free/vegan. The one I used and list in the recipe is both.
I also tested this with Bob's Red Mill Gluten-free 1:1 Flour and the cake was denser than with KAF. With oat flour, the cake is more dense than with KAF, but less dense than with BRM. Also note that 11 grams of oat flour is a little less than a tablespoon. It's really best to use a scale!