This cottage cheese mac and cheese has a healthier swap for a favorite comfort food. The cottage cheese makes it creamy with more protein than traditional mac and cheese, adding a touch of tangy flavor to a classic recipe. You can make it traditionally, whole wheat or gluten-free.
Instead of using heavy cream, this cottage mac and cheese is a great way to boost protein and calcium, making it a healthier and more satisfying option.
The recipe is still packed with a variety of cheese, ensuring a rich, creamy texture and indulgent flavor that won't leave anyone missing the traditional mac and cheese experience.
If cottage cheese isn't you're thing, I have this Gluten-free Mac and Cheese that uses a roux to thicken the sauce. And because Thanksgiving is just around the corner, this Sweet Potato Mac and Cheese is perfect because it sneaks in even more nutrition with some sweet potato.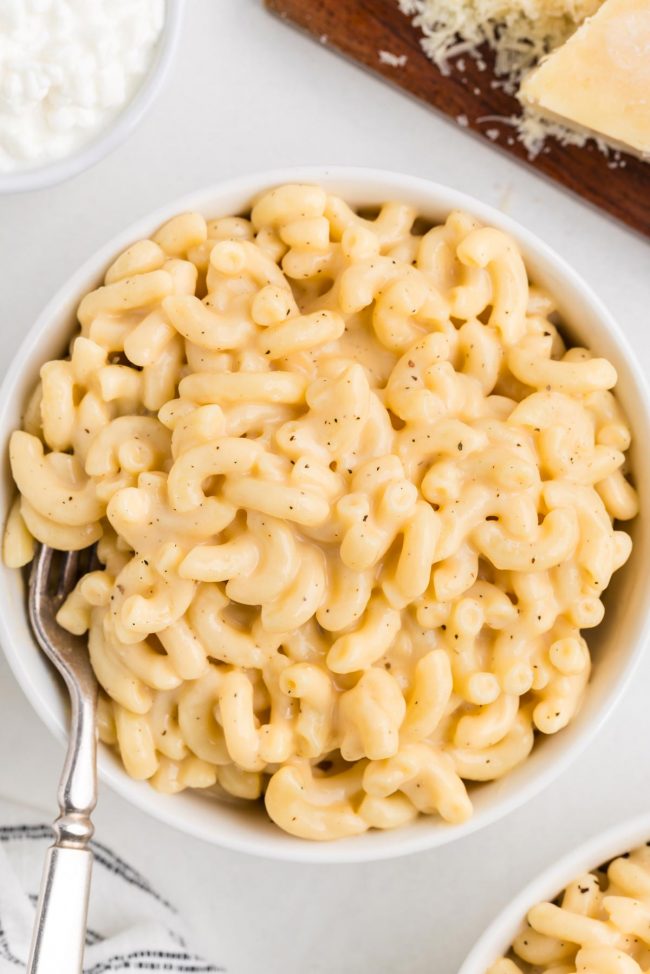 Ingredients
Here's an overview of everything you need. To get the full recipe, you need to scroll down to the recipe box.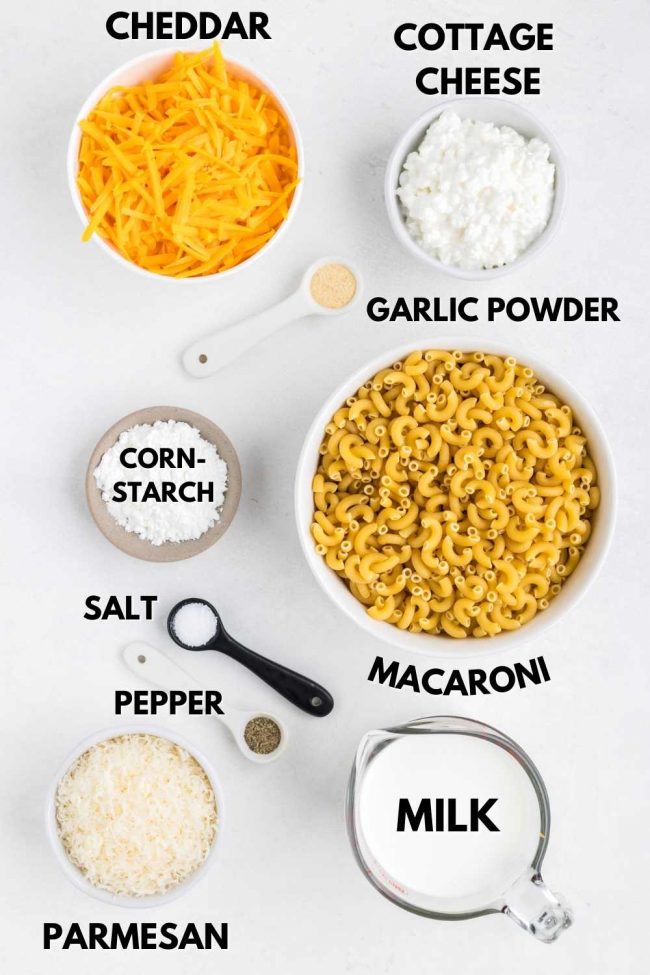 How to make it
This is easier than a roux-based mac and cheese recipe. You cook the macaroni and blend the sauce ingredients in a blender.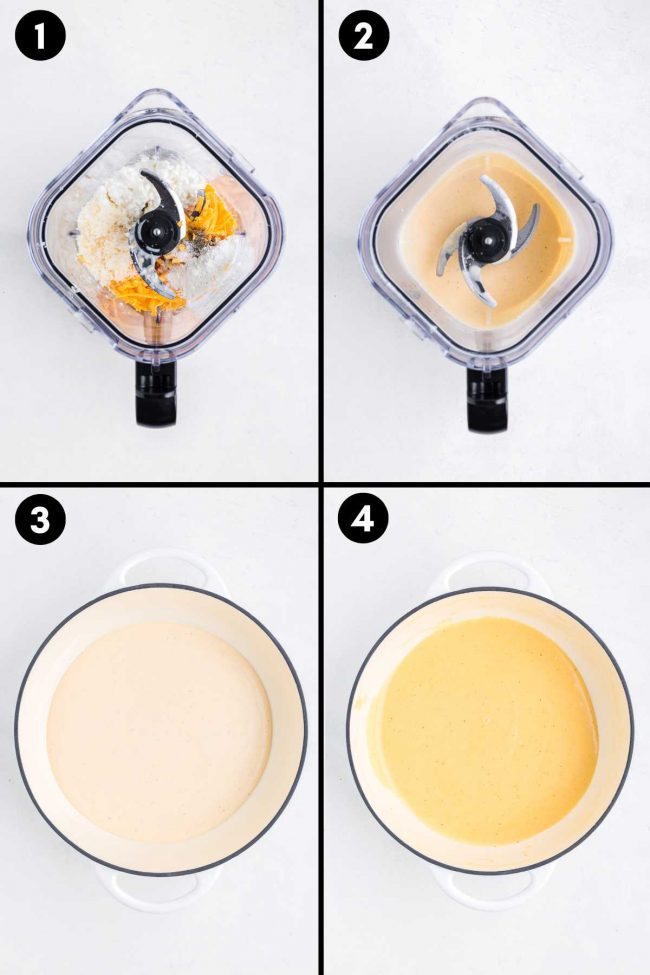 Then warm up the sauce and add the cooked macaroni.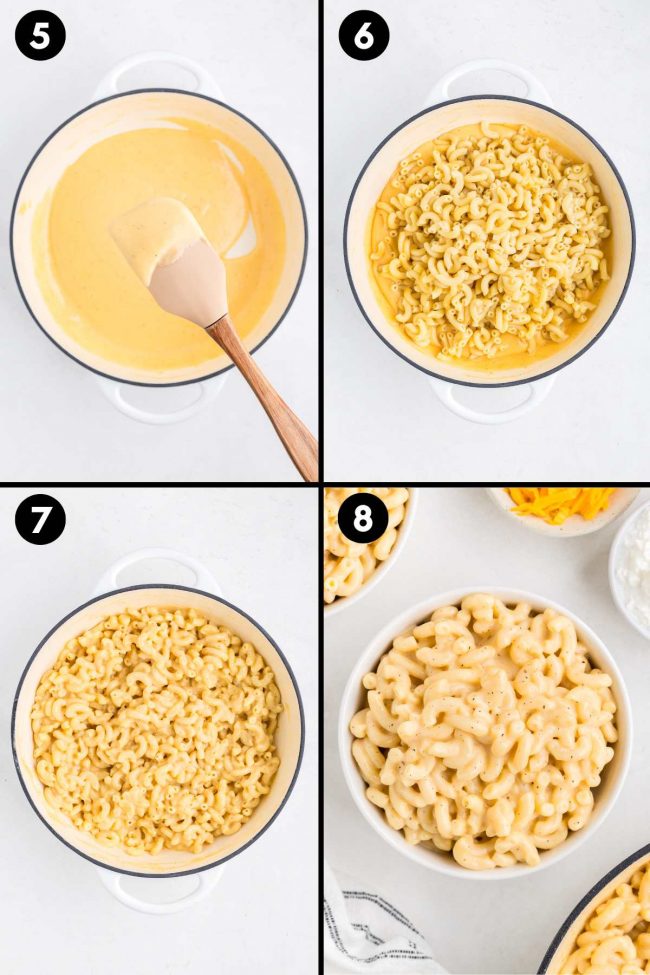 Why cottage cheese?
Cottage cheese is an excellent source of protein, calcium, phosphorus and vitamin B12.
Compared to heavy cream, it's an ideal substitute for achieving a creamy texture without the extra fat.
There are all kinds of ways to use cottage cheese to make lightened-up, high-protein food, and I've got a few options if you're looking to make more cottage cheese recipes: Healthier White Chocolate Mousse, Protein Pancakes, and Easy Pumpkin Pancakes.
Al dente pasta
To not overcook the pasta, you'll want to cook the pasta "al dente' meaning there's a little bite left in the macaroni, and it's not completely soft.
To achieve this, subtract one minute from the boiling time listed on the package or follow the al dente instructions on the package. And don't rinse the pasta once it's strained.
When boiling the water for the pasta, you'll want to add a good amount of salt to the water once the water starts to boil, and then add the pasta. It enhances the flavor of the pasta.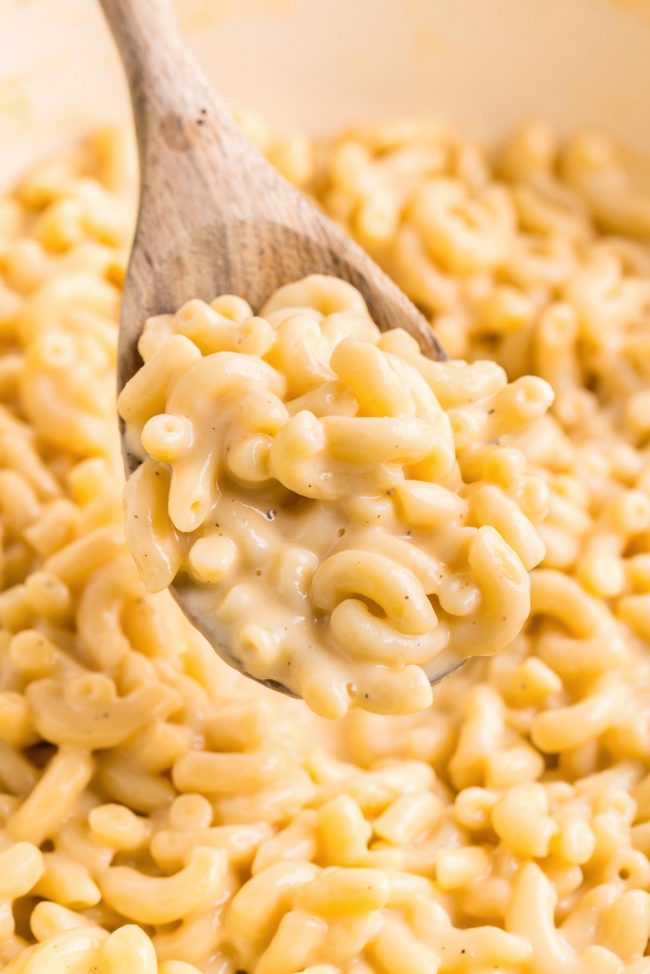 Cheese sauce
I like freshly grated sharp cheddar cheese and Pecorino Romano cheese (or Parmesan) for the cheese sauce. If you like it even sharper, you could use extra sharp cheddar.
While pre-grated cheese offers convenience, it often contains additives like potato starch and natamycin which prevents clumping. These additives can interfere with the ability of the cheese to melt, resulting in a less-than-smooth texture.
Grating your own cheese is worth the extra step, and if you have a food processor with a specific disc for shredding – even better!
Pecorino Romano is my favorite hard cheese, and it's perfect in this dish. It's sharper and saltier than Parmesan and made of sheep's milk. But like I said, grated Parmesan also works.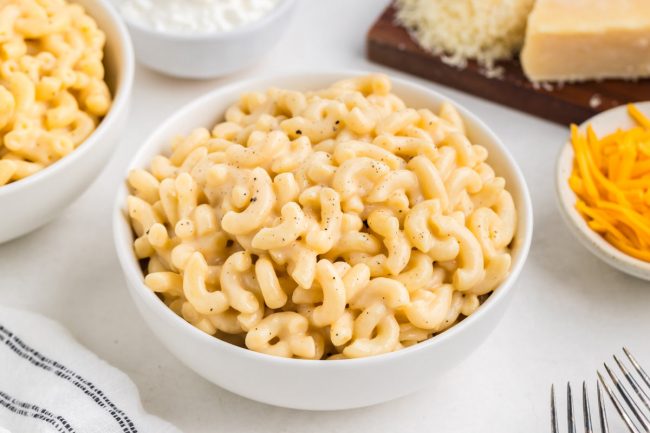 How do you keep it creamy?
Heat the blended cheese sauce at medium-low to medium and no higher, or it will cause the sauce to become too hot, separate and become grainy.
The starch
Cornstarch helps achieve a thicker, smoother consistency for the cheese sauce and helps prevent separation.
If you'd rather use something other than cornstarch, potato starch is nearly identical in texture and has a neutral flavor like cornstarch. It's great for thickening sauces and can be used as a 1:1 sub.
But don't sub in arrowroot because arrowroot in dairy-based sauces becomes slimy.
How to store
You can refrigerate this cottage cheese mac and cheese in an airtight container for up to 4 days.
I don't recommend freezing it because you won't be happy once you reheat it.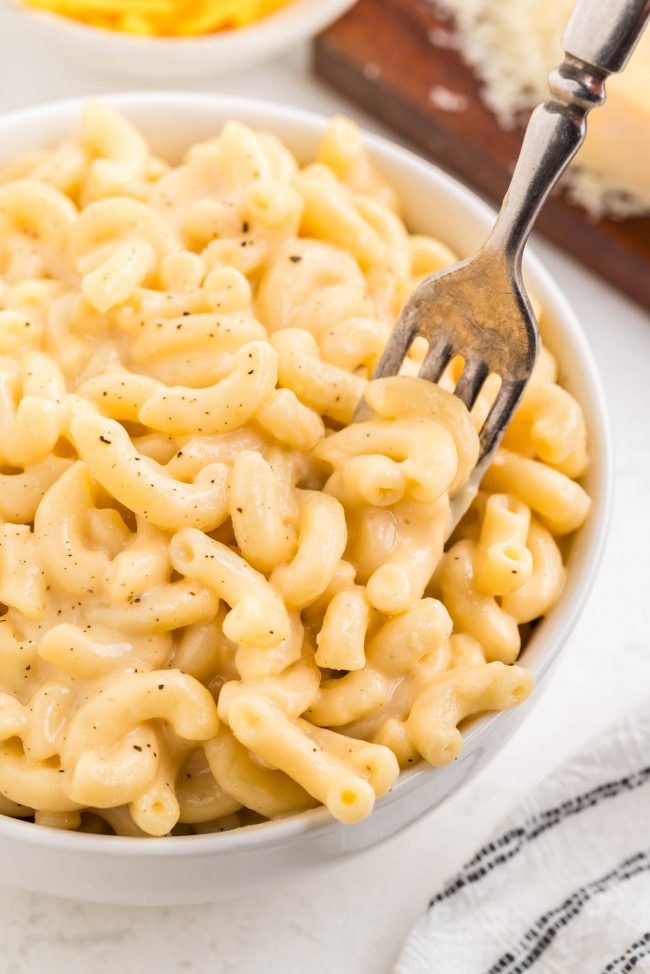 How to reheat
If you plan to make it ahead of time or know that you won't eat it all at once, it's best to keep the macaroni and the sauce separate.
Should you mix it all up, you'll need to add some more milk to make it creamy again.
Regardless of your method, avoid overheating it, as it will become grainy and dry. Adding a bit of liquid will help maintain the creaminess.
Stovetop
Place the mac and cheese in a saucepan or skillet over low to medium heat.
Add a small amount of milk to restore creaminess.
Stir frequently to prevent it from sticking to the pan.
Microwave
Place the mac and cheese in a microwave-safe container.
Add a splash of milk or cream for moisture.
Heat in short intervals, stirring between each to reheat evenly.
Oven
Preheat the oven to a low-medium temperature 325 °F (163 °C).
Place the mac and cheese in an oven-safe dish.
Add some milk or cream, cover with foil, and heat until warm and stir.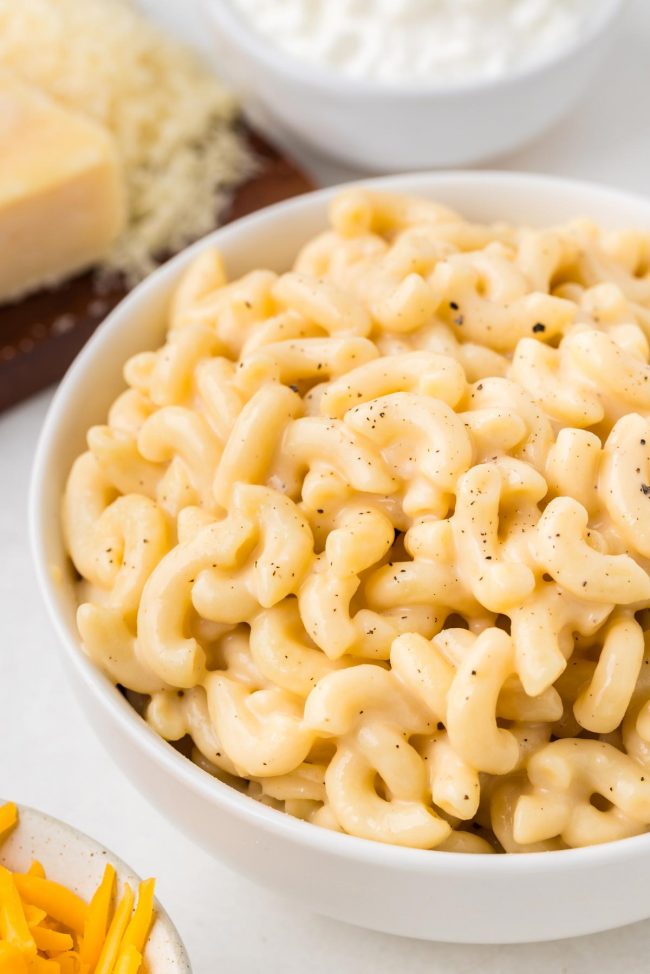 Gluten-free
Most cottage cheese is gluten-free, but be aware that some brands may contain wheat starch or modified food starch, which can be made from wheat. Always check the ingredients.
According to Beyond Celiac, "If a food manufactured in North America has modified food starch listed as an ingredient, but "wheat" is not listed on the label, then it is safe to eat."
As long as you've checked the ingredients and the cottage cheese isn't made with gluten-containing ingredients, then you just need to buy gluten-free pasta.
Can I use dairy-free substitutes?
This recipe just will not work using dairy-free products. Consider finding a highly-rated, dairy-free or vegan recipe for mac and cheese.
More healthy pasta sauces
I hope you'll enjoy this cottage cheese macaroni and cheese dish. If you try, please comment and let us know what you think. Enjoy!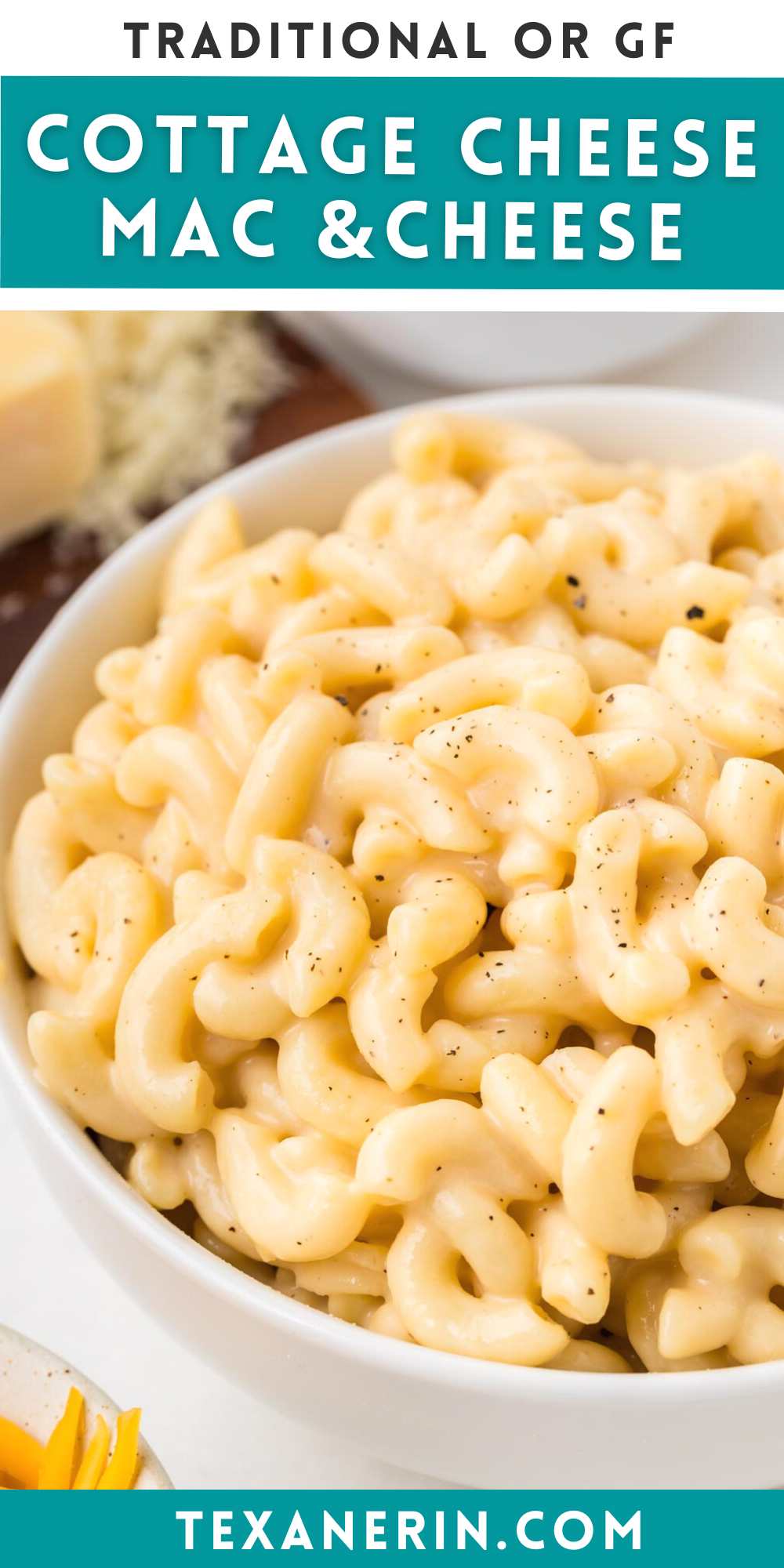 ❀
Cottage Cheese Mac and Cheese
Prep Time:
Cook Time:
Ready in:
Yield:

6-8 servings
Ingredients
12 ounces (3 cups) elbow macaroni (regular, whole wheat or if you're gluten-free, use GF macaroni)
1 cup (240 ml) whole milk
1/2 cup (126 grams) regular full-fat cottage cheese
1 1/2 tablespoons (15 grams) cornstarch
1/4 teaspoon salt
1/4 teaspoon garlic powder
1/8 teaspoon pepper
1 cup (113 grams / 4oz) freshly grated sharp cheddar cheese
1/2 cup (50 grams) grated Pecorino Romano or Parmesan cheese
Directions
Cook the pasta according to the package directions for al dente. It's important not to overcook it.
While it's cooking, prepare the cheese sauce.
Place all the remaining ingredients in a blender and blend on high until totally smooth.
After the pasta is done cooking, drain the water, but don't rinse.
Add the blended cheese sauce to the pot that had the macaroni, heat over medium until hot and smooth.
Add the cooked macaroni and stir until coated.
Let leftovers cool completely and then refrigerate in an airtight container for up to 4 days.