The best gluten-free oatmeal cookies you'll ever have! They're soft, thick, and chewy and nobody will know that they're gluten-free and dairy-free. Can also be made with whole wheat or all-purpose flour. With a vegan option.
I've only ever called one recipe "the best ever" and it was these gluten-free brownies. I felt a bit ridiculous doing it, but the reviewers agreed with me that the title was justified and I think if you make these cookies, you'll agree that they really are the perfect oatmeal raisin cookies. :)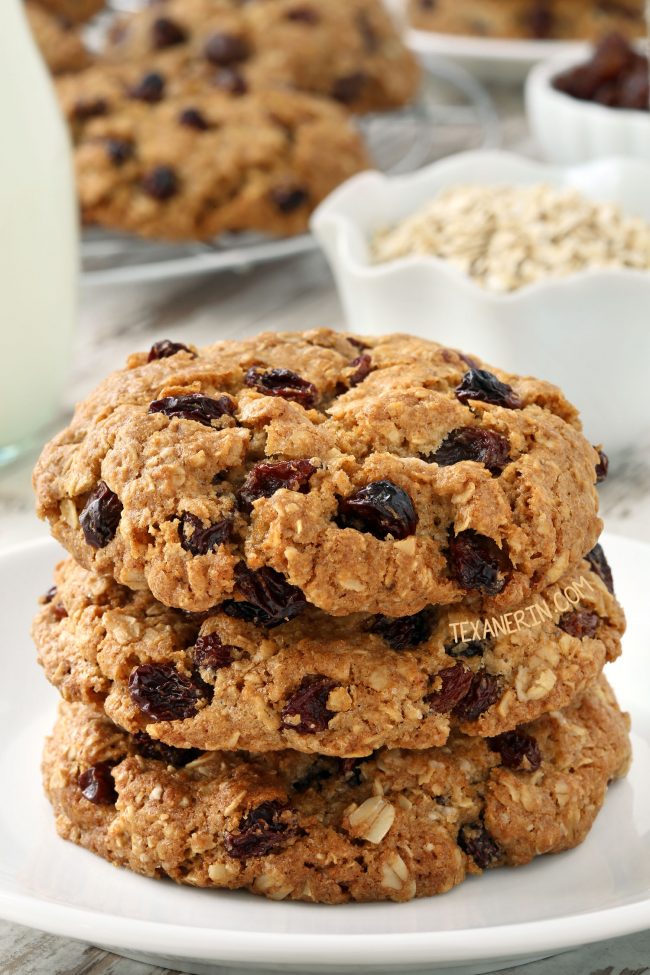 I'm working on a more nutritious grain-free oatmeal raisin cookie recipe, but until that happens, here's my not-so-healthy gluten-free version! Update: I now have a recipe for paleo oatmeal cookies that people are loving!
And I have a version that you don't even need an oven for! These no-bake oatmeal cookies are seriously so, so good!
If you don't need these oatmeal cookies to be gluten-free, you can use whole wheat, white whole wheat or whole spelt flour in place of the first four ingredients (rice flour through xanthan gum). I also just tested these cookies with all-purpose flour and that works just as well!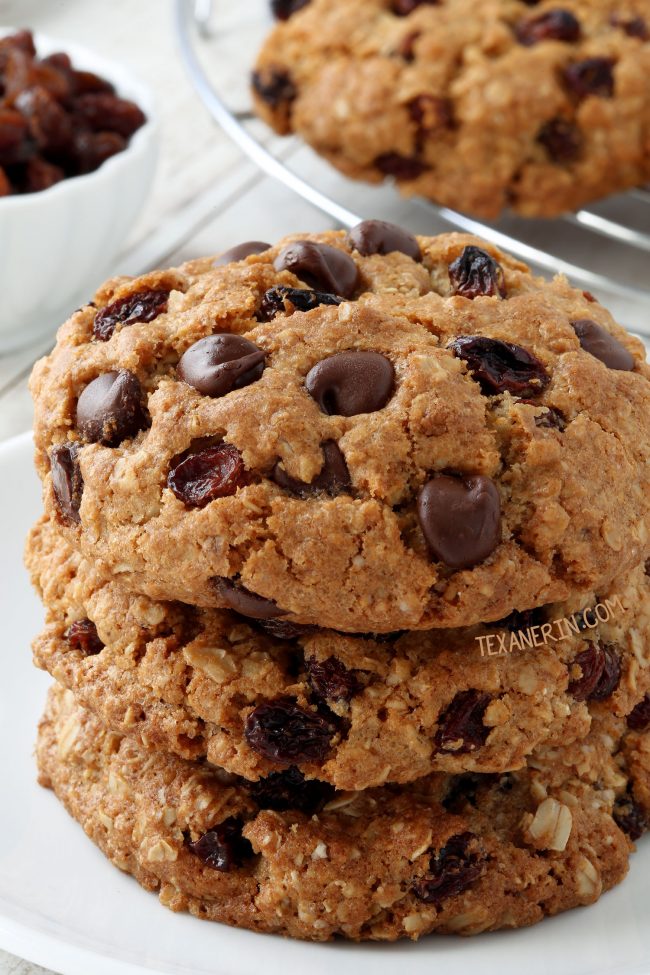 I added some chocolate chips to the dough of a few cookies and placed some more on top after baking, but we actually preferred the chocolate-less version! Crazy but true. I think my issue is that I'm just not a huge lover of cinnamon + chocolate together.
If you recognize these cookies, it's because I posted the original whole wheat version three years ago. I think about 4 people a month look at that recipe so I figured the gluten-free version needed their own post!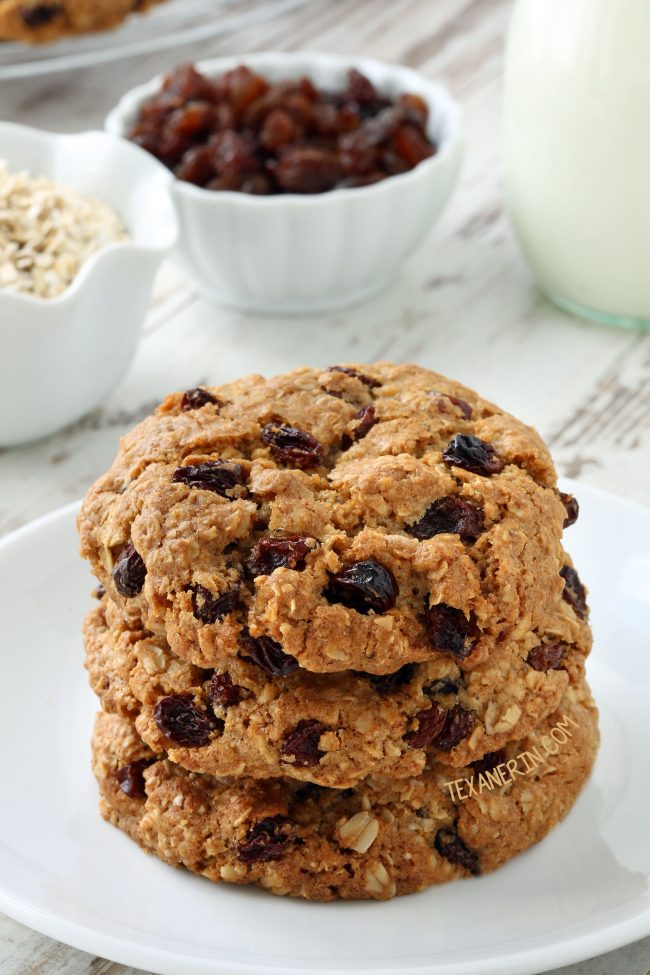 This gluten-free version tastes exactly the same and are even a little thicker than the whole wheat / all-purpose version. There are lots of great reviews on that post so go check them out if you're curious. One reader, Lauren, who has made lots of my recipes declared them the best recipe on my blog. And I agree that they're in the top 5!
The only thing I don't like is the flours I used. I love the end result but the flours are totally nutritionally void. At least there are oats? ;) But these cookies are so delicious I honestly don't care about the lack of nutrition here. I don't think you will either after the first bite!
Click here to view, comment or share the video on Facebook! Thank you. :)
By the way, the cookies in the video look different than the pictures because an especially dark kind of coconut sugar was used. And there were oven issues. It was the wrong time to experiment! :|
❀
The Best Gluten-free Oatmeal Cookies (dairy-free)
Prep Time:
Cook Time:
Ready in:
Yield:

16 large cookies
If you don't need these to be gluten-free, you can use 1 1/2 cups whole wheat flour or all-purpose flour in place of the first four ingredients.
Ingredients
1 cup (140 grams) white rice flour
1/3 cup (52 grams) potato starch
2 tablespoons + 2 teaspoons (20 grams) tapioca flour
1/2 teaspoon xanthan gum
1 teaspoon baking soda
1 teaspoon baking powder
1/2 teaspoon salt
1 teaspoon cinnamon
3/4 cup (168 grams) coconut oil, melted and cooled (unsalted butter works, too, but the cookies are chewier with coconut oil)1
1 1/3 cups (266 grams) raw sugar, coconut sugar or brown sugar
2 large eggs (50 grams each, out of shell) or 2 chia eggs for vegan
1 tablespoon vanilla extract
2 3/4 cups (260 grams) quick oats (make sure to use gluten-free oats), if necessary)
1 1/4 cups (190 grams) raisins (you could sub in some chocolate chips for a portion of the raisins or just place a few on top after baking, like I did in the picture)
Directions
Preheat the oven to 375°F (190°C) and line a cookie sheet with a piece of parchment paper.
Stir together the dry ingredients in a medium mixing bowl and set aside.
In a large mixing bowl, stir together the melted coconut oil, sugar, eggs, and vanilla and stir.
Add the dry mix to the wet mix and stir just until combined. Stir in the oats and raisins, again stirring just until combined.
Form the dough into 77-gram balls, about two inches or slightly over 1/4 cup in size, and place 4" apart on the prepared baking sheet. Press the balls down slightly with the palm of your hand. If your dough is too soft to roll into balls, refrigerate for about 30 minutes or until scoopable.
Bake for 13-17 minutes or until the middle appears to be set and the cookies have evenly browned. They'll still be very soft straight from the oven but firm up as they cool and sit for an hour or so.
Let cool completely on the baking sheet. Store in an airtight container up to 5 days.
Notes
I used refined coconut oil which doesn't have any coconut taste. If you use unrefined coconut oil, these cookies will likely have some coconut flavor to them.