These cinnamon overnight oats are one of the easiest ways to wake up to a delicious, breakfast with little effort! These super creamy oats are prepped in just 5 minutes and left to sit in the fridge overnight. Gluten-free with a vegan option.
These high-protein overnight oats are really the best thing that has happened to my mornings of late. I prep them on Sunday night, and then I've got breakfast covered for the next few days. They also freeze great so you can fill your freezer full of ready-to-eat-foods making your week less stressed.
The best thing about overnight oats is not only that they taste great, but they retain even more nutrients and health benefits than cooked oatmeal.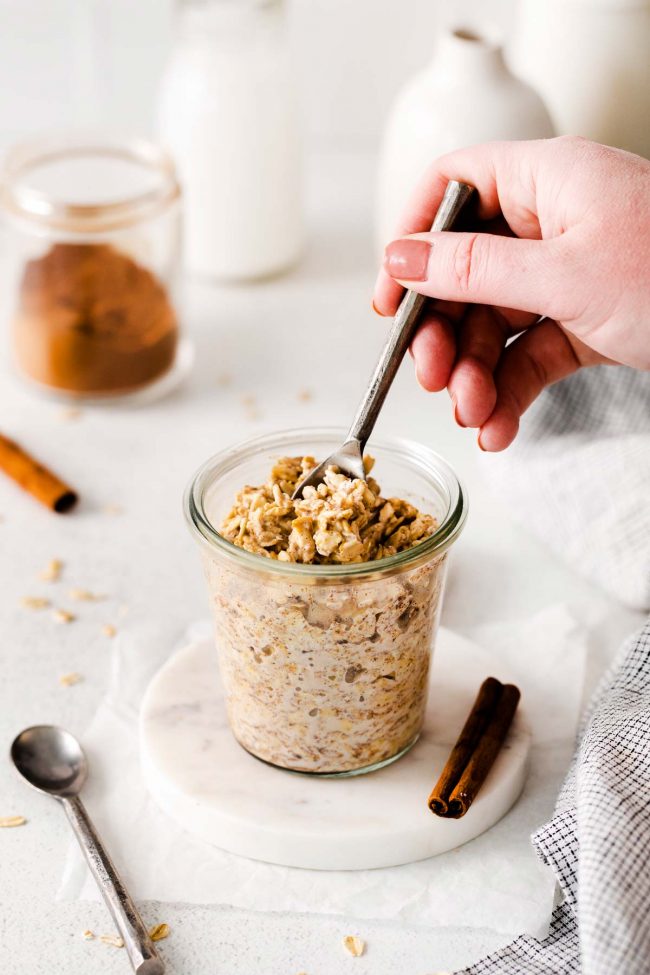 Ingredients
Rolled oats or quick oats for a smoother texture – I used rolled oats in the photos. They add more bite and texture. People seem to normally use quick oats, which results in a creamier, smoother result.

I always use rolled in mine, but if you're new to overnight oats, you might want to go with quick (not instant!) oats as most people seem to prefer those.


Milk – I use cashew milk, but feel free to use whatever you like! If you'd like to use canned coconut milk, I'd recommend watering it down. So use 1/4 cup of canned coconut milk + 1/4 cup of water.

And know that the oats will likely taste quite coconutty. I'm not sure if that's the best thing for cinnamon-flavored oats.


Unflavored or vanilla protein powder OR chia seeds OR nothing – I like using protein powder in overnight oats to create more of a balanced meal. I don't do well in the mornings (or ever) with just a bowl of carbs.

If you don't want to use protein powder, then you can use chia seeds. But you have to like the texture that chia seeds add.

You can simply just omit the protein powder/chia, but then use 6 tablespoons of milk instead of 8. That's because the powder/chia absorb quite a bit of liquid.

I like my oats thick. If you don't, then you can go ahead and use the 1/2 cup of milk.


Maple syrup – you could use a different type of sweetener, but I think maple goes best with cinnamon. You might need a tiny bit more milk if you choose not to use a liquid sweetener.


Ground cinnamon + vanilla extract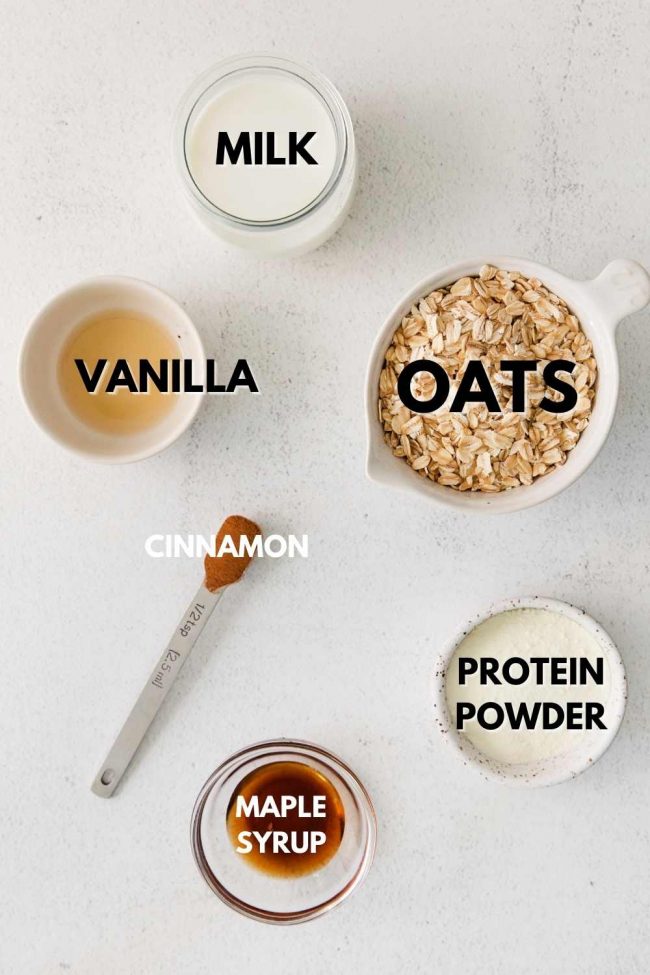 How to make cinnamon overnight oats
Combine ingredients in a small bowl or jar.
Cover and refrigerate overnight.
Stir, add your favorite toppings and enjoy!
That's it! It's a hearty, nutritious, high protein and high fiber breakfast made with minimal effort! It takes only 5 minutes to prep the night before, and you'll be waking up to a terrific breakfast.
This recipe is made for one, so if you're making this for the whole family, just make individual servings for each person. It's also a great make-ahead breakfast that you can make up to 5 days in advance.
Tips
If you use protein powder, I highly recommend using a good quality, reputable brand. Also, keep in mind the protein powder will flavor the oats strongly, so choose one that you like the taste of! I've listed some information on brands below so you can wade through the endless sea of protein powder with ease.


Different protein powders will absorb different amounts of liquid. If you find that they're too dry in the morning, simply stir in more milk.


The more time overnight oats sit in the fridge, the more they'll absorb liquid (up until a point). If you're prepping for a couple of days in advance, you might want to add a little more liquid than if you were eating them the next day.


If the oats are dry, just add more milk when serving, but don't overdo it. Soupy oats are not the consistency we are wanting here. Unless, of course, you like it that way then, by all means, go for it.


Don't use plastic containers to store the oats. Plastic absorbs grease and smells from past food storage. It's best to use glass, stainless steel, ceramic or porcelain bowls. If you have a glass jar with a lid, even better, as it will maintain freshness for a longer period of time


Be sure to stir just before eating. Oats at the bottom of the bowl will be slushier than the oats at the top, so if you give it a quick stir for a perfect creamy texture.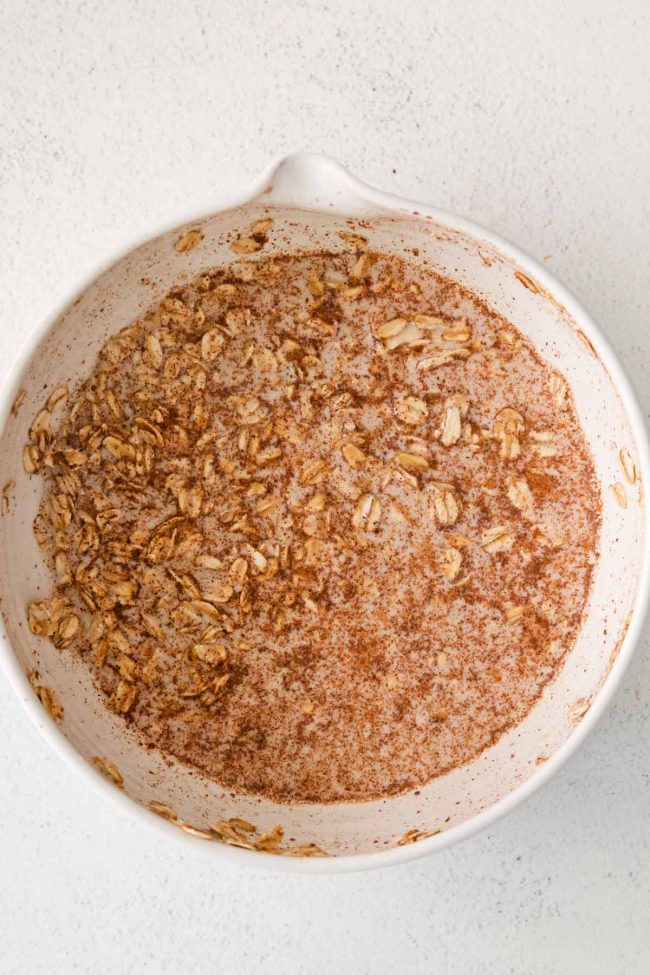 Toppings
Overnight oats are so versatile, you can add your favorite fruit, berries, seeds or nuts – basically, anything you like can be added to these oats.
Yogurt is also a great way to add protein and creaminess. I wouldn't combine it and store it overnight in the fridge because you will have a slime factor. Rather than mix it with the oats, just top off your bowl in the morning for the best results.
Berries and fresh fruit are also great additions. Diced apples would go well with the cinnamon and vanilla flavors, but this is something you should add the morning when you're ready to eat the oats. Combining them from the start will cause them to oxidize and turn brown. The same goes for bananas.
Add-ins like nuts or seeds will absorb liquid and become spongy if you add them to refrigerate overnight. To avoid that, just add them when you're ready to eat and have added crunch.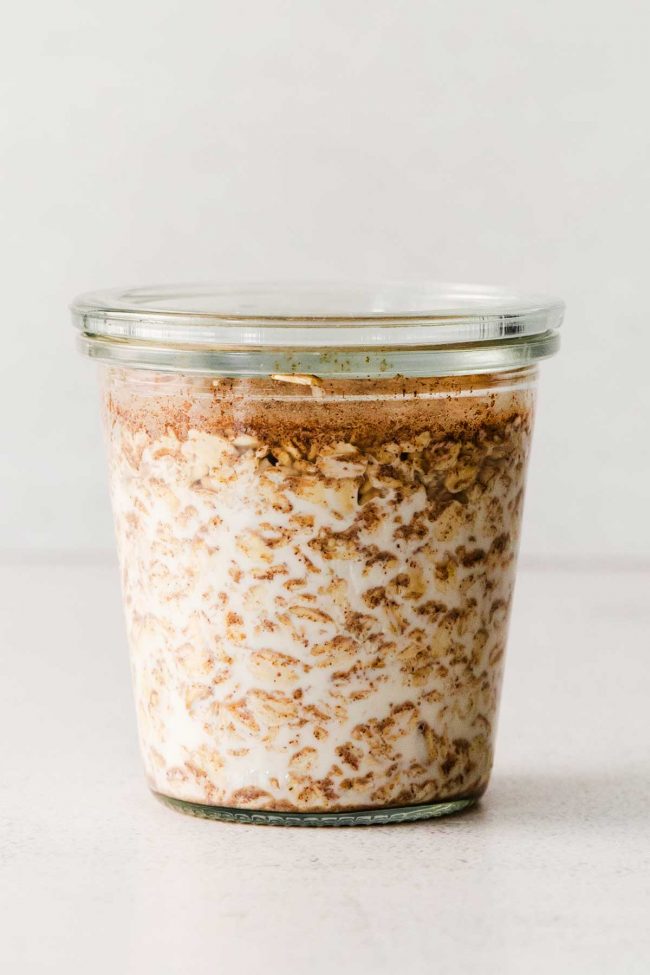 You can use fresh, frozen or even dried fruit. Fresh is great to add in the morning, frozen berries can be defrosted in the fridge overnight then added to the oats. And you can mix in dried fruit from the start if you want them to plump up a bit.
And if you love peanut butter, try this PB2 Overnight Oats recipe. It's made with peanut butter powder (or regular peanut butter) and is super delicious!
And if you're reading this in the fall, why not try some Pumpkin Baked Oatmeal?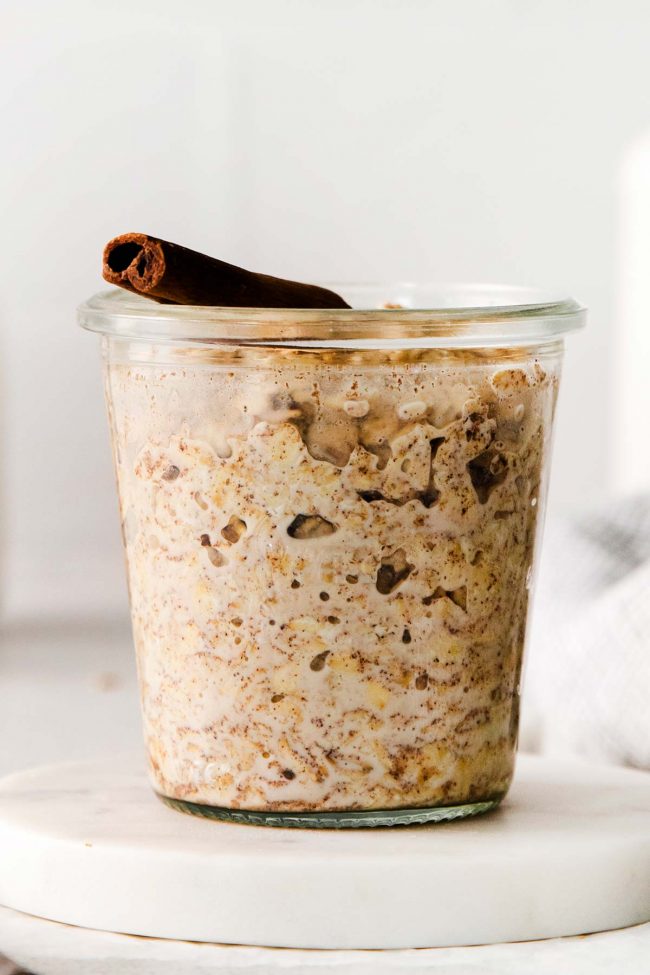 Overnight oats protein powder
If you don't want to use protein powder in these, I understand. I think most brands of protein powder are quite gross, as are the ingredients. One that works for me is Paleo Thin® Grass-Fed Beef Protein Vanilla Nut.
Beef protein probably sounds awful, I know, but there's zero beef taste and the flavor is great.
For my vegan readers, I found and tried a vegan option – Dr. Murray's Super Foods 3 Seed Vanilla Protein Powder. It's just as tasty in these oats!
I've also tried these oats with another vegan option – Vega Brand vanilla protein powder. It was smooth without any grit and tasted great. I compared it to their chocolate protein powder and noticed the chocolate absorbed more moisture than the vanilla.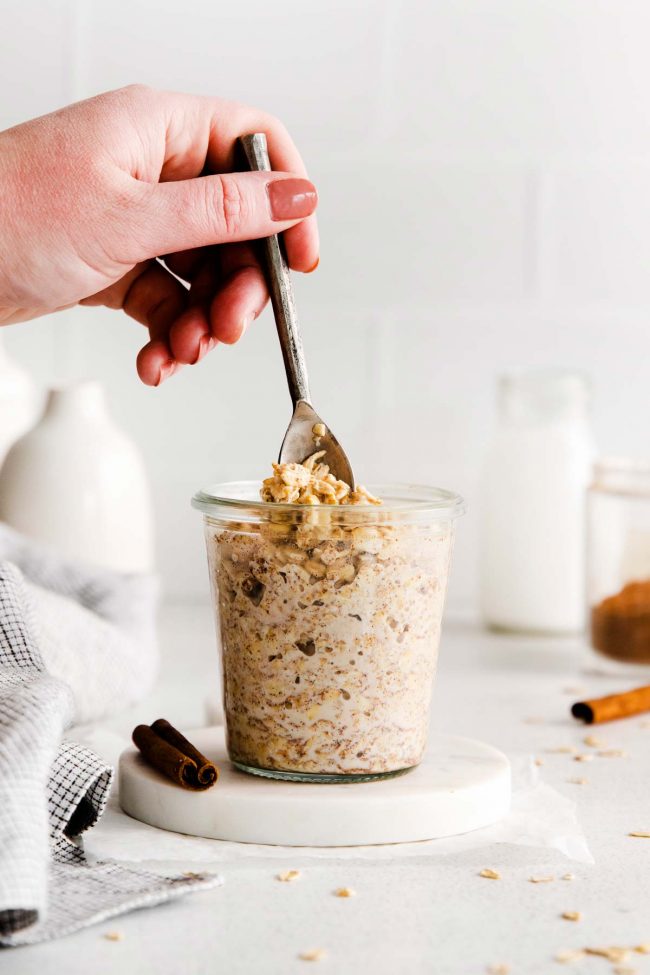 This article ranks the best-tasting protein powders in 2022. It's a glance to help you navigate the extensive amount of protein powders that can be found. Plus, it shows a price range and where you can find the best-tasting brands.
If you don't like the ingredients in any brand of protein powder, you can simply omit it or use a tablespoon of chia seeds.
If you're looking for other ways to use protein powder, check out these Protein Brownies! They're ultra fudgy and are a great treat. They're gluten-free and dairy-free with a paleo option.
I also love waking up to this Chocolate Avocado Smoothie! It has loads of plant-based protein and is another great way to start your day. It's naturally gluten-free with paleo and vegan options.
Are oats gluten-free?
They are naturally gluten-free, but if you are gluten sensitive, you'll want to read this article on Are Oats Gluten-free?
Want to learn more?
Since most people just want the recipe, I've made several different posts on all things overnight oats so that people don't have to scroll for so long. ;)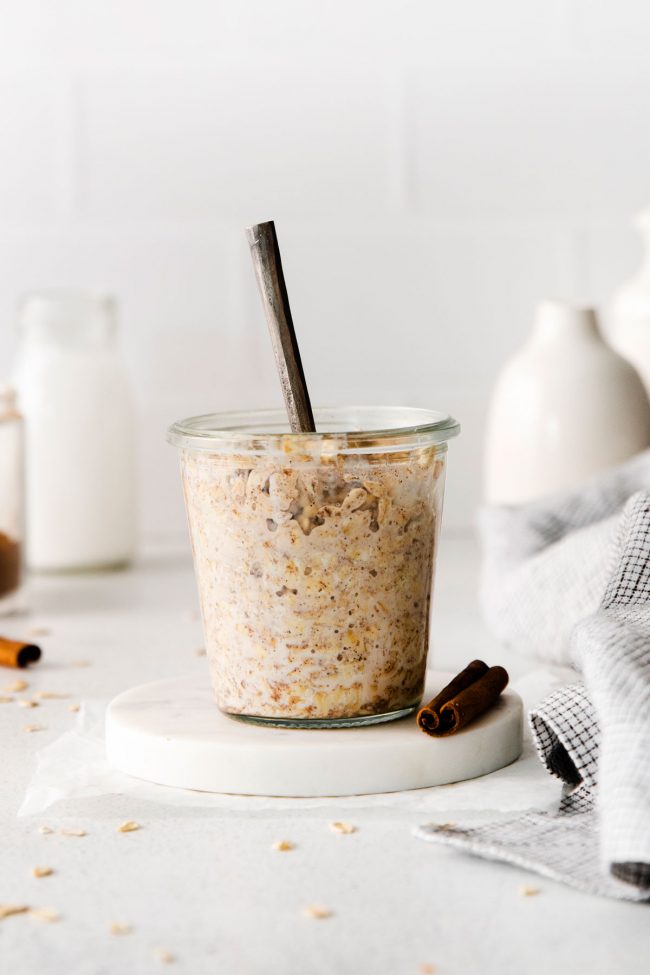 Other quick protein breakfast ideas
I have loads of healthy breakfast recipes, especially if you're looking for gluten-free or vegan options. The recipes below are all high in protein and make great options to start the day.






And some smoothies!

Avocados are amongst the high-protein fruits, which is why these smoothies are a great way to perk up your day.




If you make these Cinnamon Overnight Oats, leave me a comment below and let me know how they taste! You can find me by mentioning @texanerin or by tagging #texanerin.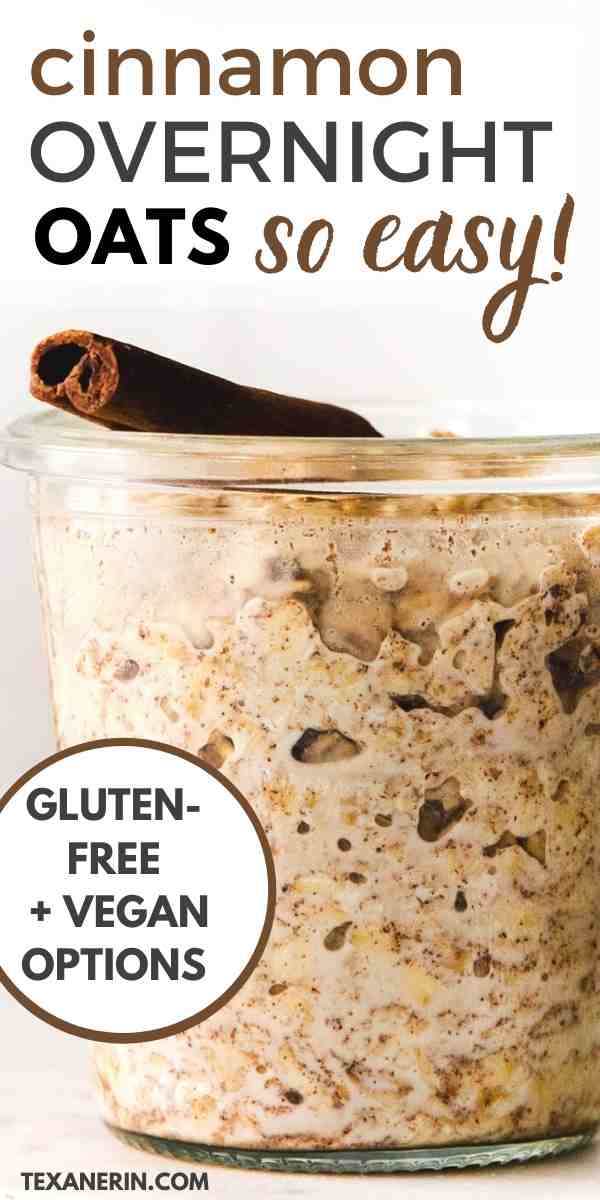 ❀
Cinnamon Overnight Oats
Prep Time:
Cook Time:
Ready in:
Yield:

1 serving
Read the notes if using lemon juice!
Ingredients
1/2 cup (47 grams) rolled oats or quick oats for a smoother texture
1/2 cup (120 ml) milk (dairy or non-dairy)
2 tablespoons unflavored or vanilla protein powder or 1 tablespoon whole chia seeds OR omit and add less milk1
3-4 teaspoons maple syrup
1/2 teaspoon ground cinnamon
1/2 teaspoon vanilla extract
pinch of salt
optional – splash of fresh lemon juice2
Directions
Combine all of the ingredients (using 3 teaspoons maple syrup) in a small bowl or jar. Refrigerate for at least four hours, preferably overnight.
When you're ready to eat it, taste and stir in more maple syrup, if desired. Unless you used sweetened protein powder, you'll probably need the extra maple. And if it tastes bland or if the flavor doesn't pop, you need to add more salt. Want them thinner? Add a little more milk. This recipe yields oats that are on the thicker side.
If preparing in advance, don't add any toppings. Cover and refrigerate for up to 5 days, noting that the oats will become softer and softer the longer it sits.
Notes
If not using protein powder or chia seeds, only use 6 tablespoons of milk if you like your oats thick. If you don't like them thick, then use the full 1/2 cup of milk.
Adding lemon juice neutralizes the phytic acid, making it more digestible. For more details, check out my post on → Overnight Oats Benefits. If you want to do that, soak them for at least 12 hours. Ideally, you'd use slightly warm milk to soak the oats, let them soak at room temperature (or slightly warmer than room temperature, like a laundry room or in a sunny spot) for 4 hours. I'm too lazy to heat up the milk and use cold milk, put the bowl with the prepared oats on a cooling rack and put that over a burner that's still warm after making dinner. After 4 hours, move the oats to the refrigerator for the remaining 4+ hours. Don't forget to move them into the fridge after 4 hours, or else they might spoil and/or develop something undesirable.
If you're gluten-free, make sure to use gluten-free oats and gluten-free protein powder (most are).
If you're vegan, make sure to use plant-based milk and vegan protein powder.