Healthier, super moist, honey sweetened chocolate zucchini cake with a special and simple ganache made out of coconut oil, cocoa powder, Greek yogurt and honey!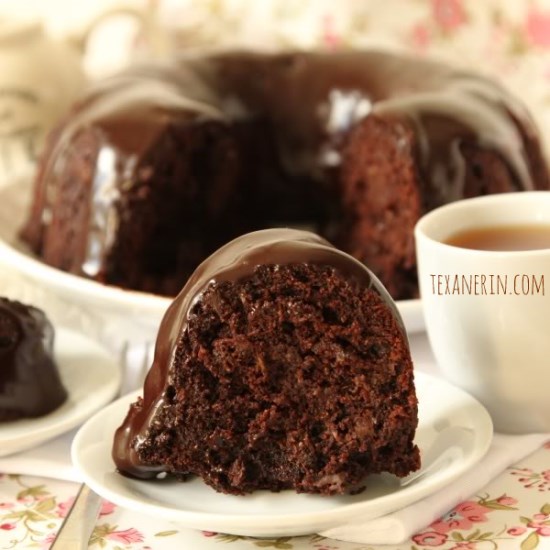 I'm totally new to the world of zucchini in baked goods. I can do carrot cake (like this whole wheat carrot cake) because the carrots are hidden, but I was nervous about this one.
It worked out well, though! It was awesome and I can't wait to try other zucchini recipes. Especially ones with chocolate. ;) Update: these zucchini brownies (which are also whole wheat and can be made gluten-free) are now my favorite zucchini goodie!)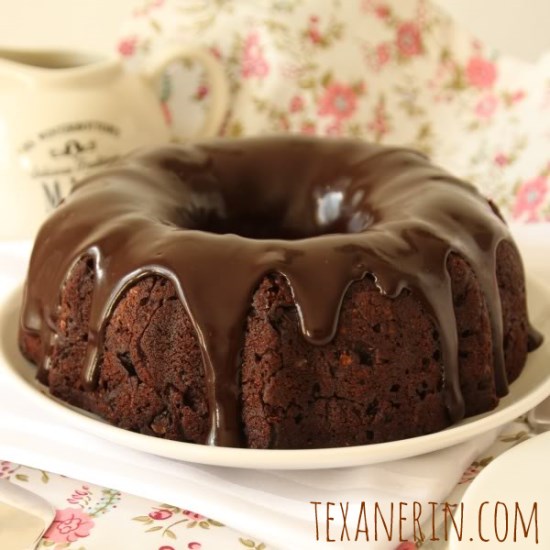 Zucchini and veggies just aren't my thing. If you follow me on Instagram, you know that I bought a cucumber, thinking it was a zucchini. What can I say? They're both long and green. Thank goodness Mr. Texanerin questioned my cucumber intentions!
Or else there would've been cucumber cake. Yuck. Actually, I dislike zucchini too so maybe it doesn't really matter. And by the way, you can not taste the zucchini in this zucchini cake. You can believe me when I say I would not eat this if you could.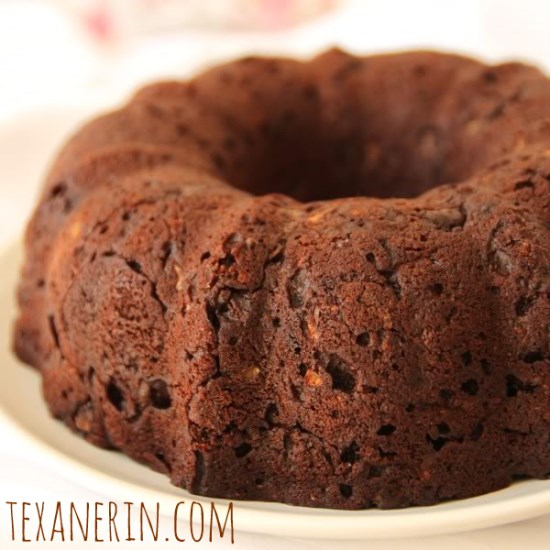 So that's what the cake looks like without the ganache. A bit boring, yes? And weird. The second cake I made came out looking normal. Without all those little holes. I had to make the cake twice.
The first time I used a 6 cup bundt pan (it halves wonderfully!), thinking it wouldn't work out. But then it did. And since I can't just guess the baking times, I had to bake it a second time using a normal 12 cup bundt pan.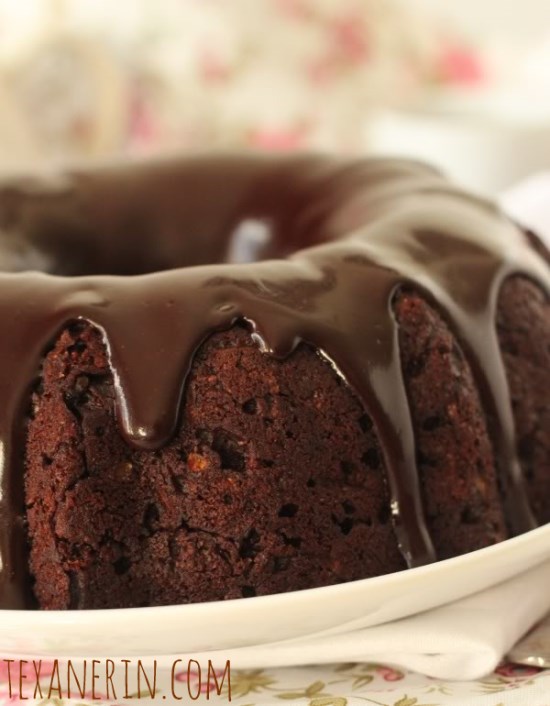 So much better, isn't it?! And oh oh oh! This ganache… it's not really ganache. Ganache = chocolate + cream. This is cocoa powder, honey, coconut oil, and Greek yogurt. Yeah! :D It sets like normal ganache, but you should keep it in the fridge because of the yogurt. And it honestly tastes just like real ganache.
If you want something with chocolate and zucchini that's gluten-free, try this gluten-free zucchini bread! It looks amazing.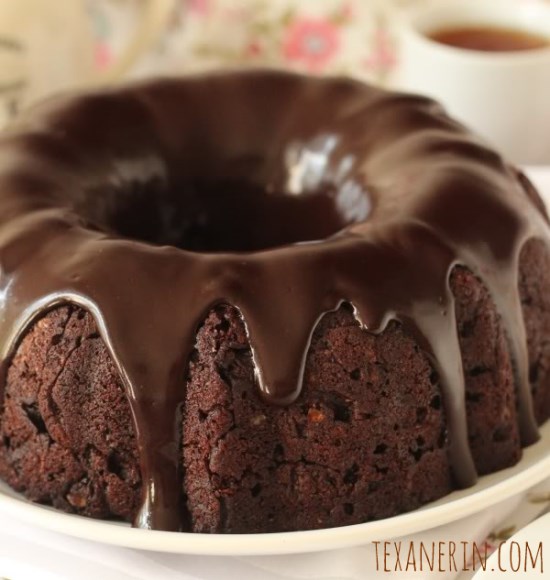 Oh, and here's a little lesson for you.
How to sneak pieces of cake before taking photos because of bad lighting situations: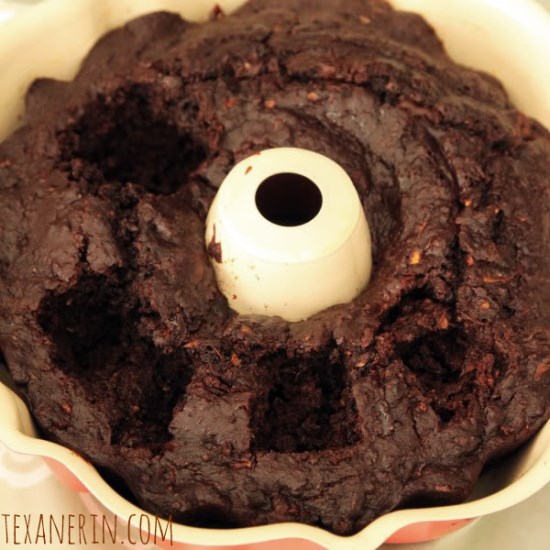 Just make sure to leave little gaps so your cake doesn't collapse. :)
❀
100% Whole Grain Chocolate Zucchini Cake with Greek Yogurt Honey Chocolate Ganache
Prep Time:
Cook Time:
Ready in:
Yield:

12-14 pieces
Ingredients
Zucchini cake:

3/4 cup (177ml) olive oil or canola oil
1 cup (320 grams) honey
2 teaspoons vanilla extract
2 large eggs
3/4 cup (177ml) Greek yogurt
290 grams whole wheat flour (this was about 2 cups or 2 1/4 cups)
1 1/4 teaspoon baking soda
1/2 teaspoon baking powder
1/2 teaspoon salt
90 grams Dutch-process cocoa powder (about 3/4 cup cocoa)
3 cups (for me, this was 340 grams) grated, peeled zucchini1
1 cup (180 grams) semi-sweet chocolate chips

Ganache:

80 grams (1/4 cup) honey
50 grams (3 1/2 tablespoons) coconut oil
1/2 teaspoon vanilla
1/4 cup (30 grams) Dutch-process cocoa powder
2-4 tablespoons Greek yogurt
Directions
Grease a 12 cup bundt pan or 6 cup if you want to make half. Preheat your oven to 350°F / 176°C. For the cake, combine the honey, oil, and vanilla in a large bowl. At first it'll be difficult to get the honey incorporated, but it'll work. Stir in the eggs and then the Greek yogurt. Set this bowl aside.
In another large bowl, combine all the dry ingredients. Sift the cocoa powder into the bowl if it's lumpy, or just use a fork to get rid of the lumps. Add the wet mix to the dry mix and stir, just until combined. Fold in the zucchini and the chocolate chips.
Bake the full recipe for 40 minutes, or if using half, bake for 30 minutes. When you insert a toothpick in the middle, the toothpick will not come out dry, or even with crumbs, but it'll come out covered in sticky batter. If you insert it, and it's just normal batter, it's not ready. Sticky batter is what we're looking for! It'll continue to cook once it's out of the oven.
Let cool in the pan for 10 minutes and then flip out onto a wire rack to cool. Cool completely before putting on the ganache. If using the following ganache recipe, store cake covered in the fridge. Otherwise, room temperature is fine.
For the ganache: Over low heat, melt the honey and coconut oil and in a medium saucepan or pot. When melted, add the vanilla and then the cocoa powder. Stir until thoroughly combined. It might look weird, like it isn't combining. The first time I made it, I used too much coconut oil and poured some out and everything was fine. The recipe reflects how I made it the second time with less coconut oil, and had no problem with excess oil.
Place in the fridge for 5 minutes. Take out and add a tablespoon of Greek yogurt at a time, stirring after every one. For me, just under three tablespoons was enough. It should be pourable at this point. Not too hot and not too cold. Pour over the cake and store any leftovers in the fridge.
Notes
The first time, I grated the zucchini. The second time, I put it through the food processor using the super finer grater. But it really came out more like puree. With the puree, I used 1.5 cups because that's what 340 grams came out to. I think I actually preferred it with the grated zucchini. The texture just seemed better and the little pieces disappeared anyway, so you can still trick people. :)