12/19 update: Three people have now said that these brownies came out bitter for them. A few have said that they were great and that they loved them. I've made these over a dozen times and they're quite sweet and not at all bitter for me. The person who made the recipe video said, "No, they were definitely not bitter, they were quite sweet actually! We made the recipe twice and both times the brownies tasted amazing. Everyone who tried them liked them very much. And that is confirmed by a lot of people because we gave them away before we left for the trip. I don't understand how could they be bitter? This is just weird!"

I have no idea how to explain this if people are following the recipe 100%. I suppose to be on the safe side, you should use regular molasses and not blackstrap (which I used every time during testing – and I tried 3 different brands). Please also weigh the ingredients, especially the coconut sugar!
These gingerbread brownies are gooey, moist and loaded with molasses and warm spices. They're also paleo, gluten-free and can be made vegan.
If you look at other gingerbread brownie recipes, you'll find a lot of recipes that are regular brownie recipes with gingerbread spices and maybe a bit of added molasses. Not these!
There's no chocolate in these, unless you want to add chocolate chips on top, like I did. They're also delicious with about a cup of chocolate chips added to the batter. If you can have white chocolate, that's also super yummy in these!
These brownies are all gingerbread but in gooey form. I think it's an improvement over the cake version!
Someone on my coconut flour cookies post left a comment saying how glad they were that I had come up with an all coconut flour version of my paleo chocolate chip cookies. It made me so happy that I decided to make another coconut flour only recipe.
These gingerbread brownies really have an amazing texture. There's no funky coconut flour weirdness to them at all! (nor, by the way, is there in those coconut flour cookies linked to above :)) Same goes for my coconut flour brownies.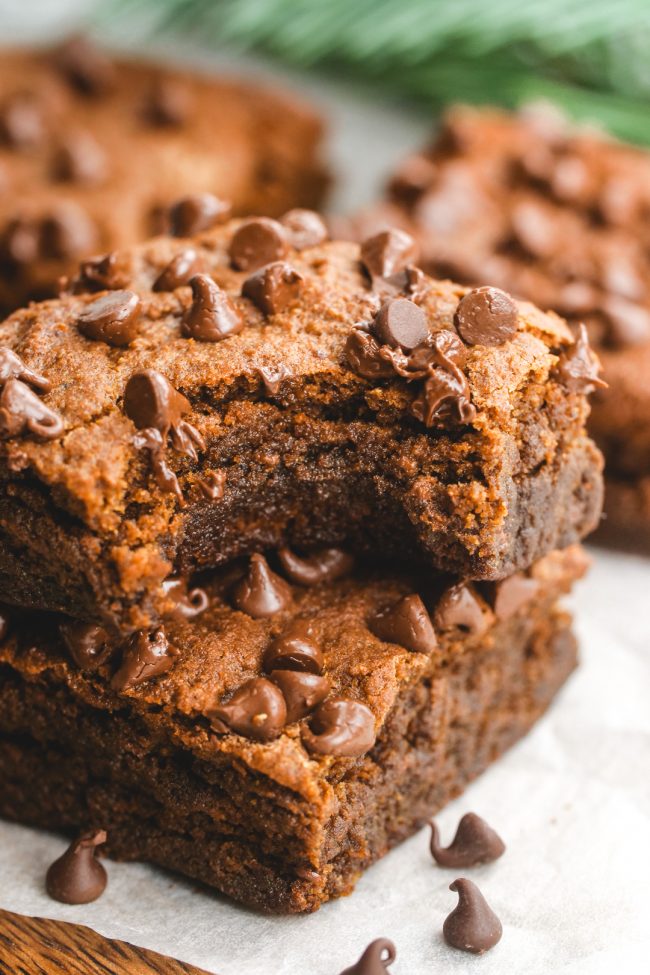 I made these brownies 9 times over 2 days and each time they came out differently. I went by weight, used the same oven and pan so the only variables were the ingredients.
And still, every batch came out slightly to widely different. I like precision so this freaks me out.
After I made the first batch, I was so ridiculously excited that I went straight to my computer and started writing the post. When I took out the second batch (which I made to confirm that I hadn't made a mistake with the first), the result just confused me.
When I was mixing that batch together, the oil didn't incorporate with the other wet ingredients. I thought once I added the dry mix to the wet, that the oil would somehow incorporate. It didn't.
I wasn't going to waste all those ingredients so I baked them anyway and some of the oil floated to the top. It was like they were fried.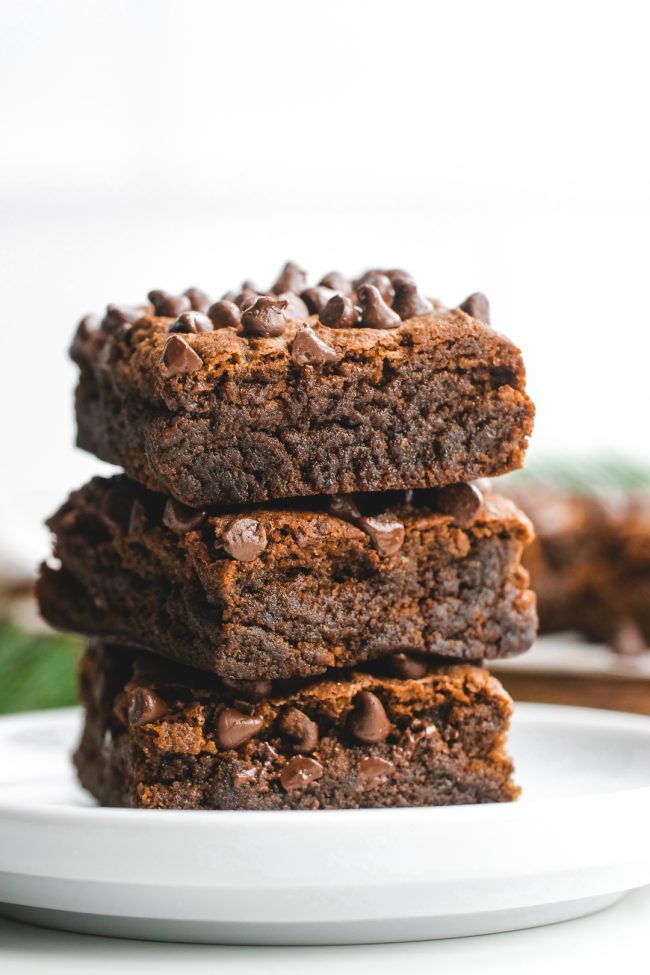 Fried gingerbread brownies! Perhaps a first in the world.
So I made them again and again and again. I'd run out of coconut sugar, coconut oil or molasses and open a new bag or jar. They were often different brands. Then I'd get different results.
So I'm going to be really honest and say I have no idea if your results will 100% look like mine. But they will be delicious!
They've been made by two other people so far and the results have been like what I describe. And the pictures don't show how gooey they really are!
Is my post not convincing you? ;) You could always make these paleo vegan gingerbread cookies! These molasses cookies are also a favorite of my family's.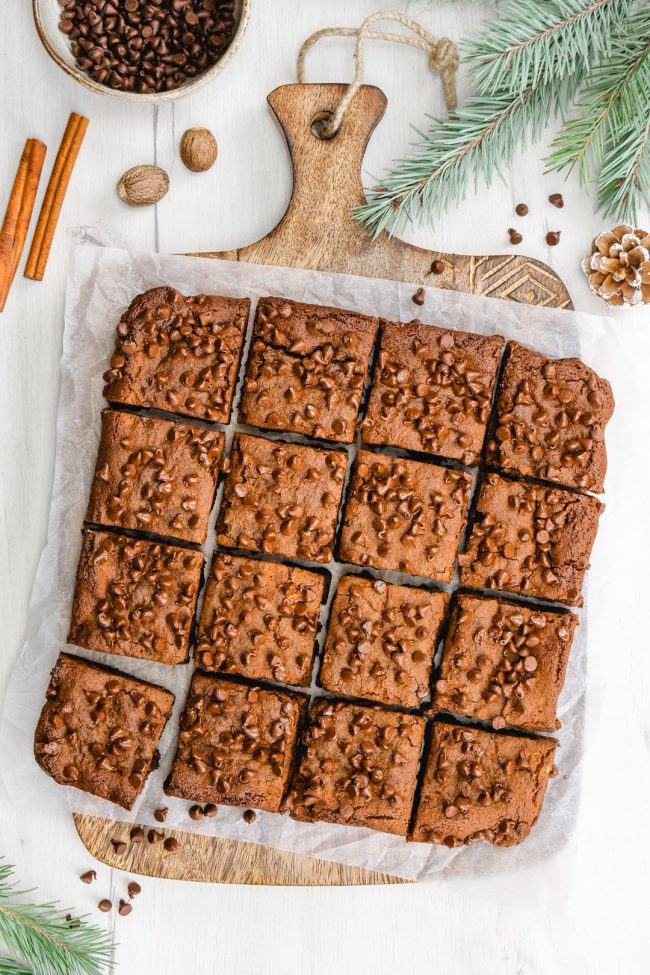 If you need these to be paleo, make sure to use paleo baking powder. The store-bought stuff has cornstarch in it.
Substitution questions for these gingerbread brownies:
Can I use another type of flour?

There's no sub for coconut flour as it absorbs so much more liquid than any other flour so – nope. You have to use coconut flour.



What can I use instead of molasses?

These gingerbread brownies get their gingerbready flavor from the molasses. So unfortunately you have to use it.

It also has a different consistency than other liquid sweeteners like maple syrup and honey so I'm not so sure how those would work out. I'm thinking definitely no to maple syrup and maybe to honey. But then you'd have honey-flavored brownies with some gingerbread spices.




Can I omit the egg / use a different egg replacement?

Definitely don't just omit the egg. A chia egg worked great and I bet a flax egg would, too.



Can you taste the coconut oil?

You could taste it in the batter but once baked, all I tasted were the spices! So feel free to use refined or unrefined.



Can you use something other than coconut oil?

Butter would work for a dairy-containing version!



Can I use something else in place of the coconut sugar?

You can use granulated sugar (which means they're no longer paleo). Liquid sweetener won't work. I haven't tried it but perhaps Lakanto Monkfruit sweetener would work for a lower-carb version?
❀
Gingerbread Brownies (paleo, vegan, gluten-free)
Prep Time:
Cook Time:
Ready in:
Yield:

16 brownies
Ingredients
3/4 cup + 2 tablespoons (112 grams) coconut flour
3/4 teaspoon baking powder
1/2 teaspoon baking soda
1/2 teaspoon salt
2 teaspoons ground cinnamon
2 teaspoons ground ginger
1/2 teaspoon ground cloves
1/2 teaspoon ground nutmeg
9 tablespoons (126 grams) coconut oil, room temperature1
3/4 cup (150 grams) coconut sugar, very tightly packed (it's best to weigh this!)
2/3 cup (235 grams) molasses (see note at top of blog post - don't use blackstrap)
2 teaspoons vanilla extract
1 large egg (50 grams, out of shell), room temperature or 1 chia egg for vegan
1/2-3/4 cup (85-125 grams) mini chocolate chips to sprinkle on top (make sure to use vegan / paleo chocolate)
Directions
Preheat the oven to 350 °F (175 °C) and line an 8 × 8-inch (20 × 20 cm) baking pan with parchment paper.
In a large mixing bowl, stir together the flour, baking powder, baking soda, salt, cinnamon, ginger, cloves, and nutmeg. Set aside.
In a large mixing bowl using an electric hand mixer, beat the coconut oil, sugar, molasses and vanilla until well combined. There shouldn't be any bits of coconut oil at all. It should totally combined with the other ingredients. Beat in the egg just until well combined. Fold in the flour just until very few streaks of flour remain. Pour into the prepared pan, sprinkle with chocolate chips, and bake for 25 minutes or until a toothpick inserted into the edges of the brownies comes out clean.
Let cool completely. The brownies may puff up in the oven but will fall back down while cooling. Using the parchment paper overhang, lift the brownies out of the pan and cut into squares. Store in an airtight container at room temperature for up to 5 days.
Notes
It should be like softened butter - not rock hard straight from the fridge and not at all melty - you should be able to mix it with a hand mixer.